Italian-American dishes usually have a continental counterpart, and Baked clams oreganata is no exception. Italians make a nearly identical dish called vongole gratinate al forno, though I'd venture to say that its near cousin cozze al gratin, made with mussels, is rather more popular. The subtle differences, which I explain in the Notes below, between the New and Old World versions illustrate some typical examples of how these two related but different cuisines have developed over the years.
For many Italian Americans, baked clams are practically synonymous with Christmas Eve, and often feature as part of the famous Italian-American Feast of the Seven Fishes. But if you ask me, they're far too delicious to relegate to a once-a-year occasion.
Baked clams oreganata is a personal favorite of mine, which is particularly popular in the northeast United States. Clams are shucked or steamed open, then stuffed with breadcrumbs seasoned with garlic and herbs and laced with the briny clam juices, then finally baked until lightly brown. It's a supremely simple dish—one you can easily prepare ahead and bake at the last minute— but it's a veritable flavor bomb. No wonder it's on the menu of just about every Italian restaurant in the country.
Ingredients (serves 2-3 as an appetizer)
One dozen clams
White wine
Water and salt
For the filling:
1 cup breadcrumbs
2-3 cloves of garlic, finely minced
3-4 sprigs of fresh parsley, stems removed finely minced
A generous pinch of dried oregano
A pinch of red pepper flakes (optional)
Olive oil
Salt (only if needed)
For serving:
One lemon, sliced into wedges
Directions
Prepping and cooking the clams
Soak the clams for an hour or more in enough well-salted water to cover them. Drain and rinse them well.
Place the clams in a pot large enough to hold them with ease. Add a good splash of white wine. Set on medium-high heat and cover.
Let simmer, shaking the pan from time to time. After a minute or two, check to see if the clams have opened. Immediately remove any that have and set them in a bowl or tray. Continue to simmer, covered, until all have done so. Reserve the clam juice at the bottom of the pot.
Let the clams cool. Once they have, remove the top shell (the one to which the clam isn't attached) then detach the clam from the bottom shell with a paring knife. Place each clam, with its flesh still in the half shell, on a baking sheet. Repeat with the rest of the clams.
Prepping the filling
While the clams are cooling, prepare the filling by mixing together the breadcrumbs, garlic, parsley, oregano and, if using, the red pepper flakes. Drizzle with olive oil to moisten and mix again.
Now take the clam juice and add it to the filling. You should get a fairly compact and moist mixture. Take care that none of the silt that may be lying at the bottom of the pan gets into the filling. (NB: If you want to err on the side of caution, filter the juices by pouring them into a bowl through a coffee filter or several layers of cheesecloth).
Let the mixture rest for a few minutes. Taste and, only if needed, season with salt.
Filling and baking the clams
Spoon the filling on top of the clams in a small mound, taking care not to pack them too tightly.
Drizzle them with olive oil and place them in a very hot (230C/450F) oven for about 10 minutes, or until nice and golden brown on top.
Let the clams cool a bit before serving with lemon wedges.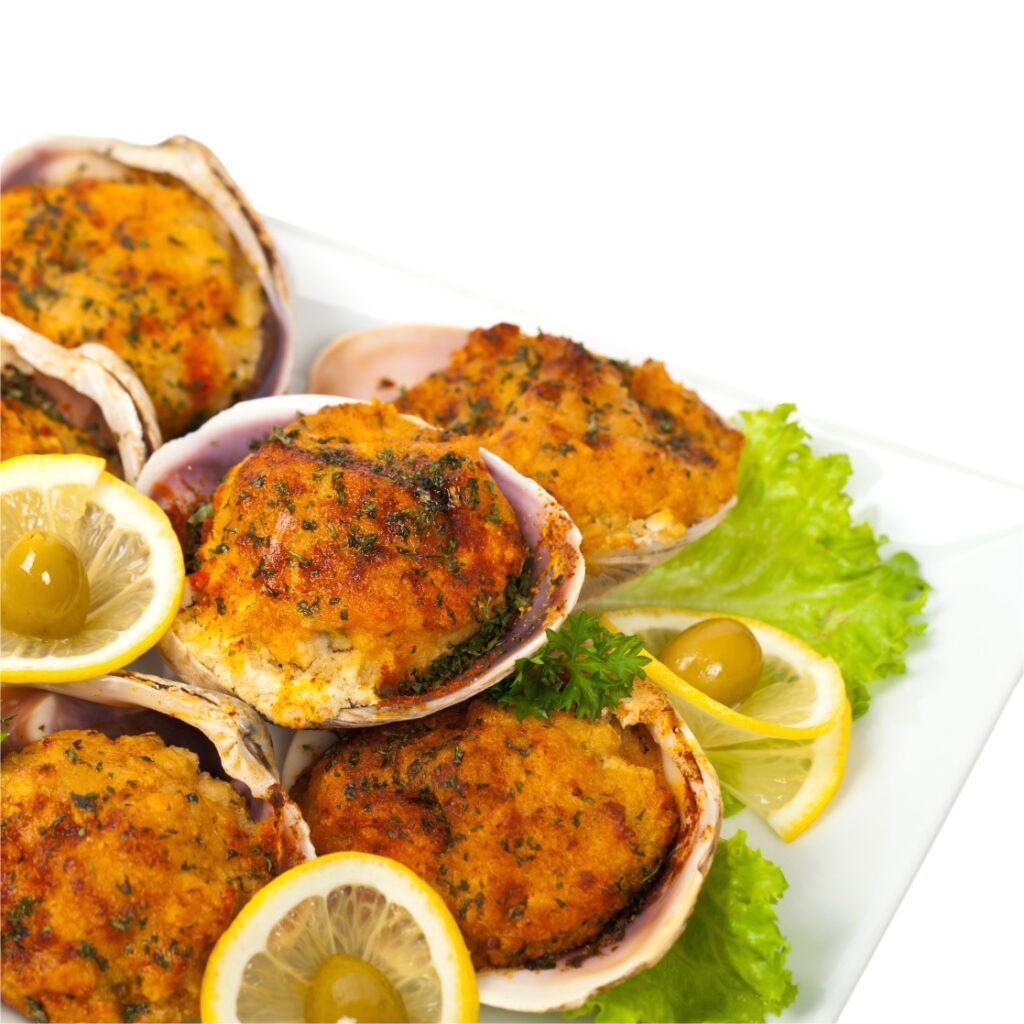 Notes
Many recipes will recommend littleneck clams for making baked clams oreganata. They are relatively small, nice, and tender and provide a pleasant balance between clam and filling. At the same time, they are just large enough to hold a filling. In Rhode Island, the local quahogs are quite popular stuffed and baked.
That said, just about any variety of clams will take to this method, so long as they aren't too small or too large. The tiny vongole veraci they often use in Italy to make spaghetti alle vongole for example, are great for pasta but just too small for this treatment. (No worries in the US since, as far as I know, clams are never sold that small here). At the other extreme, overly large clams tend to be tough and hold so much filling that it would overwhelm the actual clam, so avoid them as well. (If you do find yourself with no choice but to use larger clams, it's best to chop them into bits). I find a clam that's 2 to 2-1/2 inches wide perfect.
And yes you will find recipes for baked clams oreganata using canned clams. Please don't. While I happily use other canned seafood, those rubbery, tasteless pellets that were supposedly once clams are the devil's own work.
The filling
Of course, you'll get the best results if you use homemade bread crumbs for the filling, but store-bought works perfectly fine. If you want to get fancy, use Panko, which provides a more interesting texture. But whatever you do, make sure to use plain breadcrumbs without any seasonings already in them. Seasoned breadcrumbs are just awful, packed with additives and they taste terrible.
The exact amount of breadcrumbs will vary depending on the size of the clams and how high you want to pile the filling, but the measurements given above—1 cup of breadcrumbs for a dozen clams—work well for me. If your clams are especially large you may want to use a bit more.
The consistency of the filling can vary quite a bit. I actually like my clams oreganata with a fairly compact and bread-y filling, but still soft and fluffy. For this reason,, I do add the clam juice but use a light touch when placing the filling into the shells. If you find your mixture is too wet, then just add more crumbs.
Frank is a lawyer with a true passion for cooking and sharing food with the people he loves. He inherited his love for Italian cuisine and culinary tradition from his grandmother, Nonna Angelina, to whom he dedicated his culinary blog, Memorie di Angelina: www.memoriediangelina.com