Italian Heritage Month has just passed, but we'd like to remain focused on Italian-American food for one more week, instead of giving you a traditional Old-Italy recipe as we usually do.
Today, we have a real crowd-pleaser: baked ziti. True comfort food, a warming dish perfect for these increasingly chilly autumn evenings.
A kind of simplified southern-style lasagna, baked ziti has many of the same elements: pasta, tomato sauce and three kinds of cheese, parmesan, ricotta and mozzarella. To those core ingredients, you can add sausage, and indeed, some versions of this dish really lean into the meat. Not mine, though. Although I do sometimes throw bits of sausage into my baked ziti for a little extra savor, for me the dish is really all about the tomato sauce and lots of cheese. My personal touch, taken from my grandmother's lasagna recipe, is a ricotta cream made with egg, grated parmigiano reggiano and parsley, rather than straight ricotta, which makes it extra special.
Either way, baked ziti offers a similar taste—and all the comfort—of a classic lasagna with a fraction of the effort. I can't think of a better way to celebrate the Fall Italian-American style!
Ingredients
Serves 4-6, or more, depending on appetites:
500g (1 lb) ziti (or other short pasta)
1 large batch of marinara sauce, made with one large can (800g/26 oz) of tomatoes
1 ball of mozzarella (about 250g/8oz), cut into cubes
For the ricotta cream:
250g (8 oz) ricotta cheese (one small container)
2-3 eggs
100g (3-1/2 oz) freshly grated parmigiano reggiano
A couple of sprigs of fresh parsley, finely minced
Salt and pepper
Optional:
2-3 links of sweet Italian sausage, fried and cut into dice
For the baking:
More grated parmigiano-reggiano to taste
Olive oil for greasing the baking dish and drizzling on top of the pasta
Directions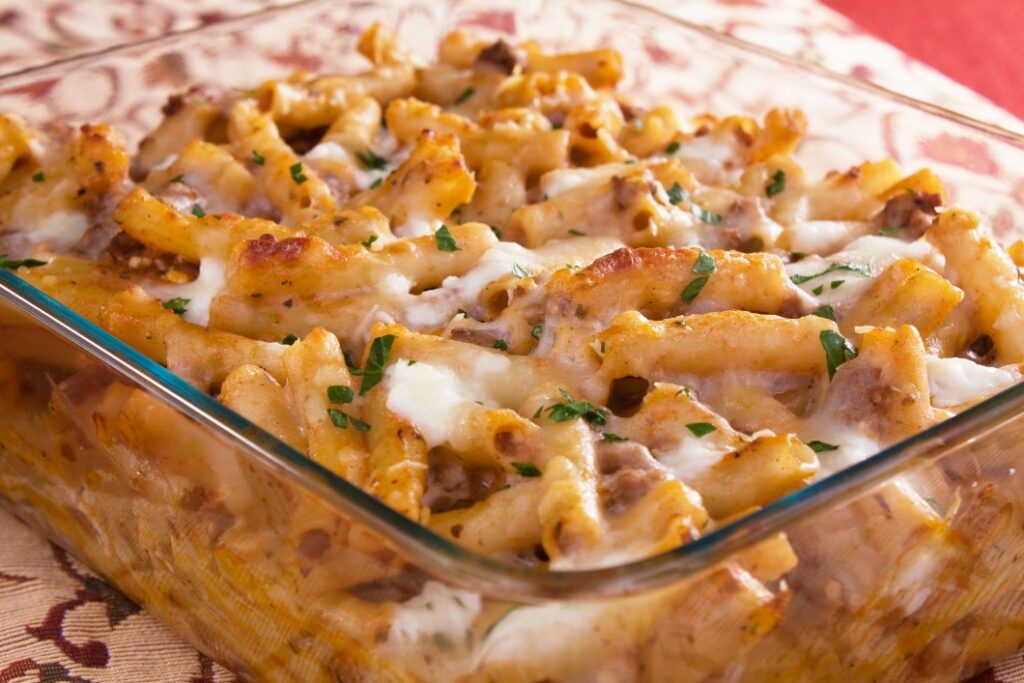 Prepping the ingredients
Prepare the marinara sauce, making sure to be generous with the olive oil and that the sauce remains quite loose, as it will continue to reduce in the oven.
Prepare the ricotta cream: in a large mixing bowl, stir the ricotta with a wooden spoon to soften it, then mix in the egg, grated cheese, minced parsley and a pinch of salt and pepper, until you have a smooth uniform cream. Taste and adjust for seasoning.
Cut the mozzarella into dice.
If using, fry up the sausages, then let them cool and cut them into dice.
Just before you're ready to bake, cook the ziti in well-salted water until they are just slightly underdone, perhaps a minute less than indicated on the package.
Assembling the dish
When the pasta is done, transfer it to a large mixing bowl and dress it with enough marinara sauce to coat it lightly.
Lay down a layer of the pasta in a well-greased baking dish. Ladle over a bit more of the sauce, sprinkle with grated parmigiano reggiano, then add dollops of the ricotta cream here and there, along with the mozzarella cubes and, if using, the bits of sausage.
Repeat until you've used up the ingredients. For the final layer, lay on the pasta first, slather over a generous ladling of the sauce, then sprinkle with more grated parmigiano reggiano and mozzarella cubes. Drizzle with olive oil.
Baking and serving
Bake in a hot (200C/400F) oven for about 20-30 minutes, or until the dish is bubbly hot and nicely browned on top.
Let your baked ziti settle for 10 minutes or so before serving. Accompany if you like with any remaining sauce and more grated cheese.
Notes
The classic pasta for baked ziti is, of course, ziti. It's in the name, after all. But ziti is sometimes hard to find. You could substitute another short tubular pasta like penne, which is actually rather similar, especially if you can find penne lisce (the kind without ribbing) aka mostaccioli. Rigatoni would also work beautifully. Or, casting your net a bit further, you could also go for a non-tubular shape like conchiglie (shells) or even elbows. The mouthfeel will, of course, be quite different but it'll be equally delicious.
Although baked ziti involves several steps, it's not at all hard if you just take each step one at a time. The main tricky bit, if you want to call it that—common to all baked pasta dishes—is the risk that the dish dries out in the oven as the pasta absorbs the sauce and the sauce reduces further.
No worries, though. The solution is quite straightforward: just make a big batch of sauce, keep it quite loose, and use it liberally. Also, make sure you don't leave the dish in the oven too long. You should take it out while the pasta is still quite "saucy" as it will continue to absorb the sauce as it settles. Thirty minutes in the oven should be a kind of maximum. But if, despite all precautions, you find the pasta is still drier than you'd like, that's where serving extra sauce at the table comes in handy. So be sure to make more sauce than you think you'll need. If you have any left, you can always save it for another meal.
Frank is a lawyer with a true passion for cooking and sharing food with the people he loves. He inherited his love for Italian cuisine and culinary tradition from his grandmother, nonna Angelina, to whom he dedicated his culinary blog, Memorie di Angelina: www.memoriediangelina.com.