This week we have a dish especially appealing for these chilly autumn evenings: spezzatino di maiale e zucca, or pork and pumpkin stew, featuring two seasonal ingredients playing a lovely duo of savory and sweet notes.
Although the Italian word spezzatino is usually translated as "stew," the technique here is perhaps closer to pan roasting. The pork is first browned in a soffritto, then drizzled with wine and, once the wine evaporates, cooked, covered in a small amount of water or broth—just enough to keep things moist—until almost tender. At that point, you add winter squash to the pork and let it cook, covered, for a few more minutes, until both are fully tender.
The flavorings are quite subtle: just a bit of onion or shallot and a tiny pinch of nutmeg to enhance the natural sweetness of the pumpkin, and a sprig or two of rosemary to lend an appealing woodsiness. The pork-pumpkin duo is the true star of the show.
The beauty of a meat and veg stews like this one is that it needs no side dish. But if you feel the need, spezzatino di maiale e zucca would pair very nicely with some buttery mashed potatoes. And if you want to turn it into a hearty and warming one-dish meal, or piatto unico, you could serve it over a steaming bed of polenta.
Ingredients
Serves 4-6
600g (1-1/2 lb) pork shoulder, cut into cubes
400g (3/4 lb) Kabocha or other winter squash (see Notes), peeled and seeds removed, cut into cubes
1 medium onion or 2 shallots, finely minced
A pinch of grated nutmeg
A sprig of rosemary
White wine
Vegetable broth or water, as needed
Salt and pepper
Butter and olive oil
A sprig or two of fresh parsley, finely minced
Directions
In a large sauté pan or braiser, sauté the onion or shallot gently in butter and olive oil until soft and translucent.
Add in the cubed pork shoulder, raising the heat some, and sauté, seasoning as you go with salt, pepper, nutmeg and rosemary. (Take care to modulate the heat so that the onion doesn't burn). When the pork is nicely browned, add the white wine and let it evaporate, scraping up the brown bits at the bottom of the pan.
Now add the broth or water, perhaps a small glassful, just enough to cover the entire bottom of the pan. Cover and simmer for 30-45 minutes, until almost tender. Check from time to time to turn the pork and, if need be, add more water or broth to keep things moist.
When the pork is nearly tender, add the winter squash and continue simmering for another 10 minutes or so, until both the pork and squash are fork-tender. Add minced parsley if using and give everything a turn.
Transfer the pork and squash to a serving dish, together with their cooking juices. If you want a proper sauce, add more water or broth to the pan and, once again, scrape up all the brown bits. Pour the resulting sauce over the pork and pumpkin. Sprinkle with more minced parsley (if using) and serve hot.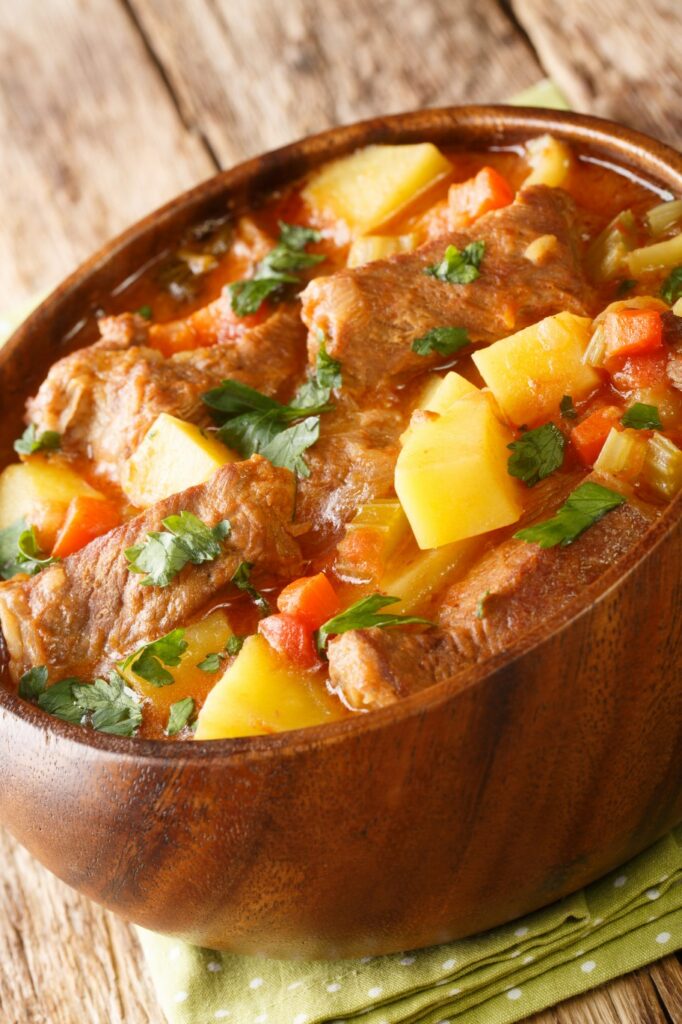 Notes
Spezzatino di maiale e zucca is a homey dish, simple and straightforward to prepare. There are a couple of tricky bits, common to Italian spezzatini in general. First, you will notice that the recipe calls for sautéing the onion or shallot first, then adding the meat to brown. That means you need to be careful about not burning the onion. In this Italian approach—unlike the French method of browning the meat well before adding a mirepoix, for example—the important thing is that the meat takes on the flavors from the onion and other seasonings, rather than getting a perfect sear. This step, so typical of Italian cookery, goes by a special term with no real English equivalent: insaporire, literally to "fill with flavor."
The other thing to watch out for: since you cook the pork and winter squash in a small amount of liquid (again, unlike most stews you may be more familiar with, where the ingredients are nearly covered in liquid) you need to take care that it never entirely evaporates. For this, you need to use very gentle heat, and check in from time to time to add more liquid as needed.
Even though I've dubbed this "pork and pumpkin stew," I actually don't recommend using pumpkin, at least not for US-based cooks. Pumpkins in this country don't have the same taste and texture of Italian zucca. I find our pumpkins, as well as some other common winter squashes like butternut, mealy and almost tasteless. But thankfully, we now have access to a vast array of winter squashes, some of which are quite satisfactory. I'm particularly fond of the kabocha squash. To me, it's comparable to, if not quite as tasty, as the Italian zucca. I used a red kabocha for this recipe, and it worked very well indeed. I'm holding out hope for the Cinderella pumpkin, too, but haven't had the chance to try it out.
Frank is a lawyer with a true passion for cooking and sharing food with the people he loves. He inherited his love for Italian cuisine and culinary tradition from his grandmother, nonna Angelina, to whom he dedicated his culinary blog, Memorie di Angelina: www.memoriediangelina.com.