Telling an Italian not to be superstitious is a losing game. Even when we generally don't believe in old-fashioned tales of misfortune and malocchio, I can guarantee you we probably still avoid opening an umbrella indoors and wince in horror if a mirror breaks. I mean, "io non ci credo ma" it's always seven years of bad luck, they say…
Evil eye and superstition aside, the truth is that many of these peculiar and, to non-Italians certainly odd, habits have deep cultural and historical roots. They are part of the country's heritage and lore. Every place has a special ritual, one everyone follows even if they don't believe it. If you are in a famous city like Rome, chances are that even tourists indulge in these strange propitiatory – or protective – rites: how many non-Romans have thrown a coin in the Trevi Fountain, or tried the Mouth of Truth in the portico of Santa Maria in Cosmedin? The answer is, for both, hundreds of thousands, millions even.
Those above are popular and well-known examples, but there are many more around the country: from things to do and not to do if you want to graduate, to places you shouldn't bring your significant other lest you are cheated on within the year, rest assured there is something odd to do – or not to do – everywhere you go.
University students around Italy need to be particularly careful because simple acts like sightseeing or walking across a square can result in terrible consequences. In Turin, for instance, the iconic Mole Antonelliana is a no-no for young academics still working towards their bachelor's degree: according to local lore, if you dare climb its 650 steps and reach its top, you can kiss goodbye to your laurea. Funnily enough, the connection between special local landmarks and bad college results is common across the country. Students at Pisa's universities, for instance, know they shouldn't visit the famous leaning tower, especially if they are close to an exam, and those in Siena should avoid climbing up the Torre del Mangia. What's the connection between towers (the Mole could be considered one, too) and university catastrophe? I don't know, but it's certainly something I'd like to look into, even if my uni days are sadly over. In Bologna, you should never cross Piazza Maggiore, the city's main square, diagonally if you care about your college career, and in Padua you should never jump over the chain in front of Palazzo Bo, one of the university's buildings. In Pavia, things get a bit more …eerie. Here, students should never look into the eyes of a 1939 bronze statue of Minerva, the goddess of wisdom, knowledge, and war, or they'll fail miserably in college. Some say it all comes from the fact the statue holds her spear upside down, perhaps a symbol of bad luck. However, we should note that no one knows why the spear is in that position: some believe it was a mistake, others that it wants to symbolize the victory of wisdom over war and violence. If you study at La Sapienza in Rome, you should fear Minerva's eyes, too: legends say that if you stare at the statue of the ancient goddess adorning the university's main entrance, bang! You'll fail your exams.
Let us move to mysterious and beautiful Naples, where Medicine students should never visit the Cappella di San Severo, home to the "anatomical machines" created in the 18th century for Prince Raimondo di Sangro: we are talking about two skeletons, one of a man and one of a woman, with perfectly preserved veins and arteries. Seeing them can put an end to your dreams of becoming a doctor, as they are believed to be a bad omen for medical students.
Time to leave university and dive into the world of love. Always in Naples, people believe you should never bring your significant other to the Certosa di San Martino, on the Vomero hill. Apparently, it all has to do with Saint Martin himself, who is the patron saint of …betrayed husbands. The connection is not immediately clear, but if you think that, once upon a time, his feast, the 11th of November, was known for being dedicated to cattle fairs – read: many horned animals around – the mystery begins to unravel. Add to it that we Italians call a cuckold cornuto ("horned one"), and les jeux sont faits.
In the crypt of Saint Nicholas Cathedral in Bari, Apulia, there is a red marble column believed not only to have healing properties but also to help single women find a husband and married ones become pregnant. All you need to do is walk around the column three times on Saint Nicholas' feast day, the 6th of December.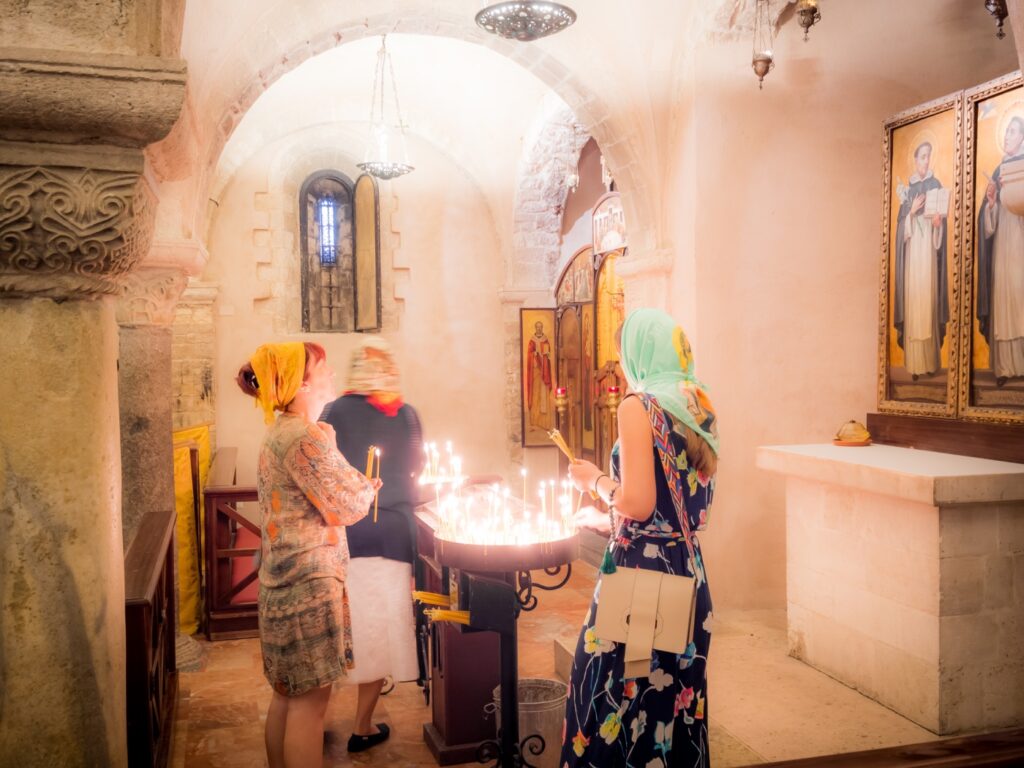 There is one last bizarre ritual we Italians follow: waving at sheep. If we come across a flock, we always say "hi" to animals because it's supposed to attract money. The habit, it seems, is very ancient and it likely comes from times when our country was largely rural and owning animals was associated with "wealth."