Up north, some villages could be under a blanket of snow driven by harsh winds. Down south, most towns bask in warm sunshine brushed by gentle breezes. The climate may vary, but all of Italy embraces one common denominator during the Christmas season – culinary traditions and treats.
As day passes into night on Christmas Eve, a quiet mood of anticipation replaces the frenzied pace of previous weeks. Shops close, traffic subsides, food cooks, families get together and the holiday celebration begins.
It's family time, when most Italians gather around the table for a meal with origins dating back to the very beginning of Christianity. Meat is off-limits.
Christmas Eve originally was a day of fasting, when nothing more than sips of water were permitted before taking communion at midnight mass. Each region has its own tastes and rituals, but ever since the church imposed the penitence rule of mangiare di magro, almost everyone eats fish on holiday eves to purify the body and get ready for the next day's feasts.
In Lucca, a Tuscan town 45 miles east of Florence, people usually have a light snack in the afternoon to sustain them until after midnight mass. Because living quarters are often cramped and families relish togetherness, the 1 a.m. meal may be served buffet style. The table brims with baccalà (salted cod), fried smelts, roasted red snapper and cacciucco, a fish broth native to Livorno. The baccalà is likely fried or sautéed in a rich tomato sauce.
Seven fish and various vegetable dishes are served to honor the tradition and reflect the seven sacraments of the Catholic Church. In areas of Calabria around Italy's heel, Christmas Eve dishes are usually all white to signify purity and sincerity. Fish, potatoes, white sauce and pasta are in, tomatoes and green vegetables are saved for another day.
In Sicily and other southern communities, eel is the pièce de résistance the night before Christmas. It is skewered, spit-roasted, grilled with olive oil, vinegar, garlic and salt, garnished with white wine and peas, or pickled with vinegar, oil, bay leaves, rosemary and cloves.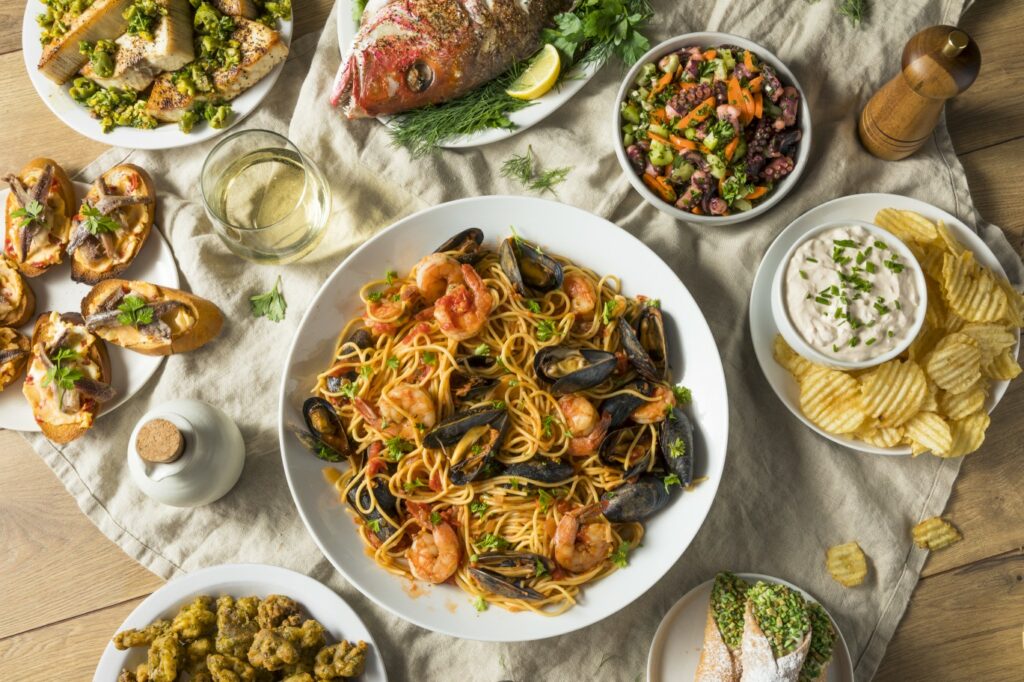 Dining on Christmas Day is an everything-goes affair, much like the Thanksgiving spread in the US. Dinner may get underway with an antipasto of rigatoni, penne or fusilli with cauliflower, garlic, olive oil, anchovies and asparagus.
Then a side dish of grilled eggplant or bell peppers before the main course – grilled or roasted turkey accompanied by gravy and oven-roasted potatoes. Compared to the typical American Thanksgiving dinner, there's no cranberry sauce.
If not turkey, capon is a popular Christmastime entrée. In the cappone natalizio, the fowl is flavored with prosciutto tucked into the cavity that's been sprinkled with salt, pepper and nutmeg.
Dessert often is the sweet Italian bread called panettone topped with cream custard, spiked with Marsala or Moscato wine. If the cook is inclined to be creative, he or she can shape the bread into a nativity scene and drizzle it with chocolate icing.
Sweet trays also may include ravioli dolci di Paolo Bini – pastry turnovers packed with winter fruit, sweet squash and chestnuts – particularly in the Emilia-Romagna region.
While dinner is the marquee event in Italy on December 25, lunch is not overlooked. In Bologna, for example, the mid-day meal consists of tortellini in capon broth. Farther south, cappelletti packed with veal, turkey, prosciutto, nutmeg and parmesan cheese is a popular prelude to coming culinary attractions.
With all the good sights, scents and tastes coming from Italian kitchens during the Yuletide, it's not enough to wish family and friends a "Buon Natale." Equally appropriate is a "Buon Appetito."
Christmas in Sicily
One of the decisions facing cooks in Sicily as they plan and prepare the Christmas Eve meal is what to include among the seven non-meat dishes that tradition calls for. The choice gets easier since the island is surrounded by a sea abundant with savory seafood such as swordfish. A Sicilian staple, swordfish not only meets December 24 culinary customs but promises to pacify palates as well. Here's a delicious recipe for tranci di pesce spada ai ferri alla siciliana, or Sicilian-style swordfish.
Ingredients (serve 6)
6 tablespoons extra virgin olive oil
3 ounces of onion, finely diced
3 cloves of minced garlic
3 anchovy fillets
2 chili peppers, chopped
3 ripe tomatoes, peeled and diced
6 green olives, pitted
1 tablespoon capers
salt and pepper to taste
1/4 cup chopped mint leaves
For the fish:
6 6-ounce swordfish steaks
1/4 teaspoon ground black pepper
1/4 cup olive oil.
Directions
Heat the olive oil in a 2-quart saucepan, and cook onions over medium heat until translucent. Add 3 garlic cloves, anchovies and chili peppers and cook for 5 minutes.
Add tomatoes, olives and capers and cook for 5 minutes more over low heat. Season with salt and pepper and add mint leaves. Purée in a blender until smooth. Adjust seasonings and keep warm.
Rub swordfish steaks with pepper, garlic and olive oil, then cook on high heat.
Pour sauce on each serving plate. Neatly arrange swordfish on top of the sauce.