When the sommelier of a deluxe New York hotel wheeled a trolley of fancy aperitifs into the dining room so guests could grandly start their meal, his job was only half done. Minutes later, he returned with another cart, this one displaying six different bottles of water. Bestowing water with the same pomp and dignity as liqueur indicates how far H2O has risen up the dining chain.
But you don't have to dine at the Ritz-Carlton or any respectable restaurant to notice the impact bottled water is making on eating and drinking habits. Just visit a shopping mall or other gathering place and chances are a high percentage of the people there will be sipping water from a plastic container.
Bottled water has become ubiquitous, growing steadily in popularity in the US since 1976: that's when the tide came in from per capita consumption of 1.6 gallons per year to the current 21 gallons, according to industry research. According to research, three factors have fueled the trend, health and fitness, purity and portability: water is an alternative to caffeine, alcohol, and soda pop, providing a quick and healthy form of hydration and, while the majority of tap water is safe, there's a perception that bottled water is cleaner and purer. Last but not least, bottles of various sizes enable people to tote water as routinely as they carry cell phones.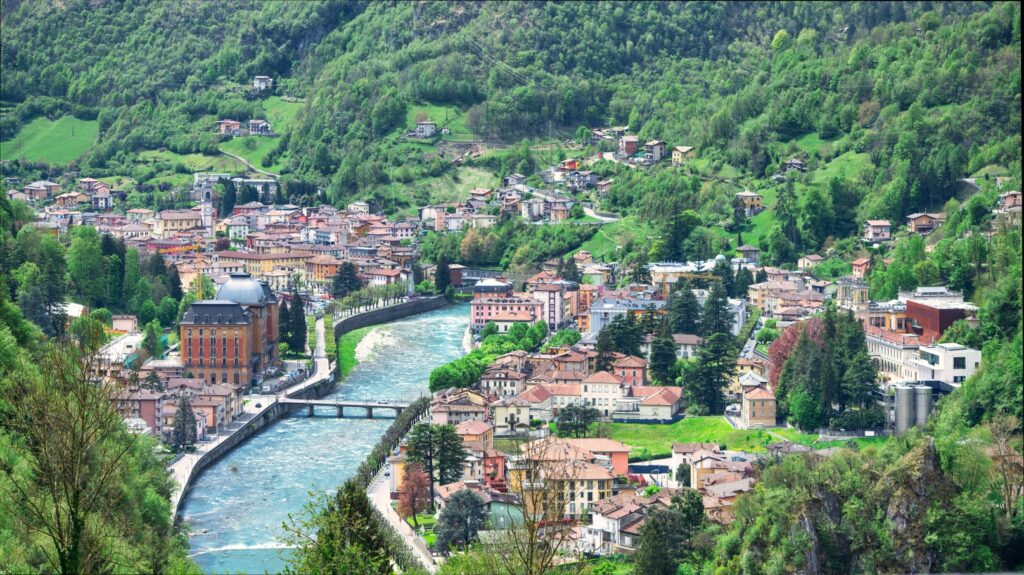 As with wine, geographical conditions contribute to the taste, texture, and purity of water. Mineral water contains elements infused through geological formations, while purified water is well or tap liquid processed to remove the minerals. Sparkling water is either naturally carbonated or carbon dioxide is added. Spring water is derived from natural underground sources.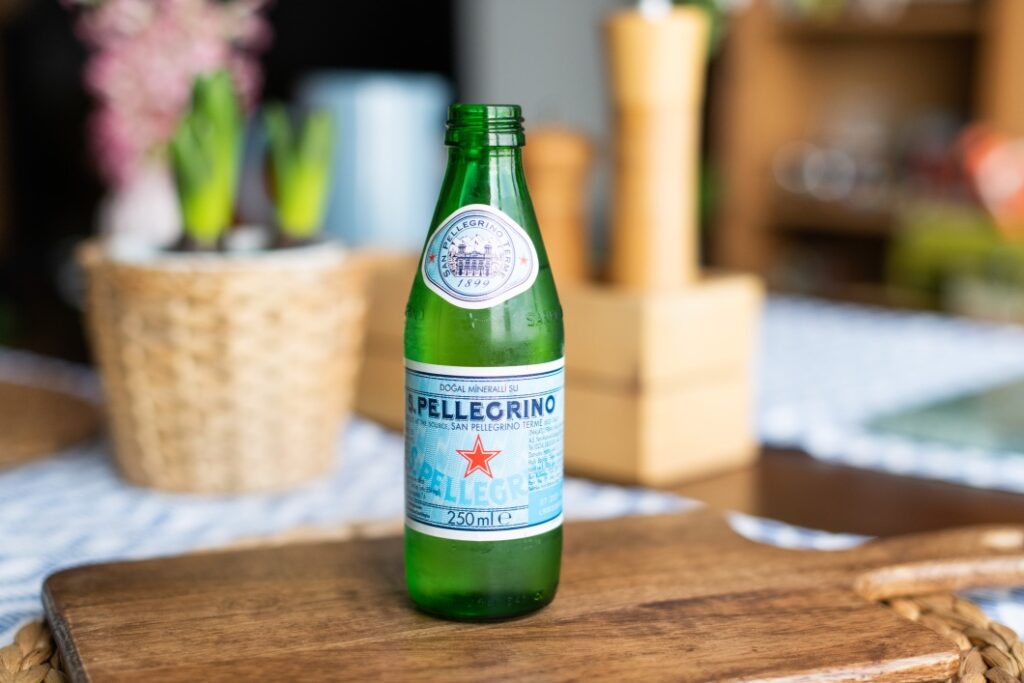 Italy is a major player in the water game, supplying such top-shelf brands as San Pellegrino and Acqua Panna, plus lesser-known labels. The first two are among the brands owned or formerly owned by Nestle Waters North America, and distributed worldwide.
San Pellegrino was discovered in the 13th century at the foot of the Dolomite Mountains, near Bergamo, in the Italian Alps. The water, which comes from 1,300 feet deep springs, is a perfect combination of 14 minerals and trace elements filtered through layers of limestone and volcanic rock. In addition to thirst-quenching qualities, the water is reputed to be highly beneficial to the digestive system and liver. It was reportedly used to help cure Leonardo da Vinci's health problems. Bottled in a trademark green flask at the rate of 55 million gallons annually, San Pellegrino has a stimulating taste and is reputed to contain calcium, magnesium, potassium, sulfates, fluoride, bromide, and sodium, but no calories, sugar or preservatives. Priced from $4 to $7 per bottle in the US, it is sold in 50 countries.
Acqua Panna, commercialized in 1927, doesn't have the marketing muscle of San Pellegrino, but nonetheless fits a premium product cachet. It originates high in the Apennines Mountains north of Florence, on the slopes of Mount Grazzaro, near the Tuscan town of Scarperia. The source is a vast subterranean reserve nestled below lush meadows. Legend has it that the spring water served as a cool refreshment for ancient Romans who traveled northward on the only road stretching from southern Italy.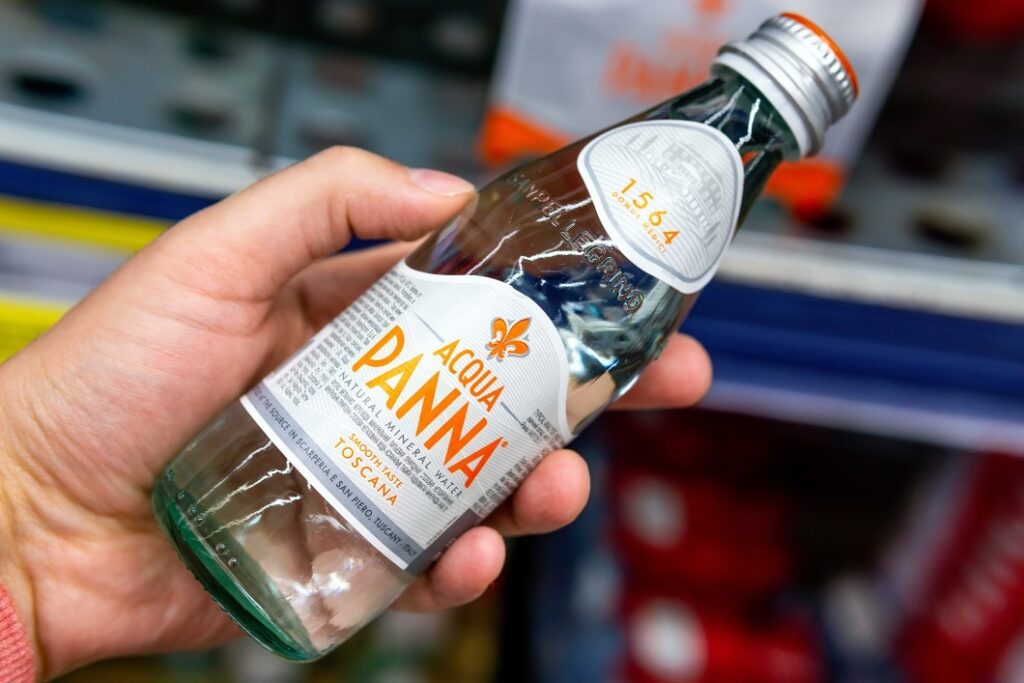 Compared to other waters, San Pellegrino is milder and gentle. All of the Italian drinking waters double as thirst quenchers as well as a non-alcoholic accompaniment to lunch, dinner, and snacks. "Water, water everywhere" is indeed a fitting description of the burgeoning bottled water industry. But when it comes to separating class from mass, the Italian brands are more than just a drop in the bucket. They're making a big splash.
Common to the mountainous regions of northern Italy, along with drinking water, is polenta, a centuries-old staple used in place of pasta or rice. Here's the recipe:
Ingredients (serves 6-8)
9 cups or 3 bottles of water
3 cups yellow cornmeal
2 tablespoons of salt
Directions
Bring water to a boil and add the salt. Pour in the cornmeal slowly, and stir to avoid lumps, until polenta forms a crust. Cover the pan and complete the cooking in the oven, for one hour, at 350F.