During those first, dramatic days of lockdown balconies became, for a large number of Italians, the sole place to experience human contact. Stepping outside on that small, reassuring outdoor corner of our home was the closest thing to our former life we had: we could see the streets, we could meet our neighbors, we could even sip a coffee in compagnia, all within the safety given by height and distance. On our balconies, there was no risk of infection. As creative and romantic as we are, we soon took to them to sing, party and to show affection and respect for frontline workers, inaugurating a trend that was to be embraced by the whole world.
During those frightening months, we discovered again how special and important these extensions of our homes can be, something we perhaps had forgotten, as busy as we were with our always-online, always-plugged in pre-Covid 19 lives.
If you look closely at Italy's social and cultural history, however, if you look closely at the way our grandparents lived, balconies appear once again in all their glorious beauty and centrality.
In Italy, balconies — and terraces, when you have enough space — are just as common as living rooms, they are every family's personal tie with the world outside, with the neighborhood and the city. Balconies are a little slice of reality, without any of the stress, the risks and the demands of it. They help feel less lonely, because on them you are part of life again, even when misfortune, illness or quarantine force you away from everything and everyone.
Our grandparents knew a thing or two more than we do about the beauty of "balcony life." During the Summer, my grandmother would always suggest to sit outside and "prendere il fresco" (enjoy some fresh, evening air) with her after dinner: we would sit there, looking at the sky and playing old word-guessing games. And the air was, indeed, fresh and fragrant, the feeling one of protection and coziness that could only belong to home.
But balconies in Italy are also a happy, cheerful extension of our kitchens: if you have one big enough for a table and a couple of chairs, then they can turn into a place to prep dinner, a corner to have aperitivo or coffee and, of course, the best dining hall you can find in town. All this during the Summer, of course, when the whether is gentle and light graces our days for longer.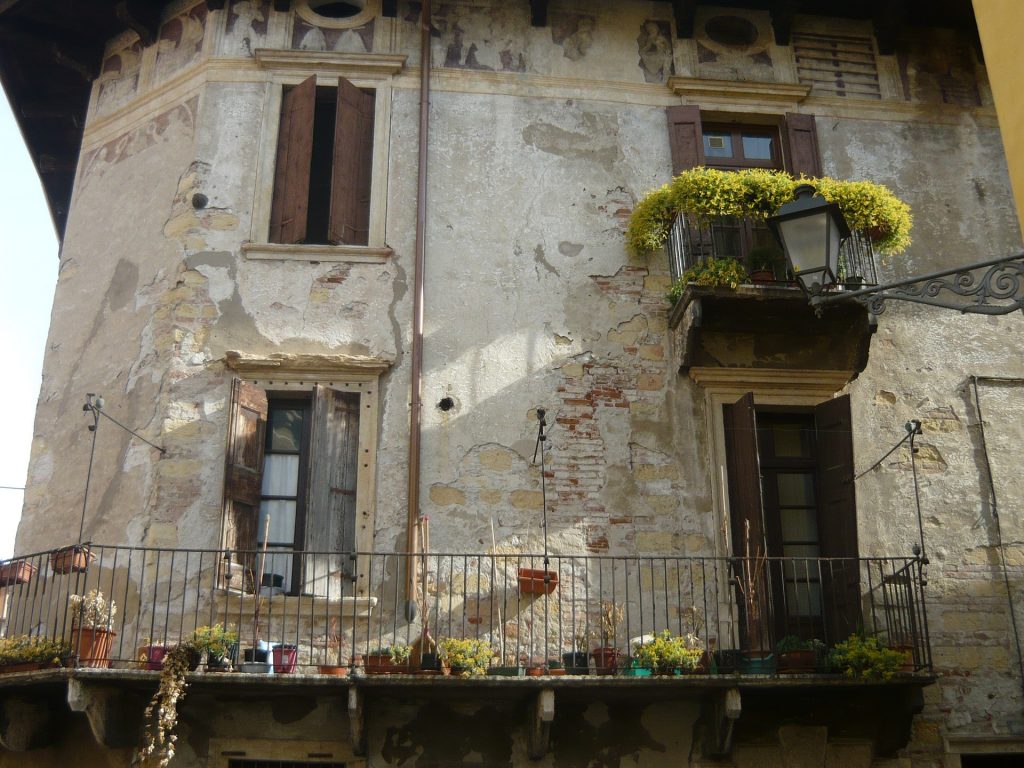 As quintessentially Italian — Mediterranean, I should say — as they may appear, saying they are an Italian invention would not be fair. Vittoria Traverso recently published a fascinating article on the BBC Travel Magazine dedicated to their history, where it turns out they really go a long way back in time. Urban archaeologist Mary Shepperson states that the first balconies were probably built around 3000 years before Christ, in what we know today as Iran. In those exotic lands, the Mesopotamians used to build "overhanging parapets" to create shade on the streets. Some 1500 years later in Greece, the Myceneans would add balconies to their homes to increase ventilation and light into them.
As the smart, creative innovators they were, the Ancient Egyptians understood how balconies and terraces could become essential instruments of power, as noted by archaeologist Berry Kemp (his research is also mentioned by Traverso in her article). When added to the pharaoh's palace, they were theatre stages, upon which a never-ending saga of power and divinity was played by the pharaoh himself and his family. The Romans fully embraced the idea with the creation of the maeniarum, where Emperors could watch the games and be seen by their adoring subjects
When you think of it, balconies did maintain their theatre stage allure throughout history, with recent examples given by Mussolini and his speeches at Palazzo Venezia's balcony during the ventennio, the British Royal Family appearing on the balcony of Buckingham Palace on every important occasion, the Pope stepping out for the first time after election on the balcony at very center of Saint Peter's façade.
And during the lockdown, as you all remember, balconies became stages for us normal people, too. Italians stepped out to sing and play music, many artists performing bona fide concerts: we have all been touched by some of those performances, not only for their beauty, but also for how they managed to bring the community together, in ways our fast paced modern, globalized lifestyle no longer allowed us to do.
Because balconies aree the past's own social media. You could be distant and still see one another, be home and within the world all at once. The difference is, from balconies, the world is multidimensional and engages all senses: gone is the flat, aseptic perfection of the computer screen, in are the sounds, scents and colors of reality. Gone is the opportunity to fake our mood, personality, appearance, in are our true selves, with all their quirks and idiosyncrasies.
And that's why balconies are more than a simple extra room, more than additional space to clean and use for storage, more even than the perfect location for al fresco dining and relaxation: they remind us of the reality of life, of the essentiality of being part of a community while maintaining our independence and space. They bring us back to simpler times, where social relationships were made of voices and smiles, not of pings and recorded messages. Think of it, the next time you stepped on your balcony for a breath of fresh air.