"When I started conducting, someone told me I was too old. This recognition for me is a great revenge." Nominated for the 2023 edition of the Grammy Awards, Enrico Fagone knows he reached an important milestone, not only because the Grammys are the most prestigious award in music worldwide, but also because they mark a kind of restart in his career. "Just before the pandemic I had some health problems, they found a brain aneurysm," Enrico tells me during our meeting at the Colburn School in Downtown Los Angeles. "For about a year the London Symphony Orchestra invited me to conduct and I always had to decline. When I got well, it was special for me, it was like being born again."
And it was thanks to an album recorded with the London Symphony Orchestra that Enrico Fagone was the only Italian nominee in the classical section at the 65th edition of the Grammy Awards, and the second overall, along with Måneskin. What led him on Sunday, February 5, to find himself among internationally renowned musicians at the Grammy Awards ceremony at Microsoft Theater in Los Angeles, was his work conducting the Musica Solis label's album Aspire. "A monographic album on which soloists Seunghee Lee on clarinet and JP Jofre on bandoneon worked on compositions by Villa-Lobos, Piazzolla and unreleased works by Jofre himself. Jofre is an Argentine composer whose style is influenced by different cultures: his music represents a cultural bridge between Argentine tango music and contemporary music," Enrico explains.
The conductor is originally from Somaglia, in the province of Lodi, but currently lives in Lugano where he is first double bass in the Orchestra della Svizzera Italiana and a teacher at the Conservatory.
Enrico, you just had a unique experience. How was it?
It was incredible. Seeing Beyoncé, Madonna, Jennifer Lopez… I even talked a little bit with Damiano from Maneskin, we consoled each other! (laughs) The world of pop is a world I'm not used to but it fascinated me. I come from metal, I started playing electric guitar. In fact, it was great to see, among the various musicians at the awards, also Roberto Trujillo, Metallica's bass player.
How did your conducting career begin?
Growing up, there was no school to become a conductor, it was hard to see a young maestro. Arturo Toscanini himself, who also has a star on the Hollywood Walk of Fame, had a great experience as a cellist until, one evening, the conductor of the New York Philharmonic got sick and he took his place: from there on, it was history. Now things are very different, conductors often don't even play an instrument, so you happen to see very young conductors, the so-called "baby conductors." I am a bit atypical because I first made a career in the orchestra as a double bass player and then, when I was expecting my first child, about seven years ago, I felt like becoming a father in music as well, so I started studying composition and found myself in a new position for me.
Accompanying you in this experience was your assistant and friend, as well as musician, Luca Gabbiani.
Yes, Luca runs a musical reality in Casalpusterlengo, a small town in the Lodigiano region. All our lives we've chased the dream of performing in cities like New York and Los Angeles, but the real heroes are those who get their hands dirty in the province. It is essential to help young people and make them understand that classical music is a serious thing, it can become a profession. One person who helped me so much in my career was pianist Martha Argerich: she really cares about helping young talent and that is why on Saturday, February 11, I will be in Irvine conducting the youth orchestra of the Music to Save Humanity foundation.
This is the first time for you in Los Angeles, but you are at home in New York.
I was first in New York on vacation with my wife, and it was magic. I regularly teach at Juilliard, and after the first concert, I was appointed music and artistic director. Then, because of the pandemic everything came to a standstill but now it is picking up and I will visit the United States more often. There are three major music universities in America: Juilliard in New York, Colburn in Los Angeles, and Curtis in Philadelphia. When they heard I was here for The Grammys, the double bass teacher at Colburn, Peter Llyod, invited me. Every time I realize how much love for Italians there is in America: just think of Riccardo Muti, who is the Chicago Symphony Orchestra's conductor. I am living the American dream as well.
What difference did you find between the Italian and the American orchestral worlds?
I once conducted West Side Story by Leonard Bernstein, a composer and pianist, and a New York musical legend. On that occasion, I understood that's their music and one quite can't obtain the same in Italy. In Italy for example you do Verdi and you get goosebumps as soon as the orchestra attacks. In America, they have this Broadway vibrato, which was born here, and here is performed naturally.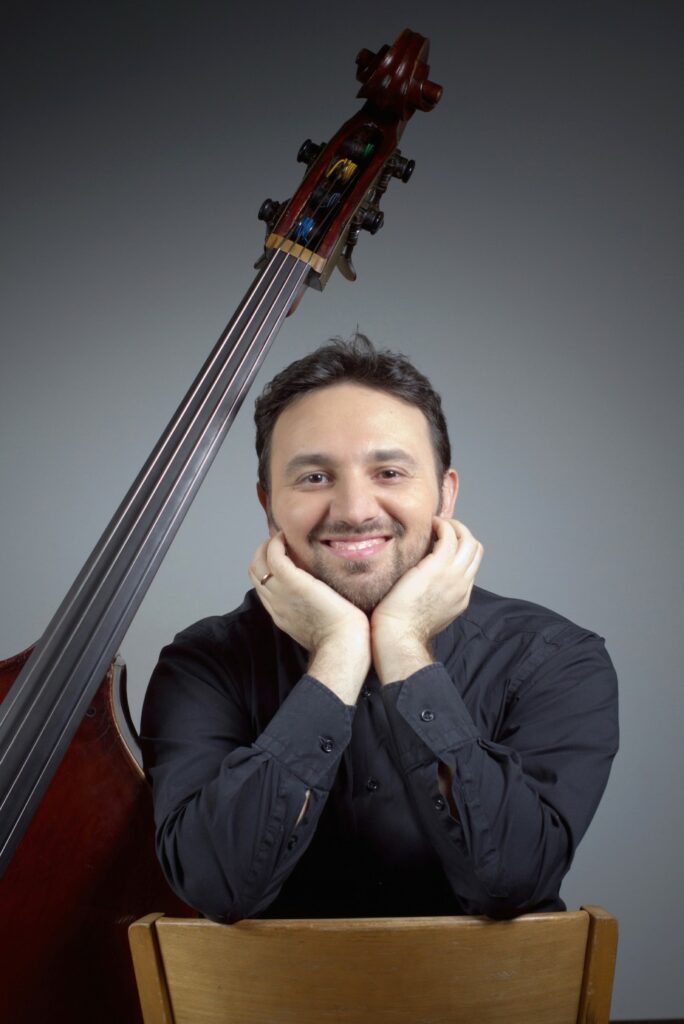 What did you learn in your profession from traveling the world?
As a conductor, you establish a give-and-take relationship with musicians, and when you travel the world so much you learn according to different repertoires. In America, there is much more respect for art and artists. The energy of the audience here is also different, perhaps a little too loud for classical music. It is strange, but also nice, to see the audience explode the way it does sometimes. I also notice a younger audience here, while in Italy it is a more closed niche. The mentality in Italy is that classical music is not a job, but it is and should be respected as such.
What is your first memory related to music?
When I flunked out of sixth grade. At that time, I decided to take guitar at the oratory with a teacher from my school. As soon as I picked up the guitar, I could see my hands were going by themselves, with incredible ease. Music has always been a revenge for me, something I have always excelled at. And I also started a little late because I was already 12 years old when usually you start around 6 or 7.
And then what happened?
When I started the Conservatory, I switched to double bass, and I won many competitions. I've always been hungry, with music. The fact I had economic difficulties made me somehow fiercer on one hand, and also more carefree on the other. I felt like I had nothing to lose, really. My parents, who had completely different careers, didn't have any kind of expectations so I've never experienced that type of pressure.
What characteristics must a conductor have?
The conductor is like a teacher, he must have empathy, authority. They should be respected by others not because it's a duty, but because they have something to say. As a conductor, you manage the energy of the thousand people behind you, the audience, and the hundred in front of you, your musicians. At the same time, you have to feel everything, which is an innate gift you improve with study and technique. And, in a second moment, you have to let go of everything, empty your mind, feel the music, and let go of the technique.
Any pieces you've dreaded directing?
When I directed West Side Story in New York because the musicians knew the piece very well. Among composers, the most difficult is certainly Giacomo Puccini, he is a cultural bridge, there is a before and after him. He is a pioneer of jazz. Conducting Puccini is like being on a boat, there is a constant change of tempo and particular interventions.