Italian-American Heritage and Culture Month is celebrated in October every year by proclamation of the President and Congress to honor the sacrifices, achievements, and contributions of the millions of Italian immigrants and their descendants living in the United States.
This year, the opening of the Italian-American Heritage and Culture Month was spearheaded by the Little Italy of Los Angeles Association in collaboration with Council District #15, represented by Councilmember Tim McOsker. Specifically, District #15 of the Council and the city of San Pedro boast the largest Italian community in all of California, with approximately 40,000 people.
On October 20th, with the support of the CD15-City of Los Angeles, the president of the Little Italy of Los Angeles Association (LILAA), Mario Amalfitano, its vice president, John de Girolamo, the cultural affairs ambassador, Anna Manunza, and the board of the Little Italy of Los Angeles Association were welcomed by the City Council in Downtown Los Angeles by a delegation of Italian dignitaries comprised of the Consul General of Italy, Dr. Raffaella Valentini, the Deputy Consul General, Dr. Lorenza Errighi, Dr. Emanuele Amendola, Director of the Italian Cultural Institute in Los Angeles, and some other key members of the Sistema Italia.
"I want to express my gratitude to the city of Los Angeles and the entire city council for their support in honoring Italian American Heritage Month," President Mario Amalfitano said at City Hall during his proclamation speech. "I am deeply honored to stand before you during Italian American Heritage Month. This month is a special opportunity for all of us to celebrate our shared heritage, our contributions to this great nation, and the rich history of Italian culture."
What does this celebration mean to you?
As a first-generation American, I hold this occasion close to my heart, as it allows me to reflect on the incredible journey that brought my family here and on the countless sacrifices they made for a better life in this land of opportunity. My uncle, Biagio Siniscalchi, and my father, Isidoro Amalfitano, who left a lasting mark on my life, have an incredible story, which is one with the great American dream, dedication, and a profound sense of family. My uncle Biagio's journey to the United States in 1954 was a testament to his courage and determination. At just 17 years old, he embarked on a voyage from Naples, Italy, to New York. He worked tirelessly in the construction industry, and through hard work, he flourished. But what makes Biagio's journey even more extraordinary is the fact that he didn't stop at achieving his own dreams: with unwavering love, he sponsored the migration of his parents and seven siblings to the United States. This act of generosity allowed my mother, Rosaria, to join him, starting in New York as an Italian immigrant.
And your father?
Isidoro Amalfitano, my father, met my mother while he visited New York as an Italian merchant mariner. He married my mother and moved her back to Italy, and after 2 years, my father decided to make a bold move to California. Despite the challenges of settling in a new city as an Italian immigrant, my father displayed extraordinary tenacity and a strong work ethic. He started his own business years later, providing employment to dozens of individuals. Through his actions, he showed the importance of hard work and giving back to one's community. My father tirelessly worked as a commercial fisherman and never complained. He did it for the love of his family and with the unwavering support of my mother, Rosaria.
Was your life, as an Italian-American and a first-generation American, influenced by being from an immigrant family?
Growing up, I was always taught to be respectful of other cultures, to embrace diversity, and to foster understanding and unity. At the same time, I was instilled with a deep sense of pride in being Italian-American. I was taught to love my country but to also have pride in where my family was from, Italy. I work hard on being a bridge from America to the old country through diversity and unity.
What is your relationship with Los Angeles?
My roots run deep in Los Angeles, where I was born and raised. As a product of the Los Angeles Unified School District and a lifelong resident of this city, I am truly a proud Angelino. Today, I proudly serve as the president of the Little Italy of Los Angeles Association. Our organization is dedicated to not only creating a Little Italy district but also preserving and celebrating Italian culture, which is such an important part of this great city.
Is there something about the Italian-American community you'd like Angelinos to know?
Los Angeles has a long and vibrant history of Italian presence. From the early Italian immigrants who arrived in the late 19th century to the many Italian-American families who continued to shape our city, the Italian influence is undeniable. They have contributed to Los Angeles in numerous ways, from the construction of iconic landmarks such as the Griffith Observatory to the development of the thriving business and arts communities that define our city today. And then, Italy gave to the world some of its greatest talent: Leonardo da Vinci, Michelangelo, Galileo, Marco Polo, Dante, Pavarotti, Rudolph Valentino, and Frank Sinatra, just to name a few!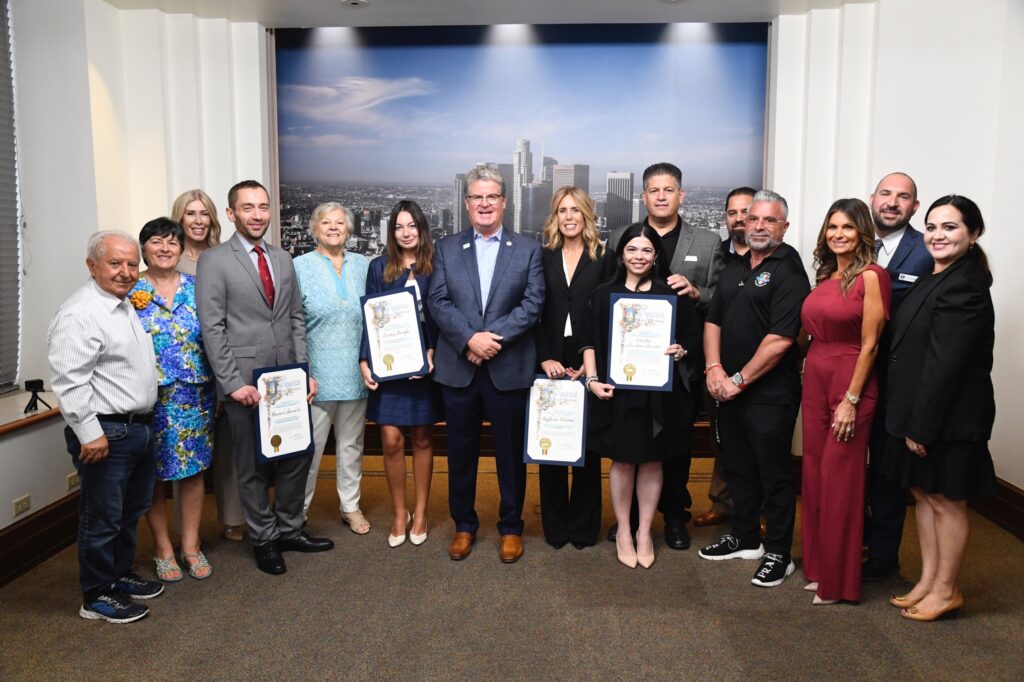 What is your message for this important month?
As we celebrate our heritage during Italian American Heritage Month, let us remember that being Italian is about so much more than just the food, fashion, and historic landscape. While our culture is known for this, it is also rooted in the values of family, community, and hard work.
What is your wish for the future generation?
As a proud Italian American, my wish for the future generation is to see them continue to embrace and celebrate their heritage while also maintaining a strong connection between the United States and Italy. I hope that future generations of Italian Americans never forget the rich cultural heritage they received through the generations. It's essential for them to cherish the traditions, values, and customs that make being Italian so special. And then, I wish them to value the principles of hard work, resilience, and determination, which are deeply ingrained in Italian culture. These qualities contributed to the success of many Italian Americans and can continue to do so. Love for your family, a strong work ethic, and a love for life are characteristics that should be passed down to the next generation, too. Basically, my wish for future generations is that they carry forward the legacy of their Italian heritage with pride, embrace the cultural wealth it offers, and maintain the bond between the United States and Italy strong. By doing so, they can continue to contribute to the history of American society while also preserving the unique and valuable aspects of their Italian heritage. And I want to thank my father, Isidoro, and my uncle, Biagio, who came to this great country with much faith.