Does your town have a patron saint? My hometown, Perugia is well protected from evil, as we have three: San Lorenzo, Sant'Ercolano and San Costanzo.
San Lorenzo is the most famous. One of the Seven Deacons of Rome, and therefore among the first to have been subjected to martyrdom, he is the patron of over 200 towns in Italy. The legend says that the Prefect of Rome condemned him to a cruel death, tied on top of an iron grill over a slow fire.
Sant'Ercolano and San Costanzo were bishops of Perugia in the early centuries of Christianity. As Roman citizens, they both suffered a more "normal" martyrdom, by decapitation. Clearly, humanity has not learned much, as after thousands of years someone of the wrong religion is still an enemy and can be persecuted. Ercolano suffered martyrdom when Totila, king of the Ostrogoths, captured Perugia in 549.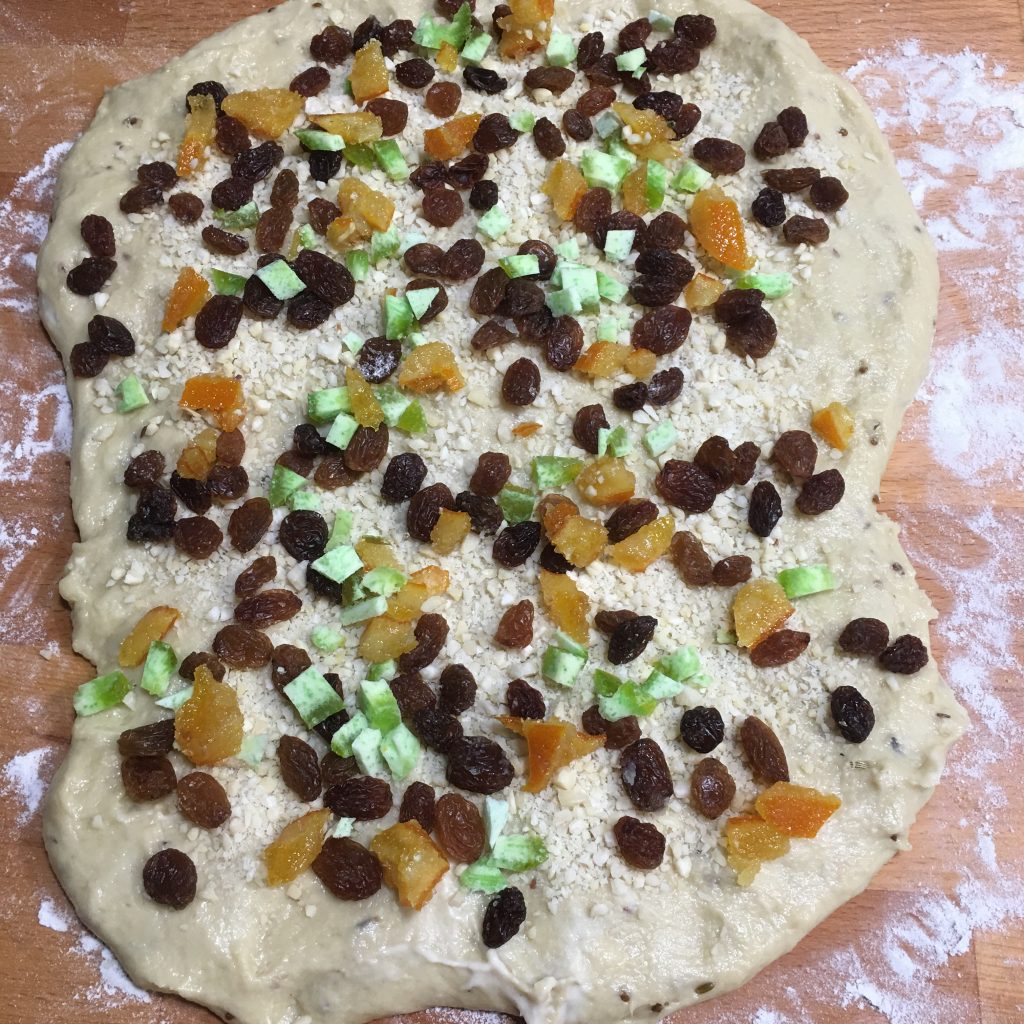 Little is known about San Costanzo – who is celebrated on January 29 – except that he is believed to predict marriages. In Perugia, the Saint's image occupies the center place of the church's 19th century altarpiece. If an engaged couple visits the Church of San Costanzo on the day of his feast and the Saint winks at the young woman (and only she can see the wink), the couple will be married within the year.
If no wink occurs, the young man is expected to gift his fiancée a ring-shaped sweet bread filled with nuts and dried fruit and flavored with aniseed. The sweet bread is aptly named "torcolo di San Costanzo" and it's a true symbol of Perugia's rustic cuisine.
During the celebrations of San Costanzo, which include a night procession and a fair, thousands of torcolo breads are baked in Perugia. There are "torcoli" piled high in almost every shop and, on the Saint's day, the medieval alleys of the old town smell beautifully of sugar and spices. Every home has a torcolo to savor with a cup of tea or — even better — dipped in Vinsanto, to celebrate the Saint and hopefully a new and happy marriage in the family.
To make a good torcolo, you need high quality ingredients and slow proofing. The irresistible aroma of bygone times and melt in the mouth texture will capture your heart and you might feel a little bit in love.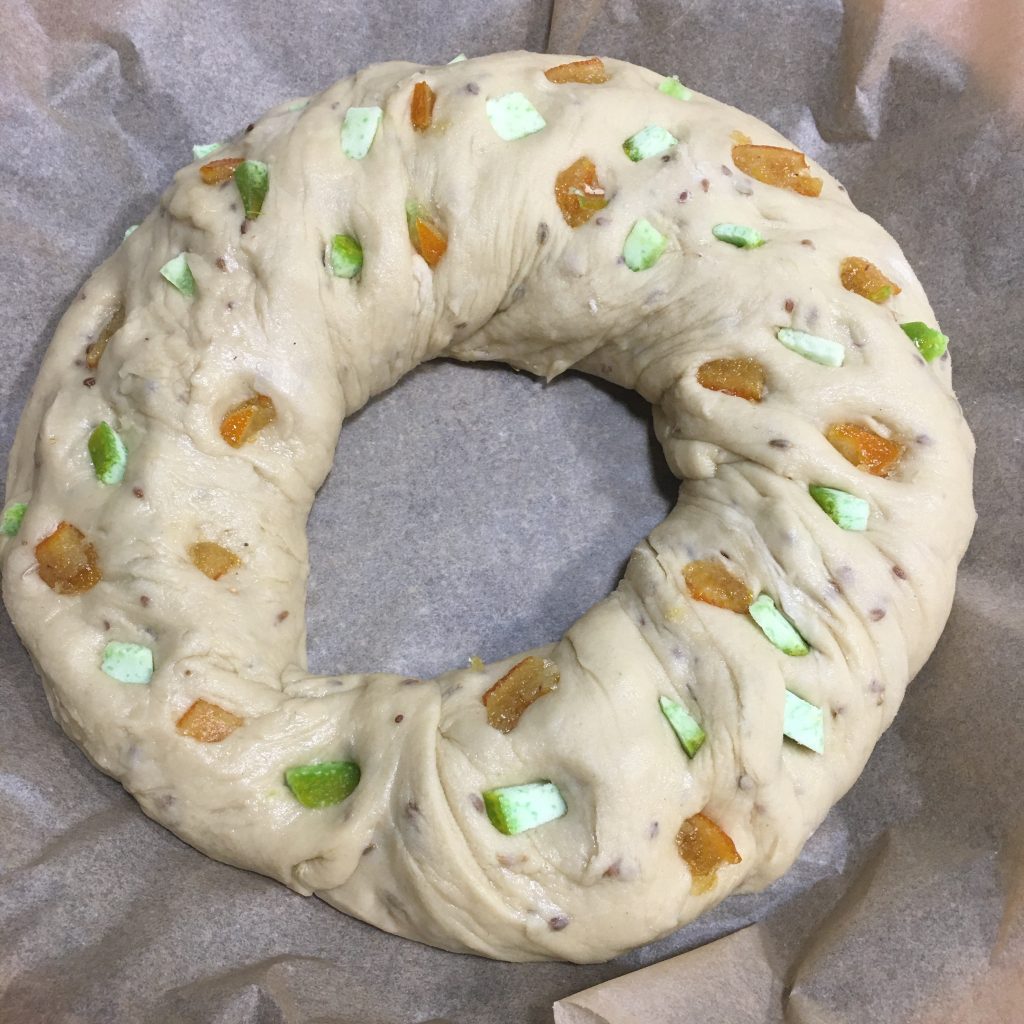 Ingredients
200 g (1 3/4 cups) strong/bread flour
150 g (1 1/4 cups) all-purpose or Type 1 stoneground flour
140 ml (2/3 cup) water
3 g (3/4 teaspoon) yeast
1/2 teaspoon salt
90 g (1/2 cup) packed organic light brown sugar
45 g (3 tablespoons) butter
45 g (1/4 cup) extra virgin olive oil
70 g (1/2 cup) raisins
85 g (3 oz) finely diced candied orange and citron
70 g (1/2 cup) finely chopped almonds or pine nuts
2 tablespoons aniseed
4 tablespoons Vinsanto or other dessert wine, limoncello or brandy
1 egg for glazing
3-4 tablespoons powdered sugar and lemon juice
Make the starter:
Combine the 150 g all-purpose flour, the yeast and water in a bowl to make a very soft starter. Cover and keep in a warm place until fully expanded and then dropped, 1 to 2 hours.
Prepare the ingredients:
Bring all ingredients at room temperature then transfer the 200 g strong flour in a bowl or a stand mixer. Dissolve the brown sugar and salt in just enough wine or brandy to make a paste, about 1 1/2 tablespoons.
Cut the candied citron, orange peel and nuts into small dice. Transfer the chopped fruit and nuts and the raisins (no need to chop) to a bowl, add the aniseed and stir in one or two tablespoons of wine or brandy.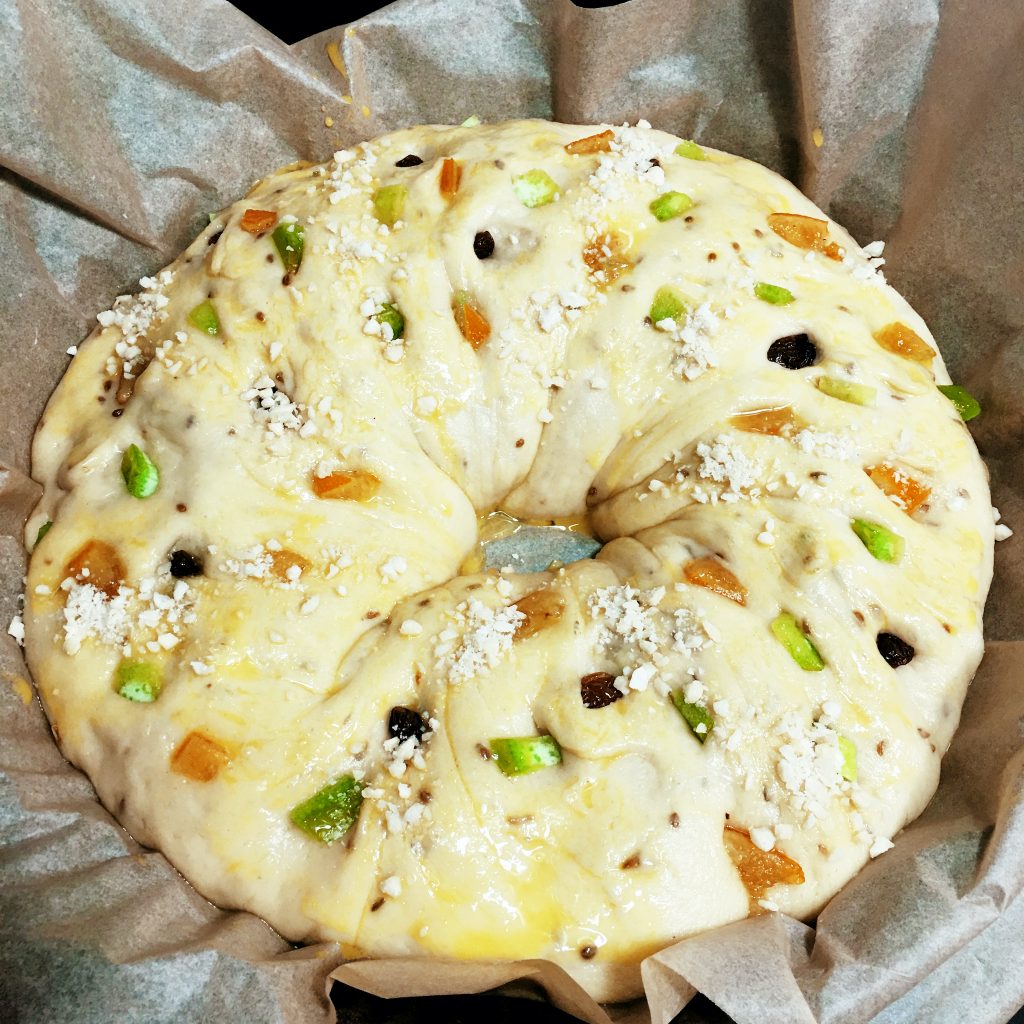 Make the dough:
Add the sugar and salt mixture to the strong flour, then the olive oil and butter, then the starter, mixing after each addition. Knead to obtain a smooth and elastic dough, about 10 minutes by hand and 5 minutes at slow speed in the stand mixer.
Add the aniseed-fruit mixture and knead briefly. At this stage the gluten is fully formed, and the nuts and fruit might break the strands, which might result in a dense bread.
Roll the dough into a log, twist it then pinch it gently into a ring, which should fit into a 25 cm (10 inch) diameter springform pan.
Line the pan with parchment paper. Arrange the bread into the pan. If your dough is very soft, arrange the bread on the parchment paper first, then transfer into the pan.
Let the dough rise in warm draft-free area until almost doubled in volume, 45 to 60 minutes.
To assess if your bread is ready to bake, press a finger into the dough. If the mark of your finger remains in the dough, but spring back partially leaving a shallow indent your bread is ready to bake.
Bake
Preheat oven to 180°C (375°F). Whisk the egg and use it to brush the bread. Mix the powdered sugar with lemon juice to make a thick paste and set aside.
Bake the bread until golden and internal temperature measures 94-96 °C (200-205 °F), about 45 minutes. Remove from the oven and brush the top with lemon glaze.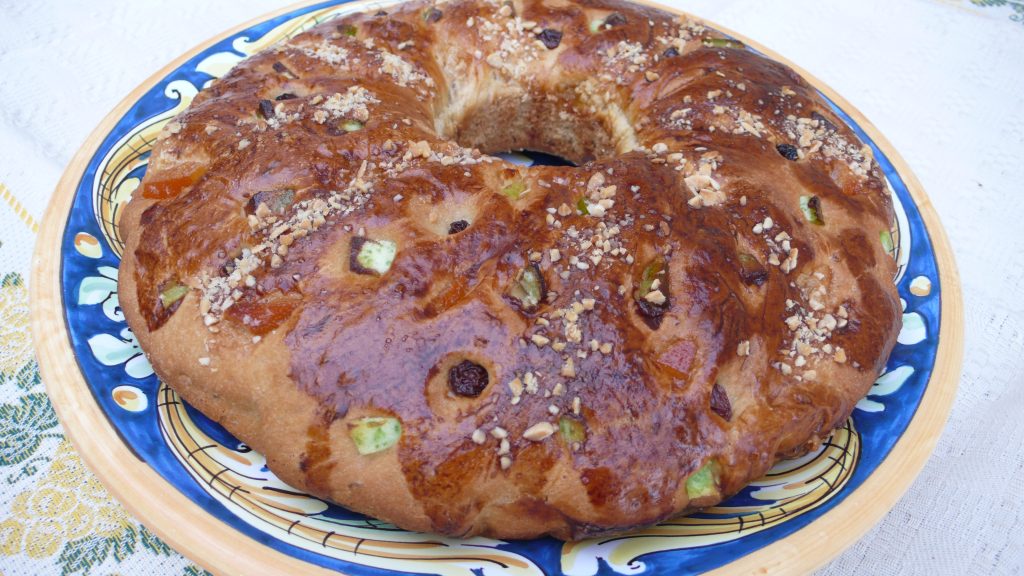 Serve at room temperature. Serves 8-10.
Letizia Mattiacci is a cookbook author and owner of Alla Madonna del Piatto Cooking School and Agriturismo in Assisi, Umbria, https://incampagna.com. This recipe has been previously published in Mrs. Mattiacci cookbook entitled "Festa Italiana."