No sooner than Santa Claus leaves, another mythical character arrives. The glow of the holidays fades into the gloom of January, with at least a three-month visit from Old Man Winter.
But if sticking around and dealing with snow, ice, and wind chill factors doesn't seem so cool, there are other places where winter actually can be enjoyable. Especially if you get a kick out of strapping on a pair of skis and sliding down a picturesque, snow-covered mountainside.
One of the more desirable winter wonderlands is the Italian Alps, where the adrenaline rush of negotiating miles of pristine white powder is capped by the palatable rewards of Italian dining and wining at restaurants warmed by a glowing fireplace.
In the United States, a day on the slopes may conclude with a burger, fries, cold beer, or hot chocolate. In Courmayeur, at the tip of Italy's Valle d'Aosta, the pièce de resistance in a hilltop lodge most likely is a plate of fettuccine alla Bolognese or risotto alla Milanese and a glass of smooth Merlot.
With Europe's highest mountain in the background, Courmayeur sits snugly in a valley. Directly to the north is the alpine village of Entrèves, dotted with a number of chalets. In the vicinity, you can take a cable car ride across Mont Blanc, all the way to Chamonix, France, a trip that's daring and thrilling.
Courmayeur is reached from the US by flying to Milan, then taking a bus or van northward into the mountains. Along the scenic route, the driver points out landmarks, including medieval castles, that prompt jet-lagged passengers to sit up and take notice.
The valley forms an apex for an international triangle. You can ski in Italy and Switzerland on the same day in the shadow of the world-famous Matterhorn, or take a side trip into France.
The storybook village with the French-influenced name offers well-preserved cobblestone streets lined with quaint shops, restaurants, and more gelato vendors than a small town really needs.
On a culinary note, vegetarian travelers sometimes struggle to find meatless eats in an area obsessed with pork. At one dining spot, a cheese the waiter insisted was meat-free was infused with slivers of ham.
At a cozy pizzeria called Du Tunnel, a pizza titled "Maxi Gusto" turns out to be not only fit for a king but the king's family as well. Portions are humongous, more than enough to pacify any appetite worked up meandering down the mountainside.
Like other local eateries, the Tunnel also serves a traditional mixture of steaming coffee, sugar, and grappa in a wood-carved cup called a grolla. In a not-so-subtle way, the potent drink delivers warmth with a wallop.
Courmayeur's cuisine is consistent with Valle d'Aosta's alpine atmosphere, a hearty fare of thick soups, dark rye bread known as pane nero, boiled chestnuts, polenta, and pork dishes.
Game is common in restaurants and homes, specifically wild boar, deer, mountain goat, and chamois, a small goat-like antelope. The chamois is marinated in herbs and dried into a dish called mocetta that's similar to prosciutto, though leaner and more flavorful.
The area's most renowned product is Fontina cheese, which owes its mellow taste to both the cows that graze in mountain pastures and the abundance of herbs that grow throughout the landscape. Earthy gorgonzola is another cheese produced within these borders.
Due primarily to the mild summers and frosty winters, Valle d'Aosta and neighboring regions yield some of Italy's finest wines such as Barolo, Barbaresco, Barbera, and sparkling Asti Spumante.
Courmayeur's most élite dining spot is Il Grill at the Hotel Royal e Golf. Relatively simple, expertly prepared dishes include pasta e fagioli, carpaccio, risotto and veal Cipriani. The foie gras spread on brioche is rated among Italy's best.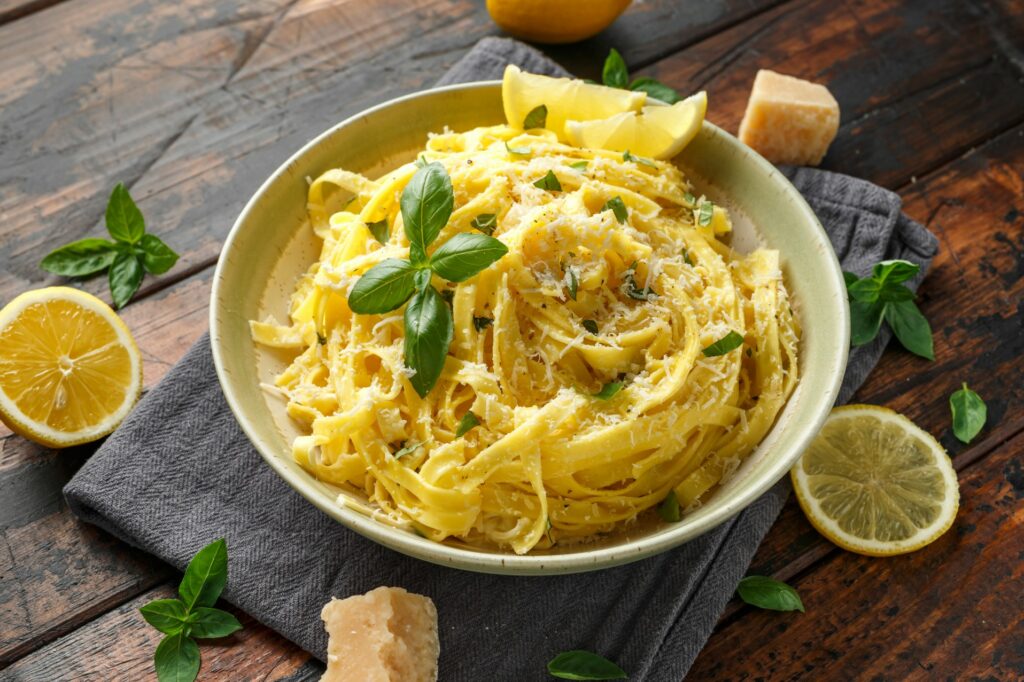 Less elegant is Cadran Solaire, a converted 16th-century chalet featuring warm goat cheese salad, seasonal vegetables with noodles, baked cheese and spinach casserole, and duck breast with plums.
A stone-and-timber building in an isolated courtyard houses Leone Rosso, with a menu listing fondues, a dense regional version of minestrone, tagliatelle with mushrooms, and some tasty desserts.
For after-hours fun and imbibing, snow bunnies gather at the American Bar, a crowded, noisy watering hole and meet market. A bit more sedate are Caffé della Posta and Le Clochard, where patrons sip and socialize around huge, crackling fireplaces.
Regardless of where you stay, how well you ski, what you eat or drink, or how much you spend, the scenery in this part of the Italian Alps is worth the trip. It's breathtaking and free. Around here, Old Man Winter is regarded as a nice guy.
If you can't get to Courmayeur this winter, you can bring a taste of the Italian Alps to you with one of its signature pasta dishes: tagliolini freschi al mascarpone e limone (tagliolini noodles with mascarpone and lemon).
Here's the recipe!
Ingredients (serve 6)
1 1/2 pounds of tagliolini
18 ounces of mascarpone
½ cup of grated Parmesan
1 teaspoon grated lemon zest
salt and freshly ground black pepper
1/4 cup of finely chopped mint leaves
Mint sprigs to garnish
Directions
Prepare tagliolini al dente and drain; heat mascarpone and add Parmesan, lemon zest, salt, pepper, and chopped mint.
Adjust seasonings.
Combine tagliolini with cheese sauce and arrange on serving plates.
Garnish with sprigs of mint.