As you wander through Rome's grand piazzas, beneath towering arches, and past magnificent fountains, you can't help but feel the greatness of its past right before your eyes: the Colosseum is an ode to human ingenuity, the Pantheon a marvel of architecture, and the Vatican a beacon of art and faith. There's no place quite like Rome, it's the truth.
Now, imagine standing on the Palatine Hill, overlooking the Roman Forum: you can almost hear the echoes of Rome's glorious past, with its emperors, gladiators, poets, and philosophers… because the beauty of Rome lies also in what its history and monuments make you think of: the greatness of an empire, the ingenuity of Michelangelo, the life of saints.
But have you ever stopped for a moment and wondered where and how it all began? How did this eternal city, this masterpiece of civilization, come to be? Well, tradition says it all began with Romulus and his brother Remus, and with the she-wolf that raised them. But who was Romulus, and what do we truly know about him?
Most of us are familiar with the story of Romulus, Remus and the lupa, the she-wolf, as depicted in the famous sculpture Lupa Capitolina. According to legend, they were the sons of Rhea Silvia and Mars, the god of war. Upon reaching adulthood, the twins decided to build a city but a disagreement over the location led Romulus to kill Remus, and thus, Rome was born, named after its founder.
Ancient sources such as Livy and Plutarch immortalized this tale, weaving it into the fabric of Roman identity. Livy, a Roman historian who lived from 59 BCE to 17 CE described the birth of Rome in its masterpiece Ab Urbe Condita (From the Founding of the City): this extensive history of Rome, spanning 142 books, begins with the mythical origins of the city and continues through the early years of the Roman Empire. In his writings, Livy presents the story of Romulus and Remus with a sense of reverence and national pride, while he describes the divine intervention that led to the twins' birth, their upbringing by the she-wolf, and the subsequent founding of Rome by Romulus. Livy's account is rich in detail and imbued with a sense of destiny, where Romulus is a heroic figure guided by the gods. And it all makes sense because Livy's work was created as a moral and cultural guide, and reflected the values and virtues of Roman society. His portrayal of Romulus embodies the Roman ideals of courage, leadership, and piety.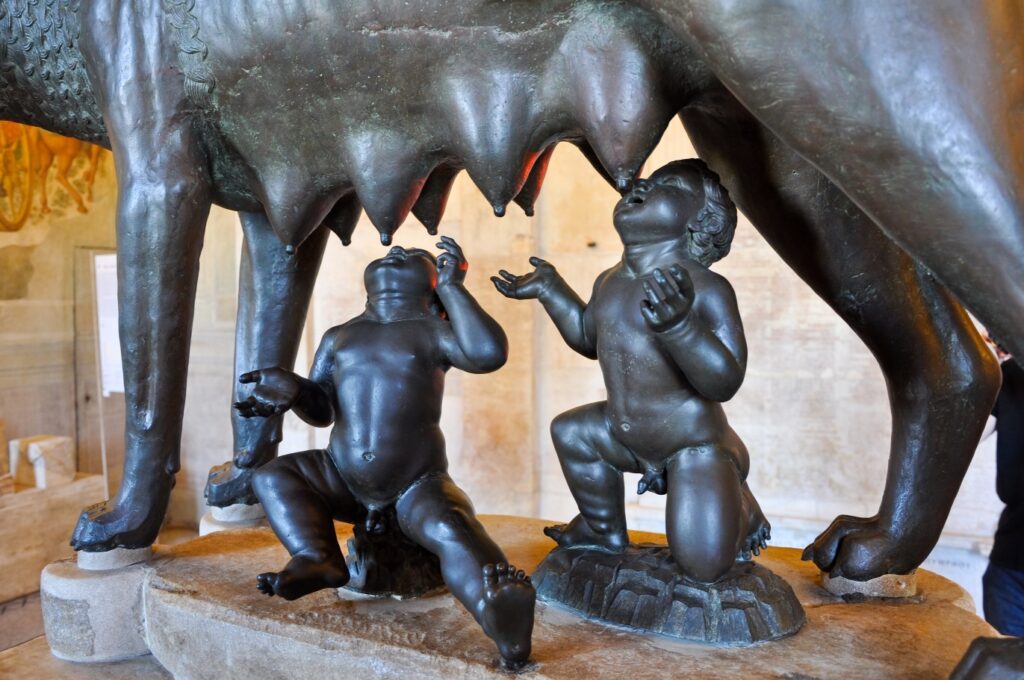 Greek historian and biographer Plutarch, who lived from 46 to 119 CE, is known for his work Parallel Lives, a collection of biographies comparing famous Greeks and Romans. In his Life of Romulus, he explores the character and deeds of Rome's legendary founder. Unlike Livy, Plutarch approaches the story with a more analytical eye, examining various versions of the legend and offering insights into Romulus's character. He presents Romulus as a complex figure, driven by ambition and vision, yet also capable of ruthlessness. Plutarch's account is not merely a retelling of the myth but an exploration of human nature and leadership; he delves into the psychological aspects of Romulus's actions, giving us a nuanced understanding of the man behind the legend.
But who was, for real Romulus, the man who gave Rome its name? What does history really tell us about him? Some believe he was a king, a leader who ruled with wisdom and strength during the early days of Rome, around the 8th century BCE. Others think that "Romulus" was more of a title, signifying a founder or a great leader. Truth is that evidence is scarce, and much of what we know is shrouded in legend and lore.
Yet, there may be whispers of truth in all these legends and tales. Excavations on the Palatine Hill uncovered settlements dating back to the time when Romulus was said to have lived. Certain rituals and institutions attributed to him, such as the establishment of the Roman Senate, may reflect genuine historical practices. 
And despite the mystery — or perhaps, thanks to it — Romulus's legacy endures and can be seen everywhere, because he inspired more than history books, he gave life to art and culture. The iconic image of the she-wolf nursing Romulus and Remus is a recurring theme in Roman art, captured in bronze and stone, and artists like Peter Paul Rubens have painted scenes from the legend, infusing them with drama and emotion. The Romulus temple in the Roman Forum reminds us he was a god for the ancient Romans, who called his deified version Quirinus, and the ancient Lupercalia, celebrated with feasts and rituals, are believed to have honored the she-wolf and the twins. Literary works, such as Virgil's Aeneid, traced Romulus's lineage back to the Trojan hero Aeneas, weaving his story into the fabric of Roman identity.
Romulus, just like the city he founded, is suspended between two worlds: past and present for Rome, history and legend for him. We may never discover if he really existed or not, nor if he really killed his twin brother. But it doesn't matter: Romulus is one of those figures that will always be real, even if legendary. As the symbol of Rome, he'll be forever truer than reality itself.