This is the month of Saint Valentine's Day and many are probably planning something special to do. Here in Italy, we are spoiled for choice: we have Venice, which fights with Paris to be the capital of love in the world, but how could we forget other fantastic, history- and art-filled locations like Florence, or Verona, the city where the Shakespearian love between Romeo and Juliet developed. And this is without mentioning places where the beauty of nature, rather than that of man-made artifacts and buildings, wins: the Tigullio Gulf and the Cinque Terre, the Dolomites, and the sandy beaches of Sardinia.
No one can argue with this list, they are amazing places, with a connection with romanticism, whether because of their looks, their history, or because of literary fiction. But "romanticism," in today's day and age, also means being able to offer your significant other a nice experience when you go out, so that every moment you spend together can be very special; this is the rationale behind a recent study carried out by travel digital platform Musement, and published in Dove, Il Corriere della Sera' s travel magazine. At the heart of the research were a series of specific parameters, considered important to enrich the experiences of couples, which they applied with scientific rigor and triangulated – sounds like wizardry, right? – with other data, all to come up with the list of Italy's 20 most romantic cities. What counts here is not the history of the place, and not even what it looks like, really: it's all about accessibility to restaurants and entertainment, restoration and hospitality standards, entertainment options; it is not surprising to find, then, a special number one on top of the list, Milan which, despite Memo Remigi's song Innamorati a Milano, never really struck anyone for being that romantic. At the same time, if you consider the way "romanticism" has been evaluated in the study, then it's not surprising that such a large, lively city can be the best place for lovers: there's virtually something to please everyone.
I don't know you, but while I find Musement's research interesting, I still think of a romantic break in a different way. I mean, I'd rather spend a weekend somewhere more unconventional, perhaps, less "trendy." But that may be just me.
For instance, I'd love to go to Siena. Squeezed as it is, in that beautiful place that Tuscany is, in between icons like Pisa and Florence, this town has so much to offer, whether you are single or in a couple. The Duomo is single-handedly one of the most breathtaking buildings I have ever set my eyes upon, especially at night: if I had to gift my significant other something to show how much I love him, I'd bring him there, at the Duomo, because sharing that beauty with someone is worth more than 1000 words. Of course, that'd work only if your boy or girl is a bit of an artist or very much on the sensitive side, otherwise you'd risk failing epically. But Siena has more, of course: there is Piazza del Campo for coffee, there are medieval streets to stroll in and there is food because we're in Tuscany, don't forget.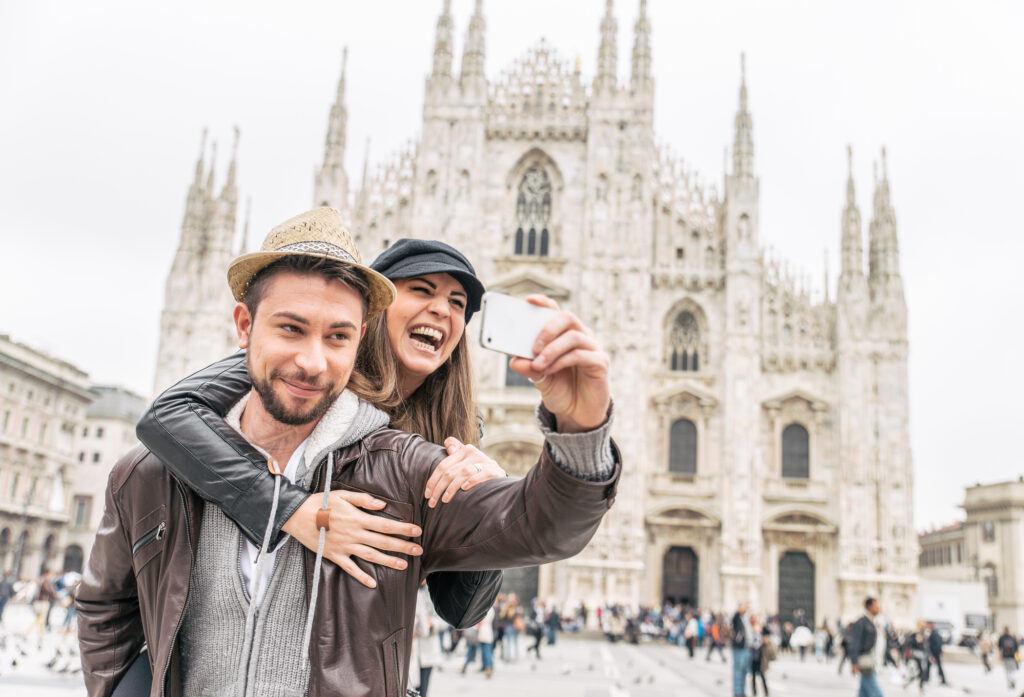 Ferrara is another place I'd bring my sweetheart to, for an "away-together" weekend. Here, again, it's art and history that lead the way: Ferrara is considered the first truly modern city in Europe, courtesy of an advanced urbanistic plan wanted by Duke Ercole I d'Este. The Este family were known patrons of the arts and sciences, too, so it's not surprising that names like Ludovico Ariosto, Torquato Tasso, Paracelso, Nicolò Copernico, Tiziano e il Mantegna all walked Ferrara's elegant streets at some point of their career. And then, of course, there are bicycles, bicycles everywhere! The Estense city is known for being cyclist-friendly and for keeping its streets and air nice and clear by supporting the use of gas-free two wheels: cycling together in the evening, after a good dinner or, even better, getting a nice aperitivo first, then a bite in one of the many traditional Emilian restaurants you'll find in this town, is a pleasant alternative to other equally beautiful, but certainly busier destinations this time of the year.
Gradara may say very little to most of us, but say the words "Paolo and Francesca" to any Italian and they'll probably meet you with this line: "Amor ch'a nullo amato amar perdona/mi prese del costui piacer sì forte/ che, come vedi, ancora non'abbandona." These are the words of Francesca da Rimini who, back in the Middle Ages, had fallen in love with Paolo Malatesta, her husband Gianciotto's brother. Of course, her love was reciprocated and the two began a clandestine relationship which didn't end up well (spoiler alert, Gianciotto found out and wasn't happy). Dante places them in the second circle, the one where all people who surrendered too easily to the passion of the flesh are damned to be transported by a cold wind eternally. The encounters between Francesca and her Paolo used to take place in the Castle of Gradara, in the Marche region of Italy, where the two fell in love while reading the adventure of Sir Lancelot and King Arthur. Here, surrounded by the beauty of an ancient quiet hamlet, it is easy to reconnect with these two unfortunate lovers, who had the only sin, we can say, of loving one another too much and being unable to use reason instead of their heart. Gradara is a must for all those with an interest in literature.
And of course, we can't forget to visit Roma! How can't we, when her name spelled backward means amor, or love in Italian?