My love for pizza fritta (fried pizza) dates back to the years of high school. One of my best friends' dad was from Naples and he would make it quite regularly: tales about how good it was were legendary. My friend once told me that the day he would make pizza fritta for me, it meant I was part of the family: needless to say, I was flattered when that day came. Indeed, his pizza fritta was delicious and I loved it so much I began making it myself, especially when I moved abroad: it was a culinary hit among my international friends.
As he explained to me that evening, Neapolitan pizza fritta is deep fried pizza dough filled with, traditionally, ricotta, mozzarella and salame; you could also use tomato sauce, if you wanted, and anchovies. The secret, he continued, was to keep the dough thicker than you'd do for a regular pizza, so that the final result was fragrant, crunchy on the outside and soft on the inside.
Pizza fritta, as Erika Hobart from BBC Travel wrote recently, is iconic Neapolitan pizza's "lesser known cousin:" indeed, everyone is familiar with pizza Napoletana, not only because it's good, but also because it became, back in 2017, part of UNESCO's World Heritage.
The origins of these parcels of deliciousness are not very clear. According to Simone Cinotto, associate professor of modern history at Pollenzo's Università di Scienze Gastronomiche, and author of The Italian American Table: Food, Family and Community in New York City, pizza fritta — just like another staple of Italian cuisine, carbonara — was born during the years of the Second World War. Allied bombings had destroyed most stone ovens in Naples and ingredients for pizza were not simple to come by, so Neapolitans used their proverbial creativity and found alternative ingredients and cooking methods to keep enjoying their favorite dish.
Pizza was fried instead of baked, and ingredients like anchovies and cheap vegetables like broccoli, both easier to get, became part of the recipe. Cinotto said to Hobart that parts of the vegetables one would usually discard, such as artichoke stems, were also used, because — and there isn't greater truth — "whatever you fry becomes palatable."
Pizza fritta became an immediate hit and was known as "the pizza of the people." It was sold on the street and many vendors would propose the ogge a otto deal, that is, you could get your pizza fritta today and pay in eight days time: an incredible advantage  when restrictions and poverty were common. Post war popular culture paid homage to pizza fritta, too. In particular, we remember one of the six episodes in Vittorio de Sica's L'oro di Napoli (1954, also known in English as The Gold of Naples), where Sophia Loren played a pizza fritta vendor who cheated on her husband.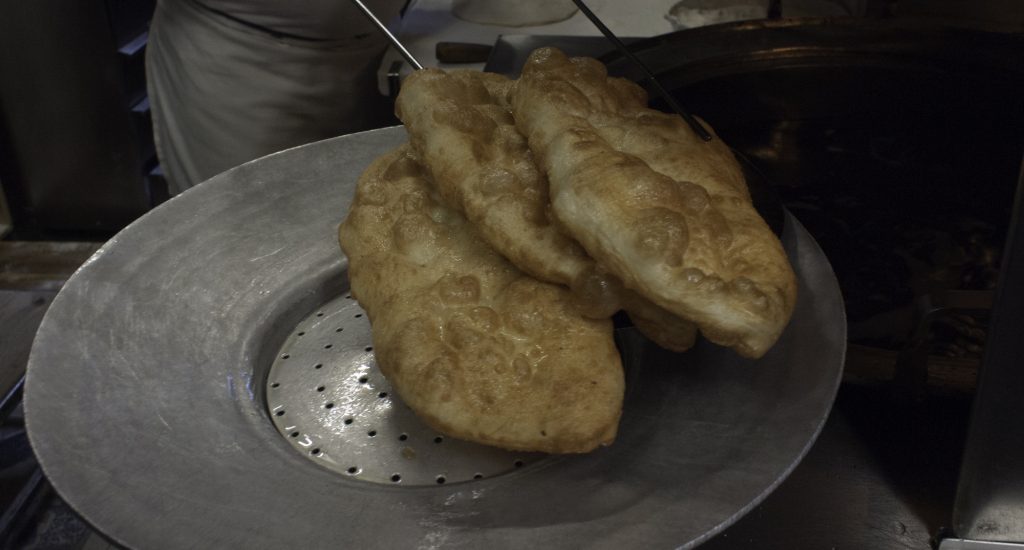 But when it comes to the origins of food, not everyone agrees and this happens for pizza fritta, too. According to food historian and professor Fabio Parasecoli, of the Department of Nutrition and Food Studies at New York University, the World War Two theory may not be the right one. While he agrees on the fact frying was easier than baking during the war and that, undoubtedly, people did try and use cheaper ingredients, Parasecoli underlines that recipes involving fried dough are presents in cooking books dating back to the 16th century, a sign of their popularity many centuries before the last war.
During the 1980s and 1990s we became all healthier, so pizza fritta lost some its popularity. Cinotto says its association with the lower classes may also have had a role in its decline in those years. However, it certainly remained in the heart of Neapolitans, because my own first encounter with it, courtesy, as I mentioned, of a lovely Neapolitan dad, happened in the late 1990s. Pizza fritta gained its fame back in the past decade, though: specialized vendors are back in Naples' streets and many Neapolitan pizzerias, even in other regions of Italy, offer it in their menu today.
Some curiosities: the name "pizza fritta" should be used only when you make it with two dough disks, one for the base — on which you place the filling — and one for the top; if you use only one disk and top it with tomato and basil after frying the dough, then we call it montanara fritta. If, on the other hand, you use one disk, fill it, close it as a half moon (just like a calzone) and fry it, then you'll have a battilocchio.
Pizza fritta Napoletana is not the only example of fried, filled dough in Italy, as other southern regions have their own versions of it. The most famous are, perhaps, Puglia's panzarotti, which are traditionally filled with tomato and mozzarella and have a thinner dough shell.