Turin: the first capital of Italy, a beautiful city steeped in magnificent baroque architecture, verdant parks, and crowned like magic by the Alps. A place of tradition and history, where something unexpected is unfolding.
Many know that Turin's region, Piemonte, is the cradle of Italy's slow food movement and the city itself is known for its culinary tradition… But recently, a new gastronomic darling has taken center stage. Meet the Crubik – a reinvention of the classic croissant hailing from the historic Farmacia del Cambio that has been causing quite a stir in the city's culinary circles. But let us begin… from the beginning.
Located in the heart of Turin, Farmacia del Cambio, a heritage local eatery, is no stranger to praise for its culinary prowess, which expertly brings together tradition with creativity. The place has a pretty long and interesting history that goes hand in hand with that of another Turinese culinary institution, the Ristorante del Cambio – more about it below. 
Farmacia del Cambio's beginnings date back to 1833 when it was known as Farmacia Bestente, an apothecary shop situated in the grand Piazza Carignano, one of the most beautiful and characteristic locations in the city. Farmacia Bestente, perhaps to be on par with the place its doors opened onto, was not only known for its medicaments but also for the beauty of its intricately carved woodwork and historical ceramic vases brimming with spices and remedies. The establishment reinvented itself towards the end of 2014, soon after the historic Ristorante del Cambio made its comeback.
The Farmacia del Cambio bistrot now stands as a shining beacon in the del Cambio world, as noted on its website, and offers an array of gastronomic experiences, from a cozy bistrot to an indulgent ice cream parlor to a tempting patisserie, confectionery, and a gourmet deli. In short, Farmacia del Cambio evolved into a gastronomic paradise. Here, visitors can choose among an array of handmade delicacies crafted by their pastry chefs or try savory dishes created by Matteo Baronetto, chef of Ristorante del Cambio, who studied with Gualtiero Marchesi and collaborated with Carlo Cracco before taking up the reins of the famous Turinese restaurant. If they prefer something stronger, they can just sit in the outdoor area sipping a Negroni for aperitivo, while taking in the baroque elegance of Piazza Carignano.
Farmacia del Cambio is also known for its "back shop" from where you can take a peek into the bustling kitchen of the other half of the Del Cambio world, the Michelin-starred and already-mentioned Ristorante del Cambio.
Now, let me spend a couple of words about this incredible place because it truly deserves it. Its doors have been welcoming patrons since October 5, 1757: how much history did its grand halls see! Ristorante del Cambio welcomed the men and women who made Italy during Risorgimento, between 1821 and 1861, with Count Cavour being a habitual patron. Throughout its three centuries of life, many more famous artists, composers, singers, and actors sat at its tables: from Casanova to Puccini, from Balzac to Nietzsche, from Verdi to Marinetti and D'Annunzio. And then, the Agnelli family, the writer Mario Soldati and oh! so many divas: Eleonora Duse -perhaps with her famous lover, D'Annunzio – Maria Callas, Audrey Hepburn …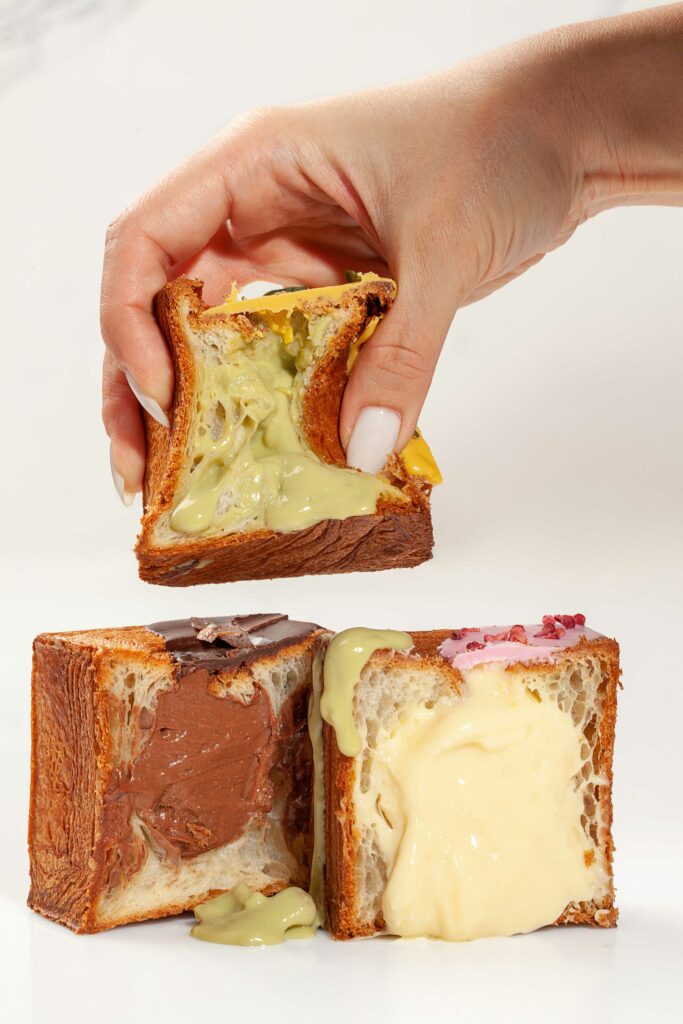 But let's delve now into the reason you are reading this article: the Crubik, Turin's first cubic croissant. Like its namesake, the Rubik's cube – iconic tridimensional brain teaser from the 1970s – the Crubik is quirky but unforgettable: this geometrically perfect cube is not just a pastry masterpiece, it's absolutely delicious. Peeling back the layers of the Crubik reveals the magic within: the first bite is a perfect mix of crisp and buttery textures, but the revelation lies in the center – layers of mouth-watering, fluffy pastry interspersed with sumptuous fillings. From classic cream to indulgent chocolate, the Crubik's fillings are the heart of this unique treat, an amalgamation of flavors and textures that is all the more fantastic if you have with coffee.
This trend-setting cube-shaped croissant, an idea conceived by the innovative team led by Baronetto, traces its roots back to 2019. It all started with an experiment to bake a croissant base within square molds, typically used for savory dishes. Baronetto's hunch turned out to be a hit, and the Crubik was born. Although it wasn't an overnight sensation due to the pandemic, its popularity has soared in recent times, with people queuing up outside Farmacia del Cambio or placing their early morning orders over the phone to ensure they don't miss out on their favorite breakfast treat.
With the Crubik, Farmacia del Cambio pays tribute to its storied past while also charting a new path for the future: this gastronomic gem is much more than a reinvention of the croissant, a pastry typically associated with France and Italy's northern regions. The Crubik's distinctive cube shape, which Baronetto fondly compares to the cobblestones of Piazza Carignano in interviews, doesn't compromise on the cherished flaky texture that croissant lovers are fond of.
Such is the acclaim of the Crubik that its introduction has catapulted it to the top of the must-try list for locals and tourists alike. As an homage to Turin's tradition of culinary innovation, the Crubik goes beyond a mere breakfast item. It pays tribute to creativity in the kitchen and how it can turn an everyday pastry into an edible art form, both visually compelling and gastronomically gratifying. So, if you find yourself in Turin, make sure you grab a Crubik – it's a piece of the city's evolving culinary history that you can hold, see, and taste. But beware, there may be a queue for it: Farmacia del Cambio only makes 150 every day!