Rome is holy, Turin is esoteric but Naples is the Italian city with the closest relationship with the Otherworld, in all its forms. It's not because of what is there physically — although, we will see, there are some spots of considerable interest from that point of view, too — but rather because of its people's attitude towards the spiritual and the supernatural.
In Naples, popular spirituality and ancestral traditions mingle with Faith in a way unmatched in any other part of Italy: colorful, perhaps, but respectful and deeply felt. Neapolitans don't fear the Great Beyond, they embrace its existence and seek connections with it through a plethora of rituals, especially those related to the cult of the Dead. Once upon a time, they belonged to the whole country, but today they have been largely forgotten, along with that ancient, matter-of-fact awareness that death is, in the end, nothing more than a moment of passage, whether you believe in the afterlife or not.
Naples, a city of mysticism and rituality, but also of profound Faith. And when you speak of Faith in the land of Parthenope, there is one name resounding stronger than others, San Gennaro. Good old Januarius — that's his Latin name, used today across all English-speaking countries — is largely known in the world for his own connection with Naples and for the famous miracle of his blood's liquefaction, which is celebrated three times a year. He is, for all Neapolitans and for Catholics in general, an example of strength and enduring Faith, symbolized by his own martyrdom, which took place, both tradition and historical sources say, during Diocletian's Great Persecution, in the early years of the 4th century.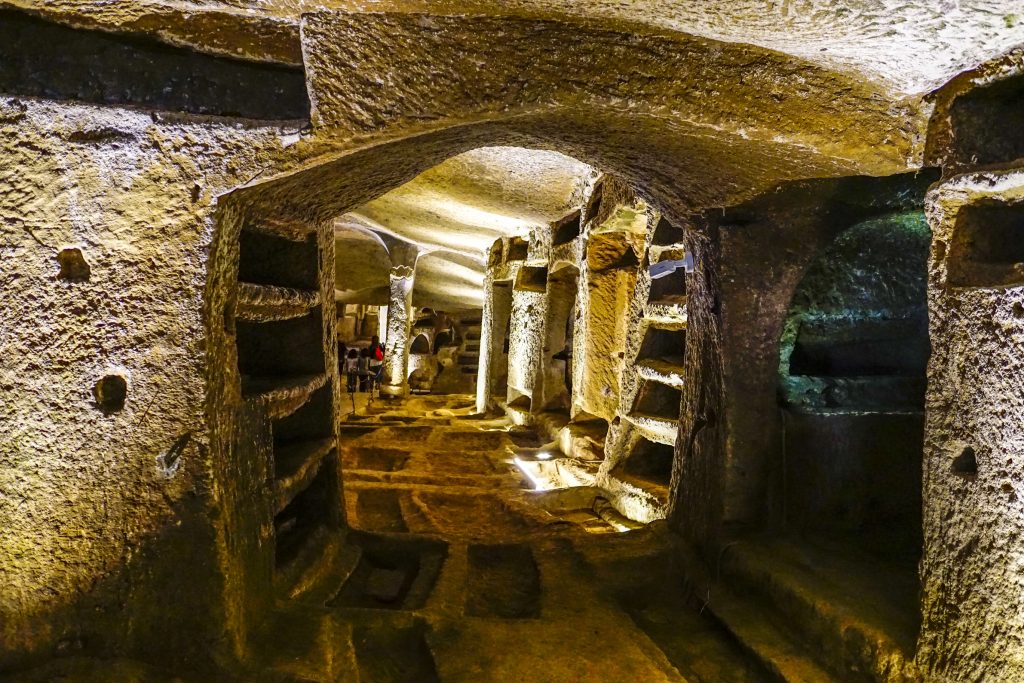 While there aren't many coeval sources talking about Januarius, a plethora of later hagiographical works and historical documents provided the basis for what has become the known tale of his life. He was born in Benevento and came from a patrician family; he became a priest at 15, in an area where paganism was still widespread; at the age of 20, he was to move to Naples and meet holy figures bound to influence and shape his Faith, like Juliana of Nicomedia and Saint Sossius. With the latter, after a life of miraculous events demonstrating his holiness — or so tradition says — he was to be martyrized by beheading, probably in 305 AD.
Signs of his presence in Naples are many, especially in the form of the great devotion locals have for him, but archaeology has a lot to say, too. Naples' history, just like Rome's, is equally visible above and under the ground: if its streets, churches and squares tell a story of grandiose architecture, elegance and colorful Mediterranean spirit, what lays beneath it all holds the vestiges of a past made of devotion, spirituality and Faith.
Under the streets and alleys of the popular Rione Sanità, one of the richest in art but also one of the most deprived in modern Naples, lies an intricate network of alleys and stairs, rooms and chapels we would expect to find only in Rome: Naples' own catacombs. The best preserved and the most well known among them are, without a doubt, those dedicated to San Gennaro himself, considered the most relevant early Christian archaeological site in the city. The site, whose oldest  part dates back to the 2nd and 3rd century AD, thus pre-dating the times of San Gennaro himself, develops on two levels: the lowest was, very likely, the ancient tomb of a  wealthy local family, who had donated the space to persecuted Christians so that they could worship in peace. In the 4th century, this original nucleus was expanded when the remains of Naples' first patron saint, Saint Agrippinus, were moved into an hypogean basilica consecrated to him: this amazing example of underground architecture was entirely carved out of tufa and mass is celebrated there regularly still today. From this initial core, the whole lower level of the catacombs developed, an intricate network of tunnels and rooms with ceilings reaching almost 20 feet in height.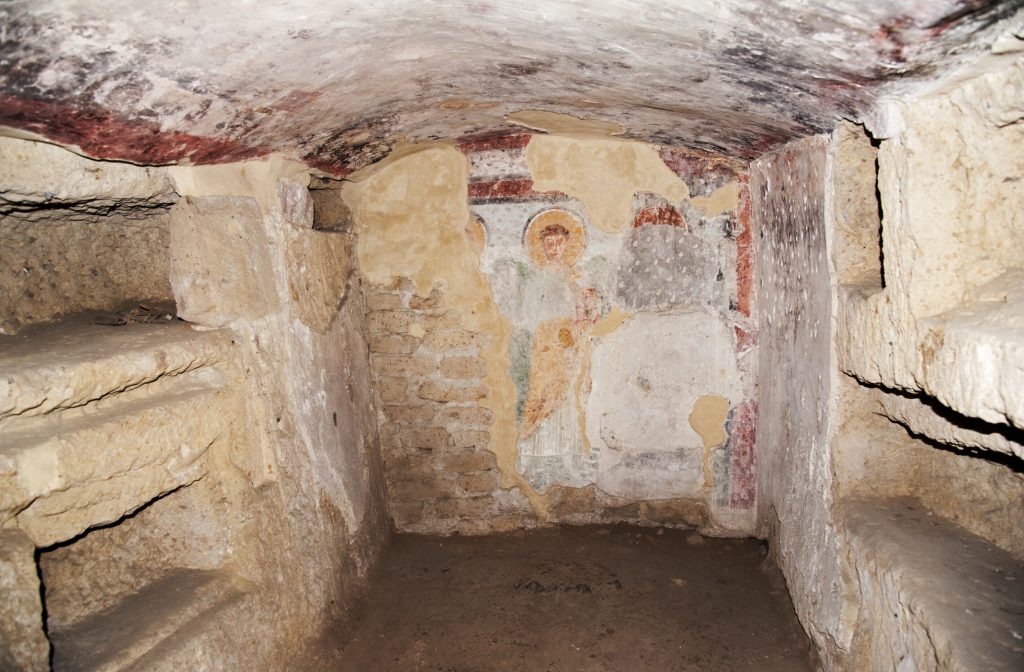 While the historical and archaeological relevance of the catacombs' lower level is incredible, the connection with San Gennaro comes from their upper section, which likely developed around yet another funerary complex from the 4th century. One hundred years later, in the 5th century, San Gennaro's mortal remains were moved there, making of the catacombs an important worship site and a sought-after burial spot for prelates: many bishops found their final resting place here, in the Bishops' Crypt. To honor the presence of San Gennaro, another hypogean church , the basilica adjecta was built: this is a grand three nave structure, breathtaking and owe-inducing.
Thanks to an old homily dating back to the 8th century and to a passage of the Gesta Episcoporum Neapolitanorum, it was possible to identify the exact cubiculum where the body of Gennaro was laid to rest, a holy place that became the heart of worship in the catacombs. Don't look for his body there today, though: his relics are, of course, kept in Naples' Santa Maria Assunta cathedral, along with the precious ampules containing his blood.
San Gennaro wasn't the only one buried there, of course: archaeological findings and historical research say that more than 3000 people rest in the catacombs. And, experts point out, this is only an estimate, as large part of the site has yet to be fully explored. 
In 2020, the Catacombs won the prestigious Global Remarkable Venue Awards, created by world-leading ticket company Tiqets to celebrate the venues in the world that offered the most "exceptional" experience to its visitors. The prize was awarded on the basis of visitors' own revues: needless to say, the catacombs left an indelible mark in their mind.
The Catacombs of San Gennaro are an incredible experience for history and archaeology buffs, but also for those in search of a meaningful connection with our country's most ancestral forms of spirituality. In the ingenuity of the early Christians who worshiped, prayed and rest eternally among this alleys and rooms, we perceive Humankind's deepest need to seek a connection with all that goes beyond this existence. Whether one believes in it or not, it is a fact that calls for reflection and respect.