It's time to step into a land of captivating wonders and mystical allure, where the ancient and the enigmatic come together. Italy, a country renowned for its rich history and cultural heritage, conceals hidden gems that exude an aura of mystery and intrigue.
Join me on a journey as we unravel the secrets of six fascinating locations that beckon curious souls to explore their mystic realms. From the legendary ruins of San Galgano to the surreal architecture of Castello di Sammezzano, each place holds its own enigmatic tale, waiting to captivate your imagination. Prepare to be enchanted as we embark on an extraordinary adventure through the mysterious landscapes of the Belpaese!
The Abbey of San Galgano
You're familiar with the "`Sword in the Stone" legend of King Arthur — and Disney — fame, right? Well, it may have been all inspired by this place. Nestled amidst the rolling hills of Tuscany, the ruins of San Galgano stand as a testament to the passage of time: once a splendid Gothic abbey, its roofless walls and exposed arches now offer a hauntingly beautiful panorama equally steeped in mystery and spirituality. However, it is the legendary sword in the stone that truly captures the imagination of visitors. According to the tale, Galgano Guidotti, a knight turned hermit, thrust his sword into a rock as a symbol of renouncing violence, and there it remained. This awe-inspiring relic, which you can still see today, serves as a reminder of both spiritual devotion and the enduring power of ancient legends (and… movies!).
L'Eremo di San Colombano
Let's move from Tuscany to Lombardy to visit the Eremo di San Colombano. Perched atop a steep cliff, San Colombano hermit's retreat is still today a place where one can experience a deep sense of serene isolation. This hermitage, with its rustic stone structures and breathtaking vistas, offers a sanctuary for introspection. Legend has it that Irish missionary Saint Columban sought refuge in this secluded haven during the 7th century. The mystical aura of the hermitage, coupled with its dramatic setting, creates an atmosphere of tranquility that truly touches the soul.
Il Tempio di Valadier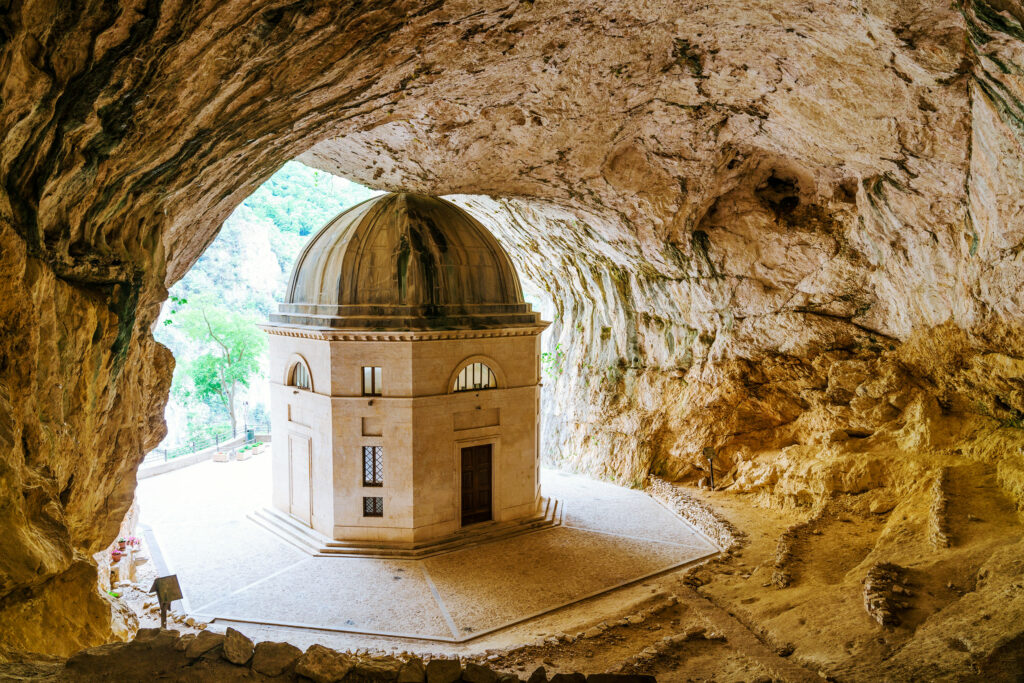 Giuseppe Valadier is considered one of the most accomplished neoclassical architects in Italy. Known especially for his grandiose work in our capital, Rome — he is behind the urban planning of Piazza del Popolo — Valadier also designed a very peculiar construction we can find in the Marche region, in Central Italy. Nestled within the natural splendor of the Gola della Rossa Regional Natural Reserve, Il Tempio di Valadier (Valadier's temple) stands as an architectural marvel of unique beauty. This small neoclassical church blends seamlessly with its picturesque surroundings because it has been, quite literally, carved into the rocky landscape of the area.
La Scarzuola
Let's now move to Umbria, leaving behind the serene beauty of Valadier's temple. It's time to get ready and step into a surreal world where architecture and dreams intertwine. The hamlet of Montegiove, in the commune of Montegabbione, Terni, is the home of La Scarzuola, a whimsical architectural ensemble born from the vision of renowned architect Tommaso Buzzi, between the late 1950s and the 1960s. His aim was to create an ideal city, and I reckon La Scarzuola may be just that, if you're into dreamlike atmospheres and timeless surroundings. It presents a fusion of classical and surrealist elements, so much so the complex seems like a scene from a Salvador Dalí painting brought to life. Towering staircases, inverted domes, and symbolic structures make up this enchanting labyrinth. Curiously enough, the area was originally the site of a 13th-century monastery, which was abandoned in the 19th century.
The Castello di Sammezzano
We are now in Tuscany again, more precisely in Leccio, not far from Florence. Here, we can visit an opulent location awaiting rediscovery, the Castello di Sammezzano. Originally built in the 17th century by Spanish nobleman Ximenes of Aragon, it was turned into a masterpiece of Moorish revival architecture by Ferdinand Panciatichi Ximenes between 1853 and 1889. The castle boasts a fusion of architectural styles, showcasing intricate details and vibrant colors that evoke an otherworldly charm. Its corridors, embellished with ornate mosaics and elaborate frescoes, whisper tales of grandeur and forgotten history. After years of abandonment, efforts are underway to restore this hidden gem, allowing visitors to witness its former glory and immerse themselves in its captivating ambiance.
Parco dei Mostri di Bomarzo
Last but not least, let's venture into an enchanting garden where mythical creatures and stone giants come to life. The Parco dei Mostri (the monsters' park) located in the lush region of Lazio, is an extraordinary testament to the creative vision of Prince Vicino Orsini. This Renaissance-era park is adorned with a collection of monstrous sculptures, each one intricately carved from stone. While exploring this whimsical wonderland, visitors can unravel the symbolic meanings behind each sculpture and delve into the depths of Orsini's imagination.
It was a short, but fascinating journey, don't you think? Because these enigmatic places hold a magnetic allure and draw us into their hidden narratives and captivating landscapes. Each of them invites us to delve into a realm where history meets with imagination, and spirituality goes hand in hand with mystery.