The cult of Bacchus, or Dionysus as he was known in ancient Greece, has roots that stretch back to the cradle of Western civilization and, while many know him only as the god of wine, he was much more than that.
Bacchus symbolized fertility, ecstasy, and the very essence of life's pleasures and excesses both in Greece and Rome, but his cult, especially in the Eternal City, had been at times controversial. Let's start from the beginning, though. Let's start with Bacchus' birth.
A god of many names
Bacchus' birth story is all about divine drama and celestial deceit, which was not that strange for classical gods: he was born to Jupiter, the king of gods, and Semele, a mortal woman. This union was not without its complications: Juno, Jupiter's wife, was consumed by jealousy over her husband's affair with Semele and, through cunning manipulation, she tricked Semele into asking Jupiter to reveal himself in his divine form, a sight no mortal could survive. Semele died, but not before Jupiter managed to save their unborn child, Bacchus, sewing him into his thigh until he was ready to be born.
After his tumultuous birth, Bacchus was entrusted to his mortal aunt Ino for care, however, Juno's wrath was unyielding: she inflicted madness upon Ino and her husband, leading to a series of tragic events that would forever shape Bacchus' destiny. But despite these early hardships, Bacchus was destined for greatness: he was taken to Mount Nysa, where he was raised by nymphs and educated by the satyr Silenus, setting the stage for his future as a god unlike any other.
The Roman chapter: a double-edged sword
In Rome, the cult of Bacchus was a study in contrasts, a religious movement that both fascinated and alarmed the Roman populace. On one hand, it was a source of immense joy and liberation: the cult's rituals, which included ecstatic dances, wine-drinking, and animal sacrifices, were a celebration of life's most primal instincts, which somehow offered an escape from the rigidity of daily life, a brief respite where one could revel in the joys of existence without the constraints of societal norms.
However, this very liberation became a point of contention, clashing with the Roman ideals of discipline, order, and moral integrity. The cult's practices were considered not just enthralling but also deeply unsettling by the Roman authorities and the Senate viewed the cult as a direct threat to Rome's social fabric and moral code. Its rituals, often conducted in secret, were seen as subversive activities that could undermine the state's stability. The cult's secrecy and the ecstatic nature of its practices led to rumors and speculations, further fueling concerns.
And, to be truthful, the Senate's apprehensions were not entirely unfounded because Bacchus' cult had a dual nature that made it difficult to categorize: while it offered spiritual liberation and emotional catharsis to its followers, it also had darker aspects. The ecstatic dances could escalate into frenzies, and the animal sacrifices were often conducted in a manner that many Romans found to be barbaric. These elements made the cult a subject of intense debate and scrutiny, leading to its eventual ban in 186 BC.
The Renaissance revival: Bacchus cultural rebirth
Fast forward to the Renaissance, a period of cultural and intellectual rebirth, when the cult of Bacchus experienced a resurgence, albeit in a different form. During this time, Bacchus became more than just a deity, he evolved into a symbol of artistic and intellectual freedom. The Renaissance was a period that celebrated humanism, and Bacchus, with his dual nature and complex history, fitted perfectly into this new worldview. Artists like Caravaggio and Titian immortalized Bacchus in their paintings, capturing not just his physical beauty but also the emotional and psychological complexities that defined him. The Renaissance, we can say, reinterpreted Bacchus, and used it as a symbol of the greatness of Man and as a celebration of artistic expression and human emotions. There was also, of course, a more "epicurean" and decadent side to this revival, largely associated with the quintessentially Renaissance belief that "seizing the moment" and enjoying the "here and how" was essential, as opposed to the Medieval ideal of earthly life as a mere transition towards Life after Death.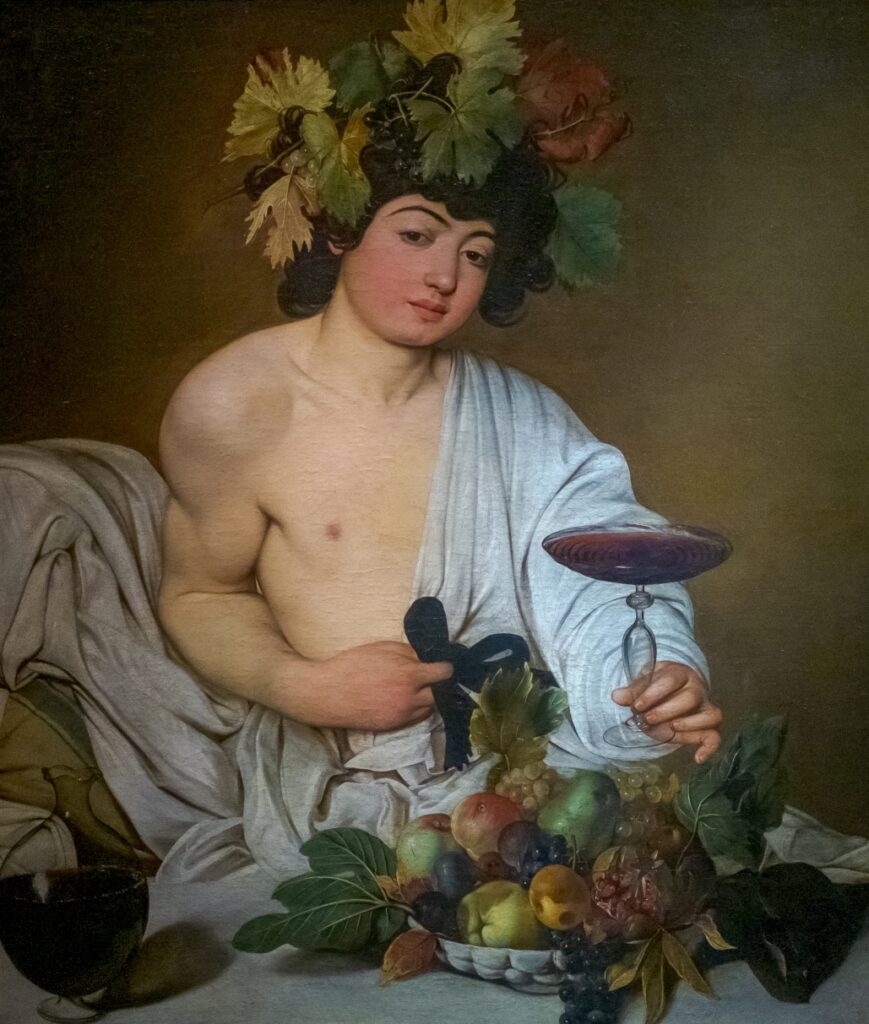 Modern interpretations: Bacchus' evolution from sacred to … pop
In modern times, Bacchus presented yet another face to the world, and integrated himself into the fabric of popular culture. There is nothing religious or philosophical associated with him anymore, but the connection with the idea of celebrating life's pleasures remains. Today, Bacchus is one with the idea of hedonism and with the pursuit of pleasure without the moral and religious constraints that once defined his cult. And how can we ignore the presence of Bacchanalian themes in our beloved festivals and fairs, from Mardi Gras to Oktoberfest, all the way to Carnevale, where the focus is on revelry and indulgence?
But, even in this secular form, the essence of Bacchus remains: he continues to challenge societal norms, asking us to consider the role of pleasure and freedom in our lives. While the religious aspects of the cult faded, its core philosophy—that life is to be enjoyed in all its complexities— lives on. This is why Bacchus and his cult are, in the end, more than a historical or religious phenomenon. They are a reflection of human condition in all its glorious contradictions, a narrative that has been written and rewritten, each chapter infused with the complexities of the era it belonged to. Bacchus donned many masks through the centuries — spiritual guide, societal disruptor, artistic muse, and pop culture icon — but he never lost his core identity as the embodiment of life's primal joys and of Man's eternal quest for freedom.