Every year, travel enthusiasts eagerly anticipate the release of Lonely Planet's Best in Travel list. This prestigious guide highlights the top global destinations across various categories, including countries, regions, cities, sustainable and value travel. The selection process for the list is rigorous and collaborative and involves surveys sent to a wide network of international travel experts, including authors, staff writers, bloggers, and collaborators. The long list generated from these surveys is refined by the Lonely Planet's Best in Travel team and a panel of travel specialists, who assess each destination based on criteria like topicality, uniqueness, and the "wow factor ."
In the 2024 edition of the list, Italy is present with Tuscany. This recognition marks a significant accolade for the Italian region, known for its picturesque landscapes, rich history, and vibrant culture.
Why visit Tuscany?
Lonely Planet's endorsement of Tuscany focuses on the region's commitment to "slow life" and its embodiment of la dolce vita. The editors highlight several aspects of Tuscany that make it a must-visit destination. Let us check them together.
Art and history in Siena
Siena, a UNESCO World Heritage site, is a living museum of medieval and Renaissance art and architecture. The city's heart, the Duomo, is a marvel of Gothic architecture, adorned with intricate mosaics and sculptures by artists like Donatello and Michelangelo. The adjacent Museo dell'Opera del Duomo houses priceless artworks, including Duccio's Maestà. The Museo Civico, with its iconic frescoes like the Allegory of Good and Bad Government, offers a vivid portrayal of medieval life and politics. Walking through Siena's cobbled streets is like stepping back in time, surrounded by historic buildings and the famous Piazza del Campo, known for hosting the Palio horse race.
The charm of Arezzo
Not everyone is familiar with Arezzo, a town that blends its ancient origins with a vibrant contemporary life. The Piazza Grande is lined with medieval buildings, like the Loggia del Vasari, and the Romanesque Santa Maria della Pieve church. The town's artistic legacy includes Piero della Francesca's frescoes in the Basilica of San Francesco. The monthly Antiques Fair and the annual Saracen Joust blend history, culture, and festivity, offering a glimpse into the local traditions and craftsmanship.
The spectacular views in Val di Chiana
The Val di Chiana offers an idyllic Tuscan landscape, dotted with vineyards, olive groves, and historic towns. Montepulciano, perched on a hilltop, is not just famous for its Vino Nobile wines but also for its Renaissance buildings and stunning vistas. The Caffè Poliziano, a historical café, provides a perfect spot to enjoy these views along with local culinary delights. The area is also known for its thermal baths, Etruscan tombs, and the picturesque towns of Pienza and Cortona, which offer a blend of cultural and natural beauty.
Cycling passion
Tuscany's diverse and scenic landscapes make it a paradise for cyclists. The region's rolling hills, vineyards, and historic paths offer varied routes for all levels of cyclists. In fact, the 2024 Tour de France's start in Florence is a strong nod to the region's love for cycling. This prestigious event will allow visitors to experience the excitement of professional cycling while exploring Florence's rich cultural heritage.
Uffizi Gallery's unique project
Florence's Uffizi Gallery, renowned for its collection of Renaissance art, is revolutionizing the art world with the Uffizi Diffusi project. This initiative aims to disperse artworks across Tuscany, reconnecting them with their historical and geographical contexts, and it is expected to transform the art-viewing experience, offering a more holistic understanding of the artworks and their origins. Additionally, it encourages exploration beyond the usual tourist paths, inviting visitors to uncover lesser-known towns and landscapes.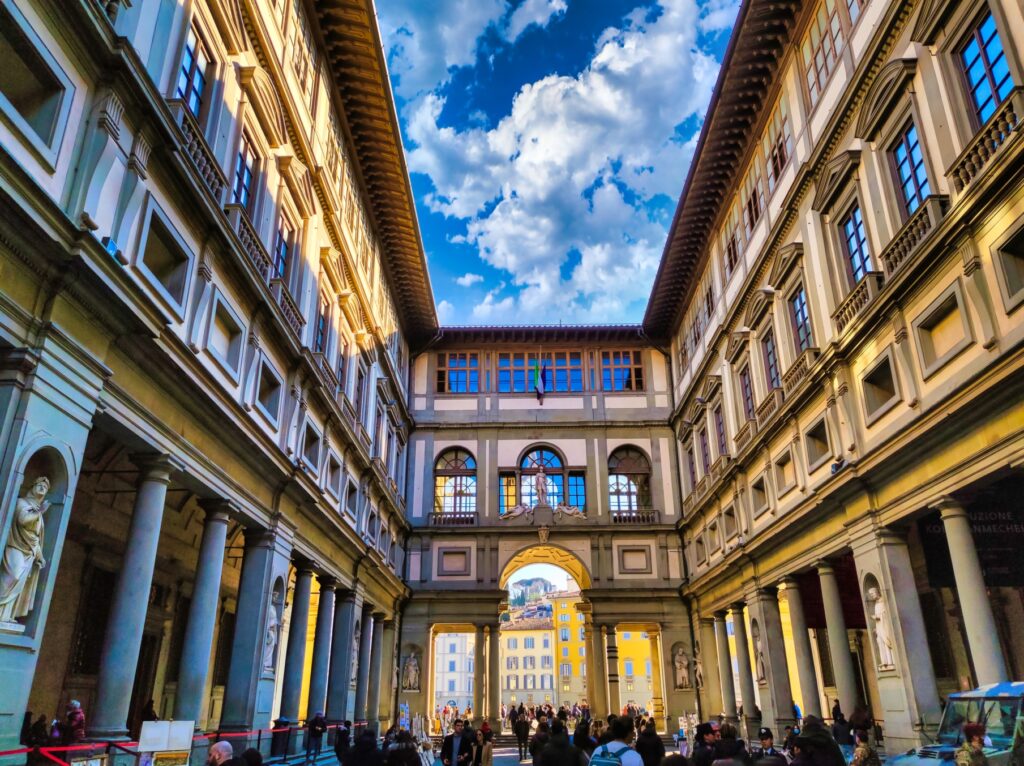 The shift in tourism trends
The inclusion of only one Italian destination in Lonely Planet's list might come as a surprise. However, Tuscany's selection is significant in reflecting a broader shift in tourism trends: the focus on slow tourism and food tourism in Tuscany represents a growing preference for authentic, immersive, and sustainable travel experiences. It is a trend that moves away from the stereotypical and often superficial tourist activities, emphasizing a deeper connection with the local culture, history, and natural beauty instead.
The idea of slow tourism emerged in Italy in connection with that of Slow Food back in the 1980s, and it advocates for a more immersive and measured exploration of destinations. Key for slow tourists is understanding local traditions and connecting with the environment respectfully and sustainably. This form of tourism extends beyond mere sightseeing, emphasizing a deeper engagement with the culture, history, and natural beauty of each place.
While quantifying the exact value of slow tourism can be complex, its impact in Italy is substantial, because it promotes longer stays and encourages spending in local businesses, leading to a more balanced distribution of tourism-related income, especially in lesser-known regions. This approach has proven beneficial for areas like Tuscany, where it helped sustain local communities, support traditional crafts, and preserve the unique cultural identity of the region. The true worth of slow tourism, therefore, isn't simply in its financial contribution but also in its role in safeguarding Italy's heritage and promoting a more responsible and enriching travel experience.
We can say, then, that Tuscany's spot on Lonely Planet's list mirrors a shift in travel trends worldwide, and highlights a region that blends its historical and cultural richness with contemporary tourism needs, while offering authentic, deep, and local experiences. Today's travelers want their trips to be meaningful and respectful of the places they visit: as people look beyond just pretty views, Tuscany shows how travel can be both enjoyable and significant.