Just like panettone, torrone is a classic of Italy at Christmas, that you'll find in every household. But while panettone is almost a synonym of Milan, torrone is more ubiquitous, even if many associates it especially with Cremona. As we shall soon see, however, this Lombardy town is far from being the only place in the country making traditional, delicious nougat.
But let's begin, as always, with some history.
The word "torrone" comes from the Latin verb, torrere, to toast or roast, which leads directly to the main ingredient of it, toasted nuts. Traditionally, hazelnuts are used, but almonds are also popular, and pistachios, walnuts, and even peanuts make often an appearance. Besides nuts, torrone is made with sugar, honey, and egg whites, and it's covered by a thin layer of ostia, wafer, on either the top or bottom.
According to Titus Livius and Martial, the ancient Romans would enjoy a similar delicacy to our nougat,  called cupedia or cupeto,  which is the same noun used for torrone in the Irpinia region of Campania, where the product is incredibly popular. But this is no coincidence, as it seems the Romans inherited the recipe for their cupedia from the Samnites, who inhabited Campania in pre-Roman times. This theory greatly differs from the most popular one, which sees torrone as a Renaissance product of Cremona, but is an attestation to the presence of nougat across the country, with a variety of different and conflicting versions for its origins, that developed in bona fide culinary rivalries. Just to add one more theory to those already mentioned, some believe torrone was brought to Italy by Arabs through Sicily, and that, before becoming popular here, Spaniards had already discovered this oriental delicacy (also thanks to the Arabs, of course). So, according to this version, torrone is not even an Italian invention, and the people of Spain discovered it before us.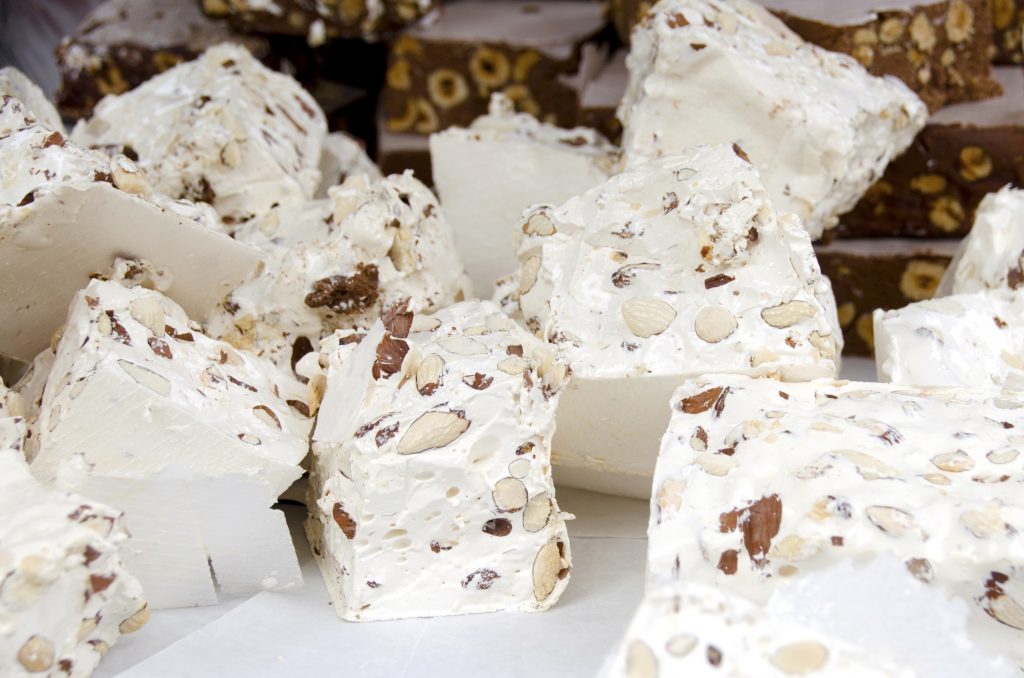 Whether we want to believe we invented it or the Arabs gave it to us, torrone today is a typical delicacy in many parts of our beautiful paese, and a great number of varieties exist.
In Calabria, the Torrone di Bagnara IGP is the most famous. It is produced in a small town near Reggio Calabria, combining two classical Calabrese ingredients, honey and almonds, with sugar. Apparently, it was first produced by the monks of the Bagnara Abbey, perhaps in the 18th century, but its mass production didn't begin until the mid-19th century. This torrone is made with nuts toasted in a special way and it's usually covered in sugar or in a mixture of sugar and cocoa powder. Incidentally, this is the only torrone holding an IGP denomination, which was awarded in 2014.
The city of Benevento, in Campania, has a long-lasting torrone tradition. Here, torrone, as we mentioned, is called cupedia, and its recipe is strictly associated with that used by our ancestors, who cooked egg white, almonds and honey in a bain-marie. Apparently, the Bourbons of Naples loved cupedia, the production of which increased, therefore, in the 17th and 18th centuries. In later times, new varieties of cupedia, such as those covered in chocolate, coffee, or royal icing were developed.
Cubbaita is a sweet Christmas confectionary made in Sicily with honey and sesame seeds. Its name likely comes from the Arabic qubbiat, which is still used in Sicilian dialect as a synonym for nougat. In Abruzzo, Guardiagrele (province of Chieti)is home to the eponymous nougat, also known as aelion nougat because local lore says the town was founded by the Ancient Greeks. It is made with roasted almonds, sugar, and candied fruit, with the addition of cinnamon. Abruzzo's capital, L'Aquila, is also known for its soft, chocolate nougat, the torrone tenero al cioccolato Aquilano, made with hazelnuts, cocoa, honey, and vanilla. Now, if you are in this beautiful region and have a sweet tooth, you must stop in Sulmona, the world capital of "confetti," or sugar-coated almond candy. You may be happy to know, though, that Sulmona is also popular for its nougat, made with at least 30% of hazelnuts, cocoa, sugar, egg whites, vanillin, honey, and wafer: it is characterized by a spongy texture and a dark brown color.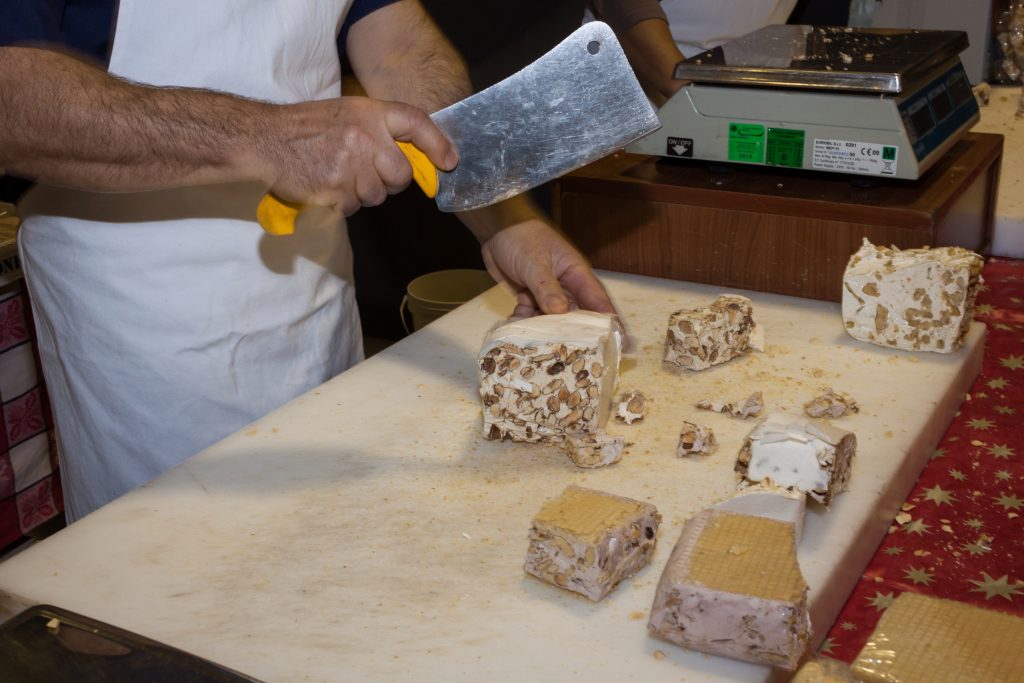 Not many may know that Sardinia, among many other things, is also famous for its nougat, produced especially in the Barbagia village of Tonara. It is likely the tradition of nougat-making came to the island from Spain, more precisely from Alicante, which was once controlled by the Arabs. Tonara nougat, which is based on the triad honey, egg white and almonds, is so delicious that even Nobel Price Grazia Deledda wrote about it, back at the end of the 19th century, in one of her novels.
Last, but not certainly least, we find the torrone di Cremona. Perhaps the most famous around the world, its recipe dates back to the Renaissance. Cremona nougat is made with almonds, honey, egg whites, and sugar and is always crunchy: if it's soft, it isn't from Cremona. In fact, its crunchiness is legendary, with some early 20th century sources saying it should break "as if it were glass." Torrone di Cremona has the same ingredients as other types of torrone around Italy, but its secret is all in how they are dosed: 50% of almonds, 40% of honey, and 10% between egg whites and sugar.
Whichever variety you choose, torrone is always delicious: nutty and sweet, covered in chocolate or just as it is, it is traditional and genuine, and has all the taste of Christmas and tradition.