The whole world seems to have a pretty good idea about what a focaccia is. Is a very thick Italian flatbread, right? And what about pizza? Easy! It's a thin flatbread!
Well, as a matter of fact, it's not so easy. In Italy, the terms pizza and focaccia are both used to describe a baked flatbread, which is stuffed or topped with a variety of ingredients.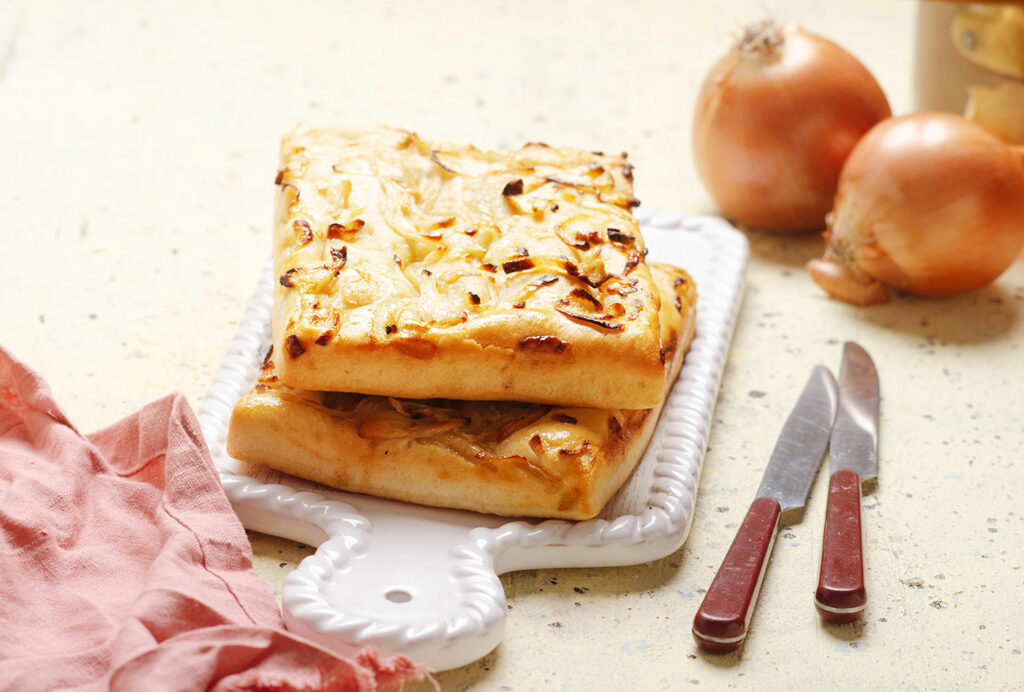 Methods, texture and flavors vary greatly between regions. Even the dough ingredients differ. Different types of focaccia might be made with regular wheat flour, semolina or even potato sometimes mixed with cheese, puree pumpkin, olives, lard and even pork cracklings. The list is endless and exciting.
Try to ask a few Italians what is their favorite focaccia. Each will tell you that the sort of focaccia or pizza made in their birthplace is the best.
In Umbria, pizza comes with cheese and tomato, while focaccia has generally no tomato and often, no cheese. We also have pizza dolce, a panettone-shaped sweet bread, traditionally made for Easter.
Umbrians are fond of schiacciata alla cipolla, a thin focaccia topped with slowly braised onions, sage or rosemary and – if liked – a sprinkle of cheese.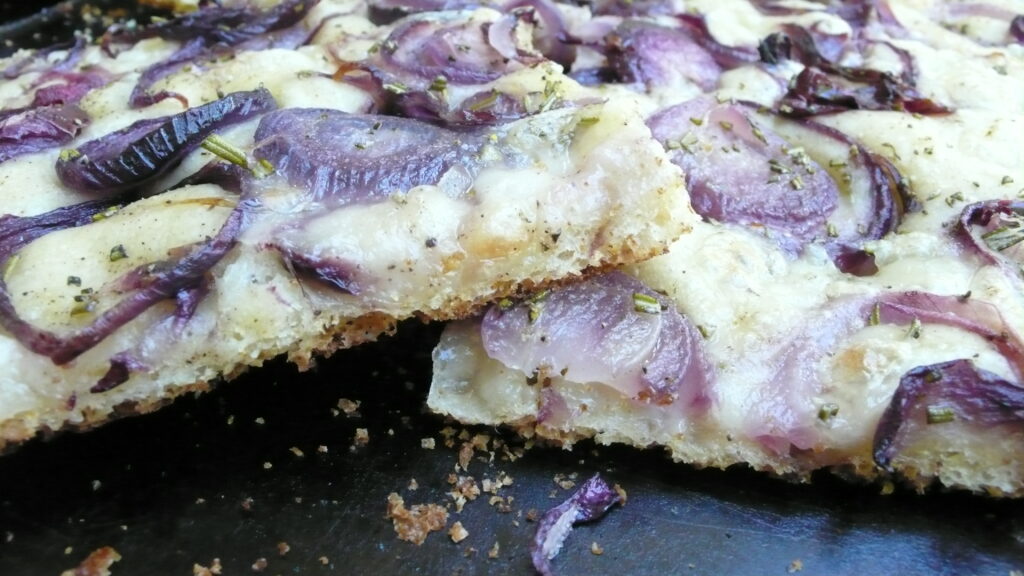 Ingredients (serves 3-4 for dinner or 8 as an appetizer):
For the focaccia dough:
1 g (1/4 teaspoon) active dry yeast
300 ml (1 and 1/3 cup) water at room temperature
500 g (4 cups) all-purpose flour
1 teaspoon salt
1 tablespoon olive oil
For the topping:
2 large onions, halved and sliced
2 tablespoon extra-virgin olive oil
2-3 leaves fresh sage or a sprig of rosemary
200 g (7 oz) fresh mozzarella or other young cheese, diced
The dough recipe has been divided into two steps, which are done on two subsequent days:
Day 1
Sprinkle the yeast over the water and stir until the yeast dissolves. In a food processor, combine the flour, olive oil and salt. Mix briefly. Add the water and yeast and mix until a soft dough forms.
Alternatively, mix the ingredients by hand in a large bowl, then turn the dough out on to a lightly floured surface and knead briefly to bring it together. The dough should be as wet as possible but still firm enough to make in to a soft ball. Add more water if necessary. Transfer the dough to an oiled bowl and cover first with clingfilm and then with a tea towel. Place in a draft-free place to rise.
Day 2
In a shallow pan, slowly soften the sliced onions in 2 tablespoons of olive oil until translucent. Remove from the heat and allow to cool.
About one hour before you plan to serve the focaccia, coat a pizza pan with 1⁄2 tablespoon of olive oil and 1⁄2 tablespoon of sunflower or other vegetable oil. I use a 35 x 45 cm (13 x 18 inch) rectangular pizza pan. This amount of dough will also be enough for three round 26 cm (10 inch) pans.
Using a spatula, transfer the dough into the pan and stretch it with your fingertips, trying to retain the air bubbles that will have formed during the long proofing. Place the pan in a draft-free place, cover with a tea towel and let the dough rest for about half an hour.
Preheat the oven to the maximum temperature. The oven must be at the maximum temperature for at least 15 minutes before baking the schiacciata.
Distribute the cheese, onions and chopped sage or rosemary leaves over the dough. Drizzle with 1 tablespoon of olive oil and season with a sprinkle of salt and freshly ground black pepper. Bake for 8 to 12 minutes or until the focaccia is a deep golden color underneath and around the sides.
Letizia Mattiacci is a cookbook author and owner of Alla Madonna del Piatto Cooking School and Agriturismo in Assisi, Umbria, https://incampagna.com. This recipe has been previously published in Mrs. Mattiacci cookbook entitled "A Kitchen with a view."