Sardinian cuisine may be simple in its ingredients, but it's packed with flavor and boldness: it all comes down to the island's Mediterranean climate and how it positively affects agriculture, but also to its history. Over the centuries, Sardinian cuisine managed to maintain a very distinct and well-defined personality, perhaps also because of, well… its insularity. A personality, however, that is as multifaceted as the island's fantastic landscape, that brings under the same sky beaches reminiscent of the Caribbeans and barren, almost moon-like inland areas.
Expert gastronomers guarantee that the food of Sardinia inherited elements from the cuisine of all of its conquerors, from the Phoenicians to the Carthaginians, from the Romans to the Genoese, the Pisans, and the Catalans, all the way to the Spanish and the Piedmontese. The island's ancient gastronomic tradition is still evident today in some of its most famous dishes: for instance, the food of the Oristano region still has distinct Phoenician characteristics, and recent archaeological findings suggest that Sardinia was an area of production for Rome's favorite condiment, garum. The discovery was made while excavating the archaeological area around the port of Cagliari, the region's capital and, incidentally, a city known for its delicious seafood and fish dishes: yet another sign that today's Sardinian cuisine learned it all from history.
Key to the allure and beauty of Sardinian food is also its link with the region's oral tradition. While some recipes have been recorded in writing and came to us in historical documents, the vast majority of Sardinia's culinary corpus traveled through time thanks to the deeply ingrained method of passing on recipes from one generation to the next as if they were tales.
But the secrets and aromas of Sardinian food are also rooted in its sea and pastoral traditions. Along its beautiful coast, we can enjoy three unique types of cuisine, each characterized by its own flavors and styles. The first, based on Phoenician and Roman elements, is the most ancient; then we have dishes of Genoese and Pisan origins, which are particularly popular throughout the southwest of the island. Last but not least for sure, we find the culinary tradition of Alghero, which has clear Catalan influences. Among its most iconic sea products and dishes, we can mention the cozze del golfo, typical of the Olbia area and used in a plethora of preparations, from soups to pasta sauces and fillings. Of course, we have to mention bottarga, which is perhaps one of Italy's most well-known fish-based products around the world: it is made with the dried eggs of tuna or red mullet and is usually grated on pasta. If you like soups, try sa cassola, common in Cagliari and its surroundings, where a variety of fish and seafood is cooked in tomato sauce with chili peppers. Sa burrida is another icon typical of the northern area of the region, made with local fish, walnuts, and pinenuts.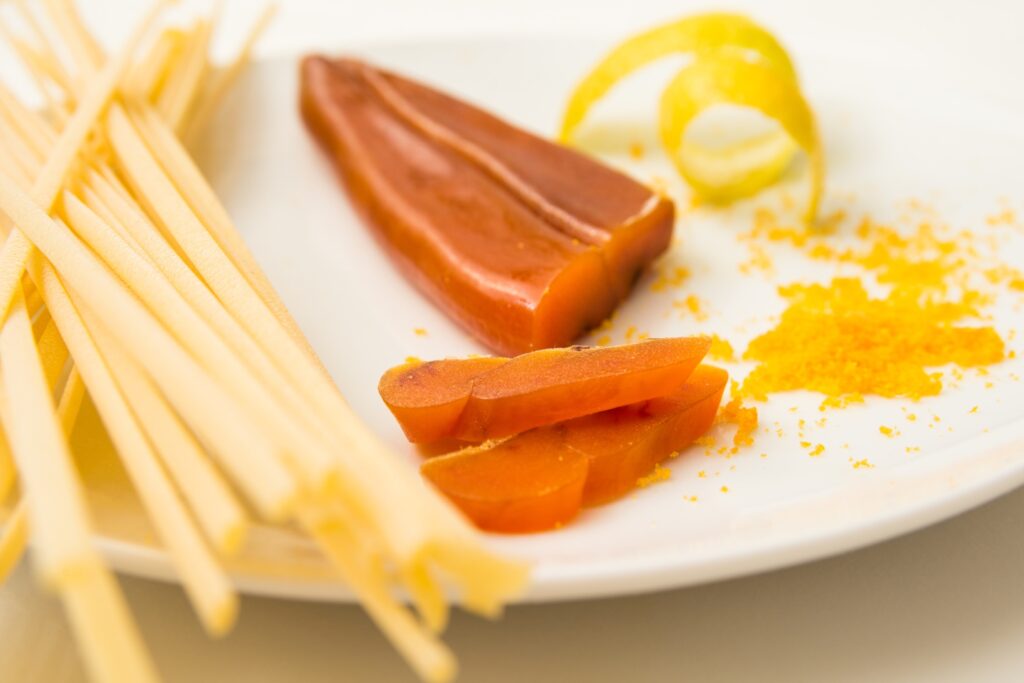 Move inland and you'll find the jewels of pastoral Sardinian food, all based on the great variety of products available but also on the ancient need to stay, and often live, away from home for a considerable time without the possibility to prepare complex dishes. This is why Sardinia's pastoral cuisine is considered povera, "poor:" because it is based on simplicity — but has developed with loads of creativity.
Seasonality is central to Sardinian cuisine because food always followed the traditional activities of shepherding, farming, and fishing. And whereas the vegetables you find in your orchard are essential to making delicious soups and side dishes, the real "green" protagonists of the Sardinian kitchen are their wild cousins, including wild fennel, borage, chard, and chicory.
When it comes to pasta, malloreddus are perhaps the most famous of all shapes here. They are also known as gnocchetti sardi,  and one of their most delicious versions is alla campidanese, with tomatoes, pecorino cheese, and sausage. Another great Sardinian primo is, of course, fregula, a type of pasta similar to North African berkoukes, Levantine moghrabieh, and couscous. You should also try culurgiones, large semolina ravioli filled with ricotta and spinach or cheese. When it comes to meat, the pastoral tradition of Sardinia is mirrored in the popularity of lamb, cooked in a variety of versions: roasted, with wild fennel, with peas, or with tomatoes and saffron. And of course, we cannot forget pecorino sardo, the most quintessential of the island's cheeses, which has become a staple in the pantries of all of Italy. 
To finish our short culinary trip across Sardinia, we should mention its wines. The island is known for its vineyards and the rounded, full-bodied taste of its reds, but we'd like to say something more about its Gallura Vermentino, a dry white wine that perfectly complements the richness of the island's best dishes.
One special mention should go to modern and contemporary Sardinian cuisine: in 2021, three local restaurants received a Michelin star: Fradis Minoris in Pula, Somu in Baia, and Gusto by Sadler in San Teodoro. They join two-starred Dal Corsaro, in Cagliari, and Confusion, in glamorous Porto Cervo. Moreover, the famous Italian food association Il Gambero Rosso awarded Cagliari with the Gastronomic City of the Year title for 2022, for "its ability to create new culinary realities and, especially, to develop a network of relationships and collaborations, ideas and projects that help the growth of Sardinian cuisine."
Indeed, there is more to enjoy in Sardinia than beautiful beaches.