Fine, traditional craftsmanship is synonymous with our country, Italy. Some of our most beloved crafts, those we consider a symbol of our very own artistic identity – and economy, we shouldn't forget – are as old as history but, today, also as rare as a precious diamond.
Cultural and economic changes, globalization, new trends and the growing popularity of cheap-and-cheerful items instead of quality ones led some of our mestieri tradizionali, or traditional crafts, to the verge of disappearing. Fewer and fewer people seek the expertise and skills of specialized craftsmen, and our younger generations seem uninterested in carrying on a professional heritage that no longer appears popular or remunerative enough to carve a career out of it. To be fair to the youths of Italy, there has been a small, but significant change of direction in the past few years, with more among them pursuing alternative professional paths and rediscovering old crafts as potential options. Yet, it is still not enough to make a considerable difference in the negative trend we are speaking about.
Truth is that finding a good and reliable – let's say – carpenter or blacksmith, especially if you live in non-rural areas, where often such crafts are more likely to endure, a vestige of times gone that locals find hard to abandon, is not easy in today's Italy.
Let's take a look at some of the traditional mestieri at risk of disappearing while reflecting on the immense cultural and identitarian loss we could face in case they, along with all other traditional crafts, had to, one day, no longer exist.
Il vetraio, or the glassworker
Working with glass is so close to magic when you think of it. Making objects out of see-through putty as hot as fire, adding shades and hues so pristine it's hard to believe they are real. To be clear, the glass-working industry is well-established and still florid in Italy, but at an industrial level. Small glassworker ateliers have become rare. Of course, there are areas of the country where the trade remains strong, like Venezia, which we all know for its artistic glasswork, and Tuscany, famous for the production of bottles and other glass vessels since the Middle Ages.
But ateliers like these are a rarity in other parts of Italy, and their products are largely considered a niche market. And if you think that even some ateliers in Murano, which produce and export their products all over the world, are at risk of closure this year because of the increased prices of electricity and gas, it's easy to see how others may struggle even more.
All this, adds up to a lesser request for craft, handmade glass, unfortunately replaced with cheap, foreign products. Not quite the same, but we live in a world where everything, even beauty has become "touch-and-go," and the idea of "eternal" no longer appeals to consumers as much as it used to.
Il corniciaio, or the framer
I come from a family of art lovers. My mother loved paintings and antique etchings, so much so that she would spend almost every weekend in antique stores and art fairs with one aim: finding beautiful rarities. Often, the bounty was good but… it needed to be framed or reframed, at least, if the original frame was in bad shape and beyond repair. Enters the corniciaio. The craft of framers is akin to that of the wood carver and that of the carpenter, but also to that of the art restorer, in many ways. Our corniciaio, the one my mother used to go to and ended up becoming a friend, knew as much about art as a museum curator, and handled frames and paintings with the gentleness and skill of the restorer. Today, my mother's framer no longer works, she retired a few years back, but she had already switched almost entirely to selling art because no one would get their things framed professionally anymore. We buy mass-produced, cheap frames in megastores or online, forgetting about the pleasure of owning a piece of art protected by another piece of art. It's a pity.
L'orologiaio, or the watchmaker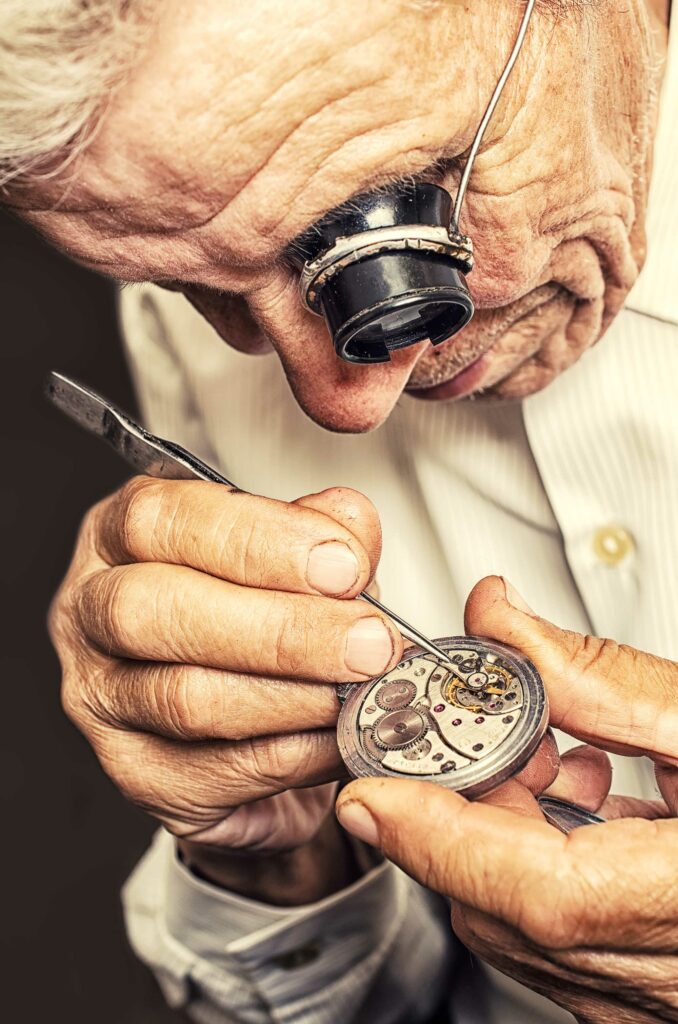 A watch, just like jewelry, is both a status symbol and an heirloom, an object that lasts forever and keeps on existing through generations. So of course, people still buy quality watches, which are made to last and need, at times, to be fixed and checked. Yet, there are only 600 watchmakers left in Italy, and numbers are dwindling further. And this is not because people no longer buy watches, as we said. It is because of a precise choice watch producers around the world made: many watch-making companies stopped supplying independent watchmakers with spare parts to repair their products, to keep solidly in their hands the business of their watches' maintenance. In other words: if your watch breaks, your local watchmaker may not be able to repair it because, quite simply, they are no longer supplied with what they need to do it by producing companies. Just another sign of times changing.