From a distance, the 13th century tower seems to ride the hilltop alone. A ruin or perhaps an invitation to more, its mystery is finally revealed when a cypress lined road eases to an end. A striking 13th century portal waits, beckoning one to step inside this picturesque, sleepy Tuscan village.
Welcome to Monticchiello, province of Siena. If a guidebook brought you here, expectations probably aren't great. A few sentences might cover its notable traits of "well preserved, charming" with a sweeping view of the spectacular Tuscan valley below. No souvenir shops hock cheap wares, no famous works of art bring the crowds. An almost eerie quiet is punctuated only occasionally by contentious voices of time-worn gents as they dissect the world's problems, or perhaps a screech from a feline domestic dispute. By all accounts, it's a beautiful but fading village like so many others sprinkled across the hilltops of the Tuscan dreamscape of the Val d'Orcia.
What isn't apparent to the average day-tripper is Monticchiello's 54-year-old theatrical tradition, an artful self-disclosure of its collective community soul. It's called Teatro Povero di Monticchiello, the yearly summer spettacolo (play) that reaches light years beyond mindless entertainment and floods the stage with the angst-of-the-moment topic of the tiny town.
"The art of a people is a true mirror to their minds."  ~ Jawaharlal Nehru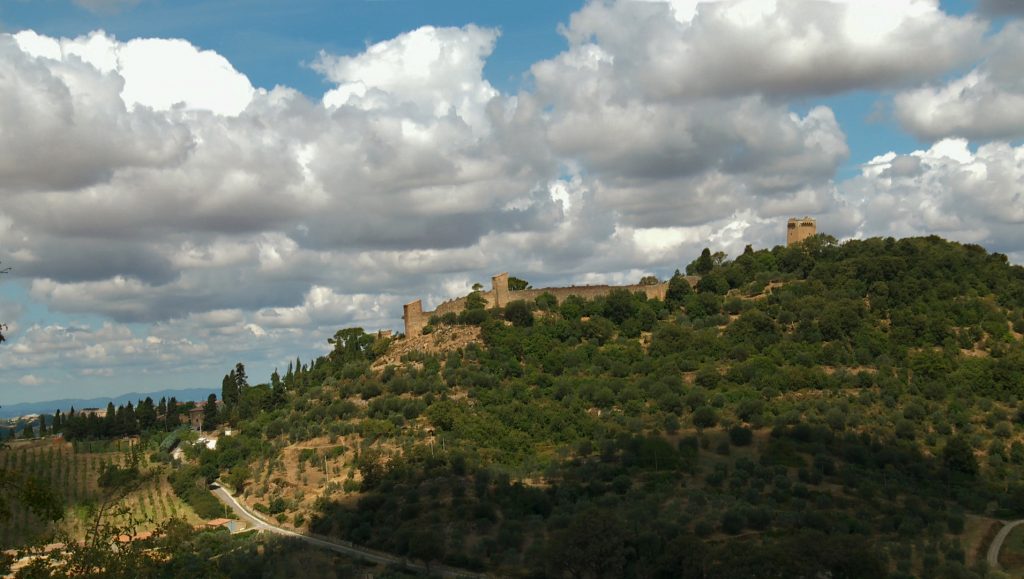 The turbulent years of the 1960s brought unsettling times to the quiet agrarian villages of Tuscany. Based on a government decree, the mezzadria way of life – farmers producing for wealthy landowners and sharing the bounty – was ordered disbanded. What had been a generally stable, albeit lop-sided, economic structure dissolved. The village's young adults bled away quickly in search of work elsewhere as the rhythms of farm life began to evaporate. Traditions and culture seemed in jeopardy; the entire identity of the community was at stake.
The Montechiellesi have a history of standing their ground. It was this frame of mind that became the guide in addressing the crisis affecting their life and livelihoods. Turmoil, fear, resistance, the unknown…these experiences fuel our need to express our deepest feelings as a pathway to understanding, and Monticchiello's small band of citizens decided this was their ploy. Their story had to be told, their resistance and perseverance played out in open honesty as a way to restructure survival.
"You use a glass mirror to see your face; you use works of art to see your soul." ~ George Bernard Shaw
Teatro Povero was born; it would be the mechanism the Montechiellesi would use to resist, to make sense of their real-life plot. Out of this, a virtual way of life was also born. Rather than a community play dependent upon a core of decision makers and a troupe of auditioned actors, the town itself became the creators, as well as the subject. Townspeople became the players on the stage, portraying not a fictional character, but themselves…their voices and message their own. Monticchiello and her people became a direct reflection of themselves, a mirror image reflected on a small wooden stage in a quaint piazza for all the world to see.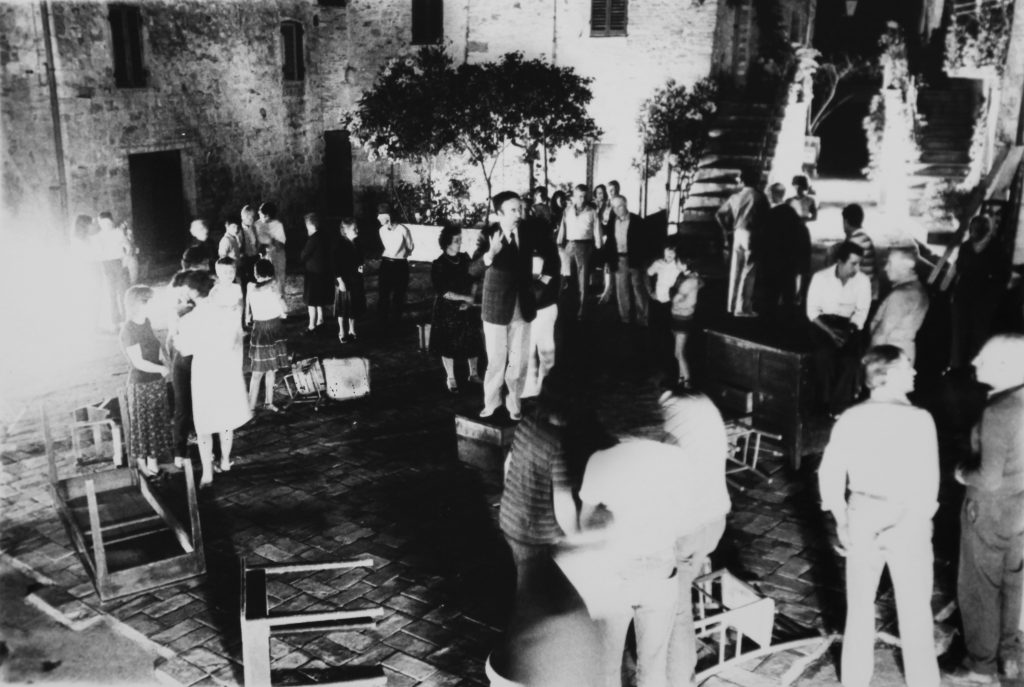 Each January since 1967, the town amasses to begin the creative process of the coming summer's production. Any and all are invited to participate, and most do, even a virile few who were participants in the first production. Heated discussions ensue; ideas are kicked about, some deflected like a blocked soccer ball, others ruminated over and picked apart. Eventually, a topic is chosen, and always it is an issue staring down the throats of the Montechiellesi.
There is no formal training, although in earlier years advice was sought from a few interested professionals. Actors generally play themselves, sharpening their acting skills year by year. In the process, many also refine their personal reality, finding better versions of themselves and their own stories. Townsfolk take on the roles of set builders, costumers, and all other job descriptions necessary to pull off a live production; the idea of community theatre rises to an almost metaphysical level.
The annual production is Monticchiello's heartbeat for 7 months of every year. An average of 20 consecutive shows grace the piazza each July and August, drawing over 4,000 visitors to the village. As farmer and production sound engineer Ricardo Severini related in a New York Times interview, "It's a powerful aggregation tool…"
It was a serendipitous event in 2012 that brought Teatro Povero to the world's attention. Two young filmmakers on a honeymoon trip followed the guidebook's advice. Planning no more than a mid-day stroll through Monticchiello, a peek inside a cracked door led them to Andrea Cresti, a local artist and now-retired instructor…and backbone of the theatre. Conversation ensued; Jeff Malmberg and Chris Shellen returned to Monticchiello for 6 months, living with and documenting the Teatro Povero process from start to finish. Cresti, the director of the productions from 1981 to very recently, is the anchor point of this documentary, Spettacolo (2017). His lion-esque mane of wild hair surrounds a pensive, brooding face, yet his passion for Teatro Povero, for his town, is solid and irreputable. The film is framed by seasons, taking us from winter's embryonic beginnings to full culmination in the summer as we fret and cheer alongside the villagers so poignantly introduced to us by Malmberg and Shellen. Fascinating looks at previous years' productions also introduce us to the many challenges and traumas Monticchiello has survived.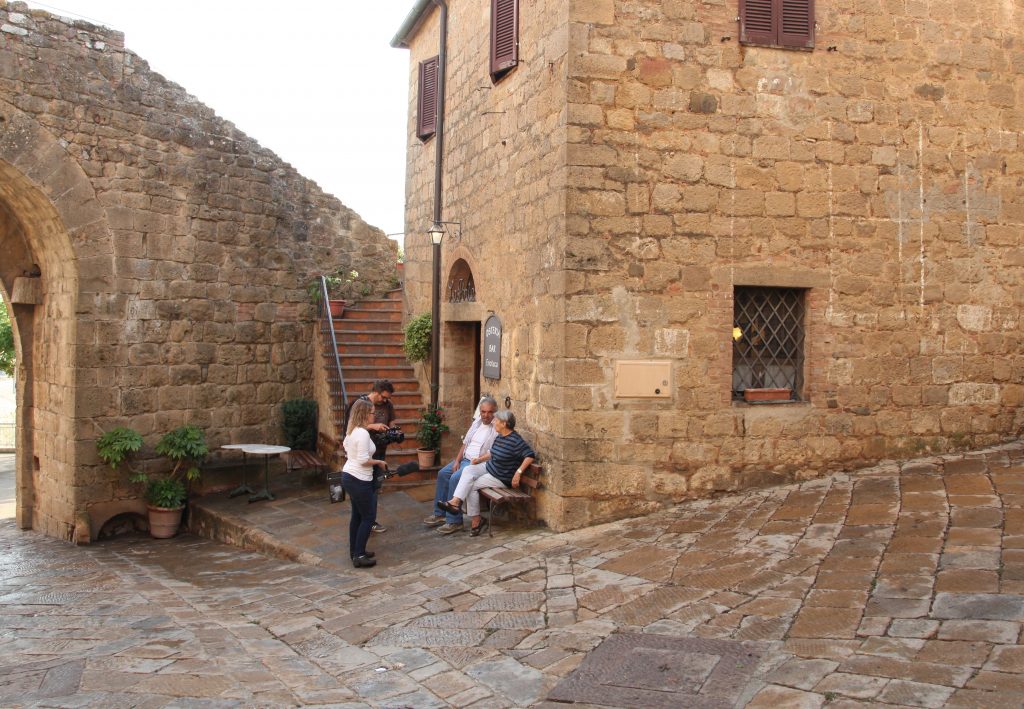 Cresti, along with a few others, is also responsible for formally organizing the theatre and its processes. The village now hosts an array of entities such as an internet café and programs to assist the elderly or needy as a result of the Cooperative of the Teatro Povero of Monticchiello, all housed in a former grain storage barn off the piazza. Recent initiatives include a B&B, bicycle rentals, the Bronzone Tavern, and tour packages for the surrounding area. Grasping for survival those 54 years ago has been fruitful for Monticchiello.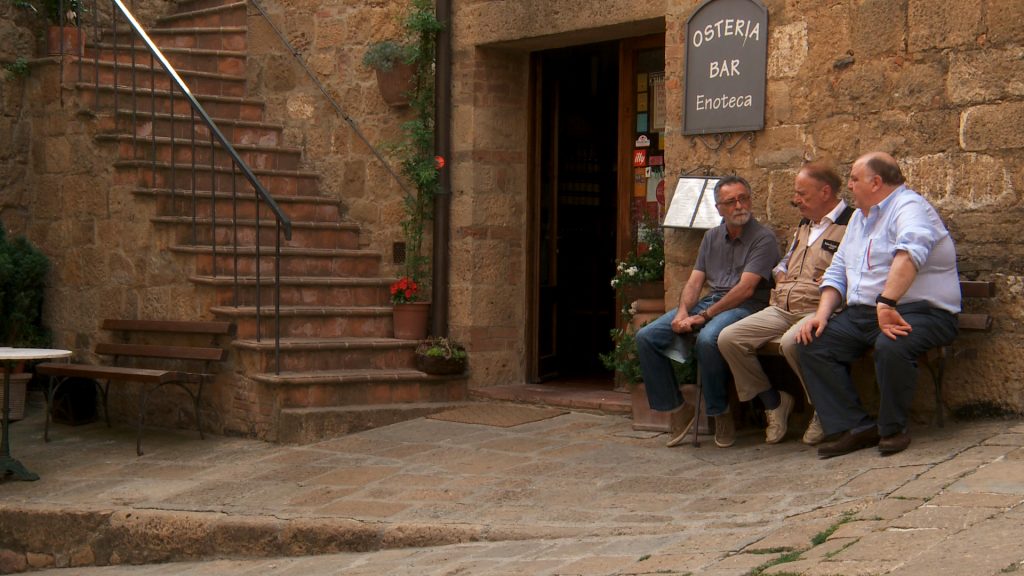 "A little like this community, the theatre has always been on the verge of extinction." Andrea Cresti's words in a 2017 interview ring true today. Cuts in government funding, apathy amongst the youngest citizens, village elders exiting the world stage in greater numbers each year, and of course, dealing with a pandemic – all have taken a swipe at the theatre's existence. Whether the autodramma of Monticchiello, the theatrical version of an autobiography, continues in ensuing years is unknown. What is known is the Montechiellesi stand their ground, they survive.