To non-Italians, the name Stromboli probably means very little. The 12-sq-km island is part of the Aeolian archipelago and is home to not more than 300 people, divided into two small villages. Most notably, though, Stromboli is home to the most active volcano in Italy.
The last period of non-activity recorded dates back to the early 20th century, which means the Stromboli has been constantly active for more than a century: we are not talking about massive eruptions, but rather continuous, fountain-like fiery emissions of molten rock, so characteristic that a term, "strombolian," has been coined to define all volcanic eruptions of the same type. As fiery and dangerous as it may be, the Stromboli also strikes for how beautiful it is, so perfectly conic, its peak often covered in snow. So much so, one may wonder whether islanders don't leave quite simply because they can't give up its beauty.
This small Aeolian Island was,  once upon a time, much more populous: in the early 1900s, about 4000 people called it home, up until the devastating eruption and  tsunami of  1930, when the vast majority of the community left for the US and Australia, in search of fortune and of a brighter,  safer future. Things didn't get better in the following years:  the volcano just wouldn't stop spewing fire and people grew weary of its presence. It was beautiful, majestic, even part of their own identity, but how could one live in peace with the menace of destruction  looming upon one's  abode,  every  day and every  night, week after week, year after year? And so, by the end of the 1940s, only 15% of the island's residents remained, attached to their  land and  past, perhaps, or just unable  to take the plunge and  try for a  new life somewhere else.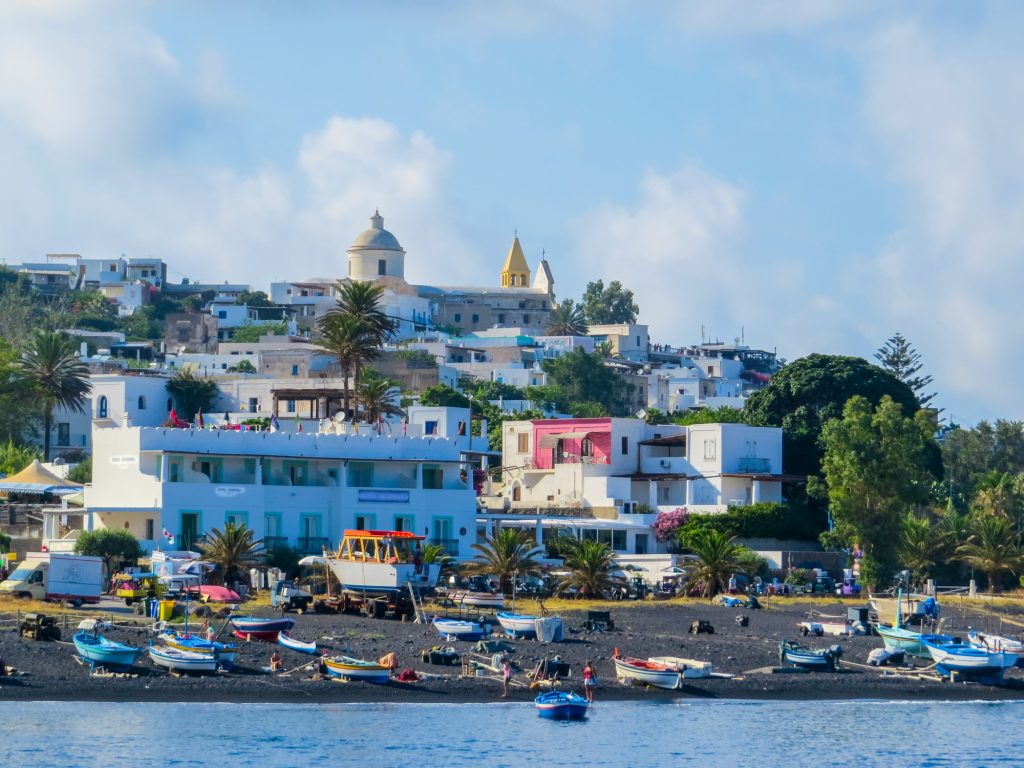 The community on Stromboli may be small nowadays, but this doesn't mean that the interest in the island dwindled: quite the contrary. When, in 1950, Roberto Rossellini filmed his movie Stromboli on location, merging on screen the beauty of its landscapes and its volcano with that of Ingrid Bergman, he set the ideal first stone for the creation of the island's florid tourist industry. Known as the Aeolians' black pearl, the island is perfect for people in search of peace, quiet and natural beauty: its coastline is a succession of cliffs, black sand beaches, grottos and coves, punctuated here and there by the bright, diamond-like white of Mediterranean homes. The silvery green of olive trees melts into the darker, waxy green of orange and lemon groves, all resting along the sides of a perfectly shaped mountain of fire, whose feet rest almost 1000 meters under sea level.
Locals call the volcano iddu,  "he"  in Sicilian, showing the deep connection they feel with it. The Stromboli is a force to reckon with,  a powerful reminder of Man's own fragility and of the ultimate superiority of Nature on us; yet, it isn't an enemy. It stands to remind us about how we should lead our life, in owe of nature, attached to what truly counts, free from today's superficial canons of success and popularity. This is, in  fact, the opinion of many of the people interviewed by Anna Bressanin who, in 2019, presented the award-winning documentary Island of Fire to the Elba Film Festival. Bressanin gave voice to Stromboli's small community, shedding light on its reality and its relationship with the volcano.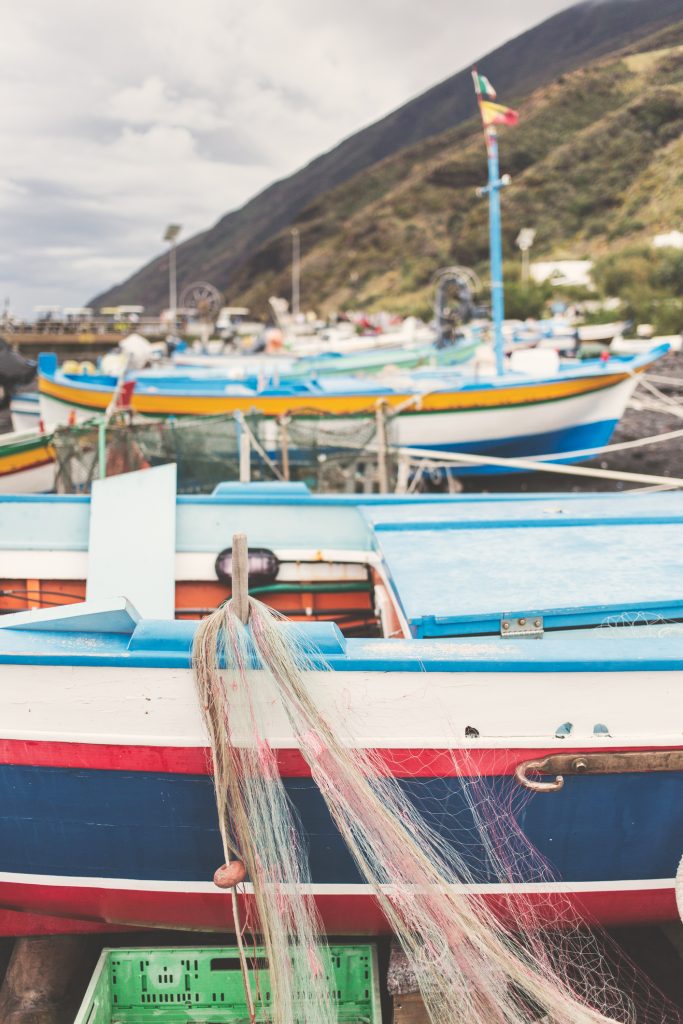 Many among them, especially the younger ones, declared they see it as an old friend. Without a doubt, being a teenager on Stromboli is not simple: as there are no high schools on the island, students have to leave for mainland Sicily to continue their education. Many of them go to university and end up leaving the island for good, but many, as Bressanin found out while filming, eventually return to the black, the silver and the blue of their ancestral home.
Stromboli today is a popular tourist destination: the sea is beautiful, beaches are quiet and clean and the landscape is breathtaking. But idduremains the most precious of all attractions, with many visitors hiking for three hours to climb up the volcano and  witness first hand the beauty and mystery of its activity. Ginostra, a small village reachable only by sea and home to not more than 30 or 40 people in low season, is a beautiful corner of Mediterranean peace, while about a mile off the coast of the island we find the popular Strombolicchio, a volcanic islet that represents the north-most part of Sicily.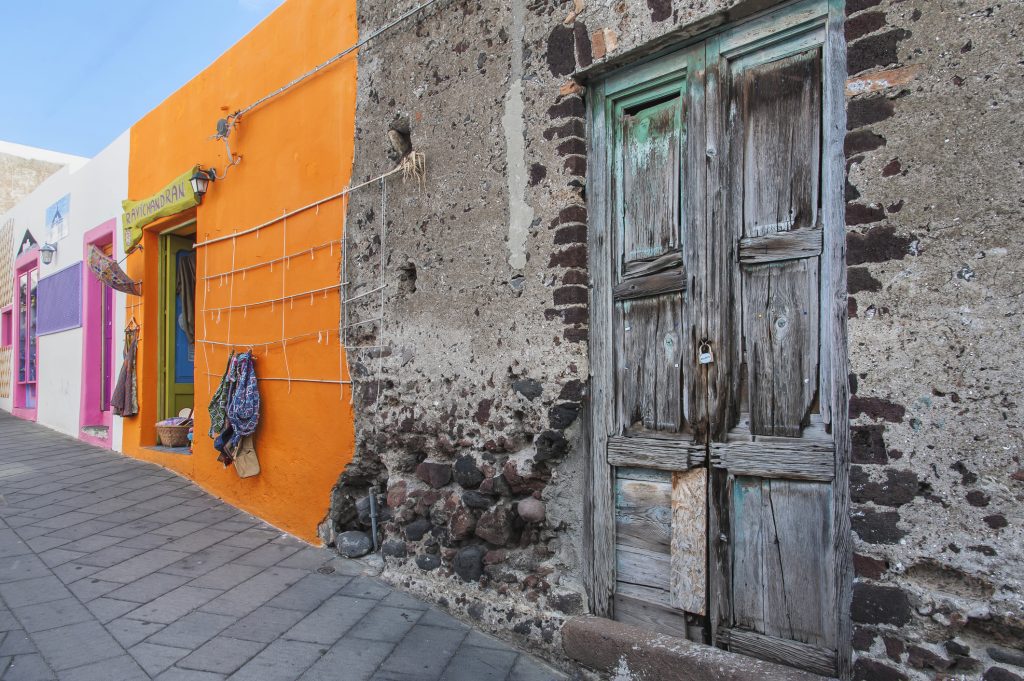 In its beauty and wilderness, the island of Stromboli reminds us all of how Nature dominates over Humankind and how, if we were only able to humbly accept this, a more peaceful, serene existence could begin for us, even away from the volcano.