If you think about special effects, Hollywood comes immediately to mind, but these days Cinecittà may be where the magic really happens, quite literally. Since 2015, the historical cinematic studios of our capital have been the home of Makinarium, the first Italian special effects venture, that today counts clients and estimators around the world.
Officially, Makinarium was born when a group of specialized societies and professionals collaborated to create the special effects for Il Racconto dei Racconti, by Matteo Garrone. The team, who had worked together on other occasions before, realized that collaborating really brought out the best in each of them and that they could offer a wider array of creative services and solutions if they worked together: that's how Makinarium was born. In a typically Italian way, it was the ingenuity, aptitude for teamwork, and eagerness to grow of a group of young entrepreneurs and artists to start it all. So, Leonardo Cruciano, the head of the atelier, Nicola Sganga, CGI supervisor and Angelo Poggi, business manager, joined forces and created Italy's first macchina dei sogni, the country's first dream machine.
Makinarium focuses on the development of special and visual effects techniques, with artists coming not only from Italy but from the whole of Europe. In fact, the business has been so successful that a second atelier has been opened in London. Both there and in Rome, Makinarium experts work in fields as varied as animatronics, digital post-production, visual perception, mechanical effects, special makeup and hyperrealism. The company also specializes in 3D scanning, 3D services and 3D printing, props and CNC, digital videos, and the prototyping of patented projects of optic and electronic physics.
At the heart of the company's work is the idea of interdisciplinarity, as Leonardo Cruciano explained in an interview published on InGenereCinema: "What makes Makinarium special isn't only technology, but the work method we apply. We brought together graphic and digital artists, electronic technicians and engineers, animatronics experts, special makeup artists, VFX compositors, 3D artists, sculptors, artists and painters who can exchange ideas, skills and experiences with one another. Our system gives their work structure and leads them all towards the same objectives."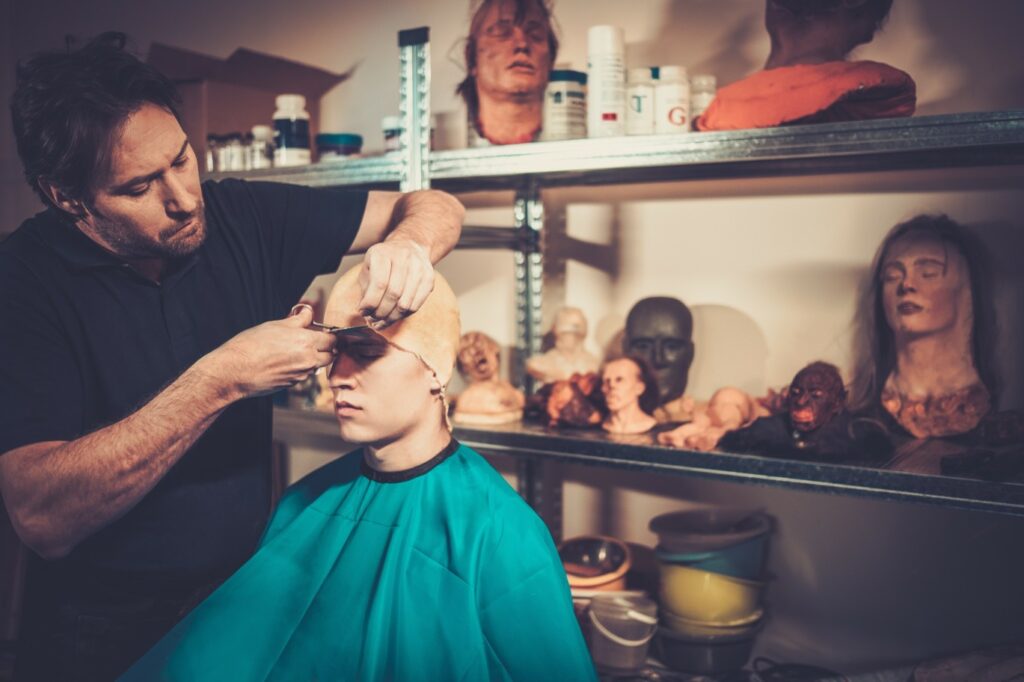 This holistic, interdisciplinary approach, which has been already successfully utilized abroad, was new for Italy, but it gave great results if you think that Makinarium developed and patented an integrated special effects system, the LCW'S SFX Integrated System: thanks to it, special effects and creations can be realized directly on set, cutting down on time and avoiding the use of green screens and CGI. As a result, production and post-production costs are lowered and work on set is more streamlined.
In a 2018 interview with I-D Vice magazine, Cruciano explains that he, Sganga and Poggi take care of all artistic, technical and administrative aspects of the venture, and that they have a variable number of collaborators – usually between 15 and 30 artists – depending on the project they work on. When asked how they manage to combine together technology, art and craftsmanship, Cruciano gave a very "Italian" answer: "Always and exclusively with our passione, passion. It's passion that makes us learn, experiment and innovate. Because we work together, we are stimulated by each other's ideas and attitudes, we are much more inclined to work and research. It's as if our hands became a tool to try new technologies and materials."
Makinarium can be truly considered one of the excellences of our contemporary Made in Italy, an excellence that is renowned and appreciated both in Italy and abroad, as Angelo Poggi declared a few years back to InGenereCinema: "We've been obtaining excellent and competitive results also outside of Italy. We firmly believe that Italy can create high-level fantasy productions at an international level." Certainly, also thanks to the work of realities like Makinarium, which bring together Italy's flair for innovation, and its natural inclination for arts, beauty and creativity.