"What an emotion to be able to contribute to the development of an international cultural institution such as the Teatro del Maggio Musicale Fiorentino. When I was 15, I fell in love with opera and classical music by listening to Tebaldi singing in La Bohème. And what a privilege and great honor now to see my name and that of my father humbly next to that of maestro Zubin Mehta, who dedicated more than half a century of his life to this prestigious Florentine institution." Italian American philanthropist Maria Manetti Shrem has just made an important donation for the inauguration of the new Auditorium of the Parco della Musica in Firenze (Italy): half a million euros. The Tuscan capital will finally have a theater dedicated to symphonic music. "When Superintendent Alexander Pereira and mayor Dario Nardella asked me last October to help them complete this wonderful project in my beloved Firenze, my heart immediately opened up. Even though my charity budget for 2021 had already been allocated, I decided to make this exceptional donation. I was particularly pleased to learn that, immediately after our meeting, Pereira, who had flown with the mayor to Dubai for the Expo, managed to collect other donations by leveraging mine."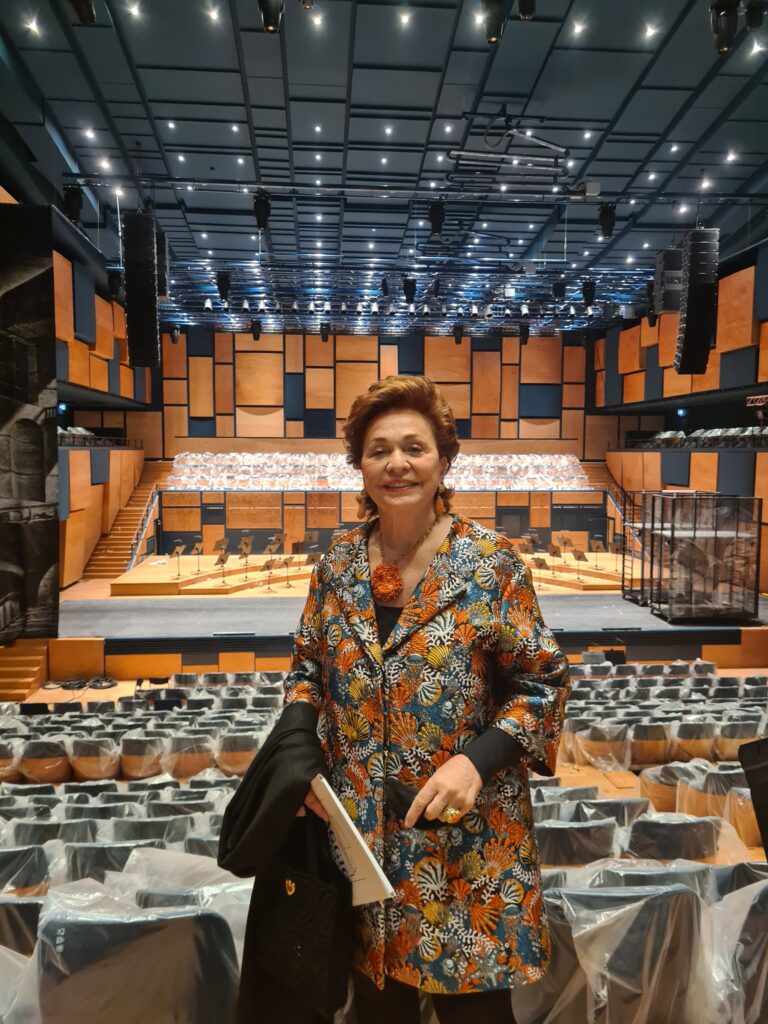 Maria: this is how she prefers to be called – with a rigorous Italian pronunciation – by anyone in her entourage from San Francisco to New York, from Los Angeles to London, specifying: " First, I was Maria Manetti De George, then Maria Manetti Farrow and now Maria Manetti Shrem, but I am always and only Maria. Please call me Maria!" Maria is animated by an authentic sacred fire that always projects her with fresh curiosity towards the newest of things, towards discovery, and continuous learning.
In a caftan created for her by her favorite haute couture and handmade in Italy designers, Dolce & Gabbana, Maria comes and goes talking to me in her living room overlooking the San Francisco Bay, from the Golden Gate Bridge to Alcatraz, all the way to the soft hills of Berkeley. Her silhouette magically "fits" like a diadem between two paintings from the precious family collection: a Francis Bacon from 1957, Gorilla Skull, and a Pablo Picasso from 1964, Femme nue couchée, jouant avec un chat. Hard to keep up with, she moves quickly from one room to another, from her next project to new ideas, all while dictating emails and corrections to her personal assistant. She types into her smartphone, makes calls, organizes dozens of Christmas gift packages for family, friends, and employees. She adjusts details with a pencil on a dense pocket weekly planner that she always keeps at hand. Every year, by October, Maria's travel commitments for the new year are already drafted, allowing her to see at a glance, on a one-page sheet, that she will spend about six months traveling through Italy – first to her hometown Firenze, then to the rest of the Bel Paese on guided tours with the National Trust of Italy (FAI) – then to the United Kingdom, Europe and all over the world. The other six months are going to be spent in California, between San Francisco, Napa Valley, UC Davis, and Los Angeles, and on the East Coast, mainly in New York City: wherever the commitments with her numerous charities in support of the arts, symphonic music and opera, linked to the respective performances of her young protégés will take her.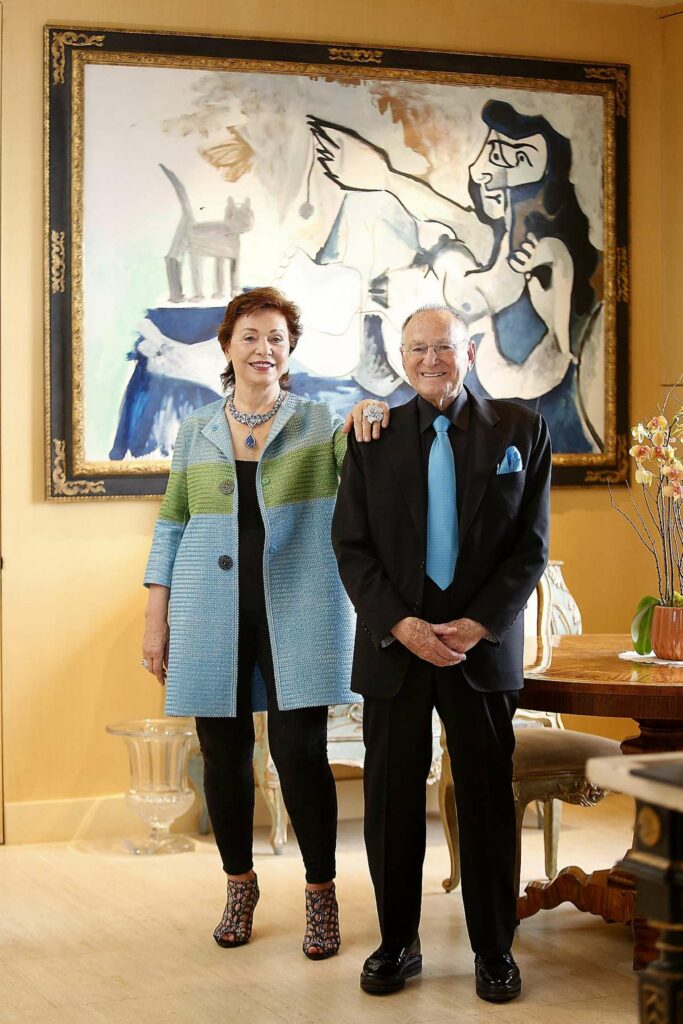 It's not by chance that the scintilla that lit Maria up towards the possibility of funding the new Teatro del Maggio Musicale Fiorentino magically came up from a specific opera, La Traviata, on show between September and October 2021, and promoted with a Man Ray-like poster, quite "scandalous" for the tastes of the most orthodox melomaniacs in Firenze, showing Nadine Sierra with her bareback. Maria "discovered" and supported Sierra, her beloved soprano, to whom she is both a friend and a mentor, thanks to a dedicated program for emerging stars at the San Francisco Opera. In Firenze, Sierra was on stage for one last, rather surreal performance: the orchestra had decided to go on strike at the very last minute, leaving the singers (including Maria's long-time friend, Placido Domingo) accompanied only by a piano and "conducted" by maestro Zubin Mehta. Not exactly a simple undertaking, but one that resulted in an excellent performance, rewarded by several rapturous standing ovations. A late-night dinner with the cast followed, with Maria and Pereira toasting to a meeting for the next day. The rest is a soundtrack for a future film to come.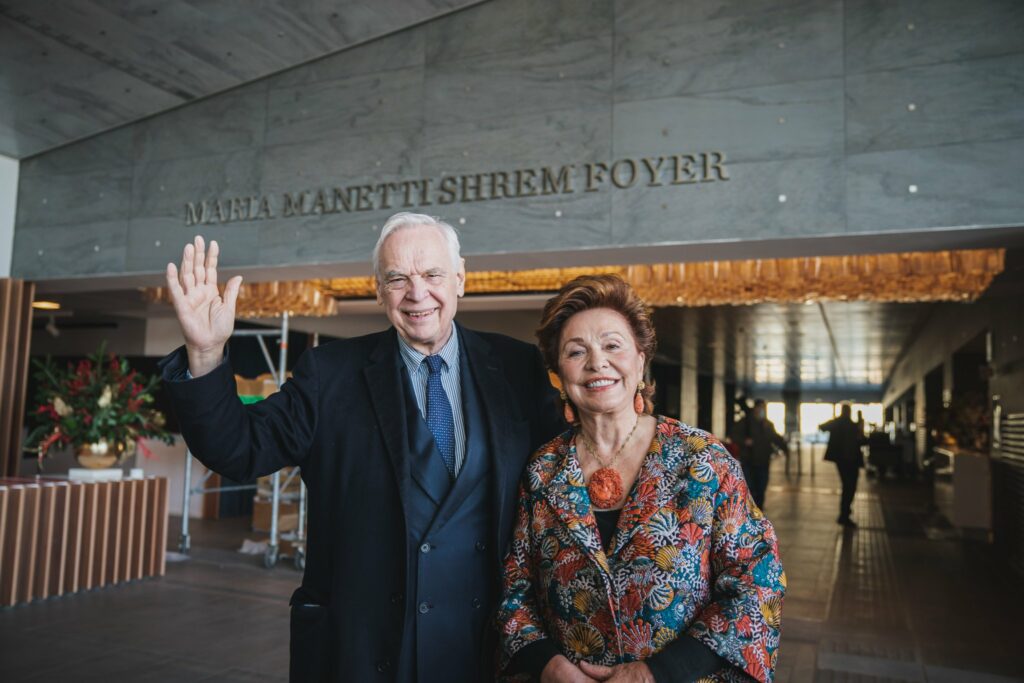 Now the most important role of my life is to motivate young people, to support both the talented and the ones most in need, dedicating myself completely to philanthropy—Maria points out—inspiring people who are even wealthier than me to do charity because I firmly believe that the art of living is the art of giving. And that's already happening everywhere I've been active. I thank the Lord who continues to give me the strength, the positive energy, and the enthusiasm to continue doing all this." Maria speaks of death with absolute lightness and divine detachment from anything material adding, with her sunny and contagious smile, how determined she is to "give back with my warm hands and not with my cold ones after passing."
Last October, Maria went to Florence for a very intense week that saw her involved day after day on several fronts. It all began with the inauguration of the preview of Jeff Koons' exhibition at Palazzo Strozzi, Shine, curated by Arturo Galansino and Joachim Pissarro, where Maria chaired the special evening to recognize Koons with the award of Renaissance Person of the year 2021. This is quite unique for Italy, where usually donations and support for exhibitions, events, and relevant renovations to important monuments of our heritage are usually supported by institutions or corporations, not by private individuals. Instead, in a blink of an eye, with a 600-year leap back to the Renaissance, here we are in Firenze, still in front of an artist and his patron: Jeff Koons and Maria Manetti Shrem.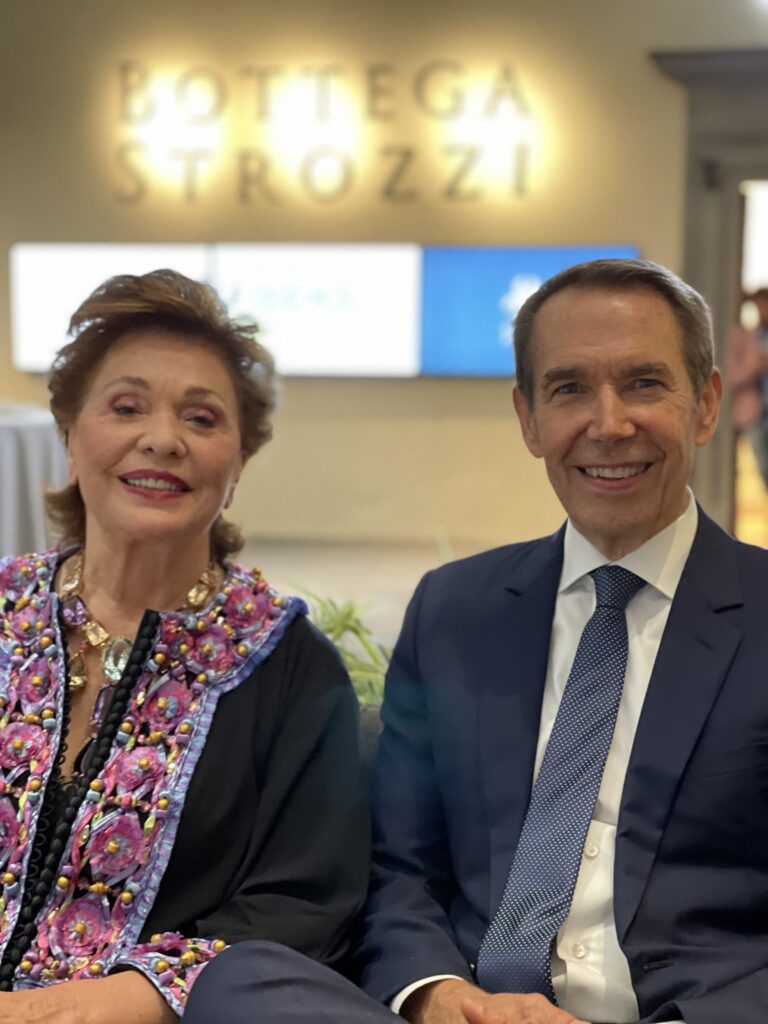 Two days later, in another ceremony moderated by the director of the Museo Novecento, Sergio Risaliti, hosted by mayor Nardella in the enchanting Salone dei Cinquecento, the Italian American philanthropist received the "Premio Rinascimento +" along with other dignitaries who have distinguished themselves in international art collecting, such as Gemma De Angelis Testa, Margherita Stabiumi, Leonid Mikhelson, Giuliano Gori and Heiner Friedrich.
Maria, on this occasion, represented the voice of philanthropy, following into the steps, through her 360-degree charitable activity, with which she has been supporting the arts for over a quarter of a century, of the noblest Medicean tradition. In addition to art collecting, Manetti Shrem has also created a museum at UC Davis in California, the Jan Shrem and Maria Manetti Shrem Museum of Art. The museum, designed by SO-IL and Bohlin Cywinski Jackson, has just been listed by ArtNews in The 25 Best Museum Buildings of the last 100 years in the world. The only museum in California. One of the only 4 in the US. The only university museum in the world. The Manetti Shrem Museum has a whole area dedicated to practice, as it was customary in Florentine "botteghe dell'arte," reestablishing a 60-years-long artistic tradition involving some of the most important names in the contemporary art scene, including Wayne Thiebaud, Manuel Neri, Bruce Nauman, and Robert Arneson, just to name a few. "In my life, I recognize three great moments"–Maria declared, receiving the prize with special emotion, under the 42 imposing paintings harmonized by Giorgio Vasari half a millennium earlier—"The first one is essential for education and learning; the second one is dedicated to the commitment to very hard work; and, finally, the third one when, having perhaps achieved an important success, you can give back to others, helping both the talented, and less fortunate among us."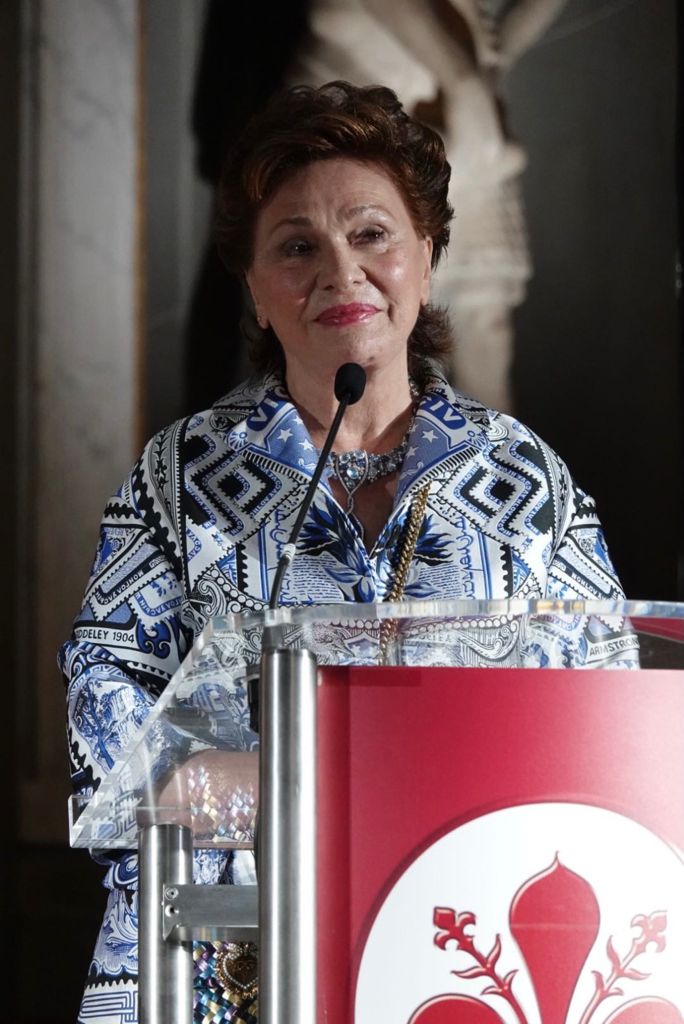 Maria Manetti Shrem is not just consistently supporting many charities, but she also inspires and draws many other wealthy people to emulate her philanthropic actions. Proof of Maria's exceptional charisma and inspiring force came just a few days later in Firenze, when she put Dolce & Gabbana together with Andrea Bocelli Foundation for a fundraiser to support the training school at the Meyer children's hospital. Yes, because when Maria calls for a cause, her international network promptly responds. The beautiful sold-out evening, which was held at the enchanting San Firenze Complex, was also supported by contributors from New York City, who bought remotely by phone some of the items offered for the auction by Giuseppina Cannizzaro, head of the haute couture division at Dolce & Gabbana.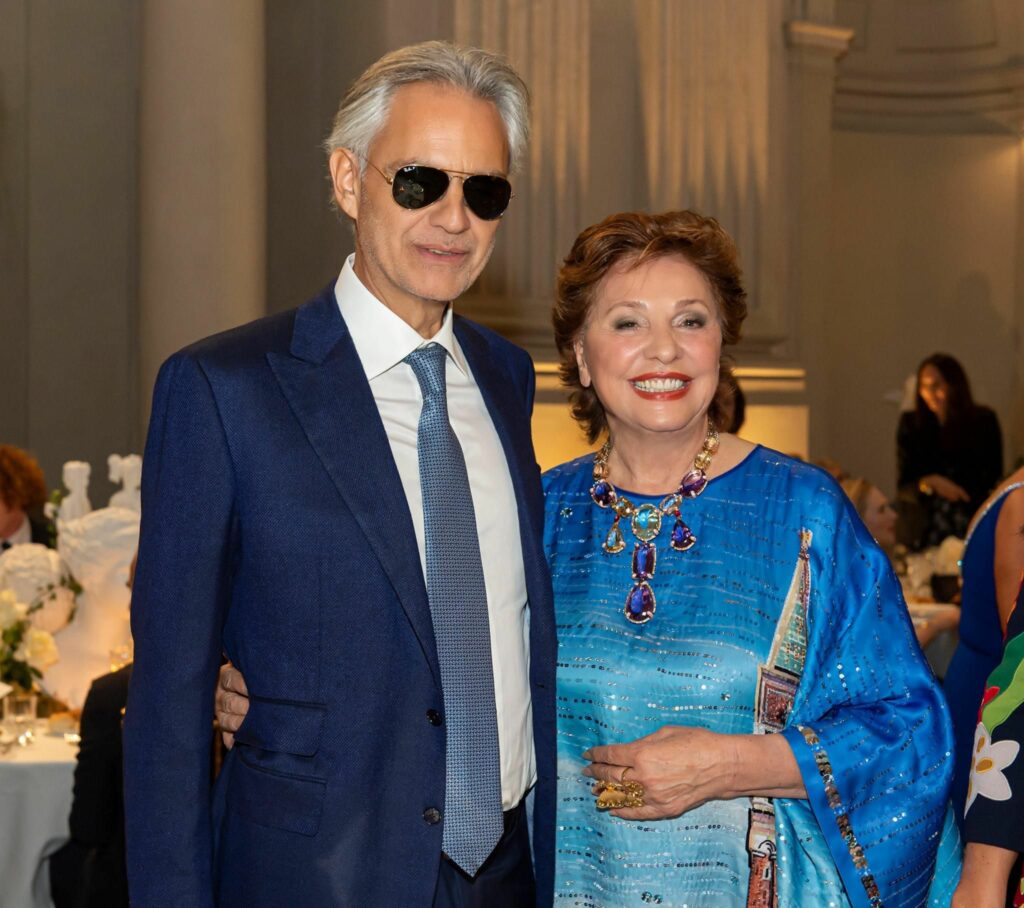 Today, Maria Manetti Shrem and her husband Jan Shrem support about 30 charitable programs between the United States, the UK, and Italy, active in many sectors. They offer art programs at UC Davis to host for 3 years 18 artists in residence, as well as exchange programs with the Royal Drawing School in London; they promote Italian language and music teaching in American public schools, and symphonic and operatic music between the Met Opera in New York City, the San Francisco Opera, the Davies Symphony Hall in San Francisco, the Maggio Musicale Fiorentino, the Festival Napa Valley, Cal Performances, KQED Public Television arts programming, and KQED Public Radio; they support museums such as Palazzo Strozzi, San Francisco MoMA, and the Manetti Shrem Museum of Contemporary Art. They protect the natural environment by fostering public recreational parks such as the brand new Francisco Park, whose community garden is named after her, and Italian heritage through the National Trust of Italy (FAI), of which Maria is a world-class ambassador. They also endorse a number of medical-scientific research centers, with the aim of creating some of the top international hospitals for cardiology (CPMC) and neurology (UCSF) in San Francisco. The latter will be one of the world's top-notch research centers, specialized in neurological problems of all kinds. It will be inaugurated with a cutting ribbon ceremony by April 2022. On this special occasion a dear friend of Maria, soprano Renée Fleming will perform.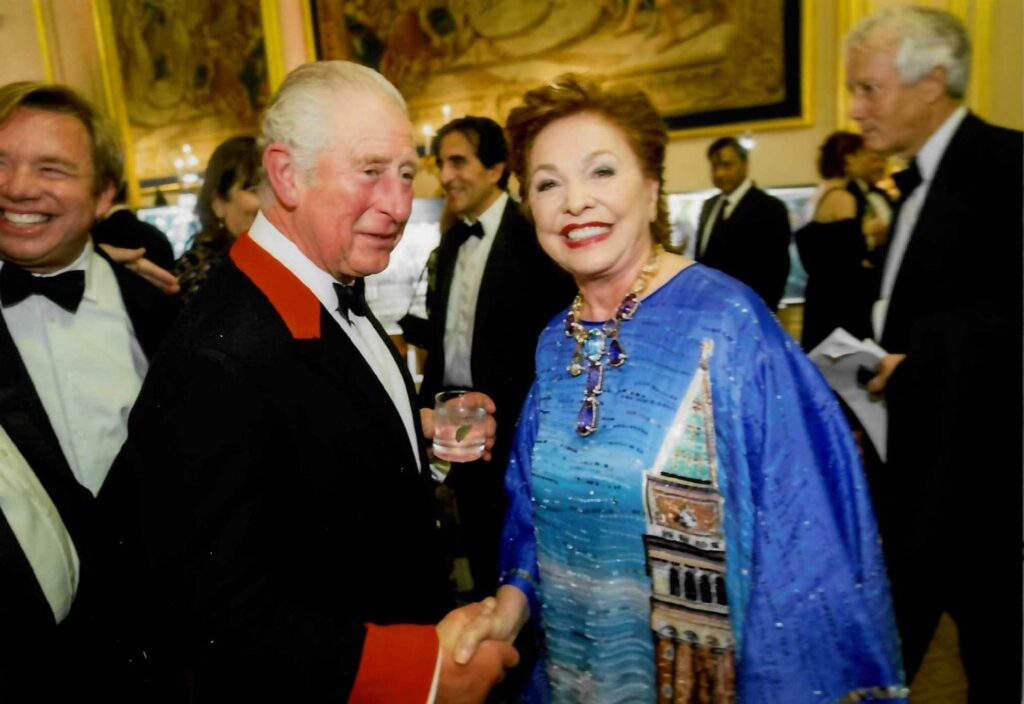 It is therefore not surprising to hear that His Royal Highness, Charles, Prince of Wales, who invites her once a year to Buckingham Palace, makes her sit next to him, hugs her, and kisses her on the cheek, affectionately defining her "my heroine and my ultimate Italian," as she is also one of the major donors for the Royal drawing school co-founded by the future King himself together with founding artistic director Catherine Goodman.
Christmas 2021 was very special for Maria Manetti Shrem because she spent it in her magical birthplace, Firenze, which she left 50 years ago to emigrate to the very far west, California, specifically to San Francisco's last frontier. Maria didn't leave to seek business opportunities nor for economic reasons, but for love. Already in her thirties, Maria had in fact built and developed a fast-growing company together with her first husband, Mr. De George. But she happened to be struck by Cupid's bolt and fell in love, out of the blue, with the"love of my life," as she still refers to her second husband, Stephen Farrow—a Californian Adonis, a young architect for whom she embraced the madness of abandoning her comfort zone, preferring the uncertainty of happiness to the certainty of unhappiness. Alone, blindly entrusting herself to her heart, Maria took on the world — her first husband (a Jehovah's Witness), her family, and even society in a country, Italy, where divorce was not yet legal— abandoning the Chianti hills and her villa, with its service personnel, its porcelains, and linens, its comfort and well-being, to fly to the Berkeley hills. She went to live in a commune steeped into the hippie culture of the City by the Bay, which was totally different from that of Italy. The role of women, for example, was profoundly different, especially in a place like San Francisco where there were still vibes and echoes of the summer of love, of the American counterculture, of the beat generation, all infused with the San Francisco values in defense of freedom of expression, of cultural openness, and of support of every minority.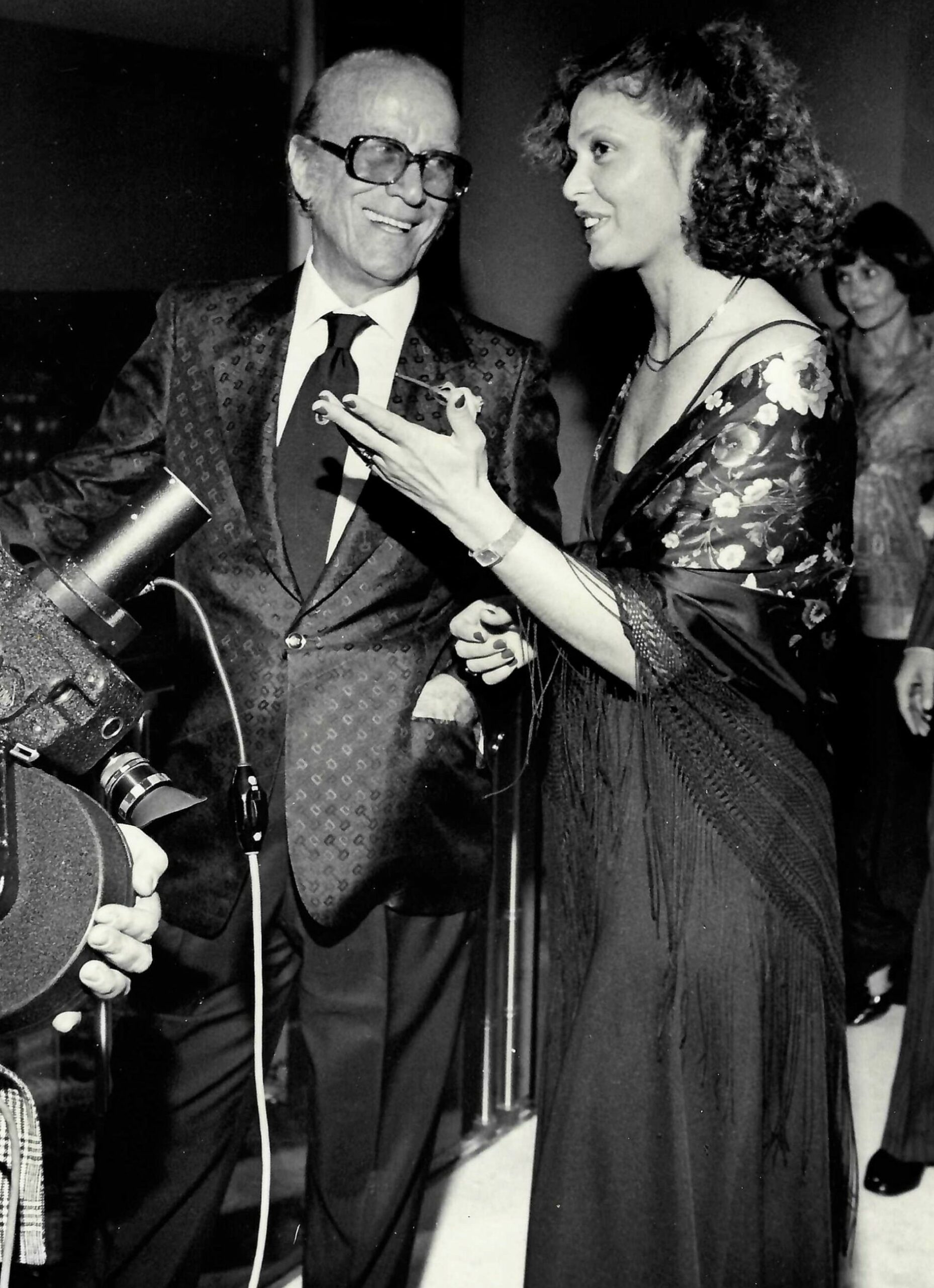 Maria started again from scratch, this time in the world of fashion, first working in Magnin's department stores, climbing in no time up to the glass ceiling. In a handful of years, Maria was "teaching lifestyle to American people," and thus decided, with "maximum determination, not ambition"—as she likes to point out—to found her own company, Manetti Farrow, with which she created a new system of distribution of "Made in Italy" fashion creations. She built up a brand-new system to manage the internationalization of collections, and even designed "stores-in-stores" all over America, setting the framework to showcase, display and sell down to the smallest detail. In this way, she came to sign an exclusive contract for all Gucci accessories with the blessing of the head of the Florentine brand, Aldo Gucci—her highest admirer and stakeholder – who believed since the beginning in Maria Manetti's original internationalization system. Bruna Palombo Gucci, Aldo Gucci's second wife, recognized her unique flair for business, so similar to that of her husband she – not surprisingly – nicknamed her Aldo Gucci in gonnella (Aldo Gucci in a skirt). The Gucci brand grew exponentially in the United States thanks to Maria, who contributed to the global rise, in the 1980s, of Gucci as an undisputed brand. Ridley Scott and his production would most certainly have benefited from a conversation with Maria to better frame some details of his House of Gucci epic. And who knows, perhaps Maria could also have illuminated the performances of Al Pacino, Lady Gaga, Adam Driver, Jared Leto, and Jeremy Irons with authentic Italian-ness, not just for their accents!
But then came the deepest pain of Maria's life when her marriage to Stephen Farrow ended. Maria had managed to sell the company just in time, having been alerted by the first signs of the growing crisis that would be fought out for the Gucci succession with the seizure of power by Maurizio Gucci. In the mid-1990s, Maria was alone, deeply distressed and mortally wounded: the love of her life, for whom she had abandoned everything, had now failed her. She had to learn to manage her assets, with her heart cruelly broken. This is how she turned to Buddhism, dedicating herself to meditation, travel, and the study of art history, also thanks to the help of her friends, Pam and Dick Kramlich, experts and learned collectors of contemporary art. Maria's philanthropic activity grew more and more starting from San Francisco where, as the general manager of the Opera House Matthew Shilvock recounts, the bar had been raised so high by founder and conductor Gaetano Merola and his colleagues(almost exclusively all men), that even doing something close to what they had done seemed difficult. And here, instead, came Maria to relaunch, with continuity and audacity, programs in support of one of the oldest and most prestigious opera theaters in America. Maria gradually became the closest friend of many names in the international opera scene such as the Russian conductor Valery Gergiev, or the ultimate tenor of the late XX century, Luciano Pavarotti, as well as many new and very young performers. None of them came to San Francisco without first sitting down for lunch at Maria's, enjoying her Italian cuisine, with vegetables proudly served at the table directly from her garden at Villa Mille Rose–Napa's most enchanting villa, a property created by her in the 1980s. All her artist-friends knew and still know that they can find a family with her, while alone and away from their loved ones. That's in the end what makes a difference with Maria's support: her love, friendship, and loyalty. Indeed, we can understand why tenor Michael Fabiano has openly declared many times that he would "cross oceans on a kayak for her."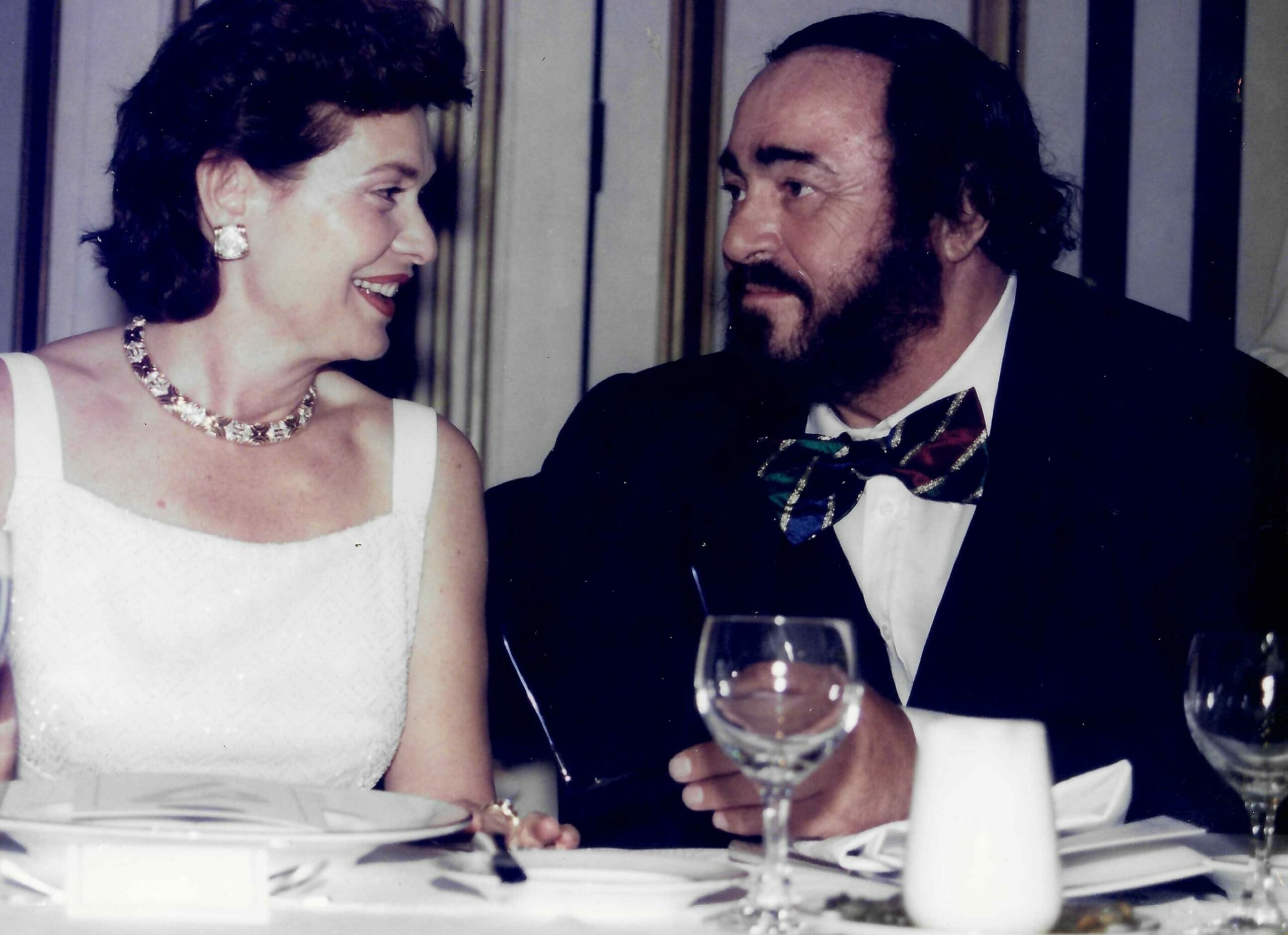 Italian President Sergio Mattarella was present for the inauguration of the auditorium of the Maggio Musicale Fiorentino, during the last official mission of his mandate. For Maria, this was a beautiful opportunity to personally thank President Mattarella who, in 2019, bestowed upon her, through the then, respectively, ambassador of Italy, Armando Varricchio, and consul general, Lorenzo Ortona, the title of "Grand Officer of the Order of the Star of Italy" for "the exemplary contribution in the promotion of 'Made in Italy' in North America, in combination with her philanthropic activity in support of Italian culture, language and artists in America."
The mayor of Firenze, who officially informed her he intends to give her the keys to the city, could not make a nobler gesture, recognizing the greater good this excellent Florentine who emigrated to the United States of America created and continues to create in the world, making a social and cultural impact based on giving to others, encouraging the young to never give up their dreams because, as Maria reminds us: "If you do the job you love, you will never have to work a day in your life."
Mauro Aprile Zanetti, San Francisco, California. Jan Shrem and Maria Manetti Shrem — Philanthropy, Arts & Culture Advisor | Biographer of Maria Manetti Shrem.