What a peculiar summer this is: if it weren't for the unbearable heat, it wouldn't feel like a summer at all. Don't get me wrong, Italians didn't renounce to their Ferragosto-by-the-sea tradition, in fact, they've been letting loose a tad too much, if we look at the mild yet steady increase in Covid-19 infections of the past couple of weeks. It's the atmosphere that is different: you walk around with a smile on your face, in a cloud of sunscreen-scented air, but the heavy, thick stench of anxiety lingers nevertheless.
It's not only a matter of psychology, though. It's an economic issue, too, of course. There is no need to remind you how deeply and tragically this pandemic hit Italy's most important sector, that of tourism, which alone counts for 13.2% of our national GDP and employs 3.5 million people: with most bookings cancelled as early as March and only a fraction of the people usually visiting this time of the year actually making it to the Belpaese, we're left struggling for air; because if it's true we've been showing national pride by picking staycations over holidays abroad, the drastic diminution of foreign visitors has left the tourism industry in severe difficulties.
Truth is that, beside people in the sector, not many Italians ever fully grasped the central role of foreigners for the wealth of the country, especially when it comes to tourism: "of course the world comes visit! We're a beautiful place!" we say, but do we really understand the magnitude of non nationals' contribution to our economy? For instance, luxury holidays are the thing of foreigners in our country, with USA, Japan, Russia, Australia, Brazil and China representing the vast majority of our 5 Star Hotels' residents. This years, we've welcomed 91.2% less foreign visitors in our luxury structures, with a loss of about 14 billion euro (almost 17 billion USD). Current Confcommercio data, as reported by Ilaria Conti from AGI, Agenzia Italia, show that it's especially art cities and cultural spots to pay the price — no pun intended — and not only the most popular, well known ones like Florence or Venice: in Sorrento, 88% of travelers are foreign, in Stresa 85%, in Taormina 84%, in Montecatini 73%.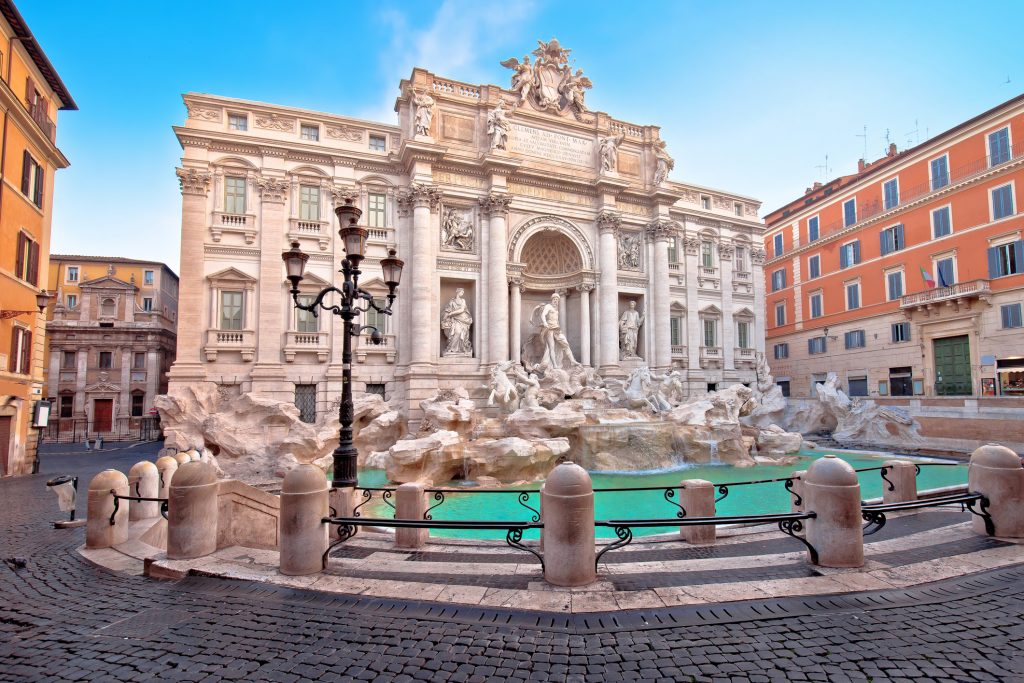 So yes. We miss our guests from across the borders, and we miss you, our American friends and cousins in particular, because so many of you come every year to see the beauties of our country, to visit relatives, to discover your roots.
Just about a week ago, Tamara Thiessen made an excellent point of the situation on the pages of Forbes, using our capital, Rome, as an example. To her, Megan Todd, program director of Context Travel declared that the "lack of North American clients in Italy is felt across the country, from coffee bars to luxury villa rentals," and that business for her company has been very quiet without US customers. Rome really represents a perfect example of what's been happening across the peninsula: usually filled with people and echoing a myriad of accents, this August our capital is strangely monotone, at least when it comes to languages. And it's not only a matter of color and folklore, it's not only about meeting the glossy, romantic stereotype of Rome as the international hot spot of the true Dolce Vita: it's a matter of people losing their jobs and struggling to survive.
Bernabò Bocca, the president of Italy's hospitality association Federalberghi declared to La Stampa that "the stop on US tourists penalizes Italy. We have very serious repercussions from the loss of the US market, the leading one in terms of spending power."
In Rome, as in many other Italian cities that made of history and art their main attraction, there is one group of workers who is particularly worried, that of tourist guides, as well discussed, again, by Thiessen in her piece for Forbes. With the drastic diminution of foreign tourists, the more likely to choose guided tours when visiting our cities, their fears are more than justified. The vast majority of the guides interviewed by Thiessen declared to work mostly with American tourists, which means the ban on non-essential travels for US citizens didn't simply limit, but entirely cut their financial entries.
Guided tours are a staple of many Americans' holidays in Italy: they are a safe and well established way to take the stress out of a vacation, while providing the historical and cultural background necessary to fully appreciate all the beauty around. It's a large, lucrative business, in which Americans themselves have dipped into, if it's true that many US expats became tourist guides to support themselves in Italy. There is more: guided tours in the Belpaese are so popular that tour agencies have been created across the US catering to Italophiles in search of the perfect cultural vacation across the ocean. Theresa Potenza, interviewed by Thiessen, is the owner of Tour with Theresa, set in Buffalo, NY, starkly admits she lost "an entire year of income" because of travel limitations.
But Potenza also stresses another immense, invaluable loss, one made of cultural and community connections: many of her customers are, just like her, Italian-Americans, eager to visit Italy to reconnect with their roots and finally give form, scent and sound to the memories and tales of their forefathers. To them, losing the opportunity to fly across the ocean means not only missing a holiday but, often, also a once-in-a-lifetime opportunity to find themselves and own their identity to the full. For her, she continues, losing business is also losing the opportunity to meet and create bonds with people who share with her personal heritage or even just their love for Italy.
Admittedly, I've never thought about this side of tourism, I never considered the deeper meaning a trip to my country could have for many, nor did I stop reflecting on what the lack of foreign tourists, Americans in particular, could mean for so many of us, here in Italy.
It's not only a matter of missing the soft, buttery sound of American English in our streets — yes, that's how it sounds to the ears of bilingual Italians, or at least, that's my opinion! It's people losing their livelihood on both sides of the Atlantic, and bonds being suspended, instead of being strengthened. Let's all hope we'll soon emerge from this Dantean limbo: we need to see each other again, we need to hear each other again, we need to share our lives with each other again.