Spelt, known to the ancient Romans as far, used to be their most common and best loved cereal up to the first republican period (509-264 BC). After, wheat took its place because of its better yield and lower labor costs.  
Known since the Neolithic, it is the most ancient type of grain cultivated and used as food by Man. It is mentioned in the Bible, in the Book of Ezekiel, and some has been found in Egyptian tombs.  
The sacred value of spelt was celebrated by the Romans through numerous religious celebrations. Among them, the Fornacalia, held in February, whose name comes from that of the goddess Fornax, "furnace," and the Carnalia, held in June to honor the goddess Carna. The importance of spelt is also shown by the existence of a specific type of matrimony, the confarreatio, which was the only one to meet specific religious requirements: for instance, only men whose parents wedded with confarreatio could enter religious life.  
However, spelt is especially known for having been the heart of Roman legions' nutrition. Spelt flour was used to prepare libum (a type of focaccia), bread and plus (similar to modern polenta). Spelt grains were roasted to remove the chaff, then milled. The powder obtained was called farrina, a term that was to become synonym with every type of milled cereal: la farina.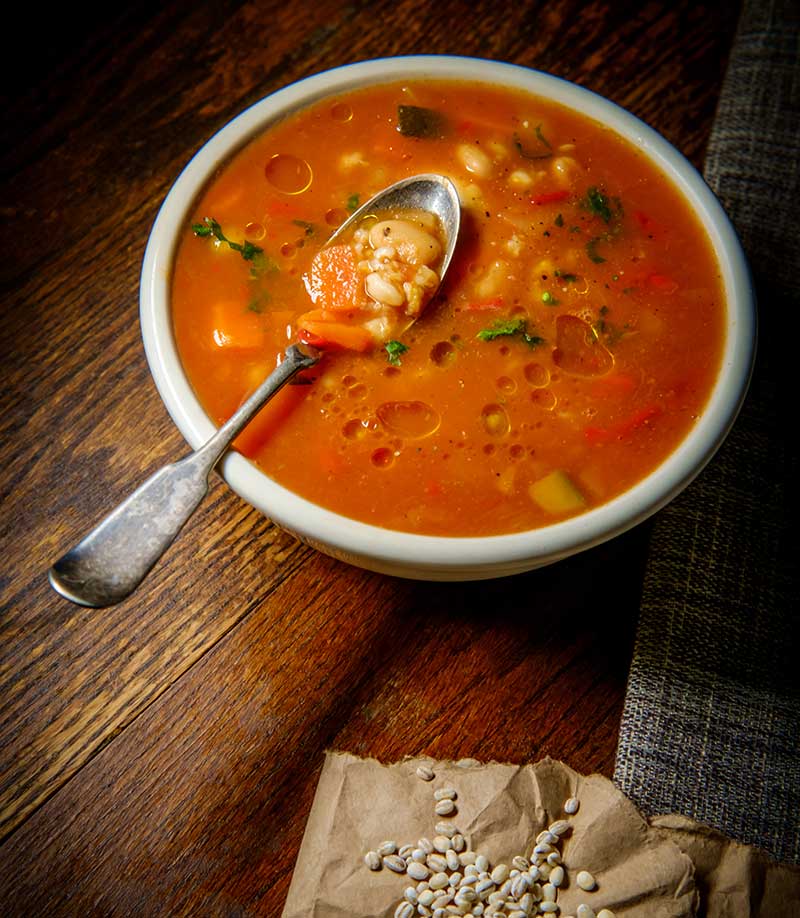 From a scientific point of view, the word farro stands for three different types of triticum growing in the area between the Mediterranean and the Caucasus: the triticum monococcum, the most ancient type; the triticum dicoccum, the most common because of its high yield and ease of growth; the triticum spelta. In English, the term spelt usually indicates both the dicoccum and spelta varieties.  
 Spelt can reach 130 cm in height and has a large ear containing oval shaped grains. It grows without difficulties on soils poor of nutrition, between 200 and 1000 metres of altitude. Sowing season is usually in the Fall and it is harvested in the Summer, with the same type of machines used for wheat. In spite of having less gluten than common wheat, spelt contains  it and thus it's not suitable for coeliacs.  
Spelt is not only one of the least caloric types of wheat – even if it is composed by 67% carbs, 100 grams yield only about 340 calories – but it also contains a higher percentage of B vitamins (15%), proteins (15%), water (10%) and methionine when compared to all other varieties.  
The carbs contained in spelt have a particular property that supports blood coagulation and they also stimulate the immune system. Thanks to its high protein and fibre content, spelt makes you feel full immediately after eating it and, for this reason, it's considered a good food for people trying to lose weight. It has a lower glycemic index when compared to common wheat, and can help regulate glucose production in our body.  
Spelt can be boiled, or used as flour to prepare bread, cakes and fresh pasta. Shops usually propose two varieties of spelt: hulled spelt and pearl spelt. If you buy hulled spelt, it needs to be washed to get rid of all impurities, then soaked in fresh water between 4 and 12 hours before boiling it for 30 to 60 minutes. As the procedure is rather time consuming, people usually prefer pearl spelt, which only needs to be cooked for about 20-30 minutes.  
Spelt can be used also outside the kitchen: for instance, spelt chaff is used to make therapeutic pillows and cushions with painkilling properties.  
Spelt Salad 
Spelt salads can be either an antipasto or a main dish. 
Ingredients for 4 people:  
• 125 grams of pearl spelt 

• Extra virgin olive oil 

• salt 

 Instructions 
  1. Cook the spelt in salted water 

2. Drain (avoid to cook longer that the suggested cooking time, lest spelt becomes gluey) and rinse under cold water. 

3. Make sure the spelt is well drained, then place into a large mixing bowl. 

4. Add some tablespoons of extra virgin olive oil and serve. If made in advance, cover the bowl with cling film to avoid it dries out.  

Farro Panzanella 
Ingredients for 4 people:  
• 125 grams of pearl spelt 

•Tomatoes (3 or 4, depending on size) 

• 1 cucumber 

• Some small onion 

• A lot of basil  

• Salt, pepper  or chilli pepper 

Instructions 
1. Chop all vegetables thinly and add to them the spelt cooked as explained above. 

5. If you want, you can make a "fake pesto" mixing together basil, oil, salt and pepper (or chilli pepper) and use it as a dressing.   

Farro with sun-dried tomatoes pesto, figs and caramelized onions 
Ingredients for 4 people 
• 125 grams of spelt (cooked as above) 

• 20 very small white onions or  2 regular size ones, possibly of the red variety, finely chopped.  

• 20 grams of butter 

• 2 tablespoon of brown sugar 

• Salt 

• Half a glass of white wine 

• Some balsamic vinegar (optional) 

• 10-15 sun dried tomatoes  

• A clove of garlic 

• Some fresh basil 

• Salt and chilli pepper 

• Extra virgin olive oil  

• Fresh figs (optional) 

Instructions 
1. Melt the butter in an non-stick pan 

2. Add the sugar and the salt until it's melted 

3. Add the onion 

4. Sauté for at least 15 minutes on medium  heat (or until the onions look sticky) 

5. Add the white wine and let evaporate 

Instruction for the sun-dried tomatoes pesto:  
1. In a mixer, mix the sun-dried tomatoes with garlic, basil, salt, oil and chilli peppers until you obtain a thick cream. 

2. Mix the pesto with the spelt, then add the caramelized onions and the figs.