We've all heard of it, but who actually tasted it?
Yes, this may well be the biggest question about cappone(kap-poh-nai), capon in English, our Italian word for today.
I, just like many of you I am sure, grew up with tales about how delicious this very special kind of chicken is. My grandmother would talk about the cappone she'd cook every year at Christmas, when she and my grandfather were younger, stressing she no longer cooked it because cappone had to come from a farmer you knew and she didn't trust what you'd get at the store.
Known for its tenderness and delicate flavor, cappone is, still today, a relatively common Christmas delicacy in Italy – unless, of course, you agree with my grandmother and have no access to a farmer friend.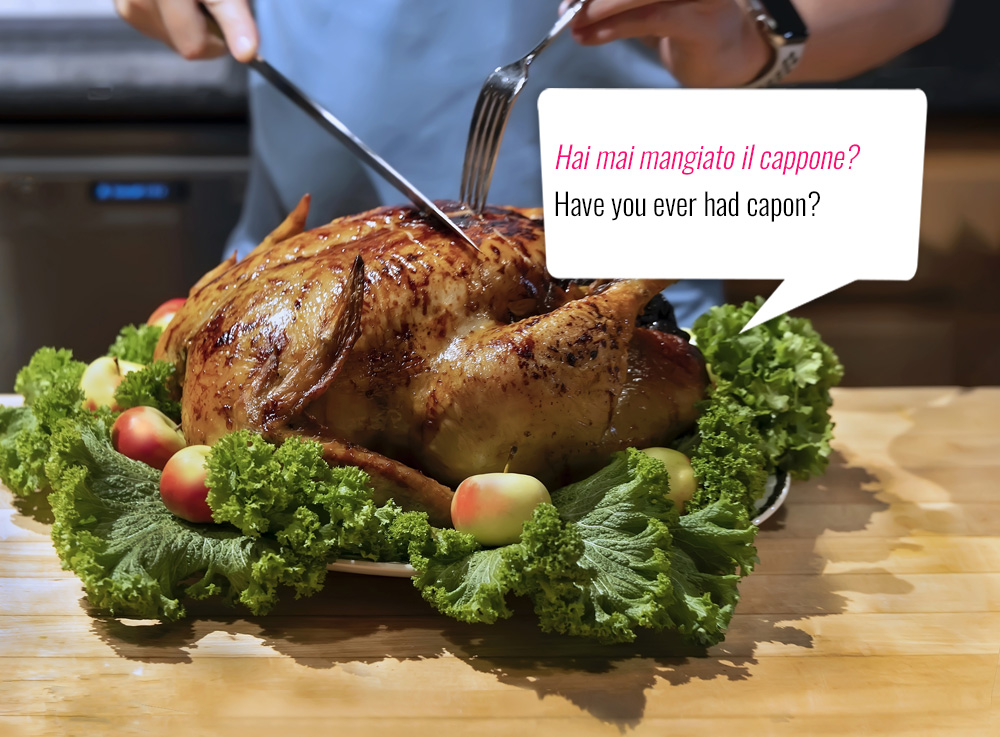 The word cappone, as well as the English "capon", comes from the Greek verb "κόπτω,"  to cut, which gave us the Latin capo-caponis. Those of you who don't know what a  capon is may wonder where the connection between a chicken and the verb "to cut" lies. Everyone else is probably thinking: "those Romans were smart." Yes, because a cappone is a chicken castrated before it reaches sexual maturity, around the age of two months. In the past, some of the roosters in a coop were castrated to limit the risk of fights but, in time, the procedure was carried out only because it gave more tender meat.  The practice of, well… "making capponi" was actually common already in ancient Greece and in Rome, as the Latin word capo-caponis testifies.
Mia nonna ha sempre cucinato il cappone per Natale
My grandmother always made capon at Christmas
Hai mai mangiato il cappone?
Have you ever had capon?
Non ho idea di come si cucini il cappone. Dovrei chiedere alla nonna.
 I don't know how to cook capon at all. I should ask grandma.