The Urban Theory dance group first flew to LA in the summer of 2018 to participate in the World of Dance, the world's most famous urban dance competition, presented by Jennifer Lopez and broadcast on the American channel NBC. This year they came back to take part again, this time as guests of honor. Five years later, the six dancers from Sanremo, Liguria, boast 20.3 million followers on TikTok, 3.5 billion views, and more than 300 million likes between Facebook, Instagram, and TikTok. Their signature style is tutting, a contemporary dance technique where dancers create geometric positions and rectangular movements with their arms and fingers.
The members of the group, Jessica De Maria, Fabiano Paglieri, Leonardo Sigona, Riccardo Marano, Lorenzo Piantoni, and Davide Sala, were the first Italian dancers ever to dance as guests at the US competition, which started in 2008. "If they had told us this five years ago, we would not have believed it," they tell me during our meeting in Los Angeles.
Your name comes after your dance school in Sanremo where you guys met and where Jessica De Maria, the founder of the group, was a teacher. Tell me about your debut.
Jessica De Maria: when we first came to America, our name was Calypso and we were still immature, in a way. From that experience, we decided to participate in the show Italia's Got Talent. We wanted to create something different and that made us stand out from other hip-hop dancers. One of the members of the group, Davide, already had a passion for tutting, and suggested we focus on that. The intention was to get some TV experience and show something different but it ended up exceeding all our expectations! Not only did we get the Golden Buzzer from Federica Pellegrini but we also got good feedback from the audience. We realized we were on the right path.
And what happened after that?
Lorenzo Piantoni: after that, showman Fiorello called us as he wanted us in the cast of Viva RaiPlay! We were in Rome for three months and it was kind of our first work experience. Before we were dancers touring our art around, but after Fiorello we started to see dancing as a real career. Then, with Covid, everything stopped.
How did you deal with this forced hiatus?
Jessica De Maria: at first there was a kind of … bewilderment, as for everyone else. However, during quarantine, we had more time on our hands and we decided to invest more in social media also because, at that time, TikTok was exploding. After a couple of months, one of our videos went viral and that started everything.
How was approaching tutting like, dance-wise?
Lorenzo Piantoni: it was quite easy because we had a base of hip hop already, and a good amount of body and movement knowledge anyway. Over time, we improved a lot. Now, when we look at the first appearance on Italia's Got Talent we laugh.
Jessica De Maria: the special thing about tutting is that there is a whole mental process behind it because you have to focus on maintaining energy. It's a very precise style and, as a group, you have to learn to synchronize.
How many hours do you rehearse?
Lorenzo Piantoni: when we are in Italy we see each other almost every day. We are not tightly set on training, every day we try to figure out what's on the agenda. But there is always time spent in front of the mirror practicing new choreographies and brainstorming sessions about how to set up videos and manage our social media. We also meet clients and collaborators.
What did you expect from your latest trip to America?
Fabiano Paglieri: we knew we would meet many creators but we had also said to ourselves, "We are in Los Angeles, it's summer, we will be able to relax." Never happened! We worked so hard. Everyone here is going one hundred miles an hour so it was a little traumatic at first. In Sanremo, you live the life of a small town.
Jessica De Maria: the nice thing is that, here, it's a bit like we found our own kind. In Italy, it is more difficult to find realities related to the same art form, and the mentality is different. Here, creators look for you, they reach out, they make proposals. Imagine that we met some of the people we ended up collaborating with randomly in the street! We shot videos, which are still unreleased, with creators very far from us from an artistic point of view. Now we are happy to come back to Italy and metabolize what we did here over a nice pizza.
Lorenzo Piantoni: what surprised me the most was that, while we were making videos on the Walk of Fame and in Venice Beach, so many people stopped us because they recognized us and asked for a picture. Something that has never happened to us in Italy! In fact, the countries where we are most famous are the United States, Brazil and India. Italy is in fifth place.
What excited you the most?
Fabiano Paglieri: meeting new people and collaborate with artists we have been following for a long time, such as Derek Hough, Hayley Erbert, and Aubrey Fisher.
With the latter, you made a tribute video for Michael Jackson. How did the idea come about?
Fabiano Paglieri: Ricky is the one who made it happen as he's a big Michael Jackson fan. We released a video with another American creator, Aubrey Fisher, on Jackson's birthday. For this video, we created everything, even the musical basis of one of his songs, Beat It. By the way, Riccardo was the first of the group to perform on TV, precisely because of his passion for Michael Jackson. As a child, he was invited to dance on RAI shows with his sister.
You went back to your hometown, Sanremo, where you opened your new studio. Why this choice instead of going to a big European or North American capital?
Lorenzo Piantoni: it was not even a choice, it happened naturally. We never even felt the need to move to Milan, where we go very often for work, because being successful on social media allows you to be everywhere.
Fabiano Paglieri: that studio will be our base of operations. But we live with a packed suitcase though! We are quite nomadic.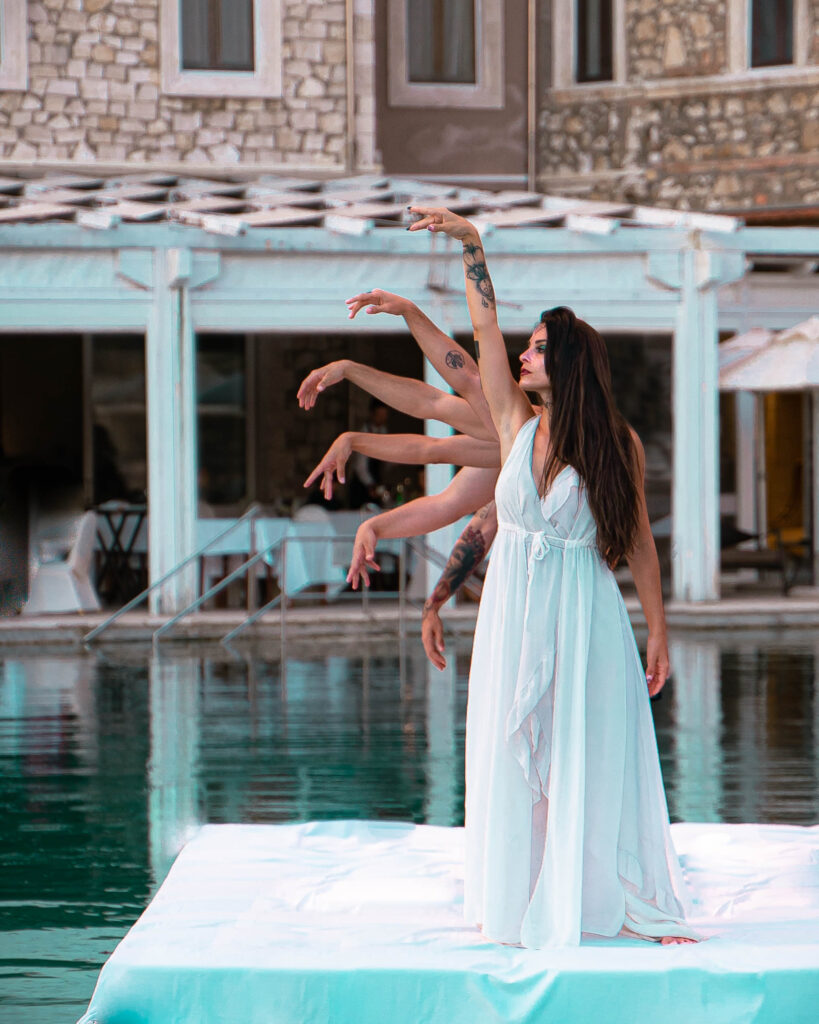 Do you have other projects going on in Italy?
Jessica De Maria: yes, we have a project called Black Widow, an all-women dance group for which we choreograph. Then, there is always the dance school I opened back in the day and who knows, maybe it will churn out more talents.