Together with artichokes, zucchini flowers are considered to be a great delicacy in Italy and are used in a variety of dishes. They are especially wonderful served fried or baked as an appetizer.
If you have your own vegetable garden, you might have realized that zucchini plants produce both male and female flowers. The male flowers don't produce a zucchini but exist to pollinate the females.
Male flowers are recognizable by their long, straight stems with a single stamen in the center of each blossom. Female flowers swell at the base of the blossom where the zucchini forms, with four little shoots inside making up the pistil. Female blossoms with the baby zucchini just emerging, are better suited to baking or for chopping up for a frittata or pasta sauce.
Like most flowers, zucchini blossoms have a short life. You will need to use them within a couple of days of bringing them home as they will start to wilt and fall apart, making it impossible to stuff them.
Ingredients (for four people)
16 male zucchini flowers
300 g (approximately 2medium) potatoes, boiled
60 g (2 oz) grated Pecorino or Parmigiano
60 g (2 oz) diced prosciutto or cured pancetta
Butter and extra-virgin olive oil to finish
Prepare the blossoms:
Trim the stems to about 5 cm (2 inches). Remove the green spikes (called sepals) around the buds and shake out any bugs that may be hiding inside. I don't mind the slightly bitter taste of the stamens so I don't remove them, but you may wish to.
If you need to wash them, dip them gently in room temperature water and let them dry naturally, or spray them with a garden spray bottle. Note that if they are not fresh or they have been refrigerated, they will fall apart. Please handle with care to avoid damaging the petals.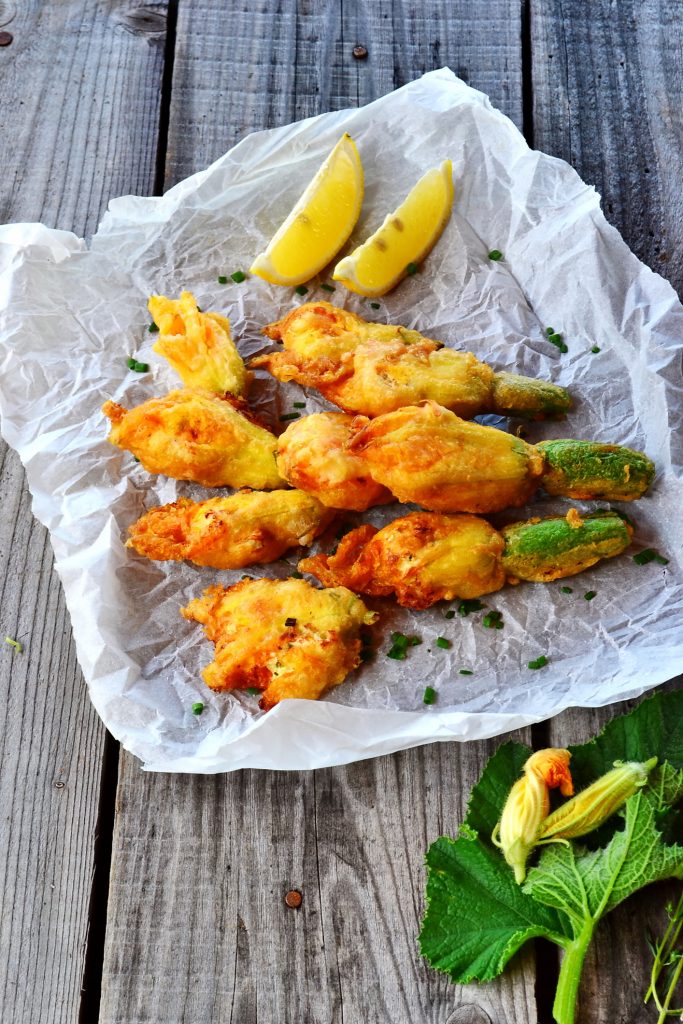 Prepare the stuffing:
Rice the boiled potatoes while still warm, add the grated cheese and prosciutto, season with salt and pepper and a teaspoon of olive oil.
Fill 3/4 of each flower with the potato mixture and place the flowers at least 1 cm (1/4 inch) apart on an oven pan lined with oiled parchment paper. Sprinkle with salt and place a small slice of cold butter over each flower.
Bake in a preheated oven at 200 C (400 F) for 15 minutes. Serve immediately.
Serves 4 as part of an appetizer.
Letizia Mattiacci is a cookbook author and owner of Alla Madonna del Piatto Cooking School and Agriturismo in Assisi, Umbria, https://incampagna.com. This recipe has been previously published in Mrs. Mattiacci cookbook entitled "Festa Italiana."