Have you ever tried squid ink?  I reckon that many of our readers, Italian food lovers as they are, haven't yet. 
Squid ink has a unique "earthy" flavor, a silky mouth feel and an alluring jet black color that couples perfectly with pasta. I find it irresistible.
The recipe for spaghetti al nero di seppia is really simple: you begin much as if you were making a basic aglio, olio e peperoncino, then add finely chopped up squid and let it braise with a splash of white wine until tender. Then, in goes the squid ink: let it simmer for a minute or two and it'll work its magic. This intensely savory sauce goes beautifully with spaghetti or any other long pasta such as linguine or even tagliatelle. And if you're in Venice, bigoli would be a classic choice.
I'd really encourage you to give spaghetti al nero di seppia a try. 
Somehow both elegant and rustic at the same time, it's a dish equally perfect for a dinner party or a simple family meal.
Ingredients
Serves 4-6
500g (1 lb) spaghetti or other long pasta
500-750g (1 lb) small (baby) squid, cut into small pieces
2-3 cloves of garlic, peeled and chopped
1-2 peperoncini, or a pinch of red pepper flakes
A few sprigs of fresh parsley, finely minced
A splash of white wine
4-6 sachets of squid ink (4g each), to taste
Salt
Directions
In a large pan, gently sauté the chopped garlic, parsley and peperoncini or red pepper flakes in olive oil until the garlic is just beginning to turn brown. (Remove the peperoncini if using).
Add the cut up squid and give it a good stir to cover it with the seasoned oil. Let the squid sweat in the oil, uncovered, for a few minutes. Add a splash of white wine and cover, letting the squid simmer very gently for another 15 minutes, or until tender.
When the squid is done, add the squid ink (along with a drizzle of water if needed, to keep things saucy) and continue simmering until the sauce is thick and very black.
Shortly before the sauce is ready, boil the spaghetti in well salted water until al dente.  Once ready, drain the pasta, add it to the pan and mix well so that the jet black sauce coats it well. Serve immediately.[/caption]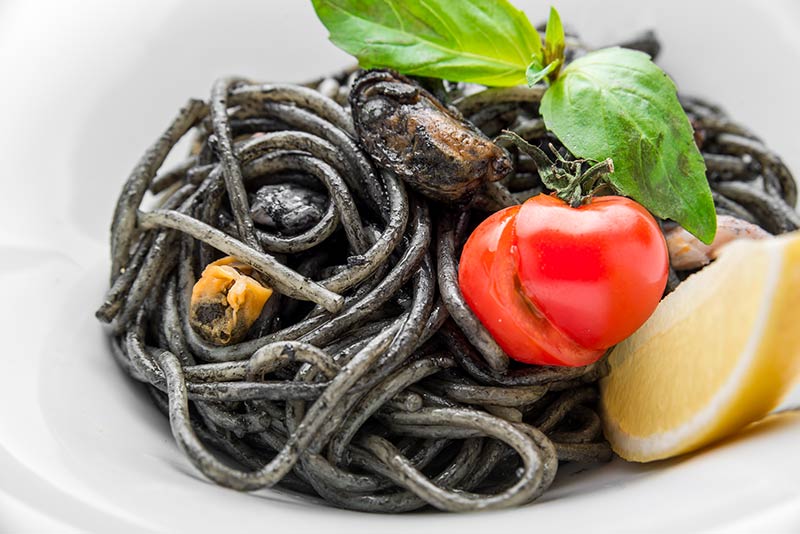 Notes on spaghetti al nero di seppia
Traditional Italian recipes assume that you're buying uncleaned squid with the ink sac—which all squid naturally have—still attached. You just save the sac while you're cleaning the squid and add the ink in it to the saucepan when the time comes. 
Here in the US squid is invariably sold already cleaned, with the ink sac removed. But fortunately, you can buy little sachets of squid ink separately. Our local Spanish deli carries them, and you can also buy them online. If you find you really love the stuff, you can buy whole jars as well.
Spaghetti al nero di seppia has few complications, but some pointers might still be in order, beginning with a gentle word of caution. There's a reason they call it squid ink. It really does stain! So do be careful as you squeeze the ink out of its sachet and into the pan. Inevitably you'll get your fingers stained, but it will wash out easily with water. It isn't the same if you get it on your clothes. 
By the way, squid ink is perishable, so keep it in the fridge and, if you won't be using it within a day or so, store it in the freezer. The small sachets defrost almost instantly.

Preparing and cooking squid
You need to cut up your squid into very small pieces. Cut the head or "mantle" (and fins, if they haven't been trimmed off) into small dice or thin strips, and the tentacles into short lengths. This will not only help the squid cook more quickly, but will also avoid big  chunks of squid gets in the way of you savoring your spaghetti. Even if your squid are cleaned, do check for the "beak"—the hard ring at the base on the tentacles—and remove it if it hasn't been removed yet. 
Cooking times for squid vary by size and age, as well as technique. There are basically two ways to cook it. You can do it either very quickly, using intense, dry heat, as you would for grilled or fried calamari; or braising it for a relatively long time, until tender, as in the case of this dish. Small or baby squid—which, to my mind, are best for our spaghetti—can take as little as 15 minutes to reach tenderness, but older, larger squid can take up of 45 minutes.
Variations
The measurements for this dish are pretty open. Usually, you would use a bit  more squid by weight than the pasta, with some recipes calling for a 2:1 ratio (NB: squid does reduce quite a bit when cooking). Similarly, you can vary the amount of squid ink. Personally, I like using one 3g sachet per serving, but you can certainly add more if you really like the taste.
If you like, you can make a "red" version of the sauce. Add a bit of tomato passata or tomato paste when braising the squid. It won't change the color much (or at all) but it will add a hint of added flavor. If you want the tomato to really stand out, use cherry or grape tomatoes, cut in half,  and add them about 5-10 minutes before you reckon the sauce will be done.
By the way, if you do enjoy spaghetti with squid ink, do try squid ink risotto. It's just as delicious.
Frank is a lawyer with a true passion for cooking and sharing food with the people he loves. He inherited his love for Italian cuisine and culinary tradition from his grandmother, nonna Angelina, to whom he dedicated his culinary blog, Memorie di Angelina: www.memoriediangelina.com