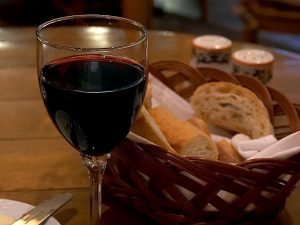 In Kai Yuan Road, nearby to where the old ferry leaves from Xiamen to Gulangyu Island, You Sheng, a man perpetually dressed head to toe in white, serves me a bowl of spicy sha cha noodle soup with fish balls and tofu as he has made it in this very spot for the last thirty years. The night air is tight with the smell of street vendors' local food specialties and grill smoke, compressed even further by humidity, pedestrians and traffic. It's hot. Chopsticks in hand and seated in a near squat position, few things come into focus more clearly than the lights of Gulangyu Island and how insanely good would be a well-made Pinot Grigio with these noodles.
Pinot Grigio.
We've loved it.
We've maligned it.
But, like a lover in some foreign port of call to whom you've long ago said goodbye, you never really get over it.
Pinot Grigio can be simple, a pleasantly fresh communicator of authentic Italian style. At its best, it can deliver deliciously good white wines of personality and complexity, along with some very refined drinking.
It's true that Pinot Grigio was – and is still – one of the most popular white wines sold in the U.S. market. I recently took visual stock of the shelf space allotted to Pinot Grigio at one of the east coast's premier wine stores – it was more like a wall for Pinot Grigio than it was a section, testimony to the category's still massive appeal. But, it is popularity and demand for product that has caused what is seen by observers as a wide quality gap in the category. That some growers, in order to accommodate demand, have sought to cultivate the variety on sites ill-suited for the production of top notch wines, and because unreasonably high crop yields have resulted in thin, personality-deprived examples, has not endeared the variety to many who know better. And guess what? That 'wall of Pinot Grigio' is home to all of them, the good, the bad, and the ugly of the Pinot Grigio category, and at a variety of bewilderingly different price points.
But, the good news is that, next to what one might consider to be the more unremarkable tenants of your local Pinot Grigio section – or wall, as the case may be – there do reside some very, very good bottlings of Pinot Grigio to be had and enjoyed by consumers in-the-know.
A first step to keeping it all sorted is to clarify the Pinot Grigio vs. Pinot Gris thing: they are indeed the same grape. 'Gris' is the French reference to the grayish-purple-pink grape that originated in France's Alsace, 'Grigio' being the Italian translation. I mention this because the different geographies do produce quite different wines, because Pinot Gris is still sometimes used, in Valle d'Aosta, for example, and because the inclination of some wine shop clerk to transform an inquiry of Pinot Grigio into a Pinot Gris buying (perhaps I should say selling) opportunity for reasons only retail people can understand has not been entirely unknown.
What we are interested in, then, is Pinot Grigio – a color mutation of Pinot Noir, by the way – grown in the cool area of northeastern Italy. Introduced into Italy around the beginning of the nineteenth century, Pinot Grigio was formerly called Ruländer and I can think of at least one producer whose bottle label still bears that moniker. Bottlings to look for – noted on the label – include those from denominations such as Friuli's Collio, Colli Orientali, Grave and Venezia Giulia, and from Alto Adige, specifically Alto Adige and Dolomiti. You will likely find wines from those production areas to be complex, aromatic and mineral driven, showing good depth, often viscous and of good weight on palate, with notes of tree and stone fruit.
Pinot Grigio from northeastern Italy tends to be more mineral and dry than the variety's fruiter New World counterparts or the fruiter and sweeter Alsatian examples. This, together with the fact that Pinot Grigio is, in Italy's northeast, often harvested earlier to preserve acidity, makes comparatively super food-friendly wines that pair effortlessly with fresh vegetables, white meats, and semi-soft cheeses.
To be clear, I am not dismissing Pinot Grigio wines produced in their varying denominations elsewhere on the peninsula (or beyond, for that matter). They have their respective merits and can be pleasantly fresh and capable of communicating their respective areas. Our lens here, however, is focused on the category's more serious wine style(s) found in northeastern Italy.
Recommended producers include: Attems, Castelfeder, Gradis'ciutta, Kupelwieser, Lageder, H. Lun, Pighin, Scarbolo.
Tasting Note
Attems Pinot Grigio
Ripe yellow stone fruit, vibrant floral-citrus overtones, crisp and viscous on the palate.