I consider myself privileged, as in my family we had the best of two worlds in terms of food. I was born and raised in Umbria, a region famous for superb quality ingredients such as olive oil, truffle, fabulous prosciutto and salami, pecorino and great wines like the Sagrantino. 
My mother was born and raised in Sicily, moved to Umbria for work, met a local guy – my father – and ended up spending her whole life away from the Mediterranean except for summer holidays. Our food could be defined as ante litteram "fusion." My mother's special talent was to infuse the intensity of Sicilian flavors with the simple boldness of the Umbrian ingredients. Some of her dishes became legendary among family and friends. She was named Eufrasia, a Greek name meaning "joyful" which was perfectly fitting to her bubbly character and beautiful smile.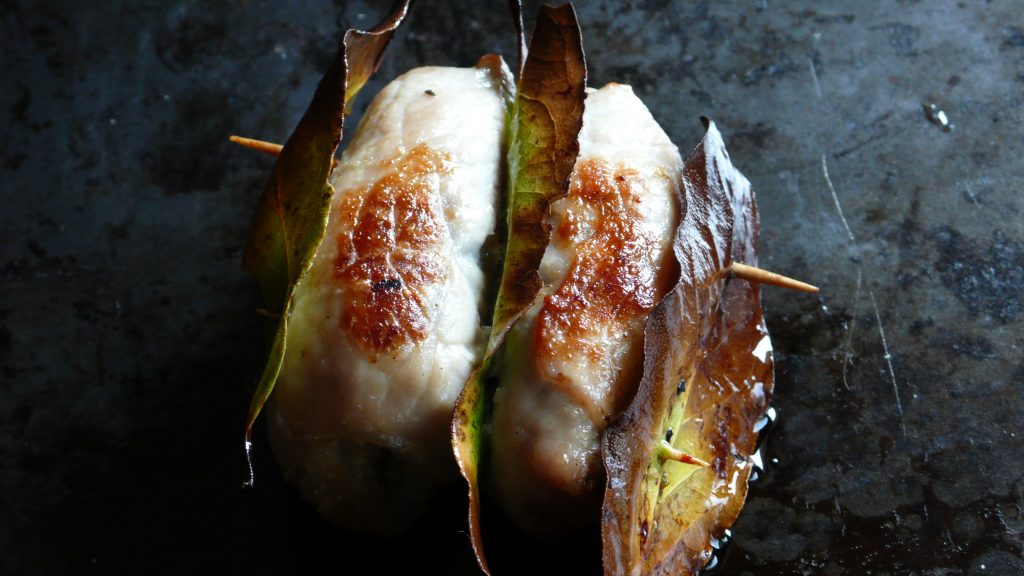 This is one of her best recipes which is derived from the traditional braciole from Messina, Eufrasia's hometown. We were so fond of these rolls that she always had a few portions in the freezer ready to give us as a treat when we returned from our travels.
The traditional Sicilian recipe was made with beef and cheeses like caciocavallo or provolone. Here I use our wonderful Umbrian pork loin, and local guanciale, cured pork cheek. If you cannot find guanciale, use pancetta or unsmoked bacon. If you don't eat pork, beef carpaccio meat is a good alternative. You can substitute the Parmesan with aged provolone but make sure to regulate the salt in the stuffing accordingly.
Ingredients (serves 6)
For the rolls:
450 g (1 lb) very thinly sliced pork loin
2 cups seasoned bread crumbs (see below)
150 g (1/3 lb) thinly sliced guanciale or pancetta
bay leaves, same number as the slices of pork 
extra virgin olive oil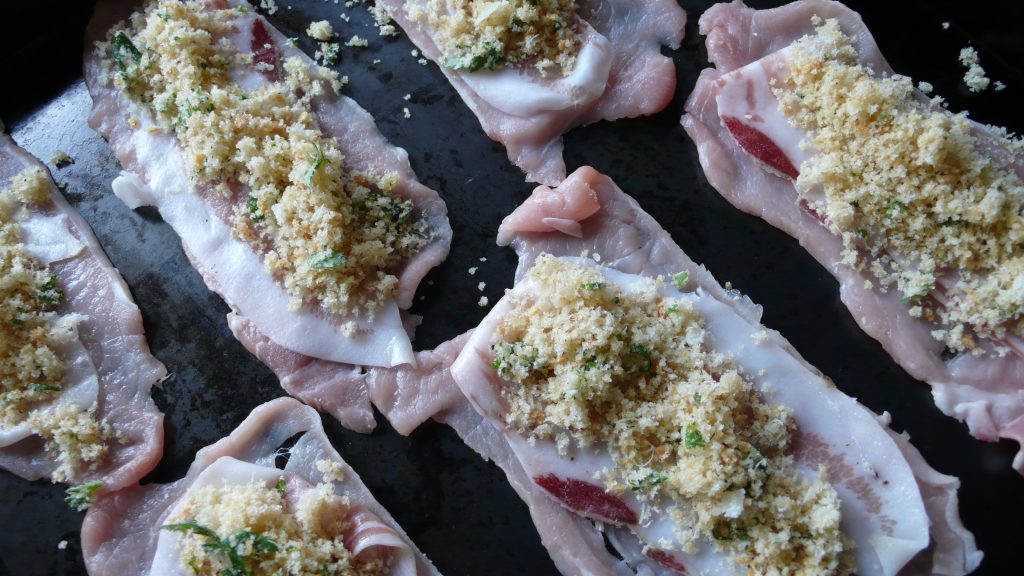 For the seasoned bread crumbs:
2 cups (300 g) bread crumbs (or GF substitute)
3 tablespoons grated Parmesan cheese
1 teaspoon salt
2-3 tablespoon flat leaf
parsley, finely chopped
1 large garlic clove, very finely chopped
a sprinkle of black pepper and salt
Preheat the oven at 220 °C (425 °F). Ask your butcher to slice the pork as thinly as possible without it breaking apart.
Mix all ingredients for the seasoned bread crumbs then add a few tablespoons of olive oil to the crumbs until they look moist but not greasy.
Lay the slices of meat over flat surface and place one slice of guanciale over one slice of meat. Distribute the bread mixture evenly over the meat and firmly roll up each slice.
Skewer 4-6 rolls on two parallel cocktail skewers alternating the meat rolls and bay leaves, so that the rolls are sandwiched between leaves. Transfer the rolls onto a lightly oiled non-stick roasting tin.
Bake in a preheated oven for 20 minutes, turning half-way through. Remove the rolls from the oven, then cover with foil until you are ready to serve them.
These involtini are extremely flavorsome so no sauce is needed. However, they greatly profit of a side of crispy greens like, for example, a young lettuce salad dressed with olive oil and a dash of lemon juice.
Letizia Mattiacci is a cookbook author and owner of Alla Madonna del Piatto Cooking School and Agriturismo in Assisi, Umbria, https://incampagna.com. This recipe has been previously published in Mrs. Mattiacci cookbook entitled "A Kitchen with a View."