Many years ago, when I was living in the town of Pietrasanta, located on the coast of northern Tuscany, a friend visited from London. Sitting down in a local trattoria, she asked the waiter to surprise her with something traditional. The waiter was so pleased with this request and promised her he would bring a local delicacy!
When the plate was placed in front of my friend, she stared at the food with a little confusion. She then looked at me and with a horrified expression said, "Has he just given me a plateful of lard?" (in her wonderfully posh London accent). We all laughed and I told her that although basically that's what it was, she mustn't underestimate the exquisite flavor and silky texture of thinly sliced lardo di Colonnata melting onto hot crostini.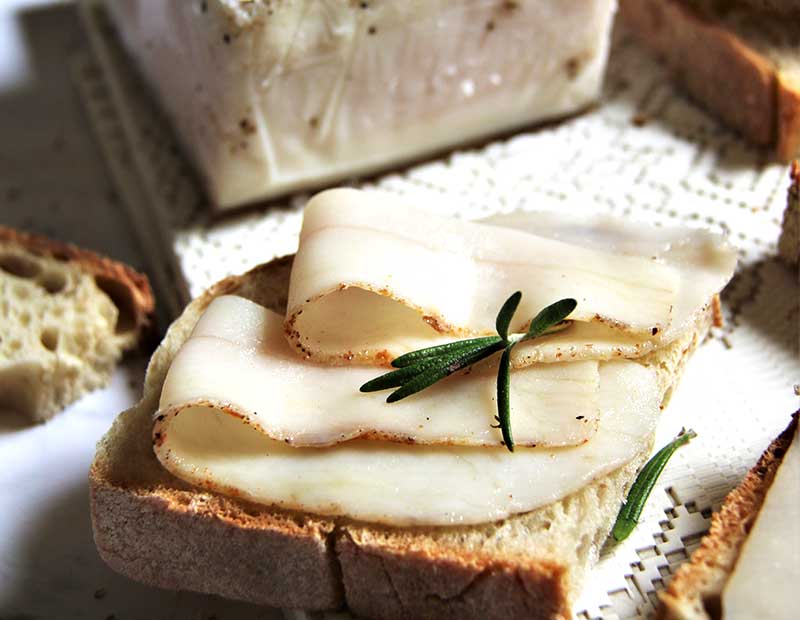 Lardo di Colonnata is a specialised, cured lard that in 2004 earned the prestigious IGP status — protected geographical indication (PGI). Lardo is obtained from lard located on the back of the pig, which is cut into large pieces, weighing about 7 kg each, and then placed into Carrara marble basins to mature. Added to the lard is a combination of salt, herbs and spices and each producer usually keeps their recipe a well-guarded secret. Typically, though, it is a mix of coarse salt together with garlic, rosemary, oregano, cinnamon, coriander, cloves and nutmeg.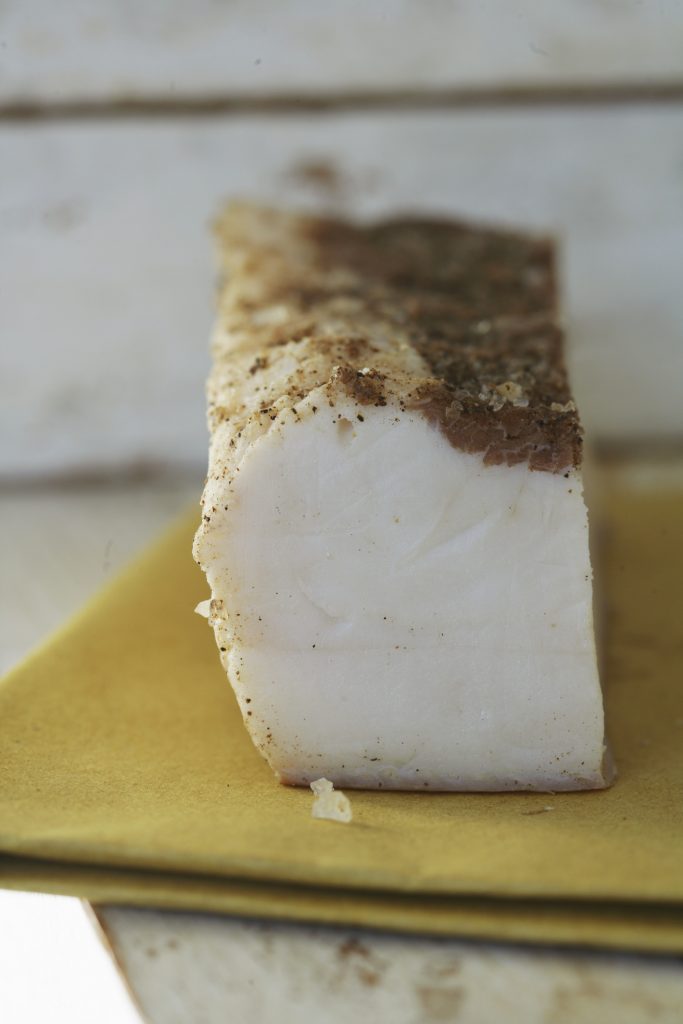 Lardo di Colonnata is a typical product from Colonnata, a village located in northern Tuscany on the Apuan Alps, and is known to have originated around 1800 as a poor dish eaten by the quarrymen working on the famous Carrara marble mountains. There is a story that tells of it being created almost by accident, after a quarryman put some pork with spices in a marble bowl: unbeknownst to him at the time, he discovered one of Tuscany's food excellences, now renowned all over the world. However, there are other hypotheses and many legends about its origin: according to some, the origin of the name "Colonnata" dates back to Roman times, when slaves were exploited in the marble quarries.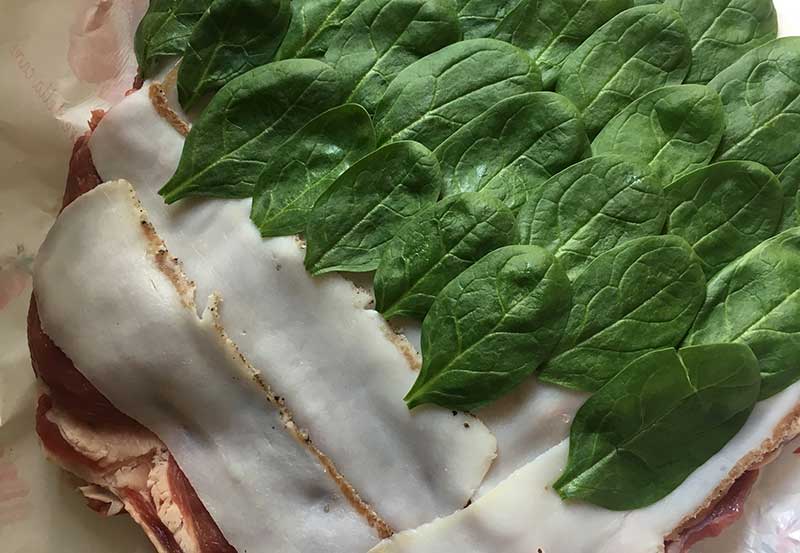 The production process is specialised and pretty much done by hand. First, the marble basins must be prepared by rubbing the inside walls with garlic for at least six months. Then, the pieces of lard are washed and placed inside. Each marble basin contains 12 layers of lard alternated with 12 layers of the salt, herb and spice mixture. The lard is kept in the basin for a period ranging from a minimum of 6 months to a maximum of 3 years. During this time, the basin is checked every fortnight. At first the salt is dry, but over time, with it being in contact with the lean lard, it melts and creates a brine which preserves and "cooks" the meat at the same time.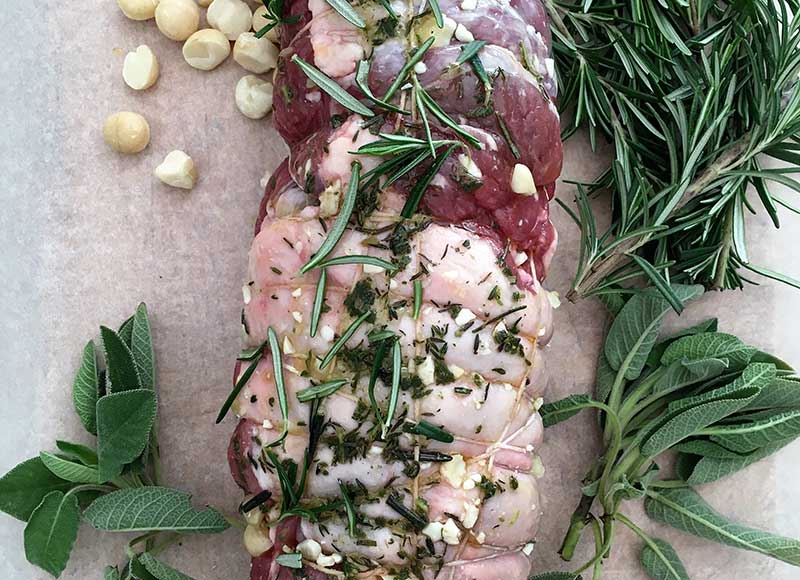 The marble is not sensitive to temperature variations and thus allows excellent seasoning to occur inside. Lardo di Colonnata can only be considered ready after six months and one day, and the preparation is done between September 1st – May 31st. The Summer months are then spent selling it not only to locals, but especially to tourists who make the "pilgrimage" to the tiny town of Colonnata just to sit down and enjoy a traditional lunch — which is usually lardo di Colonnata on toasted slices of local bread, a salumi platter and pitchers of red wine.
The color of lardo should be white, like the most precious Carrara marble, with a delicate, but pronounced flavor highlighted by the aromatic herbs. Although it can be used with an infinite number of foods and recipes, the best way to surely appreciate this delicacy is thinly sliced, and served on hot, toasted slices of rustic Tuscan bread — bruschetta or crostini.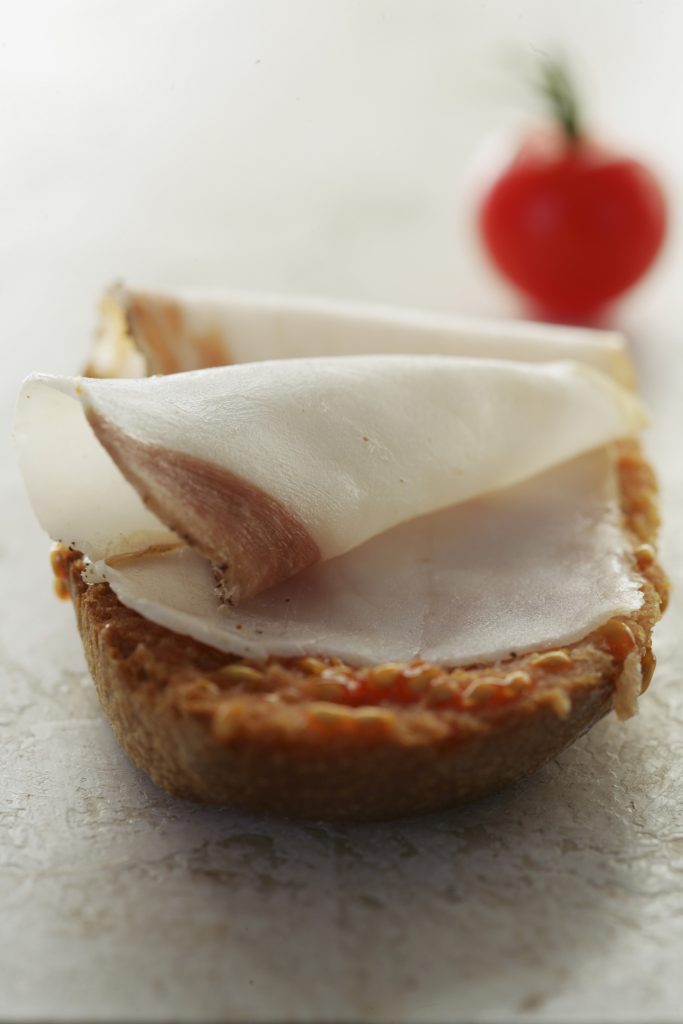 Recipe idea using lardo di Colonnata:
Lamb Roulade
1 leg of lamb – deboned
3.5 oz (100g) lardo di Colonnata, thinly sliced
3.5 oz (100g) prosciutto cotto / ham – thinly sliced
fresh baby spinach leaves or chard
1 cup (250ml) white wine
1 large garlic clove
fresh herbs; rosemary and thyme and/or sage
ground cinnamon, star anise and/or cloves
salt and pepper
Using a mini food processor, mix together the ground spices, salt and pepper. Lay the leg of lamb flat and season with the mixture of ground spices, salt and pepper.
Layer the lardo di Colonnata on top of the seasoning.
Next, layer with the baby spinach, and then the ham.
Roll up the meat and tie securely with kitchen string.
Season with more of the ground spice mix and a bit of olive oil.
Add olive oil to a large, heavy based frying pan. Tie thyme, rosemary and sage together to form a bouquet garni. Add to the frying pan and then add the whole large garlic clove.
Make sure the pan is hot, then add the roulade. Sear on all sides, turning the roulade until you are happy with the sear all over.
Add the white wine to the pan, and then reduce the heat to medium. Cover and leave to cook for 30 – 40 minutes, turning occasionally, and basting with the pan juices.
Once cooked, allow to rest for at least 15 minutes, remove the kitchen string and then slice. Serve with pan juices poured over the top.