The city of Rome has more than 2,000 years of history (assumed to have been founded on April 21, 753 BC) and it is full of ancient, or very old (historic) buildings, churches and monuments. The whole world knows the Colosseum, the Trevi Fountain and the Spanish Steps but strangely, there is a modern street which is as famous as the Romans, or maybe more: Via Vittorio Veneto – or as is said by most, simply, Via Veneto.
Via Veneto extends like a big snake from Piazza Barberini to Porta Pinciana, which is one of the entrances to Villa Borghese (Rome's most beautiful and famous park). The street was designed in the late 19th century, and its creation saw it wind through the grounds of what was once Villa Ludovisi. Villa Ludovisi was built in the 17th century and, when we talk of "villa," we imply a vast property including beautifully architected gardens and many buildings.
When Villa Ludovisi was created the owner, Cardinal Ludovico Ludovisi, had the main villa buildings built to house his large collection of ancient Roman antiquities. Over the years, the property changed hands several times and, in 1885, its final owner Don Rodolfo Boncompagni Ludovisi sold Villa Ludovisi to the Società Generale Immobiliare. It was then divided up into building lots, and subsequently many buildings were destroyed. Via Veneto was created and the neighbourhood known today as the Rione Ludovisi was born.
At first the street was called just Veneto, after one of the regions of Italy (as are all the other streets in Rione Ludovisi), but after the first World War it was renamed in honour of the battle of Vittorio Veneto (won by the Italians).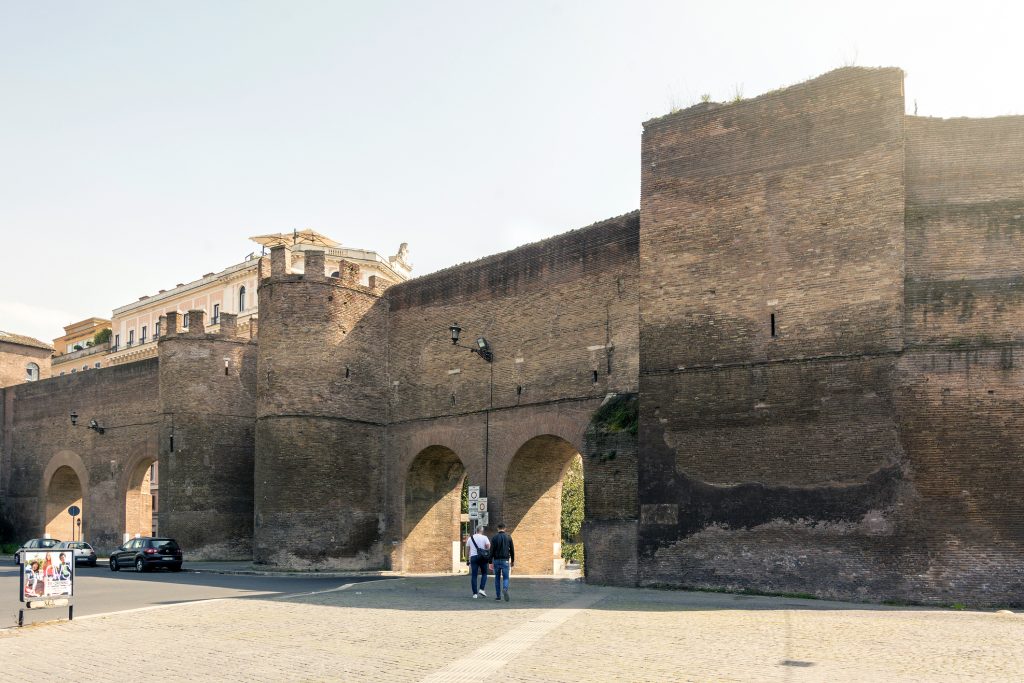 But Via Vittorio Veneto isn't famous today because of its history, but for the life it enjoyed in the 1950s and, particularly, in the 60s. Imagine Via Veneto at that time as a large open-air theatre, or better still, the playground where actors and famous people from all over the world recited to perfection La Dolce Vita. The street was nick-named "the street of the cinema," and this is also thanks to one of the most legendary filmmakers of all time – Federico Fellini. His film, La Dolce Vita was a perfect (involuntary) marketing campaign that helped to spread the name of Via Veneto internationally.
During that time, Via Veneto was crowded, tables spilled out from the bars and restaurants to occupy a large part of the footpath and the atmosphere was lively and party-like. These were crazy times: imagine seeing Clint Eastwood riding a Vespa while he was in Rome shooting Sergio Leone's movies, or Richard Burton having a heated discussion with Elizabeth Taylor, only to make peace by presenting her with a wonderful exclusive piece of fine jewellery from Bulgari… Imagine the tables also being frequented by Burt Lancaster, Ava Gardner, Arabian Princes, Egyptian Kings or the Iranian Shah with his wife Soraya. One could have really spent hours "people watching," or sitting to see and "be seen." It would have been similar to sitting in a cinema watching a movie, with the hope of being a part of the stories that were published in the most important magazines of the world: a photo or a scandal could be the turning point for a career, or could even lead to being called for an audition.
Opulent times they were: wealth, fashion and fame were all displayed on Via Veneto. This was also the time when the famous paparazzis became a legend: interestingly, the word paparazzi was a Fellini invention.
In Fellini's film La Dolce Vita, it is the scene of the meeting between the main character Marcello (played by Marcello Mastroianni), and his father at an outdoor table at Café de Paris on Via Veneto to truly immortalize the lifestyle of those times. It would be remiss of me not to name some of those famous bars. Harry's Bar, Café de Paris and Café Doney were the most famous and the most vied for locations to have a table. Café Doney was where Federico Fellini spent many an evening, and Harry's Bar was made famous, back in the day, for having had Frank Sinatra entertain the bar's clients by playing the piano. Both Harry's Bar and Doney Cafè & Restaurant are still there.
It would also be remiss of me not to mention the hotels that Via Veneto is also famous for. Via Veneto has always been synonymous with luxury and excellence, so it is obvious that some of Rome's best hotels are also situated there.  There is the Hotel Excelsior, which was frequented by hundreds of local and international actors and directors during those magical, golden years of the 50s and 60s.  There is also the Grand Hotel Palace, Baglioni Hotel Regina – The Leading Hotels of the World, and The Westin Excelsior.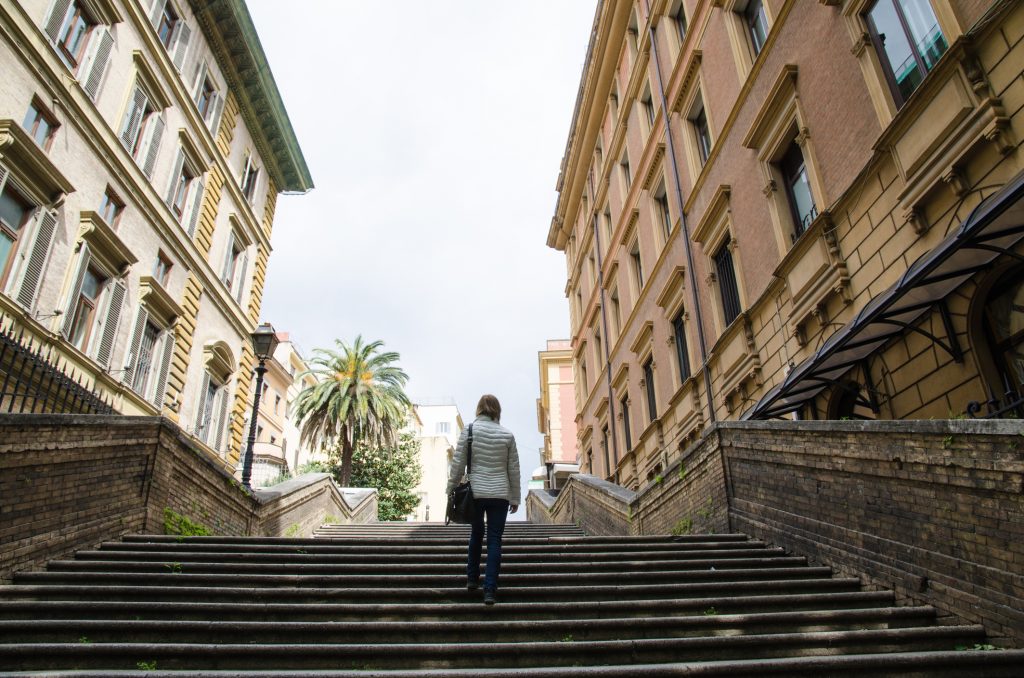 Sadly and slowly though, from the late 1970s, the street began to die. No more Hollywood by the Tiber, no more kings, just bars and restaurants for tourists, especially American tourists. Via Veneto is also home to the Hard Rock Café and, more importantly, the Embassy of the United States of America in Rome which is housed in the majestic and imposing Palazzo Margherita.
Via Veneto had lost its lustre and sadly became a bit of a tourist trap, sad and often vulgar. Only the great hotels, first of all the Excelsior, tried to resist to the doom of the 90s.
The bars were bought by mafia from Calabria, just before bankruptcy set in. Farewell to fame and high fashion, goodbye to VIPs drinking martinis after they parked their Ferrari or Rolls Royces, and a big fat arrivederci to old fashioned glamour sitting in the restaurants and bars every night of the week. Nobody seemed to be interested in the destiny of this old lady: it was almost as if everyone was just waiting for the end.
The early years of 2000 saw a few shops change hands, and a few souvenir shops open to please tourists. Many historic boutiques and clothing stores closed due to economic problems, or the police closed them down in an effort to drive out the mafia.
So why do we hope and wait for a renaissance? Because times change, and Via Veneto, winding like a long snake moving down from Villa Borghese, is still a beautiful street. Wide and majestic, it is nice to walk along and at least try to imagine the time that was "La Dolce Vita," and the laughs of those happy and beautiful people who once kept it alive: it was the amazing 60s, after all.
There are still some points of interest to see: although there are not many ancient monuments, one can marvel at a beautiful fountain, the Fontana delle Api (Fountain of the Bees) which is located where Via Veneto enters Piazza Barberini. It was sculpted by Bernini, completed in April 1644 and originally was meant to be a drinking trough for horses.
One fascinating building not to miss seeing when you are next in Rome, is somewhat tucked back from the road on Via Veneto: the amazingly eerie Capuchin Crypt. It consists of small chapels located under the church of the Santa Maria della Concezione dei Cappuccini. Here you can view the skeletal remains of 3,700 bodies believed to be Capuchin friars. The artistic display of their bones is not intended to be macabre, but instead, a silent reminder of the brief time of life on earth and of our own mortality. I find it all incredibly beautiful…. A little spooky sure, but beautifully creative at the same time.
It would be almost impossible to walk along Via Veneto and not end up (or start from) Piazza Barberini. Here, in the centre of the piazza is the impressive Fontana del Tritone, which was also sculpted by Bernini in 1642/3.
In recent times, Rome has shown some little signs of a rebirth in the hotel industry. International companies have bought many buildings or old hotels, also thanks to our recent economic crisis, and have started to plan some exciting new projects. Maybe not all of them will be good, or get the difficult seal of approval of local Romans, but we have to have hope. And we have to hope that at least one of these new ventures will bring lights, music, life and happiness back to Via Veneto.
Exciting news, though, for Via Vittorio Veneto is the new opening of the Five-Star Intercontinental Rome Ambasciatori Palace.  Bookings will open January 1st, 2022.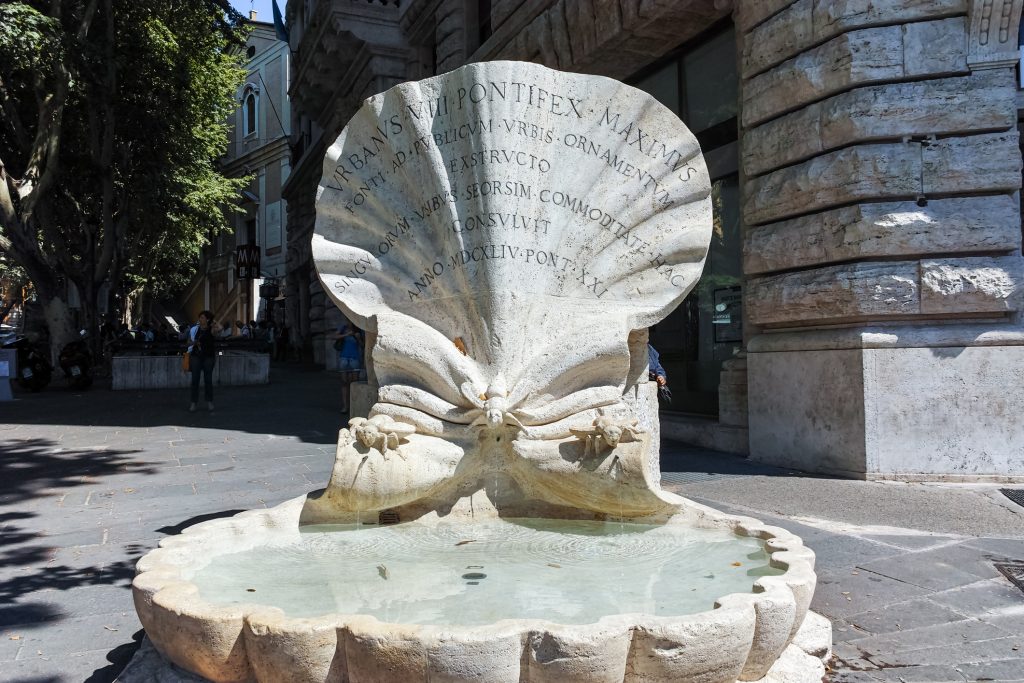 "Located in the heart of Via Veneto, built in 1900 originally to host ambassadors staying in Rome, before serving as the American Embassy Library in 1946, a truly historical building, an icon of 'La Dolce Vita.'The hotel will feature 160 rooms and suites styled with intriguing warm tones, natural materials, combining neo-classical details with contemporary design, rendering the perfect relaxed atmosphere. Both public areas and external look and feel retain the charm of the historical splendour." InterContinental Rome Ambasciatori Palace – Rome (ihg.com)
Maybe it will be the first step for a Renaissance of the Dolce Vita? Who knows… I think the fabulous 60s are gone, but I am sure that there will be fun times again…
……. keep in touch, I will let you know!