The ancient city of Rome is famous for many historic monuments (which many tourists line up to visit every year), but sometimes, some real antique monuments are seen by looking down, and not admiring upwards. A feature of the city which many take for granted, (just walking all over them) are the characteristic cobblestones that pave the streets, especially in the historic centre.
Either loved or hated by the Romans, the cobblestones known as Sampietrini (selcio – or sercio in roman dialect – or Sanpietrini) are often a topic for either light conversation or heated debate. They can be charming to look at and photograph, but at the same time they can be dangerous, and sometimes fatal if maintenance has fallen behind. Motorino owners often say they risk their lives daily and must constantly ride with caution looking out for the holes that are present along the roads. After a heavy downpour, wet Sampietrini or puddles hiding a potential danger mean you really are riding at your own risk.
I am fascinated by how those electric scooters that can be rented (and are often ridden by two at a time, which is supposed to be illegal) haven't been the cause of more accidents, and I wonder if tourists realise what a bumpy ride they are in for (literally) when they rent them. Even riding a bicycle over Sampietrini can be jarring, your whole body vibrating as you cycle along.
One can't write about Sampietrini without, of course, mentioning the problem they pose to women and the footwear they choose to wear. Stilettos are definitely not the first choice for Roman women – to wear them could easily result in not only a broken heel, but worse, a broken ankle! Never say never though, because many Italian women have mastered how to walk strategically on Sampietrini, ensuring their heel doesn't fall into the cracks. Fashion is after all a priority in Italy, and la bella figura often takes priority over sensibility.
Personally, I really love the Sampietrini, and for me Rome wouldn't be Rome without them.  Maybe I look at them with the whimsical eyes of a tourist, but for me they epitomise the Eternal City just as much as the Colosseum or the Trevi Fountain.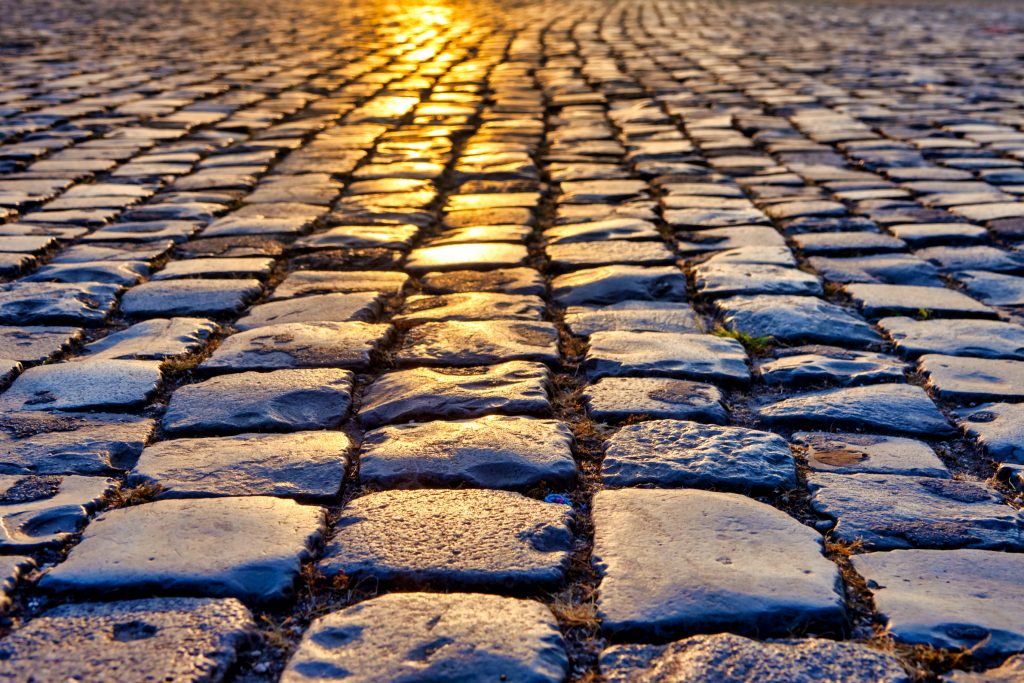 So, what are Sampietrini made of, and how long have they actually been there? These are probably the two most common questions I am asked by tourists in Rome. Sampietrini are known as the first "pavement" to appear in the city of Rome, and we can say they are fairly modern, as they were invented only in the sixteenth century. It was an accident involving Pope Sixtus V's carriage that instigated the paving of St. Peter's Square with them. The Pope's carriage toppled over on the uneven ground and so it was decided that an effective paving was required to avoid further accidents occurring. These "cobblestones" can also correctly be called Sanpietrini, because it was in "the Piazza of San Pietro" that they were first laid.
The use of the Sampietrino to pave the main streets in Rome became more and more frequent in the 17th and 18th centuries. Even after the unification of Italy, Sampietrini continued to be a very popular paving material. From the observer walking on top of them, they appear squared and it is easy to assume they are cubes, but they are, in fact, shaped like a sort of upside-down pyramid. They are blocks of flint extracted from the quarries located at the foot of the Alban Hills and also from volcanic areas in Viterbo. The square top measures 12cm and, with their very tapered base, they are no taller than 17cm. These cobblestones obtained a uniform and compact pavement, that could be smoothed by friction, especially by the carriages of the time.
The triumph of the Sampietrini paving meant that their installation required real craftsmanship, and the craftsmen who were once responsible for this specialised job were known as selciaroli. They had a large physique, and their tools included a wooden hammer (mazzapicchio) called pilone, which in Roman dialect became known as mazzabecco. The Serciaroli mostly came from the province of Aquila and worked in Rome from June to October. They gave themselves Roman sounding nicknames based on their physical appearance: Asso de coppe – Ace of Cups, (see Italian playing cards for Briscola to see what this looks like), Gallo – Rooster, "er Vaccaretto"– which best translates to something to do with a cow. He was in fact the most famous, and has remained in history for his ability to align 6000 flints (Sampietrini) on the ground of a road in one day, thus covering 60 square meters.
You will often hear that Sampietrini require a lot of maintenance because they aren't secured with cement, and instead are hammered into a sandy base. This isn't really the case – This type and style of cobblestone street actually does not need much maintenance: I mean think about it, it is no coincidence that the Roman roads are still visible after more than two thousand years! The real problem is that the cobblestones were not designed for the passage of the buses, and heavy traffic that exists today, and therefore they are more inclined to be damaged and require repair. That the work of laying the Sampietrini is more complex than throwing asphalt is also true, because you have to remove and put back every single piece, one at a time.
So, despite pressure from some of the general public and also some politicians to abolish them completely, thankfully many streets in the historical centre and also in Trastevere have resisted being replaced by ugly asphalt. (which is quicker to apply and easier to repair).
Watching a street being repaired with Sampietrini is hypnotizing to watch. Imagine that, when an underground pipe needs to be repaired or replaced, each Sampietrino is removed by hand, one at a time. They are usually piled up nearby, and then, once the work is finished, the road is completed with a man hammering them back into place, carefully aligning them to ensure the pattern returns to its previous, precise splendour! So, next time you find yourself walking along the beautiful streets of Rome, take a moment to look down and appreciate the history, work and craftmanship that gets trodden on and abused every day.