In the narrative of the Gospels, the birth of Christ doesn't take up much space: the focus, as those among you who went to catechism as children may remember, is all on the last three years of his life, those when he began preaching around Palestine.
Outside the Gospels, there was a certain paucity of information about the Son of Man and his life, exception made, once again, for the years of his travels across Palestine, when he gathered around himself a community that was considered subversive by both Roman rulers and local Jewish elites.
So, where does the whole mangiatoia-bue-asinello triptych come from, and what did really happen on the night Jesus was born? Now, if we really wanted to delve into the historicity of Christ, we'd need all of 2022 L'Italo-Americano's editions and hours of research, so we'll try to keep it as simple as possible.
What do we really know about the birth of Christ? As said, our sources are not many: of the four gospels two, Mark and John, don't even mention it and Matthew only tells us he was born in Bethlehem under king Herod Antipas. Only Luke offers some more details. In fact, all this circumspection shouldn't surprise, if we consider the frame of mind of the first Christians, for whom speaking of Jesus as a physical person was a tad frivolous. Even in later centuries, Fathers of the Church Clement of Alexandria and Orygen dismissed the matter, the latter stating that only "sinners celebrate their date of birth." Ouch.
But let's go back to Luke's description of Jesus's birth. In the short paragraph where he writes about it, Luke doesn't mention any donkey and ox, nor grotto, just a couple of young parents and a manger. And what about the date? Well, Luke doesn't mention the month of December, either, and certainly doesn't name a day.
So what do we know? Did shepherds really surround the young family to worship the child they considered the Son of God? Well, if they did, it's likely Jesus wasn't born in December at all, because Winters in Judea are cold and it was unlikely shepherds and their flock would sleep outdoors.
The question of the date of Jesus' birth has been long debated, with most agreeing that the 25th of December was, in fact, chosen at a later stage to incorporate into Christian liturgy old, well-established pagan festivities:  again, this shouldn't really surprise us at all, nor should we see it as proof of Jesus a-historicity. Quite simply, Christmas wasn't celebrated openly until the Christians were no longer persecuted and could worship out in plain air. We are talking the 3rd century AD, guys:  three hundred years of prayers and faith hidden from the world almost entirely. It shouldn't surprise, so,  that Christmas was celebrated on different dates depending on the area of the world you were in because every Christian community had reinterpreted what they from the Gospels their own way. With Christianity becoming the official religion of the Empire in the 4th century, there was a need for unity, but also a need for proselytism.  And so, considering there was little information to pinpoint historically and scientifically when Jesus was born, it was decided to pick a date that was already important, the dies natalis of the Sol Invictus, the birthday of the Triumphant Sun, a god that dominated on others,  a perfect symbol for the monotheistic God and His Son Jesus. Officially, Christmas began being celebrated on the 25th of December under Pope Julius I, in 352, some 40 years after Christianity became legal in the Empire.
Let's look now at the imagery of Jesus' birth: what does Tu Scendi dalle Stelle say? E vieni in una grotta, you were born in a grotto, yet there is no mention of any grotto in Luke, nor of the donkey and the ox: all of these traditional features of the nativity – and of our presepe – come actually from the apocryphal gospels.
What about the comet? Well… we can thank one of the most talented Italians ever born, Giotto, for that.  He added it as a picturesque detail in his Cappella degli Scrovegni's frescoes, in Padova, and it's been part of Christmas iconography ever since. Yet, we shouldn't discount the presence of a star, a special, different one, at the time of Jesus' birth. To learn more about it, we need to look into the Gospel of James, which is apocryphal and dedicated to the miraculous conception of the Virgin Mary, her upbringing, her marriage with Joseph, the birth of Jesus, and the early events after it. Here we learn that, when Jesus was born, there was a large, very bright star in the sky, different from all others. Now, this is very important because, if we understand what star James talked about, we may just be able to understand when Jesus was actually born.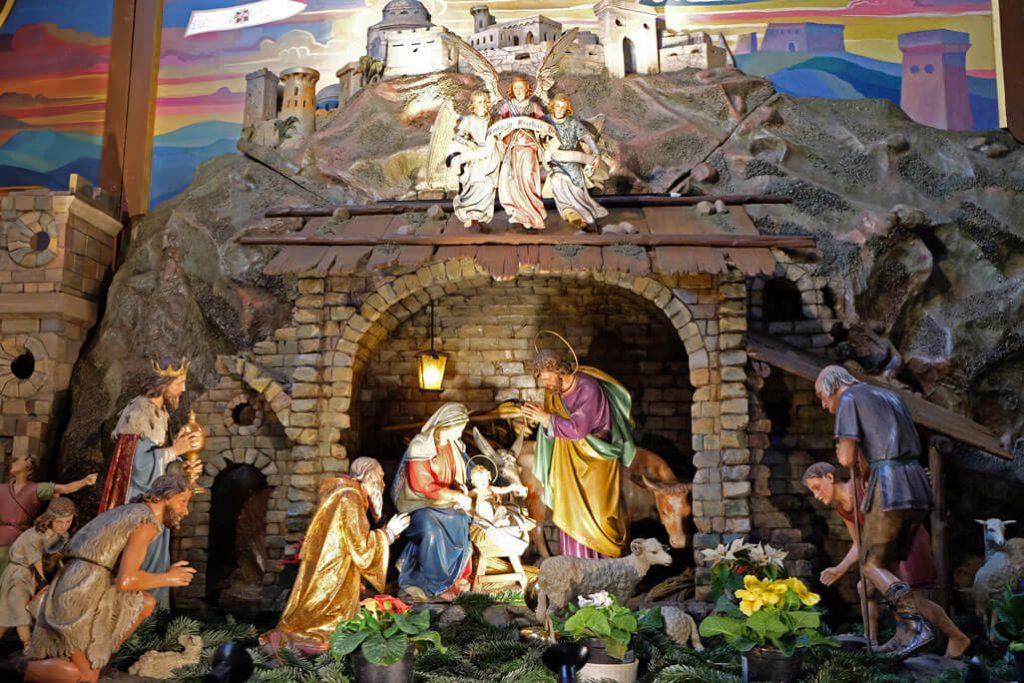 Famous German astronomer Johannes Kepler unraveled the mystery for us in 1603, in a short treatise named De Anno Natali Christi, or On the Birth Year of Christ: here he explains that the incredibly bright star mentioned in the Gospel of James could have been, in fact, the conjunction of two planets, in our case Jupiter and Saturn. When this happens, the two astral bodies look, to the eyes of us terrestrials, just like a single, incredibly bright star, much larger than all others.
Historians tell us that Jupiter and Saturn were conjoined three times in the year we call "7 BC"  today, and that the phenomenon was so relevant Babylonian astronomers recorded it in their documents. Could this be the "star" of the Wise Kings? Was Jesus born 7 years before we traditionally place the date of his birth? It could well be so, and information from the  Gospels and in Roman history testify it. The date is compatible with Matthew saying Jesus was born during the reign of Herod Antipas, and even the date of the census, set around 6 AD by the Jewish historian Flavius Josephus, is in fact not so certain, with many modern scholars anticipating it to 6-8 BC. Et le jeux sont fait.
So, you see, it's not only a matter of how the first Christmas was but also of when it was. That of the historical Jesus is a fascinating subject, for historians and faithful alike, and history, as all sciences, should never be considered an enemy of faith by those who believe. If anything, history can help understand better the world where Christianity originated and support a deeper sense of belonging to it, if you're so inclined. And for the rest of us, Jesus, his birth, life, and death remain one of the most interesting mysteries in the history of humanity, a mystery though, that contributed more than any other to the development of our civilization.