Farro is now trendy because of its health benefits, but here in Umbria it's been a staple for over 2000 years. In ancient Rome, farro flour was the ingredient of choice to make puls, a sort of porridge served with vegetable, beans, pecorino cheese or — for the upper classes — with lamb or pork. Farro flour was also used to make savillum,   a soft cake mixed with  ricotta and served drizzled with honey,  and also gnocchi which were fried in olive oil.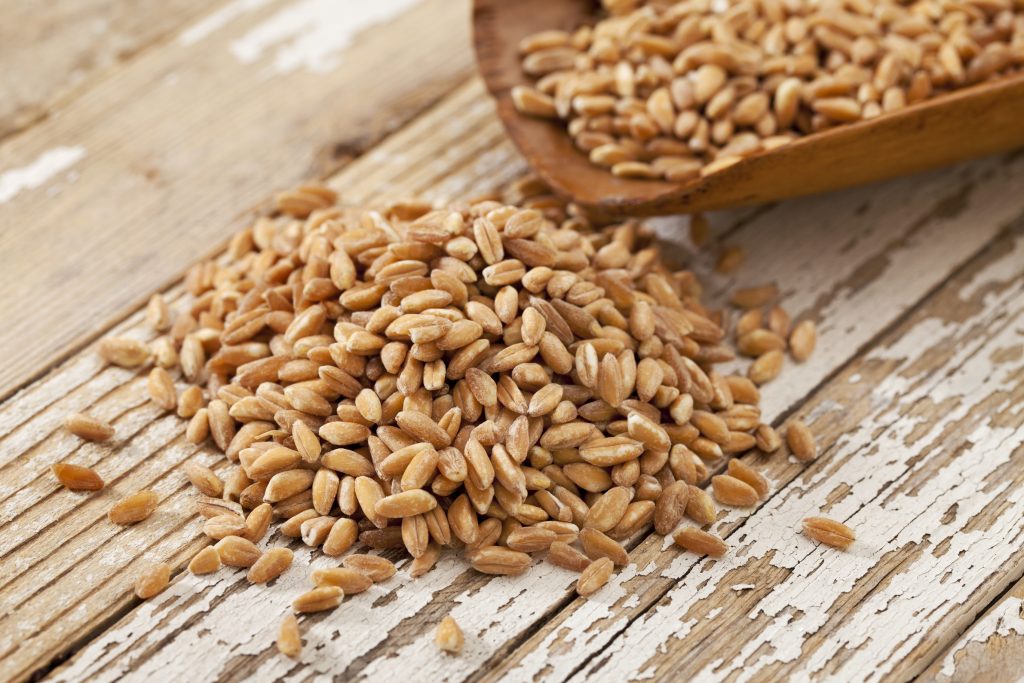 Farro was so important, that a marriage ceremony named confarreatio was exclusively reserved to patricians. The rite involved the bride and bridegroom sharing a cake of spelt, named in Latin far, or panis farreus, hence the rite's name. The ceremony also included a sacrifice to Jupiter Farreus, that is Jupiter of the wheat.
There is even a legend to explain the modern Roman tradition of eating gnocchi on Thursdays. The ancient Roman gnocchi were made with farro and not with semolina or potato like now. The story goes that Thursday, the day dedicated to Jupiter, might have remained connected  — in a fairly loose way — to the dumplings made with the cereal sacred to the god.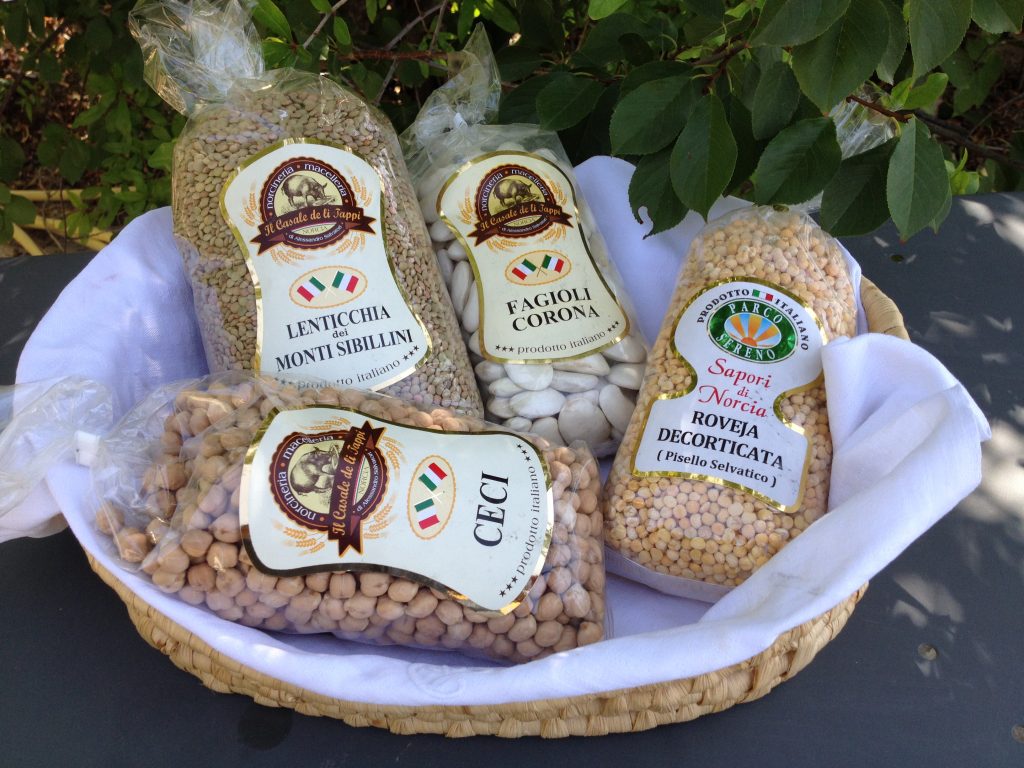 But what is farro?
Farro is a heritage wheat with a characteristic nutty flavor and a high protein and fiber content. The term "farro" is a collective name used for three species of grains: emmer, einkorn and spelt. The best farro, and the most delicious, tender lentils are produced near Castelluccio di Norcia, a tiny village located on a lonely outcrop in the centre of the Piano Grande plateau. This is a site of spectacular beauty and fantastic food, don't miss it if you visit Umbria!
In this recipe, the use of ginger, instead of classics like rosemary or sage, might seem exotic, but in reality ginger was used in Italian cuisine until about 500 years ago. Then it disappeared, but it feels appropriate to introduce it in such a timeless recipe.
Modern farro is generally parboiled (pearled) so does not require soaking. Both farro and lentils from Castelluccio cook in 30 minutes, so I cook them together. However, please check the cooking directions of your ingredients and adjust if needed.
Ingredients (Serves 8)
• 1 large onion, sliced thinly
• 2 tablespoons extra-virgin olive oil
• 1-2 teaspoons grated fresh ginger
• 250 g (1 cup) small green whole lentils
• 250 g (1 cup) farro
• 2 tablespoon parsley, finely
chopped
• 1 lt. (4 cups) hot water or stock
• 1 large garlic clove, halved lengthwise
• 2 slice toasted Italian crusty bread
• 2 tablespoon freshly grated Parmesan or Pecorino
In a large, heavy stock pot soften the onion in olive oil over a moderate heat, stirring occasionally, until a pale golden color. Add the ginger and stir for 1 minute. Add the lentils and spelt, water or stock and cover. Simmer over a low heat, stirring occasionally, until the soup has thickened and the lentils are soft but still retain their shape. This will take about half an hour.
Season the soup with half a teaspoon of salt and a twist or two of black pepper.
At this stage, the cooled soup can be frozen for later use. When ready to serve, defrost, add some water – it will be quite solid – and allow to simmer.To serve, toast the slices of crusty bread, rub with the cut side of a garlic clove and then dice into small cubes. Ladle the soup into bowls and scatter the chopped parsley and the bread cubes over each bowl. Drizzle with a teaspoon of good extra-virgin olive oil and sprinkle with grated cheese. Serve immediately.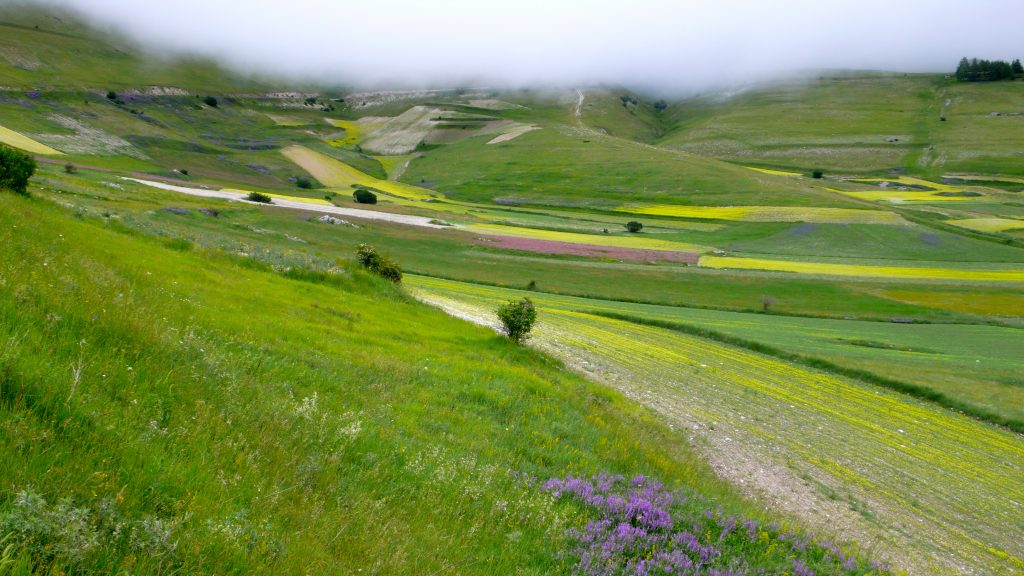 Letizia Mattiacci is a cookbook author and owner of Alla Madonna del Piatto Cooking School and Agriturismo in Assisi, Umbria, https://incampagna.com. This recipe has been previously published in Mrs. Mattiacci cookbook entitled "A Kitchen with a View."