What does it mean to be Italian-Americans? How does our family heritage affect our culture and who we are?
In occasion of this year's Italian Heritage Month, L'Italo-Americano had the pleasure of discussing about it with Guglielmo Botter. Architect and artist, he was born in Treviso, but he is Italian-American by family, training and choice. Botter has a very strong bond with the US where, since 2012, he has been spending a few months every year to be with his family. In the US, he also works successfully and has received numerous awards. He has, however, the same connection with Italy, where he still resides. He wrote a book, Lyù, un'Americana a Treviso, which isn't simply his Italian-American mother's biography, but a cross-section of Italian and American life, a continuous face-to-face with emigration, with the ideas of departure and return, with traveling, cultural changes and the clash between Italian and American society.
Lyù, un' Americana a Treviso. Who was your mother, to whom you dedicated an award-winning book, presented to the American public at the Heinz History Center in Pittsburgh, for the Italian-American culture series?
Every mother deserves a biography … When mine fell ill, the awareness of losing her forever pushed me to spend as much of the time she still had with her. We started sharing common memories about my childhood and birth, and then we ventured even further back in time, in search of facts and people that had marked her youth and forged her person, people I, for the most part, knew almost nothing about. At home, we didn't speak much about the past, and we children were at the heart of family life: everything our parents did was to prepare us for the future and they used their past experiences for that, to educate us and show us the right path to follow.
Listening to her tales, while she was at the Hospice, I discovered, little by little, she was a determined, courageous woman, very different from the simple and stern person who had lovingly brought me up. In my book, I wanted to talk about her life, which has been adventurous and charming, filled with incredible events, often happy, other times tragic, but always faced with courage, determination and an endless desire to live, experiment and win every challenge.
Lyù was born on the 4th of July 1936 and left us on the 22nd of September 2010.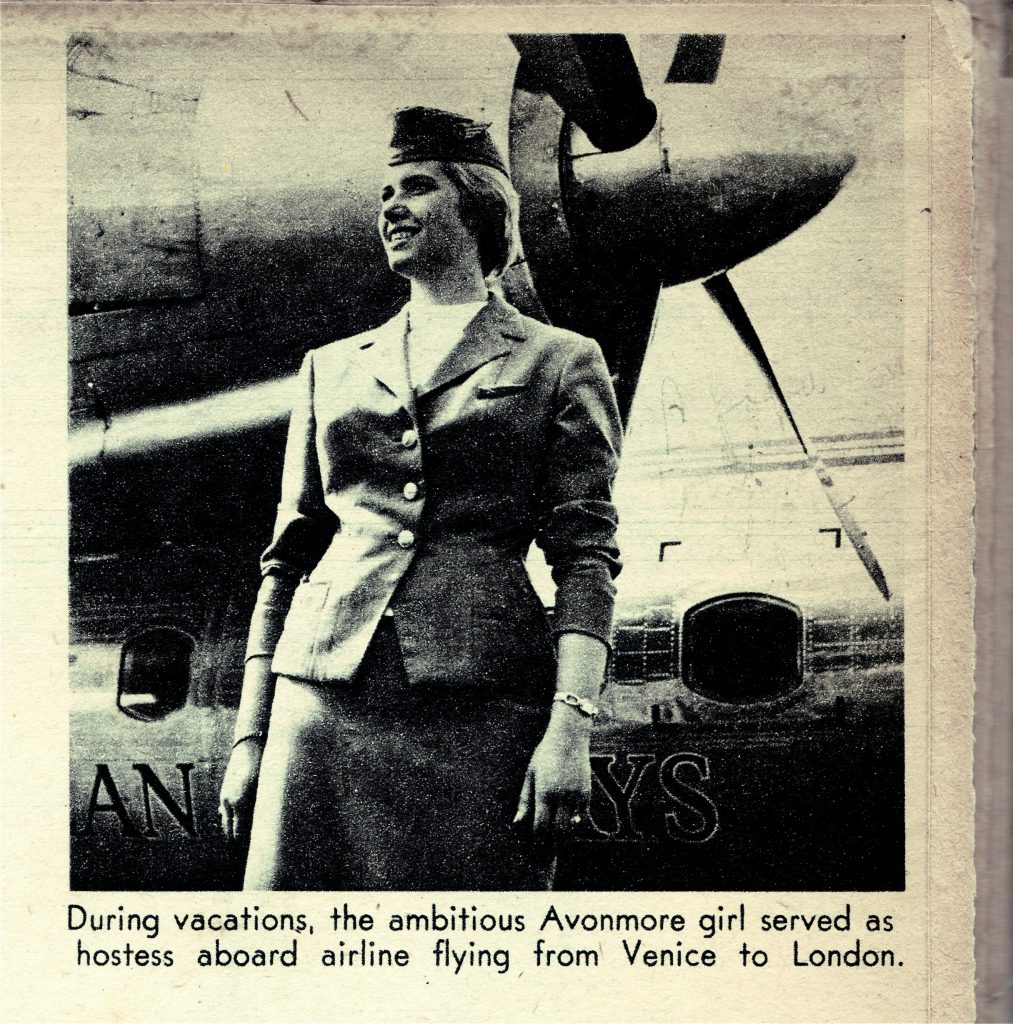 October is the month dedicated to Italian Heritage. In your opinion, what does it mean culturally? What does it mean to be Italian-American today and do you find differences with what it could have meant in the past?
My mother Lyù was born on Independence Day 1936, in Cadore. Her grandfather Francesco had left the Alps to settle in Pennsylvania, where he spent an unhappy youth working in the sombre coal mines around Pittsburgh. He was 16 when he crossed the ocean to find a better job and a better life: after 8 long years of hardships and pain, he finally became an American citizen in 1900. That's when he asked to reunite with his fiancée Maria, who joined him in the States, where they got married on Christmas Day of the same year. Soon, two daughters arrived: one of them Inez, was to become Lyù's mother. This is why my mother was born American, on Italian soil.
Our ties with the Fatherland are difficult to sever and in my maternal family everyone, without exception, confirmed it by marrying other Italians. I must say that being Italian- American is a huge privilege because we are somehow both witnesses and keepers of both cultures: starting with Francesco who, with a pair of broken shoes and a lot of good will, opened up the way to all of us and to a better future in the US, the "land of opportunities."
Being Italians in America today is different: our ancestors' struggles, their tenacity in gaining the trust of people around them, who often treated them with scorn, allow us — the new Italians of today — to be welcomed with respect and to be appreciated also for all that our forefathers did for the economic and cultural development of America. And for her discovery!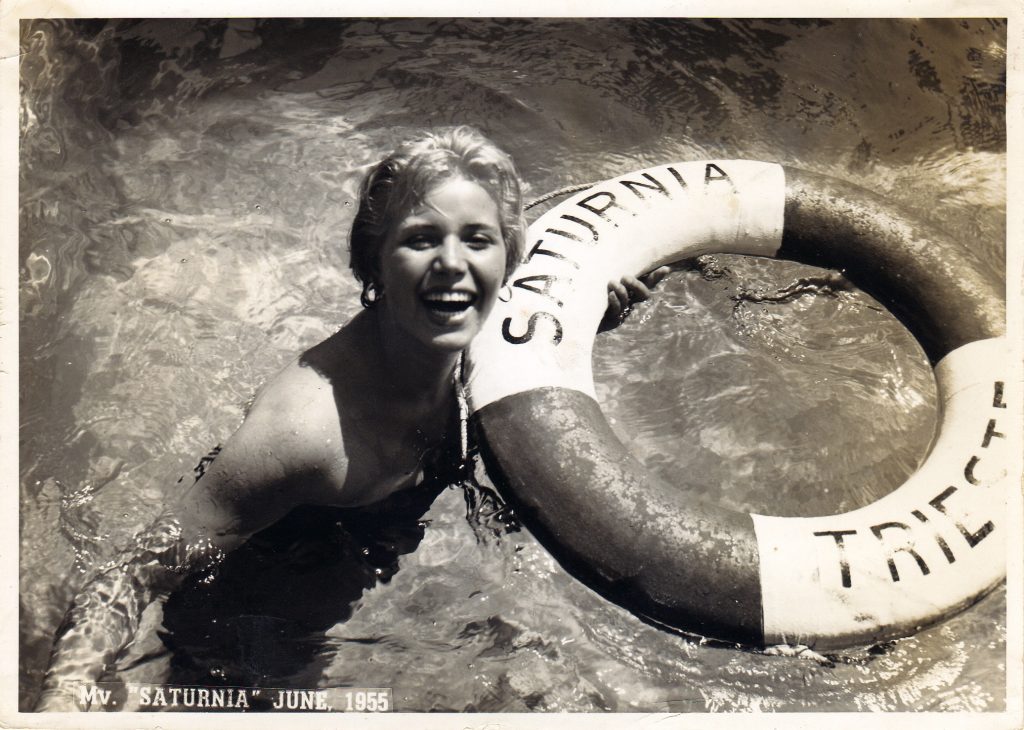 We often talk about Italian-Americans in American society. Your mother, on the other hand, went the "opposite way:" how did she experience being American in Italy? Did she feel Italian at all, even a little?
My mother, born an American in Italy, lived in Cadore until the age of 9. Because of the Second World War, the family had to remain in Italy and transatlantic connections with the US were re-established only in December 1945. Willy, Lyù's father, didn't immediately get permission to go back to the US, because American authorities still considered Italians as enemies and wanted to make sure that war criminals wouldn't hide among travelers. While waiting for the necessary documents, the family thought to send little Lyù with grandma Maria to Avonmore, near Pittsburgh, where the Fumei family had a home and, for many years, had managed the local General Store. And so, Lyù took her first boat trip, on a demilitarized ship that was used to carry American troops to Europe for the invasion; on board, she took care of her old grandma, who was also deaf. A memorable experience, of which she gave a vivid recollection for the book. In high school, Lyù shone for her artistic qualities and obtained a full scholarship to Penn State University, which she however refused, to enroll in the more prestigious Fine Arts Academy of Venice.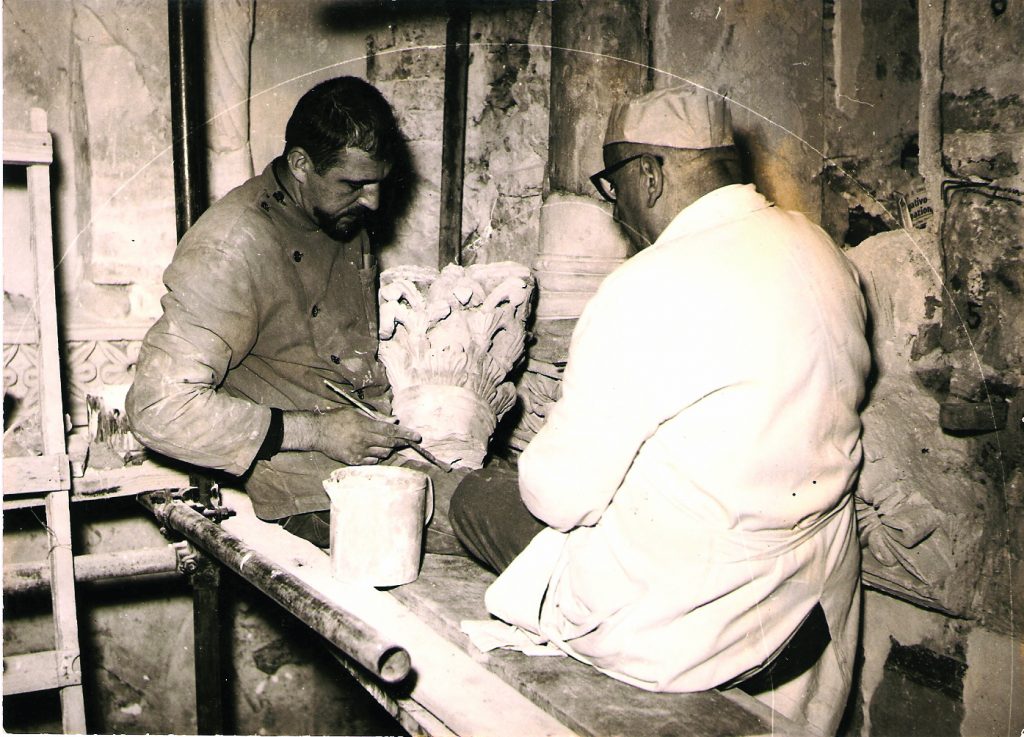 At 18, she crossed the ocean again, this time on board of the much more comfortable Saturnia, a true jewel of the Italian merchant navy. There, her beauty didn't go unnoticed neither among the sailors, nor among the elegant Italian navy officers. At the opening ceremony of the academic year in Venice, my parents met and it was love at first sight. They were both very good artists. Lyù still remembered Italian, but her American accent and her beauty made her particularly attractive in an environment where Beauty, in all its forms, was always appreciated, and it wasn't easy for my father to win her heart.
Without a doubt, Lyù cared a lot about her American roots and education, because it gave her a sort of advantage on other Italian young women, who seemed to belong to another era. She came from a much more modern and dynamic world, considered distant and mostly unknown to the vast majority of Italians. Moreover, Italy still bore the marks of the war, and reconstruction was still in full swing. She was blond, easygoing, confident on her high heels: she was l'Americana for everyone and she embodied a world and life many longed for.
Lyù represented America for those who met her. A very special "America," far away, advanced, movie-like, perhaps also because your mother — a painter, a theater actress, parachutist, stewardess and pilot of airplanes, was exceptionally "different." What do you think she gave to Treviso's society and what influence did she have on those years' way of thinking?
When Lyù came to Italy in 1954 to study at the Academia di Belle Arti, Italy was in the midst of the economic boom. At the same time, the ruins of war were still visible everywhere and also in Treviso, where she went to live with her sister, who had moved there two years earlier. This young, blond American didn't go unnoticed in the narrow, intricate alleys of this beautiful town of the Veneto province, a town known as "little Athens" for how lively its cultural panorama was. The provinciality of the place only increased people's interest for all novelties, so such an exotic figure was bound to feed, among the mists of a glass of wine and the next, gossips and curiosity. At the academic year inauguration in Venice, Lyù immediately noticed a very tall young man, an elegant gentleman in fact, who was called on stage to receive a special award as the best senior student from the Dean of the School. Memi was the son of famous Mario Botter, considered the savior of Treviso, a city largely destroyed by the allied bombings of 1944 and 1945. As written by Giovanni Comisso, Mario was a "God's fool," because while the city burned, he would walk around with his thirteen years old son, salvaging paintings, books, frescoes' fragments, convinced that his town, once the war was over, could return to its former splendor. In the mid-1950s, the Palazzo dei Trecento, the symbol itself of Treviso, which had been severely damaged by —alas— American bombs, was restored under his savvy supervision and many medieval and renaissance time houses were brought back to their former beauty, even their external frescoed decorations, typical feat of Treviso's urban landscape.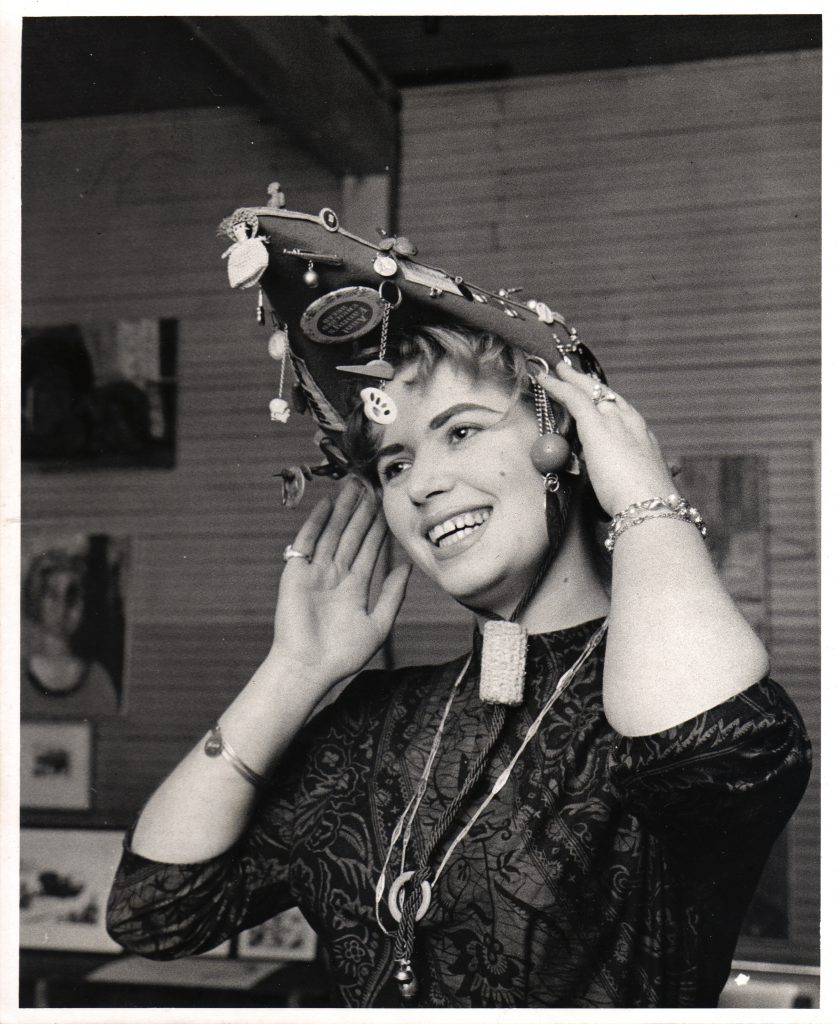 Lyù's huge interest for art, the same that pushed her to cross the ocean alone, was now bringing her closer and closer to the heir of the Botter family, known for its restoration atelier, created by Girolamo at the end of the 19th century. Lyù was soon welcomed within this very influential family and had the occasion to meet many art lovers and artists, whom she would have never had the opportunity to encounter in an American town the size of Treviso. She also had the opportunity to gain experience beside her fiancé, who was on the path to become a well established frescoes restorer.
While at the Accademia, Lyù's artistic talents emerged, also thanks to the mentoring of masters like Saetti, Cadorin, De Logu, all at the heart of Venice's cultural panorama of that decade. To pay her studies, Lyù began working as an air stewardess on British Airways flights, for the well known Sbrojavacca travel agency. She also became one of the first women parachutists of Veneto, demonstrating she was up for all challenges. In her spare time, she even took classes to become a light aircrafts' pilot…
In Treviso, the American found a fertile environment to delve into Italian culture, reaching important personal achievements: her first exhibition was at the Galleria del Libraio in 1957, with an introduction by writer Giovanni Comisso. With her fine arts diploma safe in her purse, she returned to Avonmore, in Westmoreland County, where a new phase of her life awaited. Lyù was learning a lot from the unique and rare opportunity she was given, that of traveling between Italy and America, embracing from both countries the values and traditions that were to stay with her for the rest of her life, and making of her an independent and special person.
And what about Lyù herself who, for love, decided to follow the more traditional path of becoming a mother and a wife, was she changed by the world she found in Italy, and how?
Once she graduated, Lyù returned to the US, not before promising her fiancé she would have been back within a couple of years. It would take seven years before she finally managed to return to Treviso. This is where a new chapter of the book opens, a chapter dedicated to two parallel lives, intertwining here and there in exhilarating and at times comical episodes, an entangling of moments and difficulties modern couples wouldn't probably be able to endure. But Lyù and Memi's love was strong and resisted all difficulties: in the end, they married on the 12th of September 1964, in the Cappella degli Innocenti of the Santa Caterina church. Lyù left the US forever, and all the advantages such an advanced society could offer her, for love. Life in Italy was very different: Lyù was immediately caught in a system of values and traditions that clashed with the idea of "freedom" so common in American society. She quit painting, acting and even working, to become a stay-at-home Italian wife, devoted to the care of her children and her home: back to the Middle Ages, she would usually remark during the last years of her life. She lived in two different continents, appreciating their strengths, but also recognizing their weaknesses since the very beginning.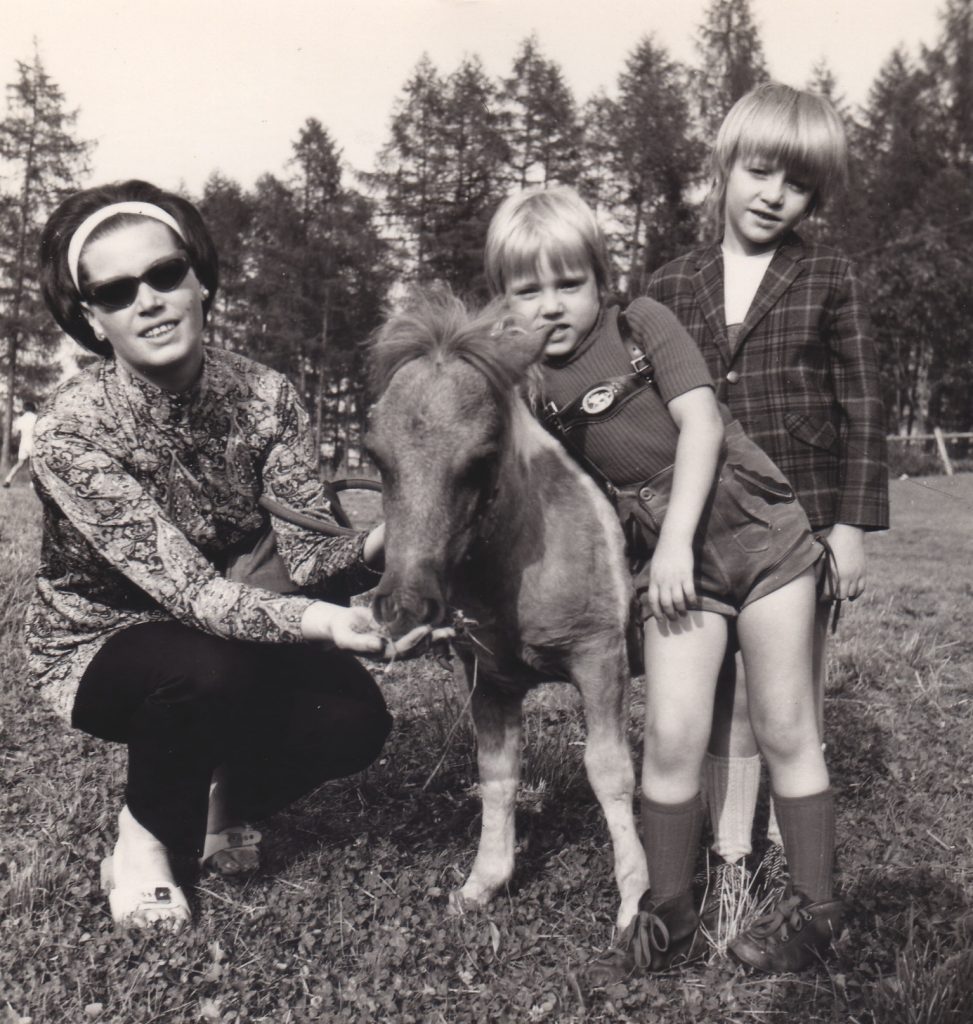 Through your mother, you also tell the story of your family, which is in fact the story of an important moment in the history of Italian immigration to the US.
My father's family is from Treviso, born and bred. It's a well-known and respected family, also in name of the many restoration projects and rescue efforts carried out to save the town's artistic patrimony by Girolamo, Mario and Memi, my ancestors. This great lineage of restorers died with my father, because I chose a different path and became an architect. The economic crisis of a few years ago forced me to close my studio, but at the same time it gave me the opportunity to develop my passion and talent for ink drawing, which I definitely inherited from the artistic side of my family. In 2012, I myself crossed the ocean with Paola and our daughters, Rebecca and Sofia Melissa: I followed my mother's path, that of her family. I moved to friendly Pittsburgh, where I began working as an artist. I felt the need to honor, with this book, the amazing adventure of my mother's ancestors: it's thanks to their tenacity and their courage I inherited my American citizenship which, along with the artistic DNA of the Botter family, allows me to travel from one continent to the other, getting the best of both world for myself and my family.
Your mother traveled between Italy and the US on board of the magnificent Vulcania and Saturnia… what did she tell you about that world, what emotions came with those transatlantic trips?
They had a special place in my mother's memories and narrations. When the Saturnia was finally disarmed, I think actually at Venice's shipyards, she asked her husband to go and see it one last time, almost as if it were a loved one about to pass away. On the walls of its ballrooms, there were also photos of her, along with those of other beautiful passengers. Lyù always remembered the gentlemanliness of Italian sailors, always seeking a romantic adventure… and the kindness of officers, the atmosphere on board, always lively, always elegant. Every time she traveled, she would get an upgrade, "courtesy of the Captain."
What about you, Guglielmo: you were nurtured with both Italian and American culture, how do you live your heritage?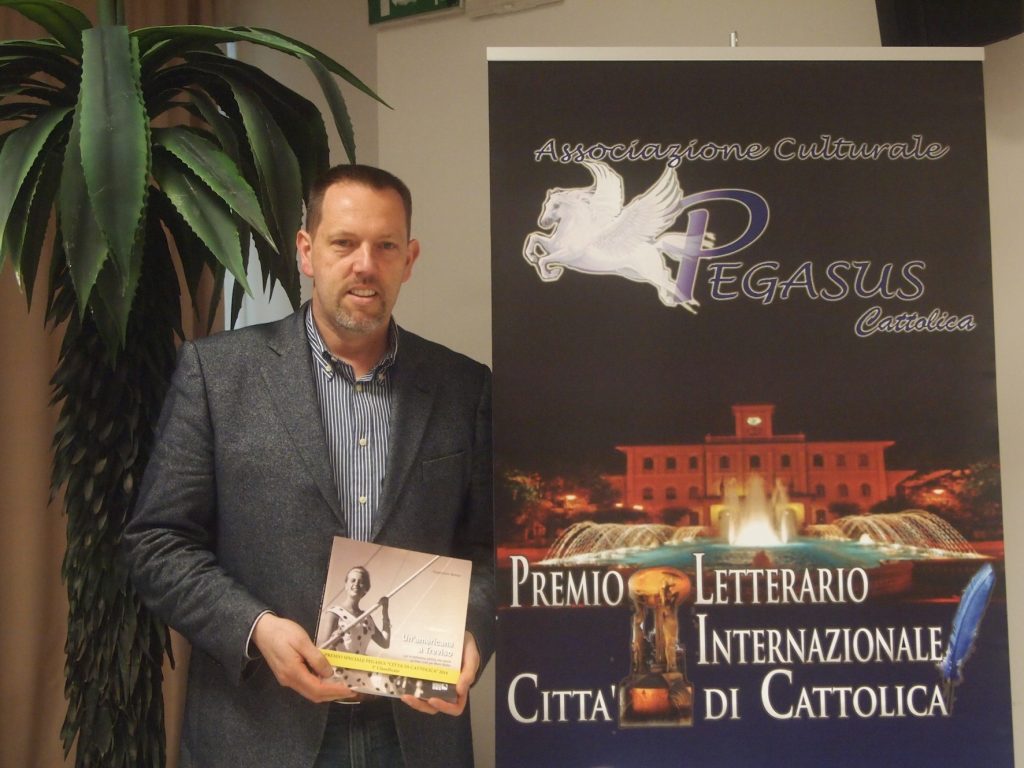 I'm lucky, because I've inherited art and courage. I love drawing and traveling. This mix brought me to visit and draw many American cities and to exhibit my works in many a gallery, in Richmond and Norfolk VA, Pittsburgh, Harrisburg and Lancaster, PA, Washington DC, Lexington, KY, Columbus and Jasper, IN, and Cincinnati, OH. My ink drawings are reproduced on china, postcards, calendars, cards and art prints. Of course, the cultural baggage I acquired in Italy helps me a lot in my relationship with the American public, who is always very interested and positive towards the Italian Heritage.
What's the cultural inheritance you will leave to your daughters? Which heritage does the fifth generation of your Italian-American family hold within?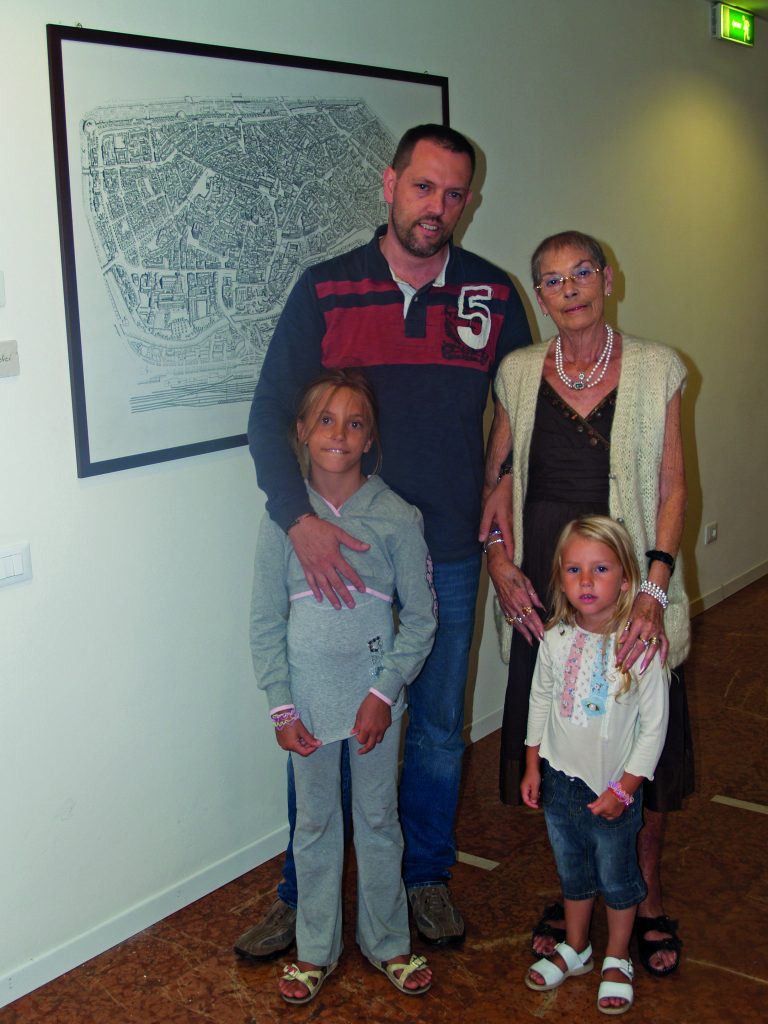 I am America-born, although I've lived in Italy stably. I wanted my children to get their American citizenship, as well as the Italian, so, after my mother passed away, while I was working on her biography, I started to gather all relevant documents. On the 14th of August 2012 we were called to the Office of Homeland Security in Pittsburgh, where Rebecca and Sofia Melissa received their citizenship. Every year, we divide our life between Italy and the US and I must say our daughters have fully embraced the American context, where they are planning to set their future, without abandoning Italy, of course. Every generation of my maternal family moved back and forth between the two continents, and I believe our love for the US and our connection with the Fatherland will never disappear, even in the future. I like to think how my younger daughter, Sofia Melissa, was born on the 17th of December 2006, on the same day the first woman of our family, Maria Comis, arrived to Ellis Island, 106 years earlier. In occasion of her first transatlantic flight, my eldest Rebecca received from my mother the holy picture Maria Comis had with her during all of her trips across the ocean. A girls-only family tradition! Rebecca and Sofia Melissa inherited the same thirst for traveling I have, but they are also very good at drawing, which means their Italian heritage is going to be with them, wherever they decide to go.