Separated by a mere two miles of sparkling sea at its shortest distance, the island of Sicily sits off the toe of Italy's "boot," looking somewhat like a football readied for the punt.
Italian by association, yet distinct and unique in culture, tradition, mindset, and even language, this beautiful Mediterranean Island holds her share of mystique.
Of Italy's 20 regions, Sicily ranks 10th in popularity with tourists. The draws are pretty obvious – amazing food and wine, gorgeous beaches, cool history – yet there are lesser-known bits of intrigue that make the island even more enticing.
Volcanoes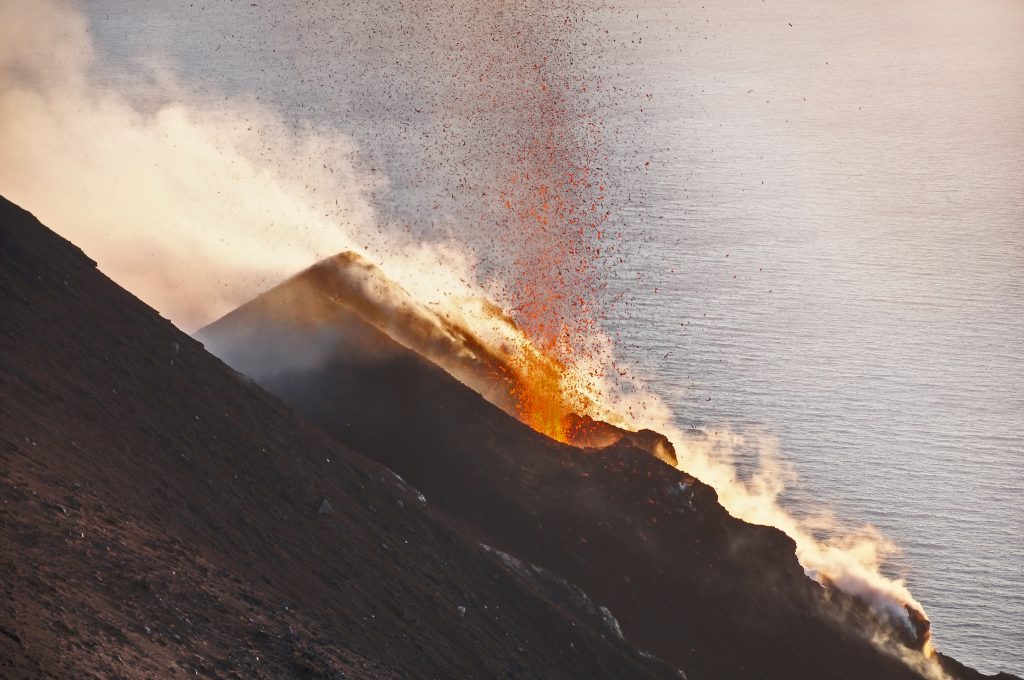 Most folks are aware of Sicily's famous Mt. Etna, that snow-capped peak featured in many Sicilian travel brochures. Known to the locals as "Mongibello," Etna holds rank as Europe's most active volcano, a mighty force for 2,000 years now. But many don't know there are more than 10 other volcanoes on Sicily, as well. Only two others are regularly active, Stromboli and Volcano, and both live on their namesake islands off Sicily's northeastern shore. Much like our Old Faithful, Stromboli typically flares, spews, and sputters almost daily. Interestingly so, the noun "volcano" comes directly from…I'll leave you with one guess!
Love language
Ah, the sonnet. That lyrical rhyming scheme of 14 lines bespeaking love — and created by Sicilian poet Giacomo da Lentini in the 13th century. Derived from the Italian word "sonetto," sonnet stylization became increasingly popularized throughout Europe over ensuing centuries. That English Bard fellow (and quite a few other notable poetic giants) might've had to spend a lot more creative energy if not for Sicily's Giacomo.
Why three legs?
Any search on "the most unusual flags" will unearth a collection guaranteed to include Sicily's striking flag. The unusual centerpiece of three rotating legs surrounding a bodyless head are rich with mythical meaning…and fitting of the Sicilian's pride and tendency to hold fast to superstition. The Trinacria, as the center symbol on the flag is known, features the mythological Medusa – the snake-coiffed goddess known for her abilities to fight the forces of evil, and well…turn men to stone, too. Intertwined ears of corn and sprigs of wheat speak of Sicily's great fertility. The three legs whirling about Medusa's head have ties to ancient symbolism related to time and phases of the moon; however, here they also stand for the three main promontories of the island. The Trinacria, a part of Sicilian culture for as long as anyone knows, was so admired by the visiting Normans in 1072, they borrowed it for use on The Isle of Man's Flag. Perhaps the world's oldest "new" flag, the basic format has represented Sicily since 1282, yet was only officially adopted in 2000. Blame it on island time?
The island(s) of Sicily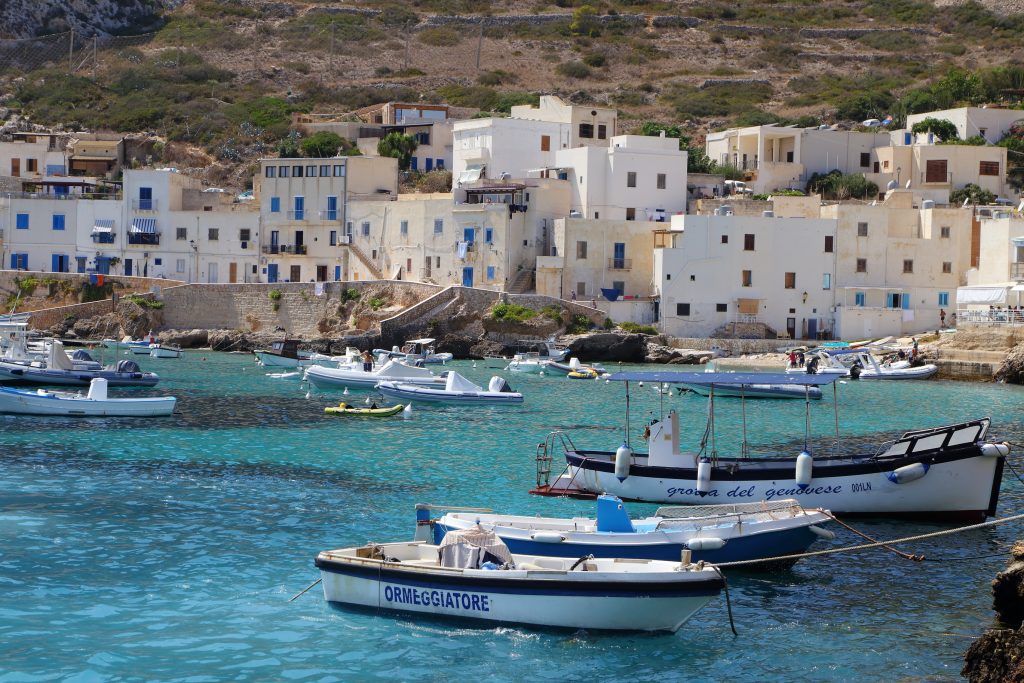 Sicily proudly claims rights as the largest island in the Mediterranean Sea (9,927 sq. miles), but not too many realize she is also big sister to an impressive collection of smaller surrounding islands. Perhaps most well-known are the Aeolian Archipelagos, seven distinct volcanic islands situated off the northeastern coast of Sicily. So unique and spectacular are these, they were declared an UNESCO World Heritage Site in 2000. They are also the most populated of the island groups, even if considered lightly populated comparatively speaking.
To the southwest lay the Pelagie Archipelago. Being tectonically linked to the African continent and a mere 70 miles from Tunisia, the three islands of Lampedusa, Linosa, and Lampione are more akin to stepsisters to Sicily. Idyllic volcanic beaches, unspoiled natural beauty, and slow-paced life attract Italian tourists in the know here. It seems loggerhead turtle moms are fond of the islands, as well. New generations are laid in the sand annually…and lovingly celebrated by local citizens.
The three Egadi Islands hug the west coast of Sicily as if keeping an eye on the salt flats of nearby Trapani. Many Italian tourists seek enjoyment in the pristine waters and relaxed pace of life found here amongst the acclaimed fishermen. Paleolithic and Neolithic families recognized the islands appeal, too. Well preserved cave paintings were discovered as recently as 1949, their charcoal and fat rendered designs revealing everyday work and play.
 Baroque towns 
If the term "baroque" cues images of 3-foot-tall powdered wigs and swirly ornate embellishments, it probably doesn't include a scene set in Sicily. Hold that thought! A powerful earthquake in 1693 essentially destroyed a swath of south-eastern Sicily, all but leveling towns such as Catania and Ragusa. Determined and optimistic, locals combined efforts to rebuild. Baroque style was high European fashion at the time…why not emulate it? Thus, a Sicilian version emerged, resulting in exceptional and unique architecture that now holds UNESCO World Heritage privileges in eight of the area's towns. Out of great tragedy arose captivating structures framed in ornate carvings, grotesque masks, and statuary that would make an ancient Greek jealous.
Si mangia bene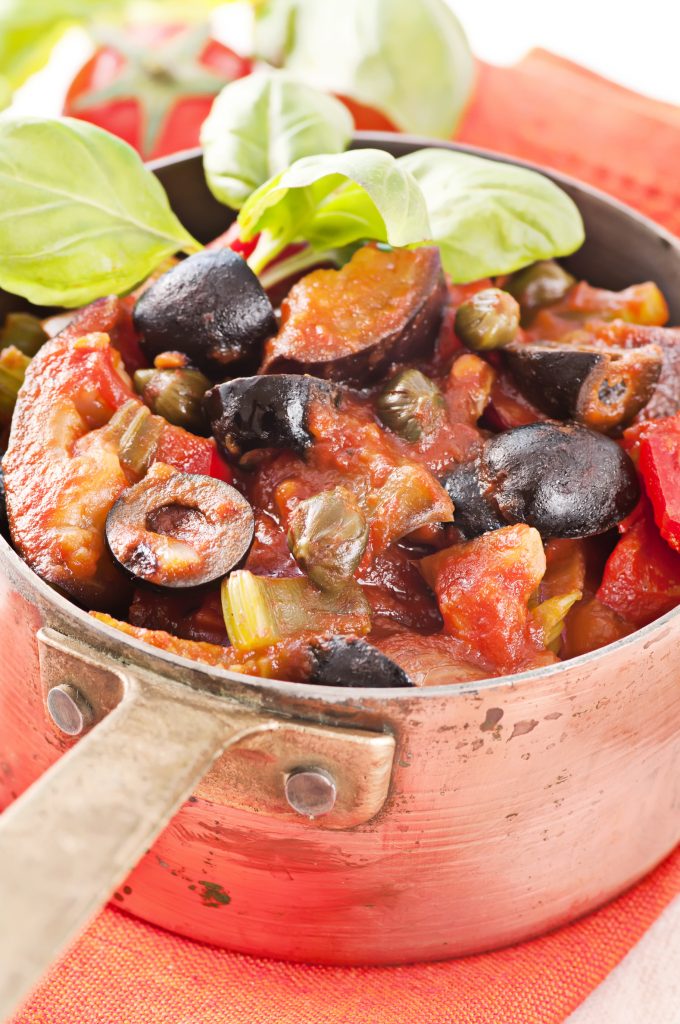 Let's be honest — food is a big part of the draw for any location chosen to explore. Obvious necessity aside, it really is one of life's greatest pleasures…and Sicily, like all of Italy, has her own specialties to share. There are the well-knowns we can thank Sicily for — arancini, those beautifully fried orbs of risotto or ricotta; caponata, a harmonious appetizer blending eggplant, pine nuts, raisins and vinegar; and of course, cannoli and granita. But did you know it's normal to eat ice cream for breakfast? A puffy brioche bursting with a creamy mound of gelato alongside your morning espresso – of course! When noontime hunger sets in, seek out a street vendor for a classic Pani ca Meusa, the equivalent of a Sicilian Big Mac. Steaming layers of cow spleen on a fresh sesame seed bun make for a perennial street food favorite. Naples invented pizza…Sicilians personalized it. Known as sfincione (sponge), tomato sauce and anchovies snuggled atop a thick rectangular pallet of bread provide a chewy feast. Would you believe Spaghetti-O's originated in Sicily? Okay…possibly fake news, but Anelletti al Forno, a specialty from Palermo, very possibly could have spurred Chef Boy-Ar-Dee's imagination. Small rings of pasta known as anelletti combined with a ragù style sauce, peas, and a variety of cheeses, then baked to savory perfection are a Sicilian comfort food favorite.
There is much to discover within captivating Sicily. A confluence of Greek, Arab, Spanish, and Norman influences, Sicilian culture is full of mystique surrounded in rugged beauty. Her people reflect this heritage, as well, in a beautiful mixture of appearances. Proud, vibrant, and ready they await, eager to reveal a few more of the mysteries of their island home.