I feel fortunate to have experienced a completely different way of life in Italy. I was a child in the late 1960s, when many Umbrian villagers still didn't have home ovens and took their bread to the bakery for cooking. Easter was an especially busy time, with women preparing Torta di Pasqua, a leavened cheese bread shaped like a squat panettone and traditionally served for Easter breakfast.
My own dough-making grandmother Maria, required two or three strong people to knead the dough she'd assembled over two days. Rich in eggs, cheese and butter (or lard), the breads rose slowly in their terracotta molds. I loved baking day. We had to pack the breads on a wooden board and cover them with thick towels to make sure they didn't cool and deflate. Then we walked to the bakery, where we'd booked a time slot for the cooking.
By Saturday, everything was finished (to everyone's relief). We'd pack a Torta di Pasqua, a salami, a thick slab of chocolate, a bottle of sweet wine and a few hard-boiled eggs and take them all to the local church for a blessing so that we could have a proper Easter breakfast the next day. The Easter breakfast tradition is still honored in many Umbrian homes even though not everyone makes the torta, which is now available in the supermarkets all year's long. The commercial version however is a pale imitation of the real thing.
This wonderful, rich cheese bread must be started the night before it is baked. Please note that it tastes best a few hours after baking. Young pecorino might be difficult to find, in which case substitute Emmentaler, young provolone or another mild cheese. Also note that pre-grated cheeses have additives to prevent clumping that might affect rising or oven spring.
Ingredients
• 250 g (1/2 lb) all-purpose flour (protein content 11 1/2- 12%), divided
• 100 g (3 1/2 oz) grated cheese (1/2 parmigiano, 1/2 aged pecorino)
• 60 g (2 oz) young pecorino cut into small dice
• 3 eggs
• 30 g (1 oz) softened butter or
lard
• 2 tablespoons olive oil
• 125 ml milk (1/2 cup), divided
• 1 teaspoon salt
• 3 g (3/4 teaspoon) active dry yeast, divided
For this recipe I use a 1.2 liter (4 cups) loaf pan or an 18 cm (7 inches) diameter round cake pan that must be at least 12 cm (5 inches) tall. If you have a choice, please use deep narrow pans in preference to wide shallow ones.
Enriched breads require more steps in preparation, as fats or sugar might prevent fermentation if added too early in the process.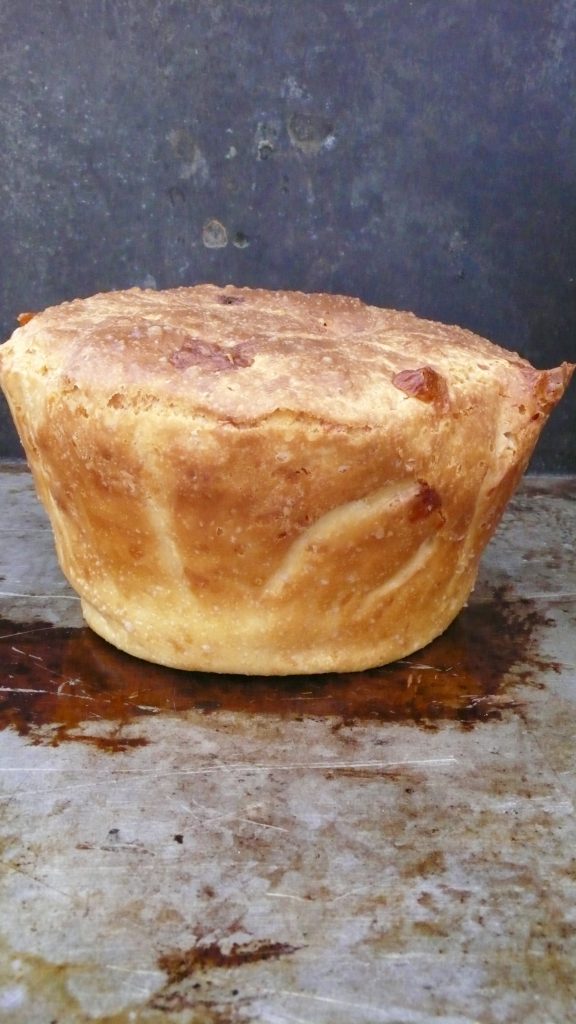 Preparation
Day 1. Evening
Make a bread dough starter using half of the flour, 1/4 teaspoon of yeast and 1/2 to 2/3 of the milk. Different flours will absorb different amounts of liquid. The starter should make a firm and smooth ball, so adjust with more or less milk (by the tablespoon) and knead until you reach the desired consistency.
Please note that you will be adding 3 eggs in the next step, so the starter needs to be firm (but not dry) to prevent a runny final dough.
Coat the dough in 1-2 teaspoons of olive oil, cover with a lid or plastic wrap and place in a draft-free area overnight.
Day 2. Morning
Bring all remaining ingredients to room temperature. Crack open the eggs in a bowl, add the rest of the flour, olive oil, salt, grated cheese, softened butter and 1/2 teaspoon of yeast. Stir well each time you add an ingredient, then add the starter. Keep mixing until all the ingredients are thoroughly incorporated.
The dough should be well-hydrated, so a stand mixer definitely helps as this is quite a sticky dough. If it looks dry, add some milk, a tablespoon at the time.
Finally, add the diced cheese and stir to distribute it through the mixture. Transfer into a well-buttered mold, taking care not to fill it more than half-way. You can also line the mold with parchment paper.
Cover and place in a draft-free environment until the dough fills the mold, 2-4 hours.
Poke test
To assess if the bread is ready to bake, press an oiled finger into the dough. If it's elastic and the mark of your finger disappears, it hasn't fermented long enough. If your finger leaves an indent that stays unchanged, the bread is over-proofed. Ideally, the mark of your finger should not remain in the dough, but spring back partially and leave a shallow indent.
In winter, you might place the dough in a switched off oven with the light on to keep it warm and encourage fermentation.
Pre-heating, steaming and baking
Pre-heat the oven at 200°C (390°F). Once it has reached the temperature, place a pan full of boiling water in the bottom of the oven. Place the mold with the dough inside the oven, and using a spray bottle, quickly spray towards the left and right sides of the oven.
Close the oven door to trap the steam inside and bake for 15 minutes. Remove the pan with water and continue baking for about 45 minutes until the bread is golden brown and the internal temperature measures 98-99°C (209-210°F).
Once cooked, let the torta rest a little and wait until it has retreated from the edges of the mold before place on a cooling rack.
Slice only when completely at room temperature. It will taste best after a few hours and pairs beautifully with red wine and salami, but also with soups and green salads or steamed greens.
Letizia Mattiacci is a cookbook author and owner of Alla Madonna del Piatto Cooking School and Agriturismo in Assisi, Umbria, https://incampagna.com. This recipe has been previously published in Mrs. Mattiacci cookbook entitled "Festa Italiana."