Tomatoes: they come in all shapes and sizes, their color moving from the deepest, brightest red to a golden green, all the way to hues that reach the depth of purples. They can also be yellow, bright, and full of light, just like the sunshine they need to grow flavorful and juicy.
The humble, delicious tomato is the stuff of culinary poetry, but also of that made of words if you think that one of the greatest wordsmiths of contemporary world literature, Pablo Neruda, wrote an ode to it: the tomato "Invades the kitchen,/ it enters at lunchtime,/takes its ease/ on countertops,/ among glasses,/butter dishes,/ blue saltcellars./ It sheds/ its own light,/benign majesty." Sure, the meaning of Neruda's poem runs deeper than the simple – albeit deliciously appealing – celebration of the pomodoro, "the golden apple" as we call them, literally, in Italian but we'll leave the social and political discussion to another day. Instead, we'll focus on how profoundly they are connected to our culture, our food, and also our economy.
Because the connection is there and it runs deep: there isn't a corner of Italy, whether you are in the gentle hills of Piedmont's Langhe or the colorful alleys of lively Palermo, where tomatoes are not grown and consumed in great quantities, a key ingredient for recipes of all kinds, from simple salads, to luscious sauces and stews. Let's face it, tomatoes are almost a synonym with Italian cuisine, yet, they are not "ours" to begin with, they come in fact from the New World, something – I am sure – you already know. The Solanum Racemigerum, that's wild tomatoes for science, are native of western South America, but their cultivation is linked to the Maya, who brought them to Central America, and the Aztecs.
Conquistador Hernan Cortes, sometimes between the late 1510s and the early 1520s, became acquainted with them and, probably around the same period, Spanish missionaries returning from South America to Europe began bringing tomato seeds back home to Spain. Here, they were called tomate – from the Aztec tomatl – with the word being first attested in written form in 1532. But those early tomatoes were not as good as ours, so much so they were considered poisonous by some: mind, they never killed anyone, but probably they had a higher content of solanine – a glycoalkaloid substance found in some species of the nightshade family – than today, which made them hard on unaccustomed European stomachs.
Because Italy and Spain had a very close relationship, tomatoes soon arrived here, too. According to the Museo del Pomodoro, the first "official" mention of them dates 31st of October 1548, when Cosimo de' Medici received a basket of tomatoes grown on his farm in Torre del Gallo, near Florence. But it seems that the first regions they reached were Sicily and Sardinia from where, through commerce, they arrived in Genoa and the North. However, not everyone was fond of the golden apple from South America, and it took a while before we started using it in the kitchen: the earliest recipes date to the 18th century, but its ubiquitous diffusion as an ingredient happened only in the 1800s.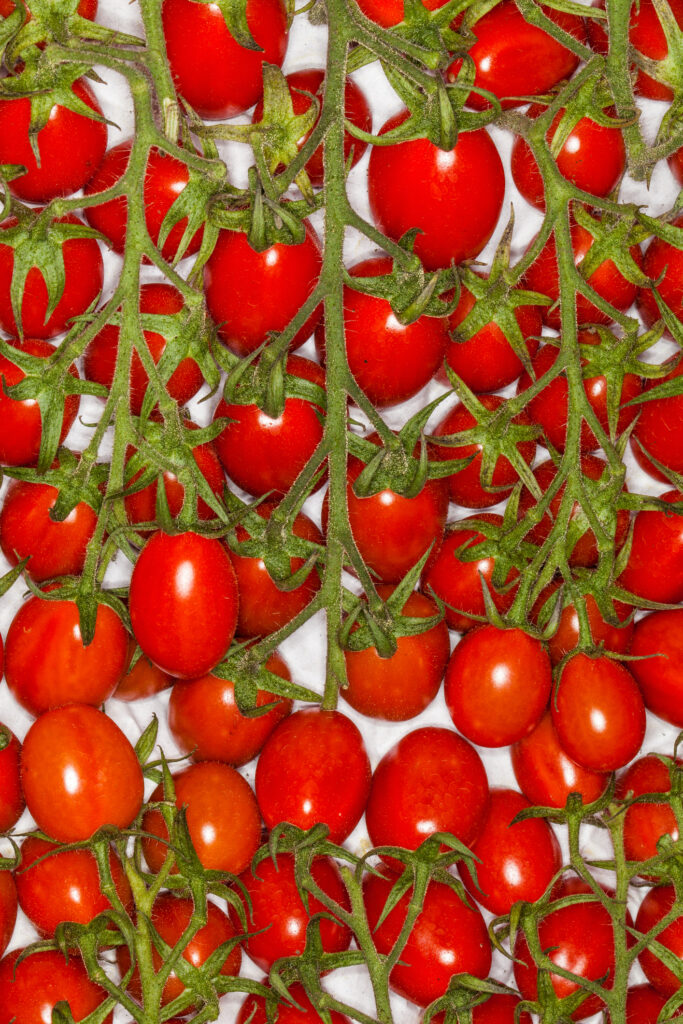 Today, we can count more than 5000 varieties of tomatoes, which differ from one another in size, shape, flavor, and color. In Italy, as you'd expect, we have some of the best, with some more famous than others. For instance, who isn't familiar with pomodori di San Marzano (Salerno, Avellino, Vesuvius areas of Campania) – full name San Marzano dell'Agro Sarnese Nocerino – the oblong, deep red fruit predilected for sauces and salads across the country? Protected by a DOP denomination since 1996, San Marzano tomatoes went through some drama in the past 30 years, because the original species was entirely wiped out in 1991 by an illness. Since then, officially, there are two types of San Marzano (those protected by the DOP denomination), both of which share a good chunk of their genetic outline with the original: the San Marzano 2, and Kiros.
If you came across those little tomatoes gathered together as if in a large, grape-like bunch, then you know what the pomodorino del Piennolo del Vesuvio looks like. Like San Marzanos, they are protected by a DOP denomination (2009), and they are – as you may have guessed from their name – also from Campania. They are very tasty and have a special characteristic: their thicker skin makes them last longer, reason for which they were once considered "winter tomatoes:" indeed, when properly stored, they can last well into the colder months of the year.
If we move to Sicily, we'll meet the ciliegino di Pachino. You definitely know them, because they are the original cherry tomato! Contrarily to other, older varieties, sweet ciliegino, which is grown in Pachino and its surroundings (Siracusa), was brought to Italy from Israel only in 1989. Since then, the pomodori di Pachino gained an IGP denomination and conquered the heart of the country. Pachino is also home to another variety of tomatoes, one that may not be as well known as the one we've just seen, the Marinda, which are very recognizable thanks to their colors: where San Marzano, Pachino, and Piennolo del Vesuvio are unashamedly red, Marinda tomatoes are deep dark orange, with dark green jewel-like overlaying hues. Marinda belongs to the marmade tomato types, which come from France, but found a comfortable second home in Sicily. It is a costoluto, which means it isn't smooth all over like its cousins from Campania and the ciliegino, but rather "segmented" or, indeed, "costoluto." What makes it special is also the fact that, unlikely most tomatoes, it is in season during the winter and the spring, from January to May.
Similar in colors – deep red and deep green – but smooth and small is Sardinia's own tomato, the Camone. Pomodori Camone, just like ciliegino, to which they resemble in size and shape, have been introduced only at the end of the 1980s. Because of their crunchiness, they are usually eaten raw in salads.
Last but not least – especially for me, because they are my favorite – are the large, fleshy, and delicious pomodori cuore di bue (called so because of their size and irregular, often heart-like shape), a variety common especially in the North (Piedmont, Liguria and Tuscany) and on the islands. Its name translates as "beef heart," so you definitely know the cuore di bue, because that's exactly how it's called in English. Cuore di bue are absolutely glorious in salads, they are perfect for sliced Caprese, the one you make by placing a slice of mozzarella on top of a slice of tomato, and they are delicious just like that, raw, with a pinch of salt. Biting into them is one of the simplest, but most satisfying pleasures. Cuore di bue is also very good for sauces, especially when it's riper.