Dear Readers,
As 2022 begins, my little corner of the world, the "Italian Connection" column (since 1977) has been comfortably ensconced in the pages of L'Italo-Americano for nearly forty-five years. Through the years, I have spotlighted subjects from A to Z (Alberobello to Zabaglione) but the column that has generated the most mail and reprint requests since it first appeared in 1999, was my column on tiramisù. Since we can all use a "pick-me-up" in January, here we go again:
Dear Italian Connection,
What exactly is this "tiramisù" dessert I've been finding on restaurant menus lately? Where did it originate? I've looked in a dozen Italian cookbooks and it is nowhere to be found.
M.R.
Cara M.R.,
I know all about tiramisù because about seven years ago, I had the pleasure of meeting (editor in 1999) Mario Trecco's sister Idelma and her husband Vittorio Tortella in San Francisco. They told me that they owned a pastry shop and bar in Pescatina (Verona).
I asked Idelma what was the "specialty of the house," and she said: tiramisù.
As I wanted to know what it was, she told me that Vittorio, her husband, who is the pasticcere (pastry baker) of the house, knew the whole, true story. And he began:
"The first tiramisù was made quite by accident. A group of businessmen concluded a long day by having dinner in the restaurant of Hotel Carletto in Treviso, some 20 miles north of Venice. I knew the chef of that restaurant:  he was also a good pastry baker. At the end of the dinner, the group of men asked the chef, 'Now we need a nice dessert to pick us up!' (The Italian words used were per tirarci su). The chef did not have any ready-made dessert, but he said, 'I'll prepare something for you in no time!'
"He put together some mascarpone (a kind of Italian butter-like ricotta), egg yolks and sugar; he inserted some savoiardi cookies (Lady Fingers) soaked in a coffee-liquor of low alcoholic content, and he served it in a cup, after spraying some whipped cream on top, together with a sprinkle of cocoa powder.
"Before long, this tasty treat, tiramisù, was being duplicated all over Italy."
American food editors who had visited Venice were excitedly telling their American readers about their latest Italian dessert discovery, tiramisù, describing it as a "simple-to-make" luxurious Italian dessert, consisting of alternating layers of mascarpone cheese and Lady Fingers delicately soaked in espresso, with a hint of Marsala or liqueur."
Upscale Italian restaurants from the Atlantic to the Pacific suddenly sprouted tiramisù versions for their menus. Unfortunately, some efforts were more "let me down" than "pick me up."
But practice makes perfect, and some local versions of tiramisù are really quite good.
Since the pandemic,  I have not been on my "tiramisù" tasting trail as much but in the last ten days I have been to Il Fornaio – In Marin County Corte Madea and Vixie – In San Francisco, 3611 California St. and the tiramisù is still superb.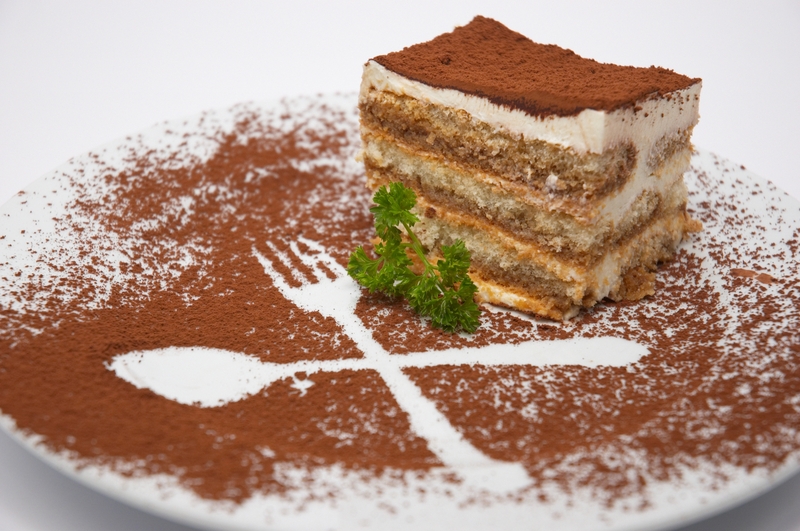 In my reply to Signora M.R. I said:
The reason you cannot find a good tiramisù recipe in most cookbooks is that it is not an old Italian specialty with a long heritage, but a relatively new one, inspired by a tired customer and a pastry baker and his wife in Treviso, who were simply doing their best to provide good old-fashioned customer service.
Since you won't find it in the older cookbooks, here is a recipe for tiramisù that I cut off a package of Lady Finger cookies. You can substitute soft cream cheese or ricotta for the mascarpone cheese if you cannot find it easily, but the quality will suffer. Add a little liqueur to this, if you like.
Tiramisù
(Makes 4 to 6 servings)
7 oz. champagne biscuits or lady Fingers
7 oz. mascarpone (ricotta or cream cheese)
2 eggs, separated
2 oz. of sugar
1 cup of espresso or very strong black coffee
Cocoa for dusting
Separate the eggs, beat egg yolks and sugar together into a smooth creamy consistency. Add the mascarpone cheese and fold in the stiffly beaten egg whites. Soak the Lady Fingers in the coffee.
Line the bottom of an oblong mold or pan with half the Lady Fingers and spread over half the cream mixture. Cover with remaining Lady Fingers and rest of the cream mixture.
Dust top with cocoa. Chill until served.
I suggest that you use a package of Matilde Vincenzi champagne Lady Fingers biscuits imported from Giovanni Lupatoto, Verona, if you can find them, but any Lady Fingers are fine.
Since the 1990s, tiramisù has become very popular, and it's even been prepared by Nick Stellino on Oprah's TV program in a low-calorie version. I think they used egg whites and reduced the amount of whipping cream.
In the meantime, do your own thing. I like mine heavy on the soaked-with-espresso Lady Fingers, and topped with ground chocolate chips, cocoa, and coffee beans, not quite the low-calorie version but a pick-me-up it does deliver…