The Poor Clare Sisters of the Monastery of Turi – beautiful, with its cloister and annexed Saint Clare Church – have considered prayer and work a holy blessing, living in full harmony with Saint Clare rule and Saint Benedict's Ora et Labora, for the past three centuries.
While living in a cloistered community had strict rules, the nuns found autonomy enough, between a prayer and a chant, to manage all the convent's activities. A great part of their time was spent in the kitchen, as they were keen on the arts of cooking and baking: the fire in their stoves and ovens kindled with coal and wood, they'd use old cauldrons and baking trays, stone pestles, molds, pans, wood and copper ladles to make ancient, secret recipes rooted in tradition.
The monastery's kitchen and bakery were characterized by a strong sense of community and represented an essential element, also architecturally, around which all other spaces and activities developed.
Among the many traditional recipes prepared with almonds and sugar, there was one made with marzipan cooked with egg yolks and filled with cherry jam or in syrup: the faldacchea di Turi, or "la faldacchèje," in the local dialect.
A sweet tradition born in the convent that, in time, became an icon of Turi's culinary heritage.
After a centuries-long history, with the Unification of Italy the Poor Clare sisters' monastery was the victim of the leggi eversive, promulgated on the 7th of July 1866, that were eventually to lead to the suppression of all religious institutions and the seizing of all properties. In 1892, the monastery was acquired by Turi city council and, around the end of the 19th century, all nuns were forced to leave the monastery for good. Among them, Mother Abbess Angelina Perfido, choir member Vincenza De Robertis, then Clementina Aceto, Maria Cherubina and Vita Domenica Iacovazzi, Rosa and Clementina Tateo, Maria Vittoria Dell'Aera, Marianna D'Aprile, Maria Consiglia Lopinto, Rosalba Melosci, Rosa Lefemmine, Mariangela D'Addabbo, Anna Lucia Casavola and a young collaborator of theirs from Turi, Anna Antonia Martinelli.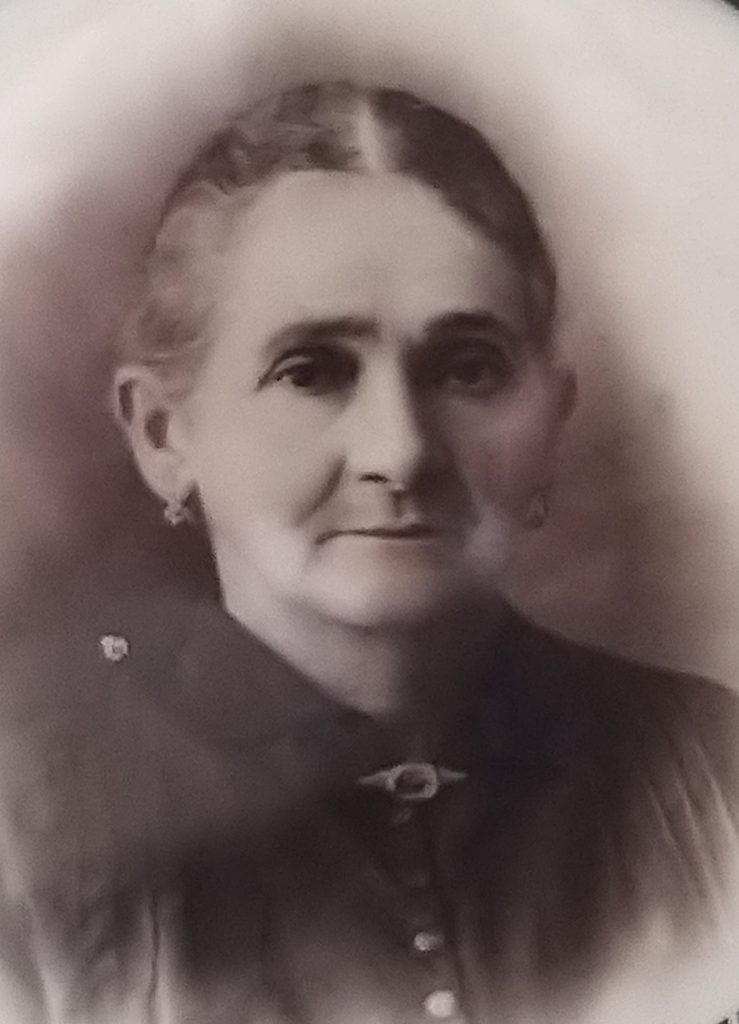 Turi, 1887: Anna Antonia Martinelli brings the secret recipe of faldacchea out of the convent
The first name to know when it comes to the origins of Turi's faldacchea is certainly Anna Antonia Martinella, born in 1870 and known in town as "la monecacèdde" (the tiny nun), because of her willowy figure and connection with the nuns of the convent.
In spite of spending regular time there, Anna Antonia Martinelli never became a nun. Her presence in the convent is confirmed by a manuscript kept in the archives of the Conversano Diocese, which attests that, in 1887, ecclesiastical authorities allowed Martinelli, then 16, to become part of the convent's community with the duty to care for two cloistered nuns, Maria Vittoria Dell'Aera, 80, and her niece, choir member Marianna D'Aprile.
From then until the end of the 1800s, Anna Antonia Martinelli never left Turi and would spend time in the convent daily.
This is when young Antonia learned the ancient culinary secrets jealously kept by the nuns. Among them, sister Vincenza de Robertis (1837- 1910), a cloistered nun from Turi, who was passionate about cooking and, in particular, about making marzipan-based sweet treats.
Thanks to Martinelli's foresight, the faldacchea — and other recipes — left the cloister and slowly became popular among the young women of Turi.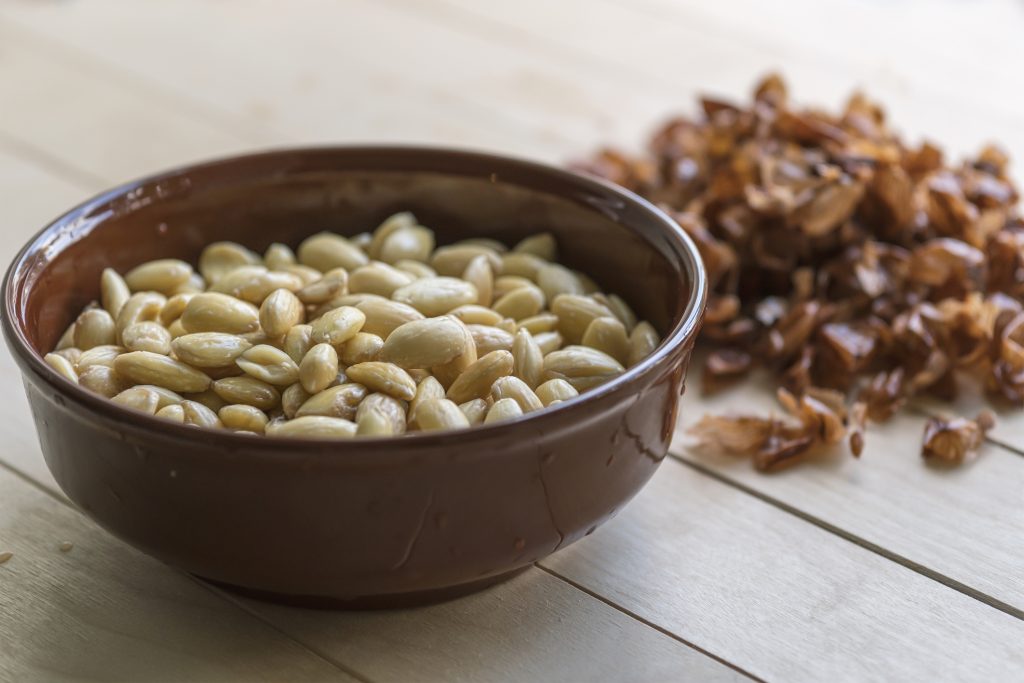 In 1892, Anna Antonia Martinelli married Giovanni Zita and created a small home bakery in her house, near the Turi Town Hall. Here, she kept experimenting with all she had learned during her years at the convent: bread, fresh pasta, taralli, nougats and, more importantly, she specialized in the production of traditional almond desserts, including the extraordinary faldacchea. In time, this tiny home bakery, always filled with the scent of spices, became a sort of professional school for local young girls, eager to learn about patisserie.
Faldacchea is a true delicacy to be enjoyed in all seasons. It is strictly associated with weddings, often given to relatives and friends as a precious favor, as a "thank you" and to wish good fortune.
I have received a precious testimony about faldacchea from Simeone Maggiolini, born in 1931, who still remembers how his own mother, Crescenza Busco, would recall the times when, during her youth, she would help Martinelli doing housework and preparing bread and cakes.
Crescenza could observe Antonia while cooking, in particular, she could observe all the secrets and tricks the monecacèdde tried. Simeone remembers his mother used to tell him about the times Antonia would crush almonds in a large stone mortar after she had boiled and peeled them. The precious fruit, which her husband Giovanni would provide, was rigorously grown in the Turi area, long known for its production of good almonds.
The monecacèdde's disciples and the secrets of patisserie
Grazia Cipriani, born in 1902, was one of the first local girls to learn from Martinelli. Since her teens, Grazia would follow Antonia's lessons, learning all the secrets to prepare traditional desserts and Turi's own faldacchea. In 1920, she married Vincenzo Miccolis and set up a small home bakery in her house. In the 1960s, she and Vincenzo were to open the Sala Moderna in Conversano, one of the first reception halls in the southeast of the Bari province.
Angela Zita, known as Angelina and born in 1911, was the maternal grandmother of baker Marisa Mastronardi, of the Bar Ragno. Angelina was the cousin of Martinelli and, from her, she received the recipe for faldacchea. As you'd expect from any good baker, she created her own version of faldacchea, made by adding a thin layer of cocoa before rolling marzipan in gileppe (a traditional sugar glaze from the South of Italy) or royal icing.
Antonia Adele Dragone (1920-2019), known as Ninetta, was — along with Grazia Cipriani — one of the first girls from Turi to learn in Anna Antonia Martinelli's bakery. In the 1930s, she frequented Martinelli's home with her sisters, Amalia and Assunta. Ninetta can be considered a true pioneer of Turi's faldacchea. When she was very young, she worked for Marquise Fiorenza Husted, in Palazzo Venusio, where she would help in the kitchen and baked a variety of cakes. Moreover, she was in high demand to organize wedding receptions. Often, she was brought to the farm where the wedding reception would take place by buggy and there, she would prepare many a delicacy to offer the guests: small parcels of oven-baked pasta, calzoni,  meat pies, sandwiches, cakes, traditional desserts and, of course, Turi's faldacchea, which she would finely decorate, white on white, with scherzetti, a term she invented herself to define the delicate motifs she'd make on the faldacchea using royal icing. And it is Ninetta Dragone herself who introduced pan di Spagna soaked in alchermes in the filling of faldacchea. In fact, alchermes is an ingredient typical of Turi's faldacchea.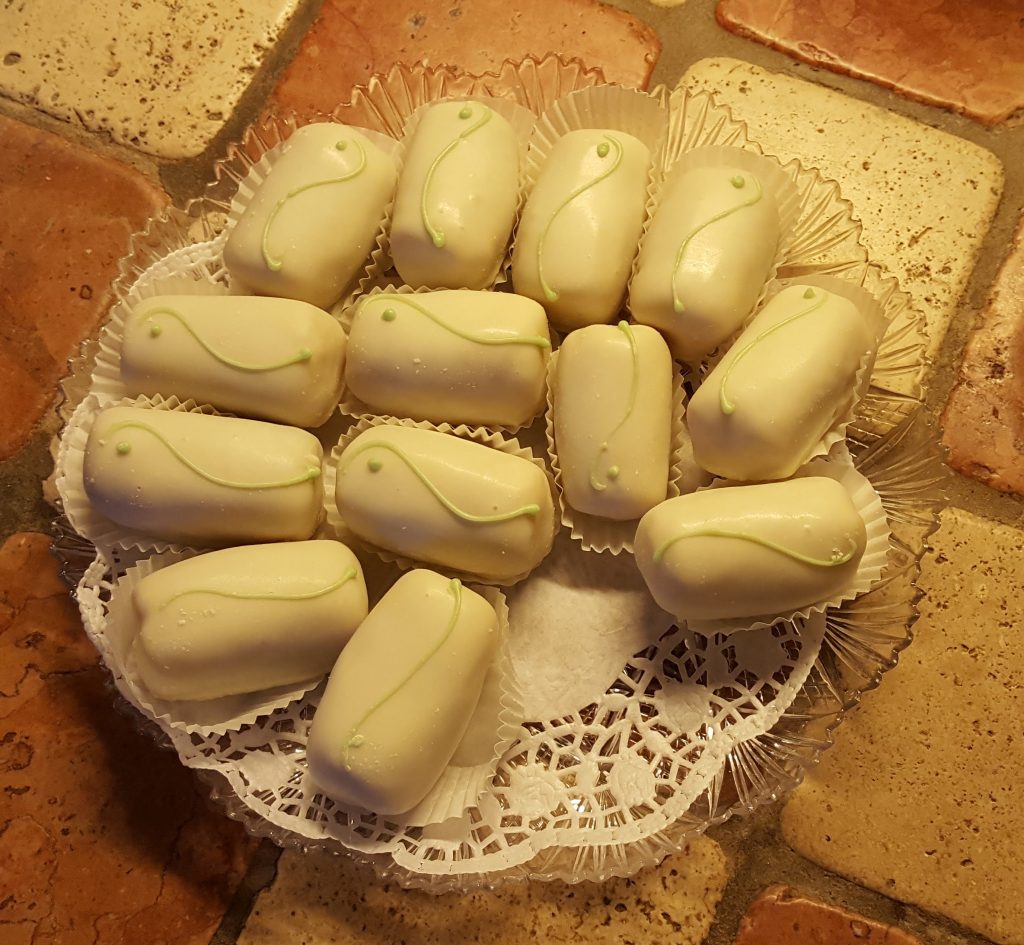 When she felt she had enough experience, Ninetta decided to open her own bakery, first in a small store in Via Lezzi, not far from her home; later, she was to buy the Bar Savoia and an annexed apartment, where she moved.
In the 1970s, after selling the café, she moved to a new home that once belonged to pharmacist Vito D'Aprile and to beloved Oronzo Daddabbo. Here, at Villa Dragone, she opened her bakery again.
Lucia Massaro was born in 1948. She learned the art of patisserie from Ninetta Dragone, with whom she worked when she was very young, for 6 or 7 years. Then, she moved on to Sala Moderna in Conversano, managed by Grazia Cipriani. In the early 1970s, Lucia returned to Turi to start her own business. Her bakery is still going strong today, and Lucia is known for her attention to tradition, her ability in making faldacchea and other traditional cakes.
Margherita Costantini (known as Rita), born in 1932, is the daughter of ice cream maker and café owner Trifone Costantini. In the early days of his career, Trifone used to make a delicious almond nougat, which he would then sell on trains. In the 1940s, he also had a stall in Bari, in Corso Cavour, where he would sell nougat, almonds, hazelnuts, and candies bought from don Beniamino u marinarìdd.
In the 1940s, young Rita, already keen on following her dad's steps in the world of patisserie, would go to Bari every day, to the Novecento Café-Bakery, with the aim of learning the trade. After a few years of apprenticeship, she returned to Turi and started producing traditional sweets and cakes for receptions and celebrations, weddings in particular. She was especially famous for her faldacchea and, soon enough, she became herself a mentor and teacher to many young women from Turi and the whole Bari province.
Vincenza Carenza (1921-2010) was an excellent patissière who, with passion and dedication, produced for decades almond-based cakes and a most refined faldacchea.
Aurelia Lieggi, born in 1940, is a determined and work-oriented woman. At the end of the 1970s, she started her career as a patissière by preparing faldacchea and other traditional almond desserts directly at her customers' homes. In 1980, she opened her own bakery at home, in Via Forno Comunale. Today, her art is kept alive by her daughters Stella and Anna Maria Verna, owners of the bakery Aurelia.
The monecacèdde's legacy and that of her many students has been kept alive by a new generation of young Turi bakers, among whom we should remember Marilena Catucci, of Cristalli di Zucchero, Luciana Cistulli, of Luciana Dolci, and Angela Iacovazzi of Bar Iacovazzi. With their dedication and work, they all keep our ancient traditions alive, along with the recipe of Turi's faldacchea, an authentic delicacy, and excellence of Puglia's culinary heritage.
Recently, we created a cultural association, La Faldacchea di Turi: Storia, Tradizioni, Territorio. Our aim is to pass on our tradition to the next generations, to bring value and promote faldacchea, an extraordinary traditional dessert and an icon of our culinary history. The association wants to promote and value our territory and, in particular, our incredible agri-food products. A mission and a social and cultural duty to ensure our identity and traditions are passed on.
Etymology
The term faldacchea likely derives from the Spanish faldiquera or faltriquera, an accessory usually worn by women under their apron or skirt. It's a sort of fabric pocket, often finely embroidered. It was used to keep small objects useful on a day-to-day basis, but also to keep a type of sweet called huevos de faldiquera, which are still produced today in many Spanish monasteries. This specific etymology is reinforced not only by the linguistic assonance but also by the fact our faldacchea looks like a pocket, as the marzipan is filled with black cherries and pan di Spagna imbued in alchermes.