Turi, and the whole area around Bari, has cultivated cherries for more than a century. Soil and micro-climate is what makes them special.
At the beginning of the 1900s, the vast majority of cherries produced in Turi and in other areas of Puglia was sulfurized and sold on the northern Italian and international markets. The cherries from Turi were of different cultivars: molfettese, ruvo, testa di siepe, francia, San Nicola, limone, zuccaro, montagnola, napoletana, masciarola. Puglia's cherry production mostly served the preserves industry, and was used to make jams, candied fruits and syrups.
Our cherries were sent to foreign and northern Italian markets exclusively with the ferrovia, by railway, on freight wagons refrigerated to a stable temperature, necessary to keep these fragile fruit fresh.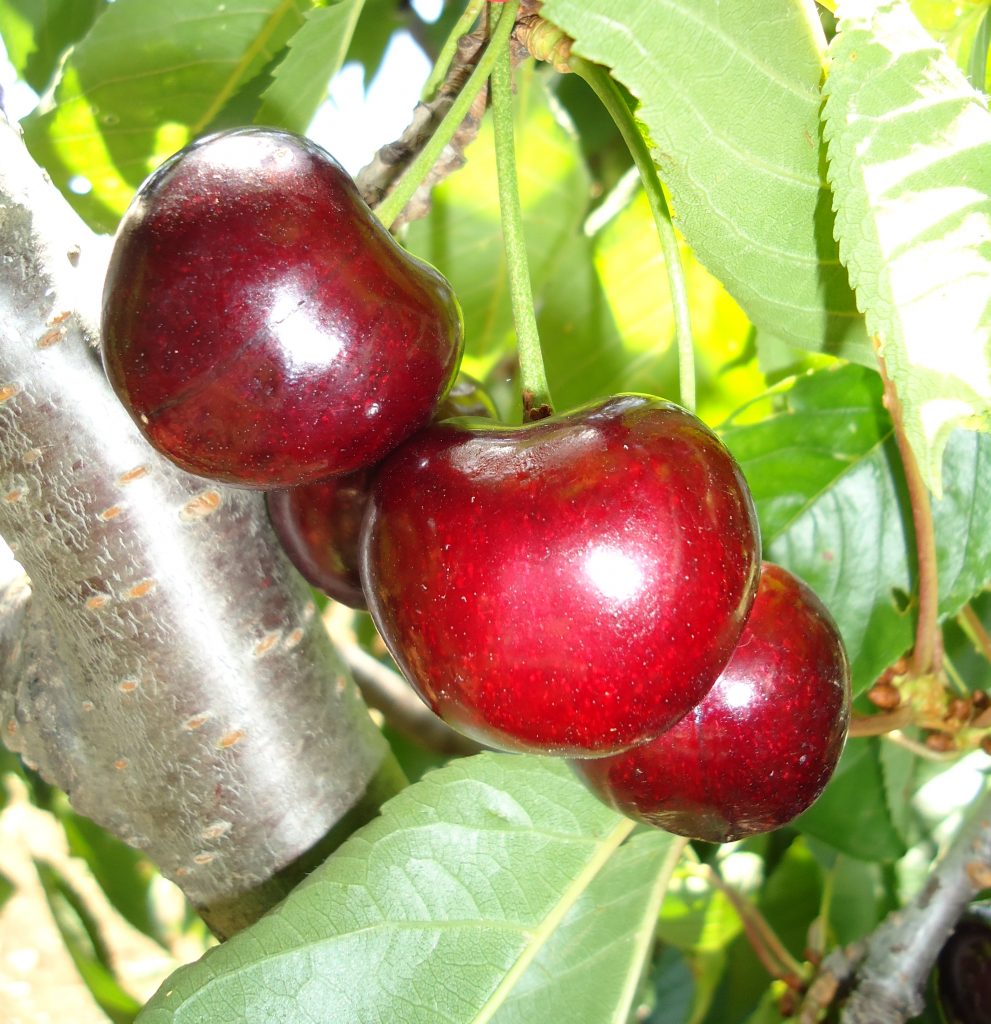 Transporting cherries wasn't an easy task: may it suffice to say that it would take eight days for them to travel from Puglia to the UK. During the months of May and June, cherries would often spoil in spite of traveling in well ventilated, cool wagons, and would reach their destination rotten. In the 1930s, the UK would receive great quantities of sulfurized cherries, especially from the South of Italy, which were usually transported in barrels filled with salted water. Once they were in Britain, the cherries were used to produce jams, candied fruit and syrups.
Only a small part of the fresh cherries picked by our farmers were sold on the local market. Because of their high price, not everyone could afford this precious fruit.
It is towards the end of the 1930s, in a small field in the Prociere borough of Turi, belonging to Modesto Valentini (Anzìdde-Anzìdde) that, likely by chance, the beautiful and charming story of our famous ferrovia di Turi cherry began. It is told that the early protagonists of this tale were Giovanni Arrè and his brother-in-law, Matteo Di Venere, both farmers in Turi who, after having some of their uncle Modesto's cherries with their frugal meal, thought to sow their stones under a small mound of rocks. With appropriate care, and after a year, the seeds sprouted and, later, a small plant began yielding a very special fruit.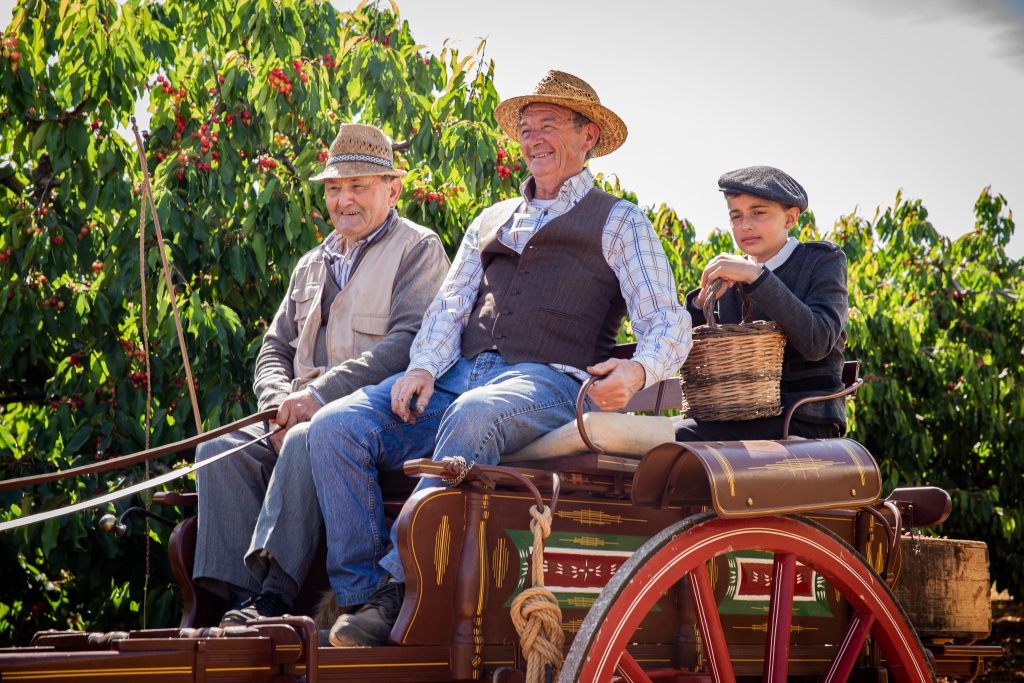 We spoke about this beautiful, real life tale with two experienced farmers, who explained how, thanks to the work of Mother Nature and the rules of botanic, those seeds –which belonged to the ruvo-capa di serpe variety — gave us the ferrovia cherry.
Words of Giovanni Cazzetta, born in 1939, farmer from Turi
"My grandfather's name was Giovanni Arrè and he was a farmer. Towards the end of the '30s, in May or June, he and his brother-in-law Matteo Di Venere went to work on their cart, in a field that belonged to Di Venere, in the Prociere borough. It was a small farm that Di Venere inherited from his uncle Modesto Valentini. After a few hours of work in the fields, the two stopped for some rest and a snack, which they consumed on a stone seat, placed inside the dry stone wall. Not too far, there was a small mound of stones. At the end of their meal, they ate a handful of cherries and then decided to sow their stones near those rocks, saying vedime ce av'assìje, let's see what comes out of it.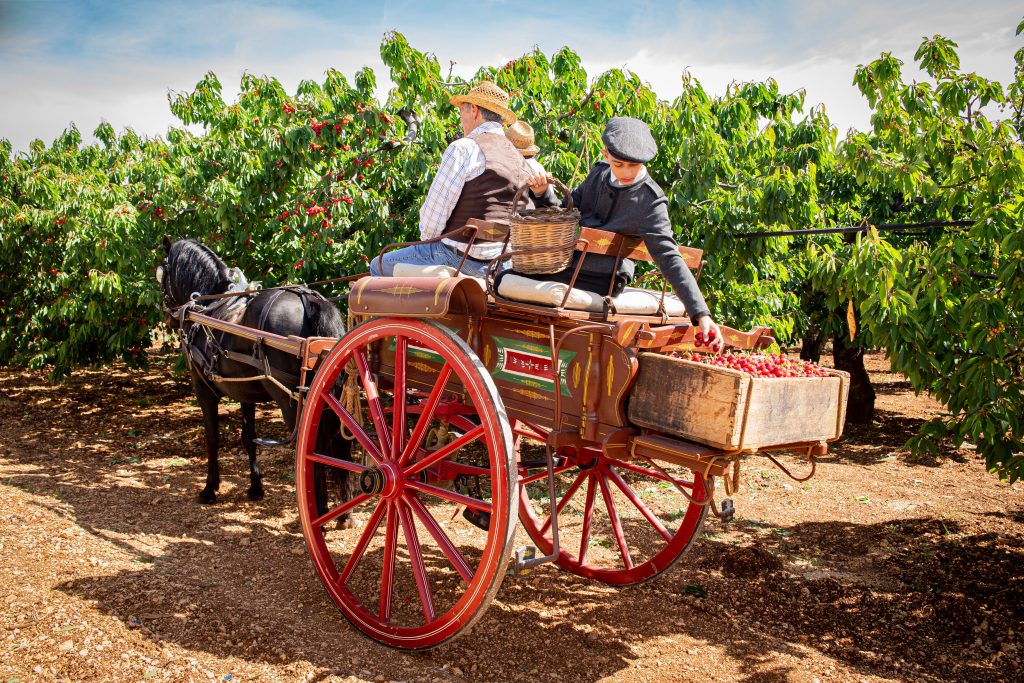 "A year later, the cherry stones sprouted and, after another five or six years of tender care, a small plant began yielding the first cherries. Thanks to their experience, the two farmers immediately appreciated the characteristics of the new cherries: their shape, their flavor and especially their texture. After another four years, their young cherry tree could produce a lot of fruits and, one day in June, the two farmers finally filled a whole basket with beautiful, red cherries. To make sure their beauty didn't get spoiled, they placed them carefully on a bed of hay and then brought them to the local market to sell them. In those times, the cherry market was held in Turi's Piazza San Giovanni 'sobbe o trèppizze.'
"Once in the square, they met a villager, some Vito Simone, the head of all porters in Turi and a trader of cherries, almonds and olives. When he saw the cherries Arrè and Di Venere had on their cart he said 'Matteo c'è gerèse pùurte sòbbe o traìne,' what cherries are those on your cart? And Matteo, a tad lost for words, answered 'Vito gerèse sònde,' Vito, cherries they are! That's when Vito Simone tried a couple and said 'This is a good cherry and it's strong! Matteo, these cherries are perfect to be transported by rail."
Words of Franco Giannini, born in 1931, farmer from Turi
"I can confirm Giovanni Cazzetta's story entirely. Around the end of the 1970s, I was the president of Turi's section of Coltivatori Diretti (Italy's self-employed farmers' association). One day, I went to Matteo Di Venere's farm with a young collaborator, Vito Orlando. There, according to Tommaso Arrè, a local grafter, was the first ferrovia cherries tree. It was an old tree that grew from a small mound of stones. I remember that many farmers from Turi had been asking Di Venere's son for the tree's slips to graft. That day, we took some pictures, had some enlarged, and put one on the wall of our office. Since the 1960s, the ferrovia variety became common in all nearby villages, and popular across national and international markets."
There are plenty more stories about the ferrovia cherry, but none of them is officially documented.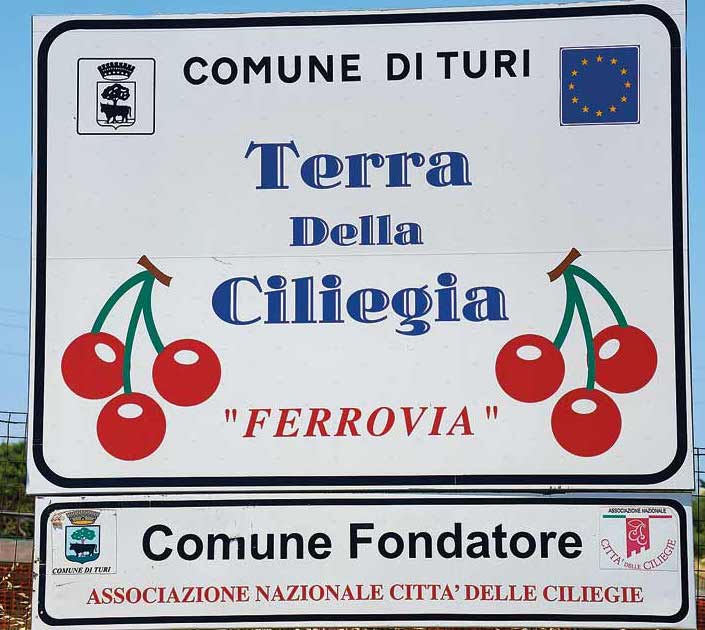 Parochialisms aside, it's easy to see, in these two farmers' tales, an important side of our territory, a sincere, direct narrative. It is also important to remember that, at the beginning of the '50s, some farmers from Turi would bring ferrovia cherry slips to other towns' markets to sell for grafting. A branch with 15 buds would sell for 50 liras. But it is also thanks to that picture taken in the 1970s that the history of this extraordinary local cherry variety, born by chance in Turi, became richer.
The ferrovia cherry, with its unmistakable flavor, its beauty and its size that goes from 28 to 30 mm (over one inch in diameter), remained an elite cultivar throughout the decades, and it is a name today cloned and inappropriately used across Italy.
Nowadays, 3,800 hectares of land around Turi are cherry orchards: each year, they produce an average of 10,000 tons of cherries. The Turi's ferrovia cherry can be found both in Italy and abroad and is considered a high-quality product everywhere. When it comes to cherries, it can truly be defined the "Queen of Queens."