Growing up in a Sicilian-American family, holidays were always an event to savor. As a child, days leading up to a special event were spent with my nonna and her sisters in the kitchen preparing each dish. These dishes were never from a written down recipe, but always from memory; a pinch of this, a little of that, my nonna would tell me. Quanto basta, piu o meno. With each dish we prepared, a feast of delicious Sicilian dishes would emerge. My mouth would water in anticipation of that first delicious bite, the best bite.
Spiedini, also known as involtini and spitini, is simply a rolled and skewered piece of breaded meat or fish that is stuffed with a few special ingredients on a wooden skewer with bay leaves and onion between each delicious roll.
Spiedini making is an assembly line of controlled chaos. I remember pounding the life out of the poor meat, breadcrumbs flying about, and slicing and dicing of delicious fillings that were tucked safely into the rolled meat before grilling (in the summer) or baked in the oven (for winter).
Origins of spiedini
The origin of this recipe is in Palermo, the regional capital, and uses some of the typical ingredients of local cuisine, such as caciocavallo or pine nuts. Popular in restaurants as well as with home cooks, spiedini is adapted based on the availability of ingredients and the region, based on the tastes and availability of fresh local ingredients across Sicily.
In Palermo, you will find spiedini filled with breadcrumbs, caciocavallo, raisins, pine nuts onion and parsley. in Trapani, the spiedini is filled with a similar stuffing, but with the addition of lemon or orange zest. While in Trapani the spiedini is pizzicato with a fresh and fruity punch, in my family's town the spiedini can be made with meat or fresh fish and filled with layers of prosciutto, pine nuts, and cherry tomato.
The spiedinis made in our home were adapted to work with the ingredients that were available. Our family also adjusted the recipe to suit our Americanized palate, while retaining and respecting the traditional flavors one would find in the old country, such as filling the spiedini with fresh tomato, mozzarella, a sliver of onion, and a little hard-boiled egg.
When making the spiedini, feel free to have a little fun and adjust the filling with ingredients such as tomato, different cheeses, onion, fresh herbs, and nuts.
Today, spiedini can be found across Sicily, often sold pre-made at the local butcher and markets. However, making the spiedini at home could not be easier. It might be a bit messier, but it's still simple enough for even the most unskilled home cook. And the satisfaction of making them at home just can't be beaten.
My advice? Make the recipe in bulk and freeze the extras to be enjoyed anytime. This is a treat you're going to want to enjoy again, and again…and again. Make a side of roasted potatoes with rosemary and a fresh fennel and blood orange salad and you're set. All that's missing is a chilled bottle of cataratto.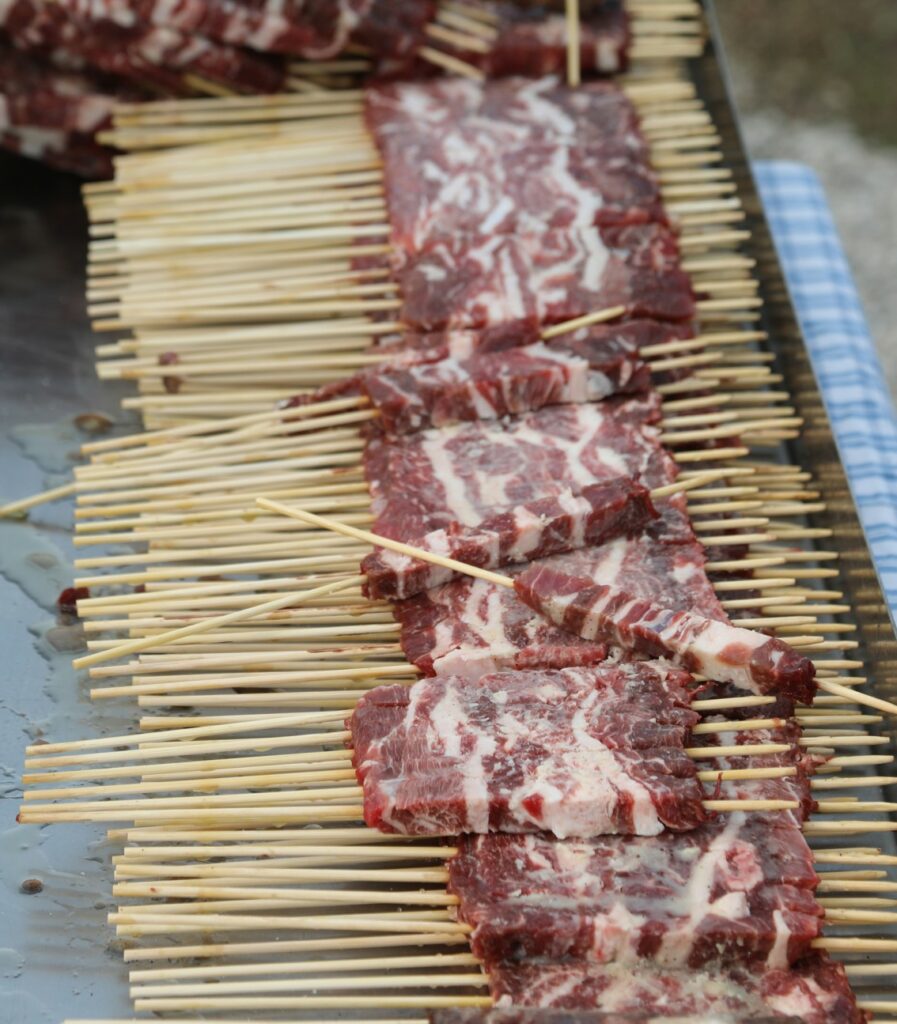 The recipe
Sadly, my nonna did not write down her recipe, but after years of watching and helping, I am proud to share a recipe based on my nonna's with a little help from my friends at Saputo Macelleria in Terrasini, Sicily.
Think about inviting family and friends to help with the recipe. Make sure to prepare enough for everyone to take a batch home to enjoy for another day.
Spiedini (Terrasini Style)
Beef: 20 very thin slices
Bread crumbs: 100 g/ ¾ cup
Raisins: 2 tbsp
Pine nuts: 2 tbsp
Pecorino or substitute: 200 g/ 2 cup
Cherry tomato: 150 g/ 1 ½ cup
Onion: 2
Fresh bay leaves: to taste
Extra virgin olive oil: to taste
Salt: to taste
Black pepper: to taste
Soak the raisins in a small bowl with warm water. Coarsely grate the pecorino. Finely chop the onion and fry with a drizzle of olive oil until it is well wilted. Add the onions to the cheese. Strain the raisins and add the onion/cheese mix to the raisins and the pine nuts. Finely chop the tomato and add it to the stuffing mix as well. Add salt, pepper and mix well, adding a little oil if necessary, until you get a malleable and moist dough. (feel free to substitute your filling to match what is seasonal and fits your taste).
Place the meat slices on a flat work surface. First, brush the meat slices with a little olive oil and then dip into the stuffing mixture, making sure to fully coat the meat. Next add the filling to the center of each slice of meat.
Close the roll by first closing the long side and then the short side. This is done to make sure the filling doesn't escape while cooking. If you've made braciole, the process of closing the rolls is very similar. Once all the rolls have been prepared, alternate them on a baking pan previously greased with oil. Sprinkle the pan with bay leaves and raw onion petals.
Arrange the rolls in a baking dish or on a baking sheet, drizzle with oil and cook on the top shelf of the oven with the grill only at 250 ° C/480 F. As soon as the surface of the meat is golden, turn them and brown the other part as well, about 20 minutes total.
E adesso, MANGIA! Buon appetito!
Jennifer Sontag, a serial entrepreneur, is the owner of Italian Citizenship Concierge, a bespoke citizenship agency that helps Italian Americans gain citizenship in Italy through Jure Sanguinis. Currently living in Terrasini, Sicily, Jennifer sets out to help her clients gain a new outlook on life in Italy. Jennifer grew up in a big Italian American family where her nonna and 9 sisters would spend their days preparing delicious meals to share with family. Mamma to 2 beautiful adults, and nonna to adorable Oliver. Jennifer has a passion for all things Sicilian and loves to enjoy good food and wine with friends.