Eating in Italy is one of life's greatest pleasures. And eating seasonally in Italy is off the charts delicious. Bright red, ripe tomatoes. Sweet, ripe strawberries picked at their peak. Melanzane pa0cked with a smoky punch. MAMMA MIA, ma quanto è buono! My counter is filled with beautiful, rainbow colors. It is a feast for the senses and the eyes: deep and delicious flavors bursting with fragrance and striking colors, food can truly be inspiring if you look at it through the eyes of an Italian.
Eating seasonally in Italy borders somewhat on obsession. Don't even try mentioning to another Italian eating broccoli in the summer (it's not in season!) or zucchini in the winter (again, technically, not in season). But hey, it's an obsession I am happy to get on board with. Today's recipe is perfect for a hot summer day after the beach: the beloved peperoni ripieni. I don't know about you, but this is one of my all-time favorites and if you're like me, it's impossible to stop at only one…or two…or three. They're just so good!
The ingredients are best fresh from the garden or the local market. Don't even think about using those cellophane-wrapped three packs of peppers. Take a drive out to the country farm stand to pick up a few peperoni and heck, throw in a kilo of tomatoes (they are in season, too). No matter where you are around the world, look for local in-season ingredients, you will taste the difference.
Peperoni ripieni are perfect to serve friends and family who stop over for lunch or a light dinner after a day at the beach. They can easily be made in advance and, for me, they usually even taste better the next day. Just a few simple steps in the morning will allow me to have a meal that is delicious and beautiful. And the fact I can serve them quickly without a lot of fuss is just another bonus.
This recipe is a play on my Sicilian nonna's peperoni ripieni– note the anelletti and caciocavallo. Like most recipes in Italy, each region has its own version. Another classic take on peperoni ripieni is the Campania style (with toasted bread crumbs and anchovies) or the Pugliese style made with leftover soaked bread. The way you choose to make it your own is up to you, but what matters is that it's made with love. That's the real special ingredient in Italian cooking.
Recipe for Peperoni ripieni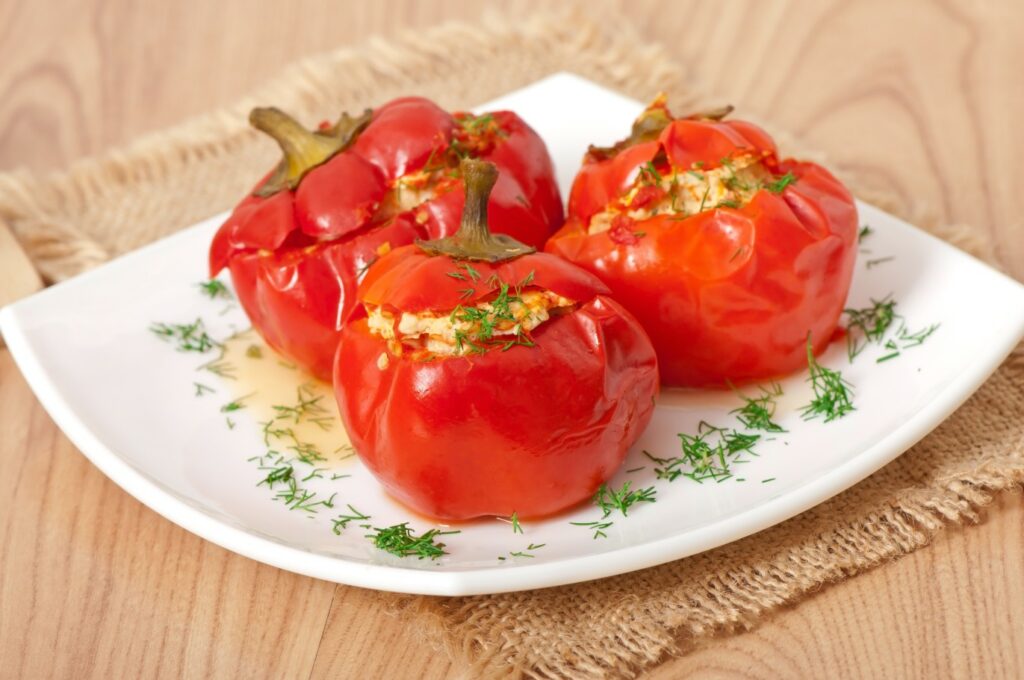 Ingredients:
4 ripe, red peppers
3 long-style eggplants (japanese)
250 grams (three cups) anelletti (small circular pasta)
300 ml tomato sauce
1 small onion, finely chopped
150 grams (3/4 cup) primosale (a fresh cow's milk cheese): chop into small pieces
100 g (1 cup) caciocavallo (substitute provolone) chopped into small pieces
Extra virgin olive oil
Salt
Instructions:
Wash the peppers, place them vertically on the cutting board and remove the stem and upper parts, carefully removing the seeds.
Clean the eggplant and cut them into 1 cm thick slices. Place on a wooden chopping board and cover them with coarse salt. Let them sit for 1 hour then rinse gently and dry with paper towels. Fry in hot oil. Once they are nice and crispy, drain and set aside.
In the same pan, fry the finely chopped onion in a drizzle of olive oil and half a cup of water. Add the salt. Cook for 10 minutes.
In a saucepan, bring water to a boil and add plenty of salt. Add the anelletti, stir and cook to al dente before draining. Return to the pan, add the sauce, onions, eggplant, and gently stir to mix.
Chop the cheeses into small pieces, add to the pasta mixture, reserving a little of the caciocavallo to top each pepper.
Fill the peppers to the top edge with the anelletti mixture, sprinkle with the reserved caciocavallo. Close with the stalk of the pepper. Bake in a preheated oven at 200 C (390 F) for 25 minutes or grill on an open flame for 20-25 minutes, careful not to burn the bottoms.
Let the peppers cool for a few minutes. While they are great fresh out of the oven, I personally prefer to eat them at room temperature. Enjoy with a simple salad of radicchio and arugula with a splash of lemon juice. And hey, a glass of catarratto to wash down those peppers never hurt anyone!