Fall is the perfect time to invite friends and family over to get their hands messy and have your own personal pizza party. Pizza is the perfect food to make with a group. It's easy. It's fun and it's a great group activity.
I am sharing a pizza recipe that I have been using since my first visit to Firenze many years ago, when I met the most wonderful cooking teacher, Manuela. Originally from Sicily, Manuela was living in Firenze with her lovely family, hosting cooking classes in their home kitchen. 
On my first visit, I attended a one-day class where we made pizza of every type from scratch! I mean come on, who DOESN'T love pizza? No Jiffy box pizza crust here. The crust was perfect, just crispy enough yet perfectly tender to absorb a little of the sauce giving it the perfect balance of flavor.
One of the things that always amazes me about most Italian food is how simple a dish can be with just a few ingredients and result in the most spectacular dish. In reality, if you think about how simple pizza is, it's crazy. Essentially the dough is just a few ingredients that you're most likely to always have on hand. And a classic Margherita is nothing more than pomodori pelati, mozzarella and a few sprigs of basil. That's the beauty of Italian food. The simplicity. That's what makes Italian cuisine stand out.
It has been a few years since that first class and I have returned several times to learn more from my Sicilian maestra di cucina. I got in the habit of making this pizza crust almost weekly, usually freezing any extra dough to save for individual pizzas for days when I needed comfort but didn't have the time to start from scratch.
I've included a few options for toppings that Manuela shared with me and I've added a few favorites that are typical in Sicily, where I live. I HIGHLY encourage you to break free of the pineapple, pepperonis and other American-style toppings for an authentic experience. Check out your local Italian neighborhood shop for inspiration and the ingredients suggested below. Now put on your apron, blast some Frank Sinatra and get ready to have some fun!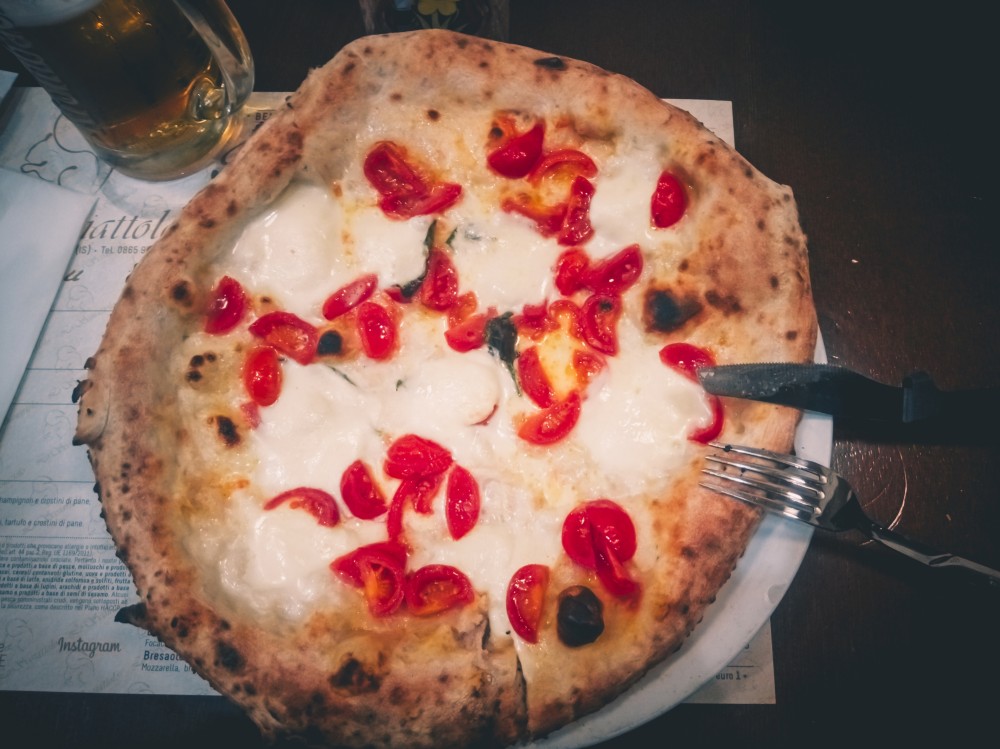 Pizza Crust
Ingredients for 4 people
-500 gr. (1 lb) 00 flour
– 25 gr (0.9 oz) brewer's yeast
– 1 teaspoon sugar
– 1 tablespoon extra virgin olive oil
– 1 pinch of salt
250 ml (1 cup) (approx.) lukewarm water
Preparation
Dissolve the yeast in a large bowl with 2-3 tablespoons of warm water. Add the flour, oil and sugar and gradually other water and mix well.
Transfer the dough on a floured work surface and knead the dough.
Continue to work hard until the mixture is evenly blended. It can usually take around 10 minutes to knead the dough for it to come together.
Put the dough to rise in a warm place (for example in a large bowl, protected by a cotton cloth or linen and wrapped in a blanket) and wait until doubled in volume, about an hour later.
When the dough has risen, divide it into loaves and spread it gently with your fingers and hands up to the size of the pan where it needs to cook. The thickness should be about 7-10mm.
Preheat the oven to 475°F (250 – 260 celsius) for at least 30 minutes, preferably an hour. If you don't have a pizza stone, you can use a pizza pan or a thick baking sheet; you need something that will not warp at high temperatures.
Now you can dress your pizza with the ingredients of your choice!
Bake your topped pizza for 10-15 minutes once the crust is golden brown and the cheese is golden.
Pizza Marinara
Peeled and crushed tomatoes, garlic, oregano, extra virgin olive oil, salt.
Pizza Margherita
Peeled and crushed tomatoes, mozzarella or buffalo mozzarella, extra virgin olive oil, fresh basil, salt.
Pizza Napoli
Peeled and crushed tomatoes, mozzarella, anchovy filets, capers, oregano, extra virgin olive oil, fresh basil, salt.
Pizza 4 stagioni
Peeled and crushed tomatoes, mozzarella, ham, black olives, artichokes, mushrooms cut into thin slices, extra virgin olive oil, and salt.
Pizza Capricciosa
Peeled and crushed tomatoes, mozzarella, ham, sausage, black olives, artichokes and fresh or blanched mushrooms cut into thin slices, extra virgin olive oil, salt.
Pizza con Bufala e Pomodorini freschi
Peeled and crushed tomatoes, buffalo mozzarella and ripe tomatoes to be added raw directly on the plate, extra virgin olive oil, fresh basil, salt.
Pizza Vegetariana
Peeled and crushed tomatoes, mozzarella or buffalo mozzarella, grilled fresh vegetables (such as eggplant, zucchini, peppers, etc..), extra virgin olive oil
Pizza Ventimiglia di Sicilia
Pistacchio pesto, mortadella, fresh mozzarella, topped with thinly sliced lemon and crushed pistachios.
Pizza Buona
Peeled and crushed tomatoes topped with high-quality tinned anchovies and slivers of garlic. No cheese needed. Sprinkle it with crushed red pepper to serve.
Jennifer Sontag, a serial entrepreneur, is the owner of Italian Citizenship Concierge, a bespoke citizenship agency that helps Italian Americans gain citizenship in Italy through Jure Sanguinis. Currently living in Terrasini, Sicily, Jennifer sets out to help her clients gain a new outlook on life in Italy. Jennifer grew up in a big Italian American family where her nonna and 9 sisters would spend their days preparing delicious meals to share with family. Mamma to 2 beautiful adults, and nonna to adorable Oliver. Jennifer has a passion for all things Sicilian and loves to enjoy good food and wine with friends.